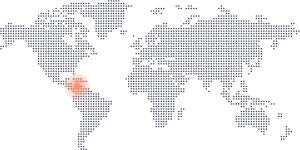 Wind season: January – September
Air temperature: 25 – 32°C / 77 – 89°F
Water temperature: 26 – 28°C / 79°F – 82°F
Wave spots: Yes
The Dutch-Caribbean island group just outside Venezuela's coast, so called ABC islands, consists of Aruba, Bonaire and Curaçao. The wind season here lasts almost all year but peaks in the summer months. As with the rest of the Caribbean it's mainly light wind kiting that's up on offer by the steady trade winds, although days with 25+ knots do exist. These conditions mixed with flat water and waves make it perfect for practising your new tricks while enjoying a rich night life and beautiful surroundings. All this perfection comes with a price though, so not a destination for the kiter restricted by budget.

Regions with similar wind season