Dates: Jan 16 – Feb 6
Rideable days: 14 out of 21
Wind: Easterly trade wind, 10 – 20 knots
Air temp: Around 28˚C
Water temp: Around 27˚C
Where to go kitesurfing in January? There is Cape Town, Perth, SE Asia, Cape Verde and a few other decent destinations but my friend Bjorn and I set our eyes on the Caribbean. The season there might be even better in February to April but the season starts as early as November/December and over 3 weeks I got about 65% windy days which is pretty decent.
We wanted an island with a few spots available, room for exploration and preferably flat water. There weren't many guides and reviews available online regarding which island to visit, and after first investigating Cuba which turned out to be too expensive we decided on St Lucia as it seemed to offer what we were looking for and has direct flights from London with Virgin Atlantic.
1. Cas en Bas kite beach
2. Italian guesthouse which we found on AirBnB
3. Gros Islet, the local town with bars and street parties
4. The marina, where you can get great pizza and sushi, watch tourists and overhear discussions about sailing
5. Rodney Bay, where you can visit the mall and party in slightly more high-end bars compared with Gros Islet
6. The Reef kite beach
7. Coconut Bay kite beach
8. Big flat water and swell area upwind of Coconut Bay
Getting there
There are ferries to and from Martinique, the neighbouring island in the North, but most likely you'll fly in to one of the two airports. The bigger one is in Vieux Fort in the South, which has two kite spots right next to it. But more on that later. The other one is in Castries, the capital in the North.
We flew to Vieux Fort straight from London with Virgin Atlantic. It takes about 8 hours and they let you check in 23kg kite equipment on top of your normal luggage. You can stay in the south, or rent a car and head North where there's more night life and in my opinion the better kite spot out of the three available. We weren't sure whether we needed a car for the whole trip so we took a cab instead. The drive takes about 90 minutes and costs around 85USD.
Where to stay in St Lucia
We stayed at the Italian guest house at the top of a hill near Gros Islet. This turned out to be a good compromise, being located between the beach and the town. But it also meant a lot of walking and climbing hills. Roads are proper dirt roads as soon as you deviate from the main roads, but you can still get around with a 4×4. We opted for the healthy option and had a good 35 min walk to the beach every day, and another 20 min walk when we walked to Gros Islet.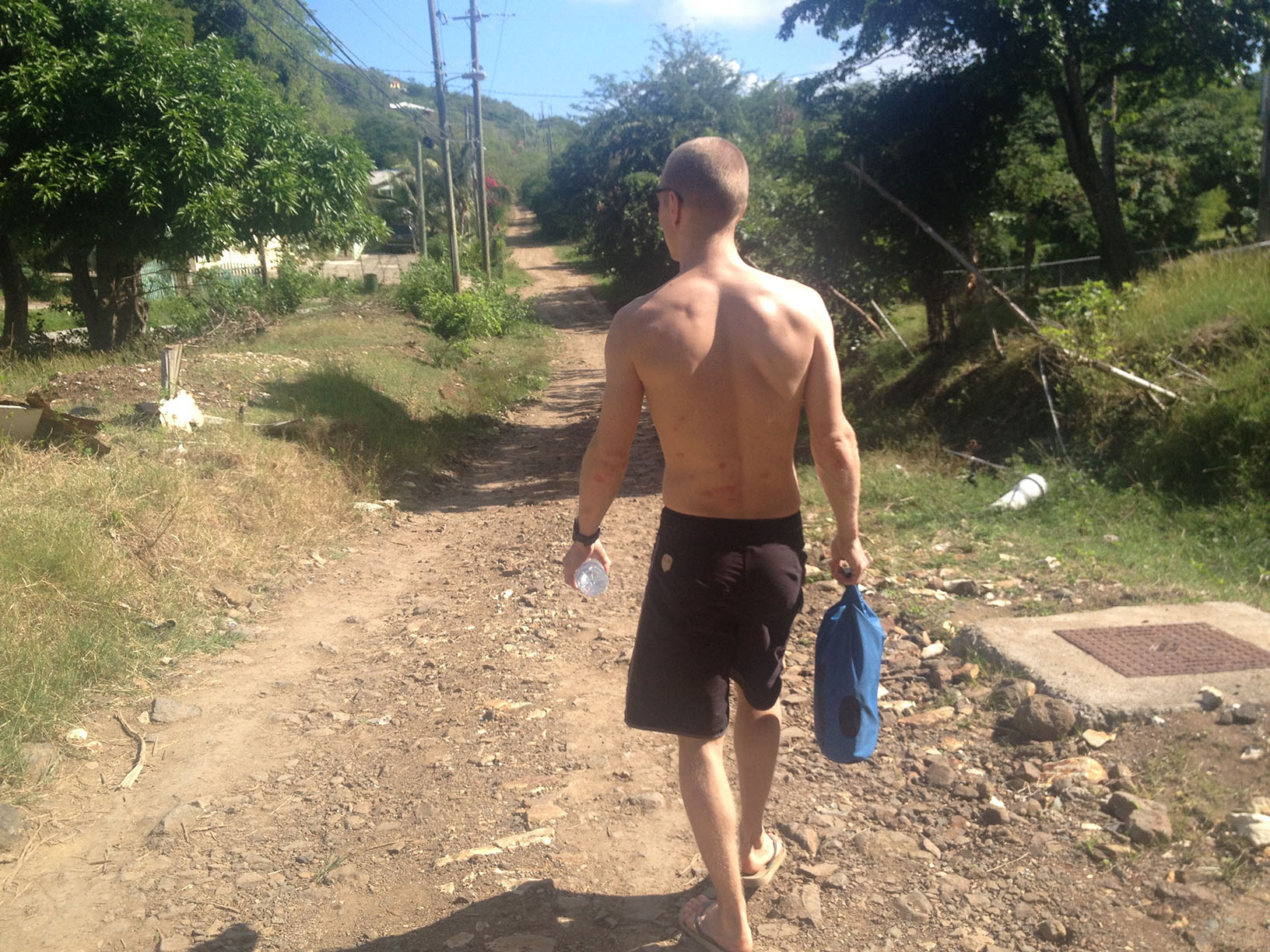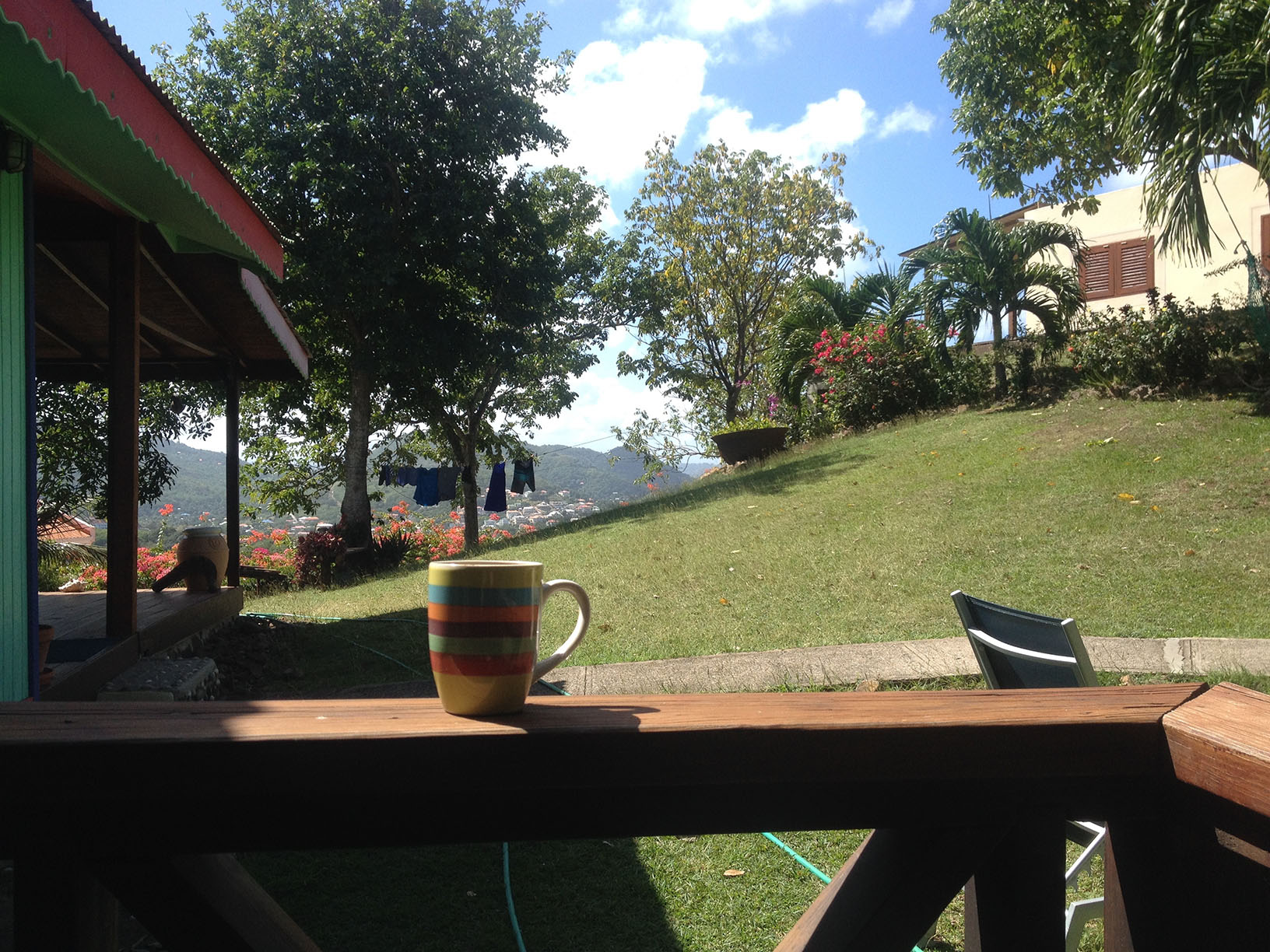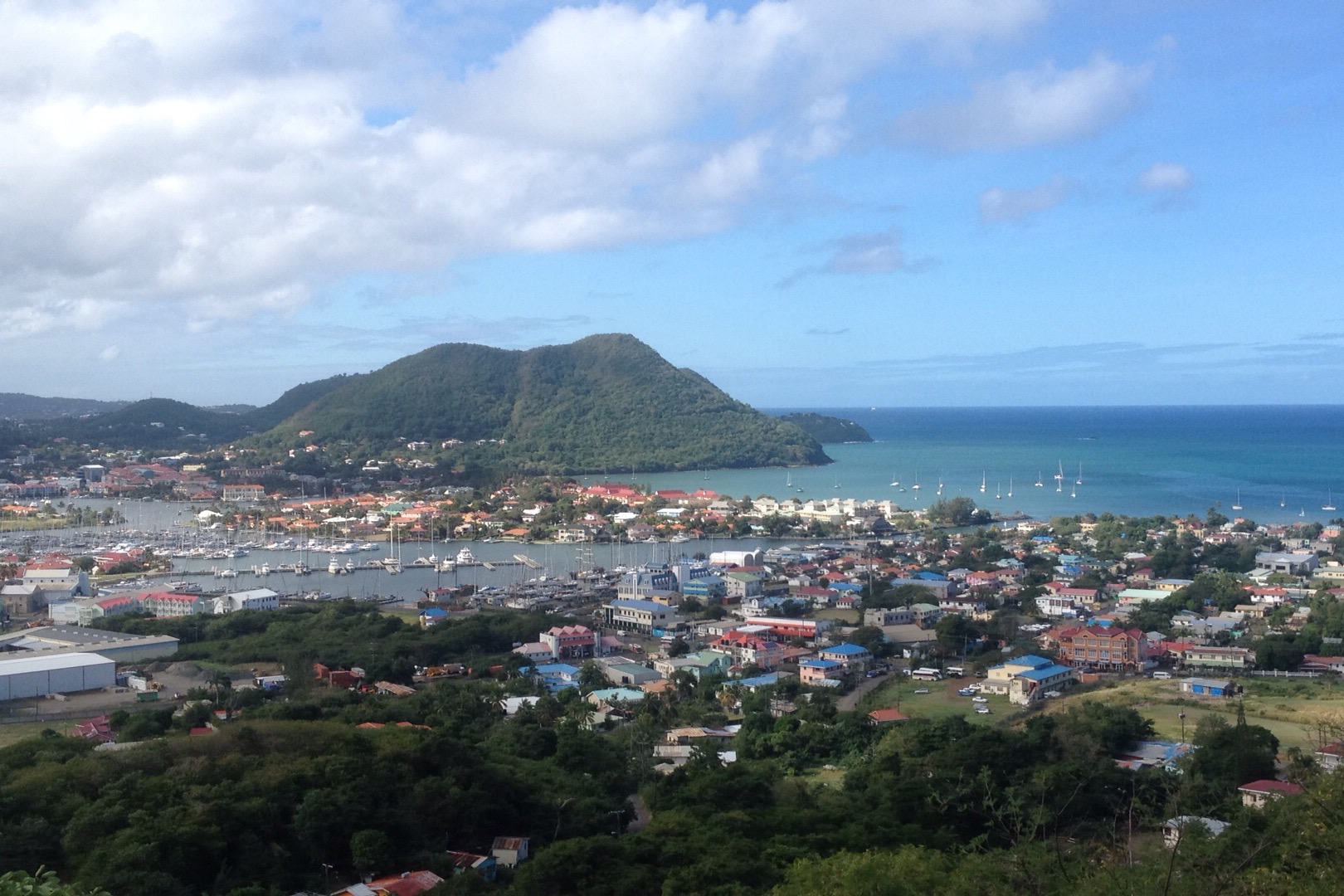 So what is St Lucia like?
St Lucia is a volcanic island with mountainous terrain and lush jungle all over the island. Air and water temperature are both pleasant in January without being too hot. Boardshorts and t-shirt became the uniform. The local currency is EC, East Caribbean Dollar but USD works fine too. Prices are fairly high for accommodation, food etc, comparable with European ones. If you're on a budget consider Asia instead, but having said that, it's not over the top and cheaper options can be found if you stay away from the touristy parts.
The island has a fair bit of tourism but the tourists tend to stay in clusters around the beach resorts and the marina in Rodney bay. The clientele consists of mainly old people and couples. Don't expect a party scene except for the Jump Up – the weekly street party in Gros islet on Fridays. Things are basic, even quite poor in a lot of places but the water is drinkable, the internet works and roads are decent. For having such good conditions for kitesurfing it's a very small scene. We pretty much met all the North side locals during our stay and the headcount were somewhere around 25. Other things to do on the island includes snorkelling and diving, boat charters, spa treatments, horse riding and golf.
It's hard to tell where you have the locals. Some were super friendly and others were a bit shady to say the least. Not intimidating, just different. It's island vibes all over the place – reggae, rum punch, bbq, ganja, jerk chicken, irie… slow is ok. A new experience for a fast paced Londoner who's greatest encounter with the Caribbean would've been going to Brixton market. The food is good but the service in local restaurants was amongst the worst I've experienced (although not rude).
Wind conditions on St Lucia
Trade winds from November to August, but peak with good consistency from East is February to April. The wind is fairly light most of the time, suitable for 10m – 14m kites. Occasionally it picks up and you might want a smaller kite but my 10/15m quiver turned out to be a good mix, and if you can only bring one kite I'd bring a 12m.
Cas en Bas spot guide
In the Northern part of St Lucia there is basically only one spot for kitesurfing. But it's a good one. Cas en Bas (sometimes seen on maps as Plantation beach or Cotton bay) has got two kite schools and one bar/restaurant. It's a pretty secluded, small bay that would get busy with 15 kites in the water. Luckily you can ride outside the reef and get more space and a bit of small waves to play with. Even more lucky was that we never reached more than 12 kites in the water at any given time.
This is a hidden gem that never tends to get busy. You meet the local community hanging with Simon and his Aquaholics kite school in the North end of the beach. A tightly knit gang of expats and locals who spend an awful lot of time on this beach since they've all realised the value of a healthy work/life balance. It was a pleasure and a humble experience to join them for a few weeks.
I've never felt this welcome on a kite spot before, probably because all other spots are either too big and commercial or not suitable for post-kite socialising (try a windy UK beach in November and you'll understand what I mean). I did pay for keeping my gear in Aquaholics' container but Simon gladly lent me both boards, straps and bars whenever I wanted (you break shit when you ride hard every day).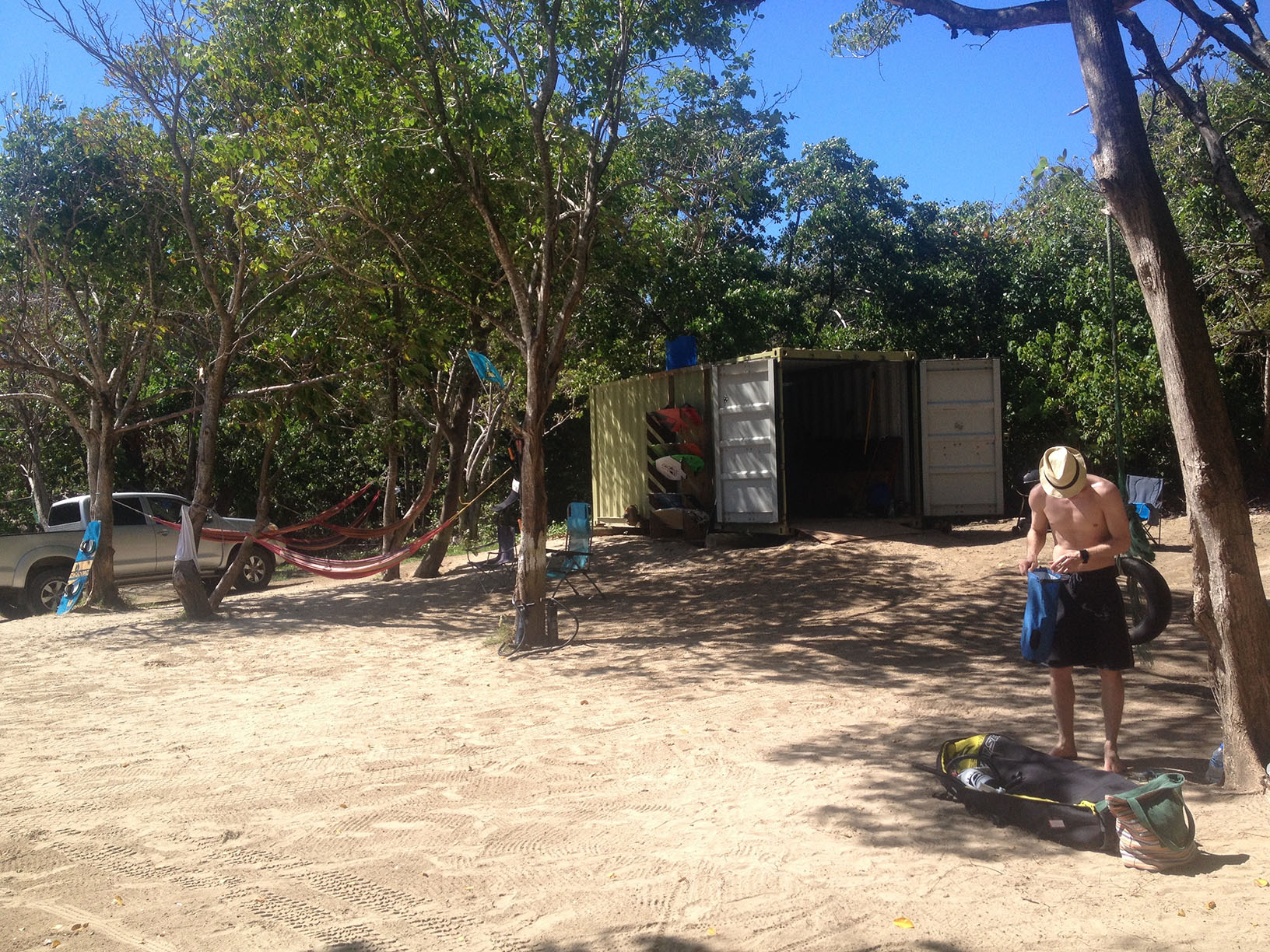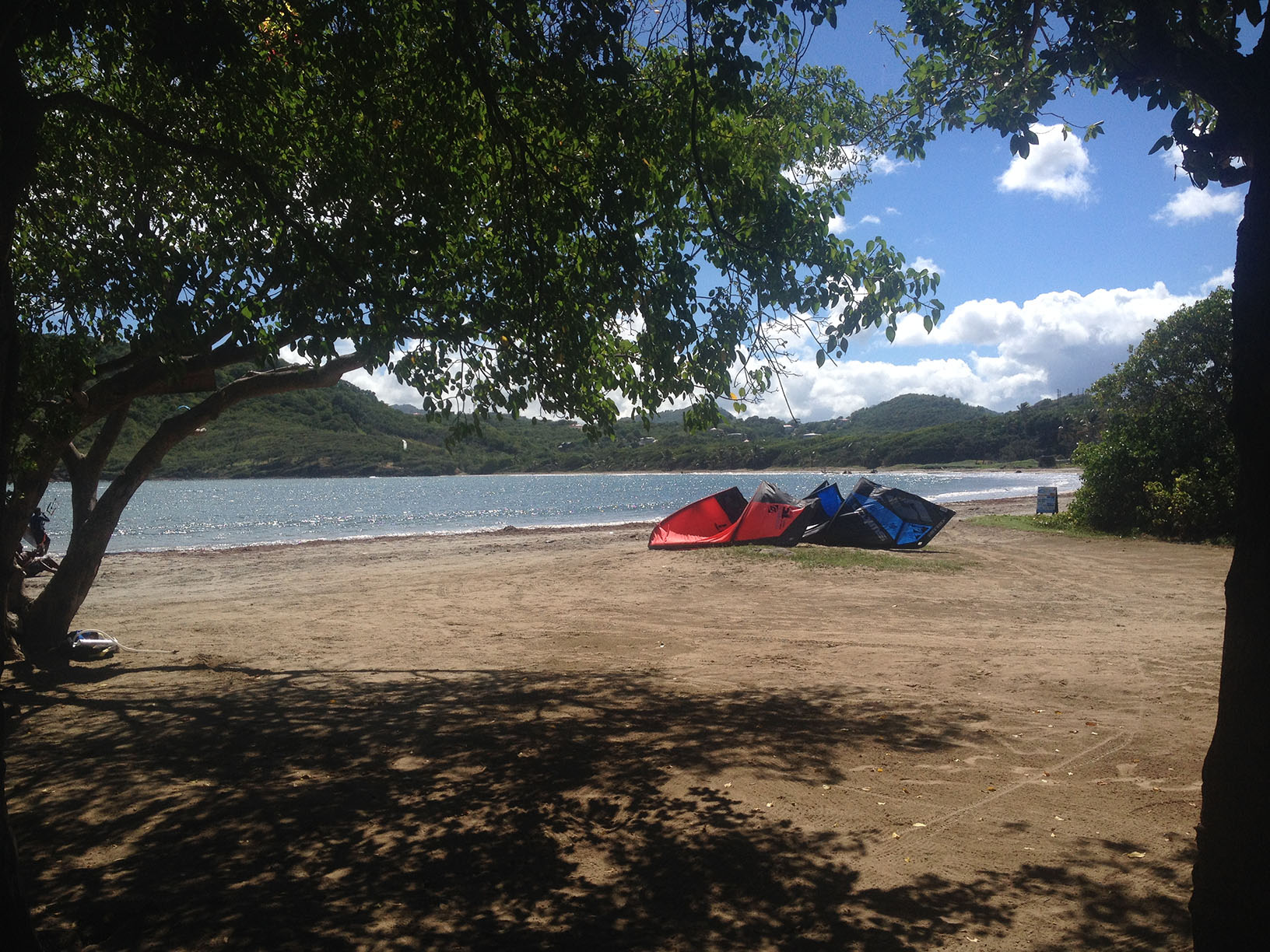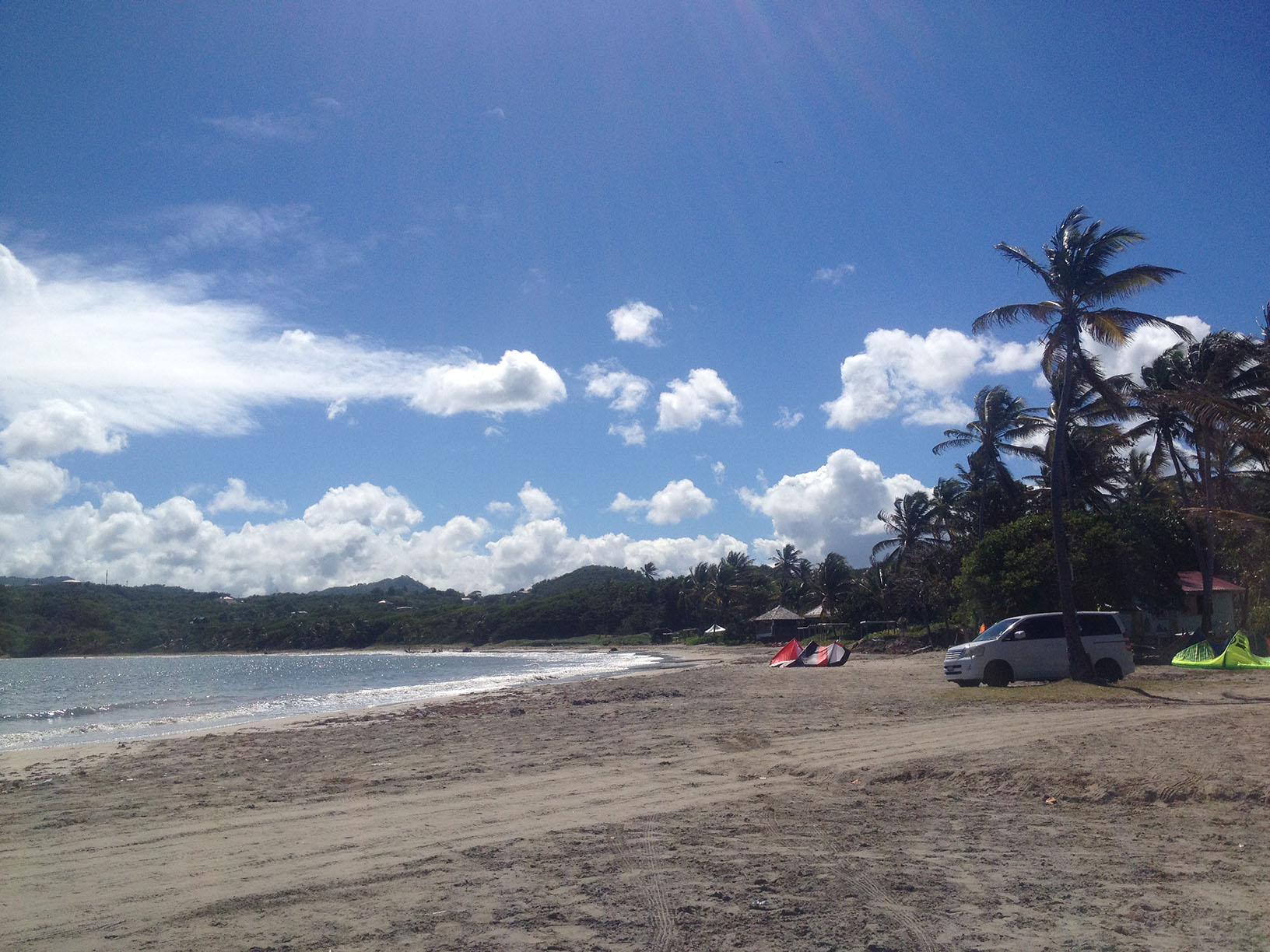 Other places to kitesurf in St Lucia
On my last day I had the opportunity to see the two other spots on the island. They are a short drive between each other, both located minutes from the airport outside Vieux Fort.
Coconut Bay has got a kite center located on the resort beach, which means that you access the beach via the resort gates. But the beach itself is public so you can also find your way to the beach through some semi-hidden dirt roads. Don't ask me how – we had connections through the local riders and went via the resort. Close to the center is a mess of chop and beginners but ride upwind for a bit and you'll find big areas of flat water and few riders. Not bad at all. There are also some swell where the waves hit the reef and you can have quite a bit of fun out there too.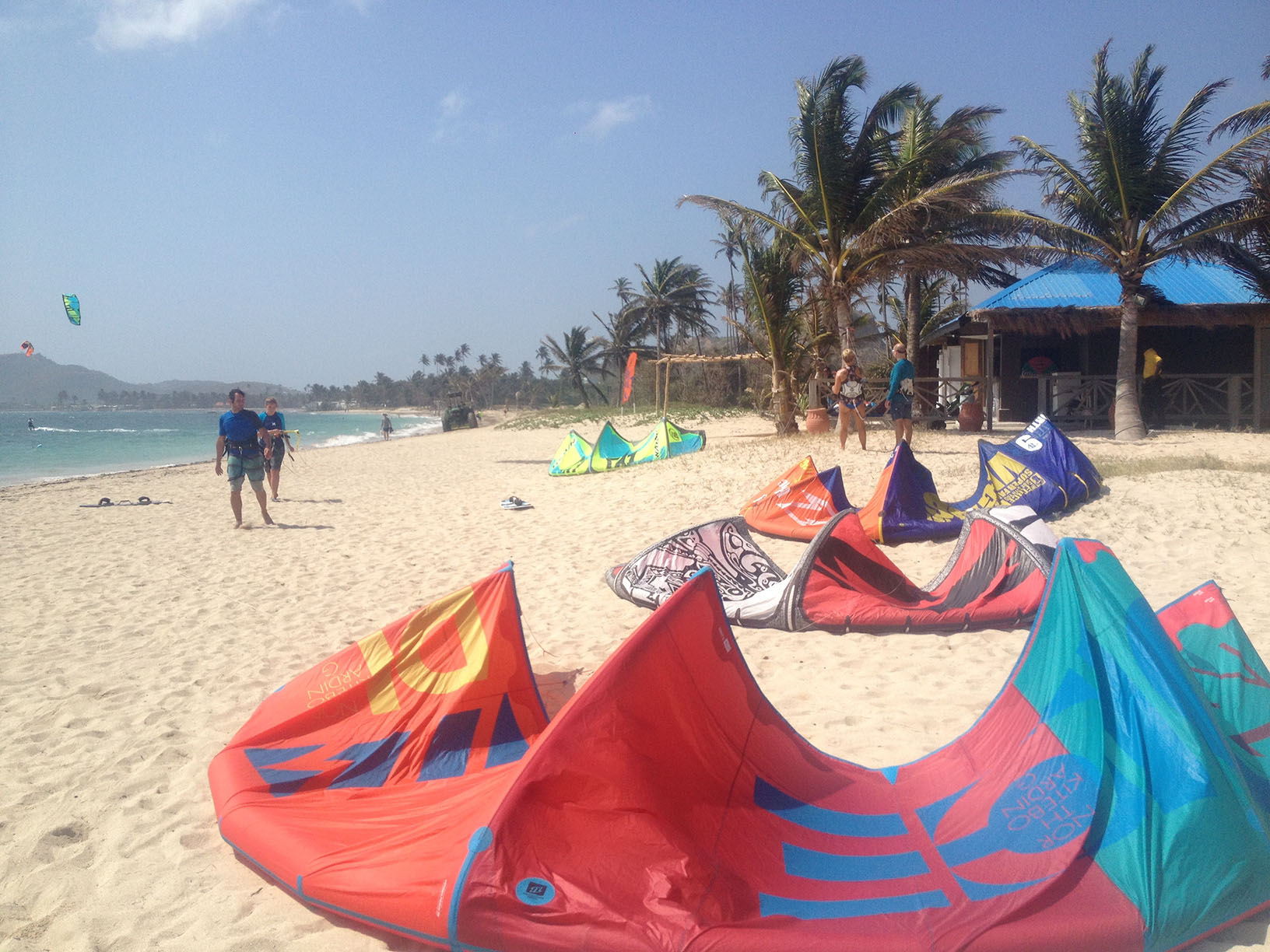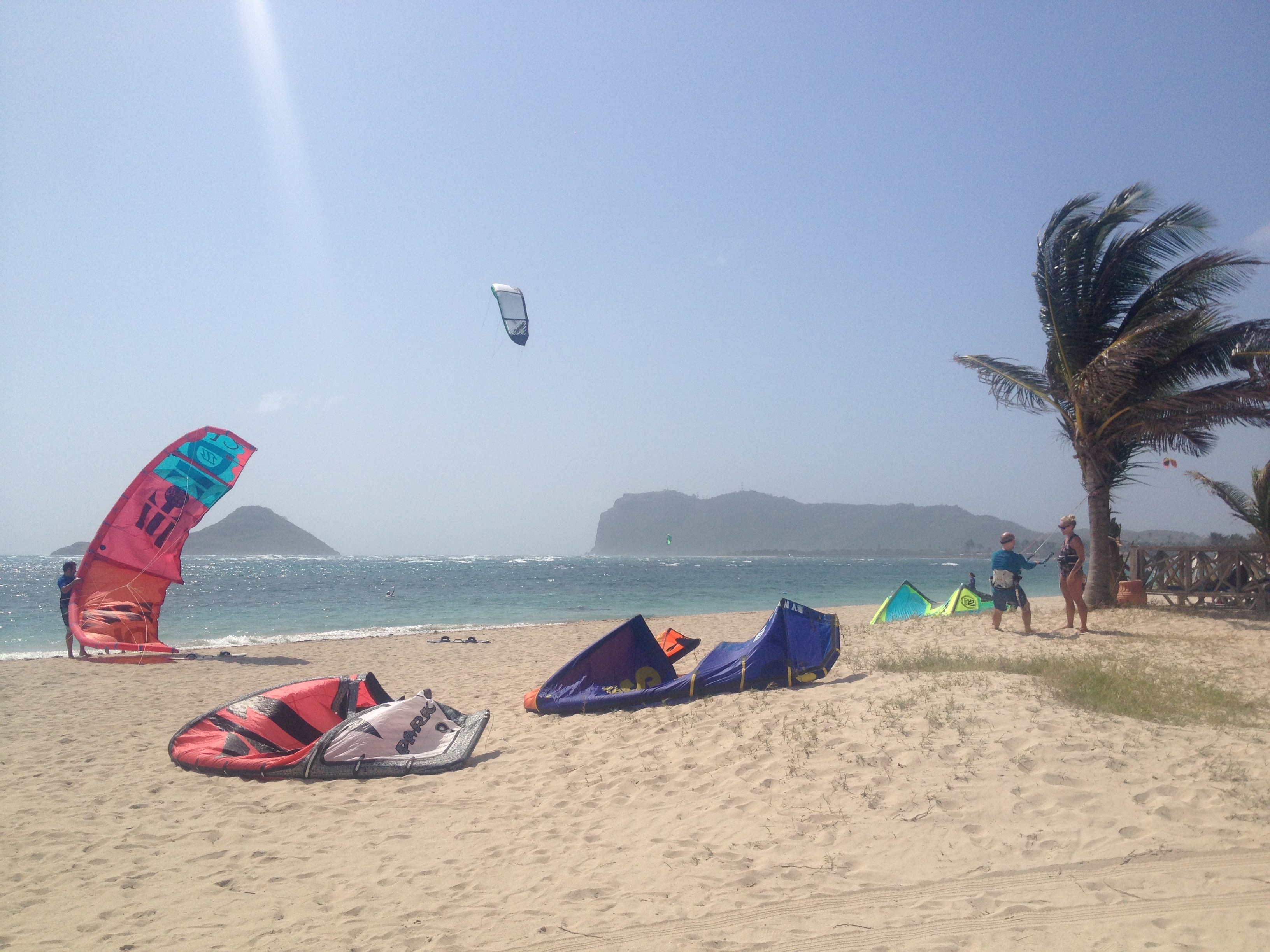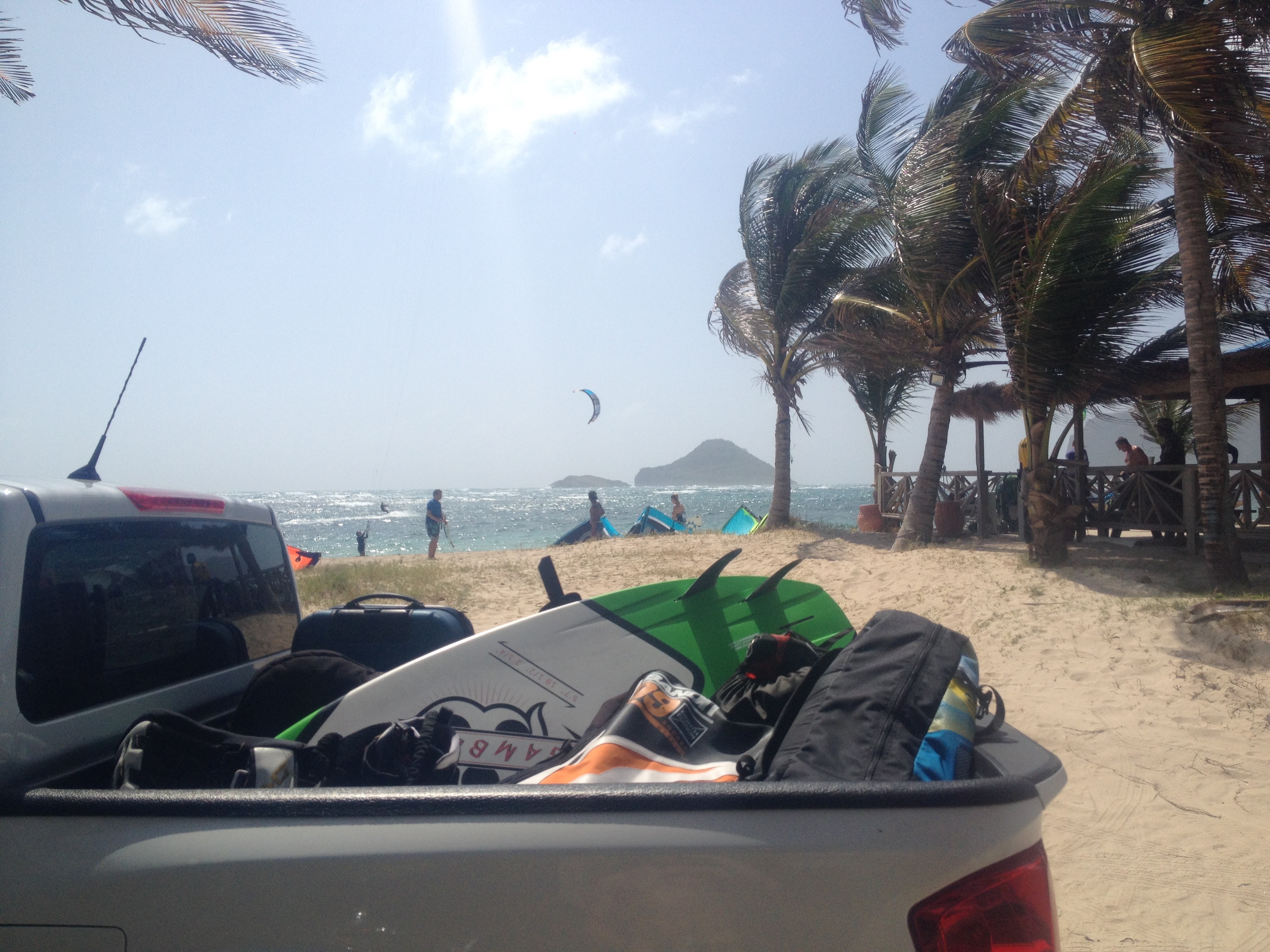 The Reef is a more local story, easily accessed by anyone. They have a restaurant, a kite and windsurf school and even a few rooms for rent right on the beach. The water carries similar chop as the Coconu Bay center but the vibe is nice. All in all Cas en Bas is still better than both these spots but it's fun to mix it up with a day trip every now and then.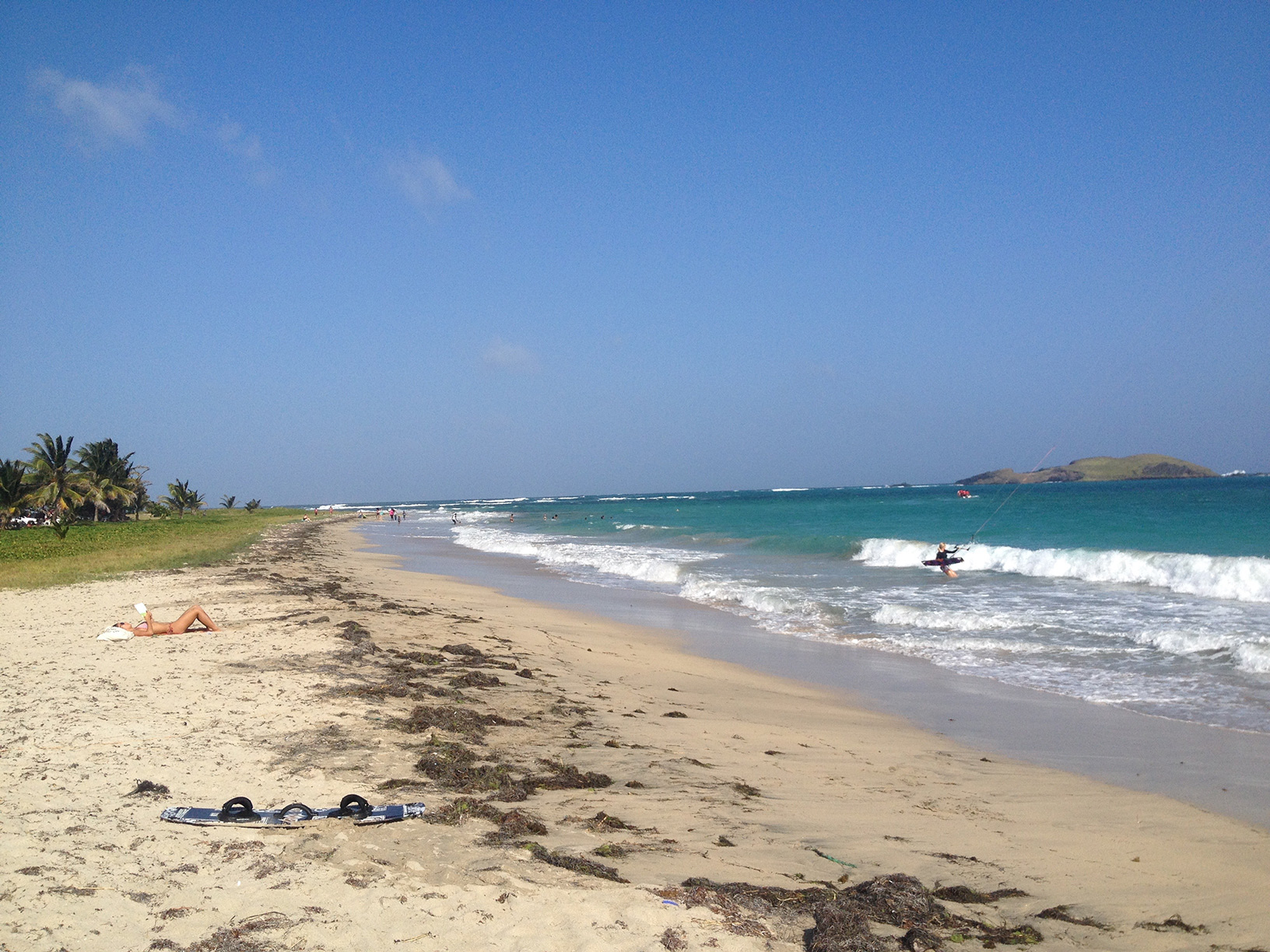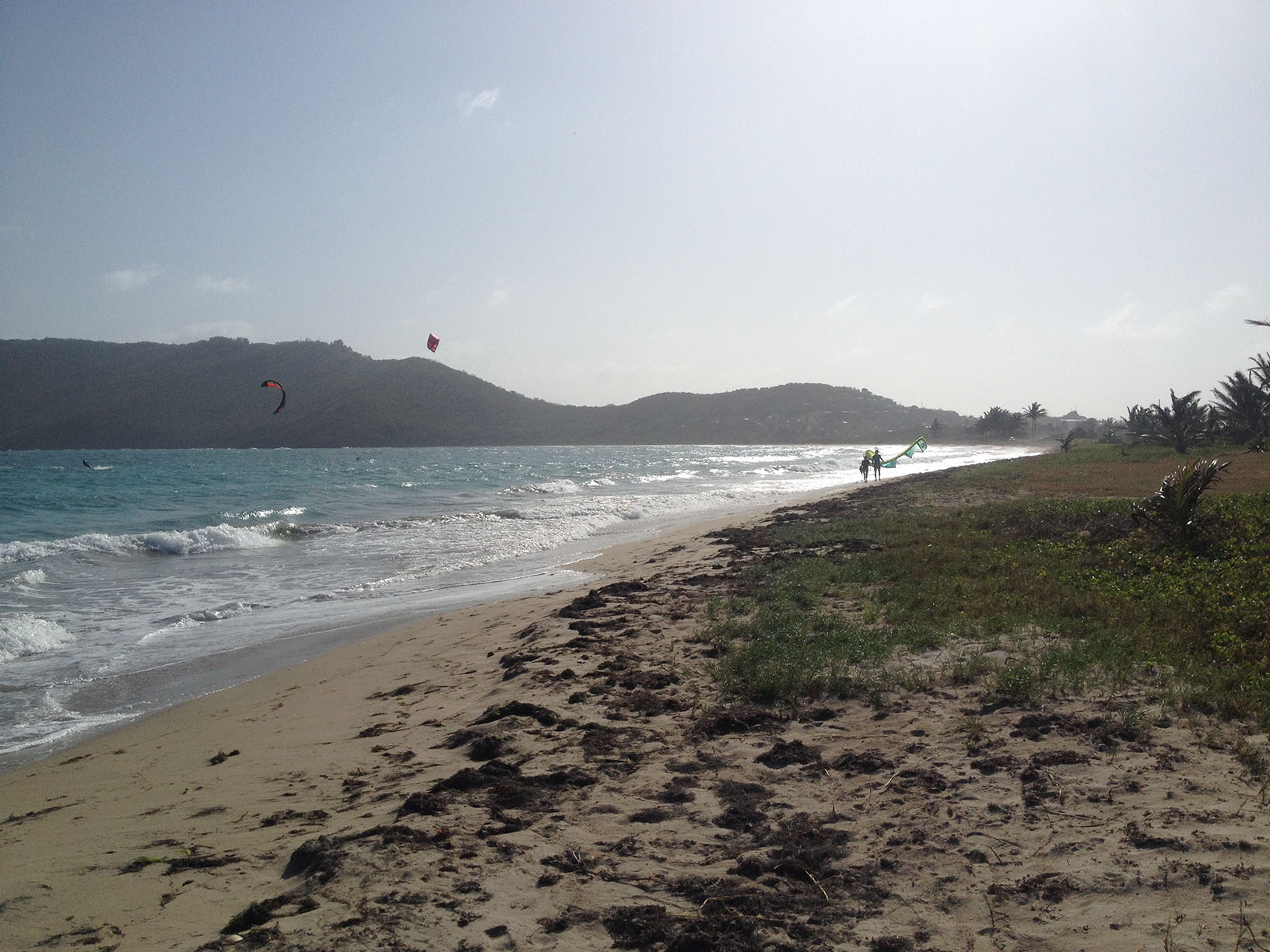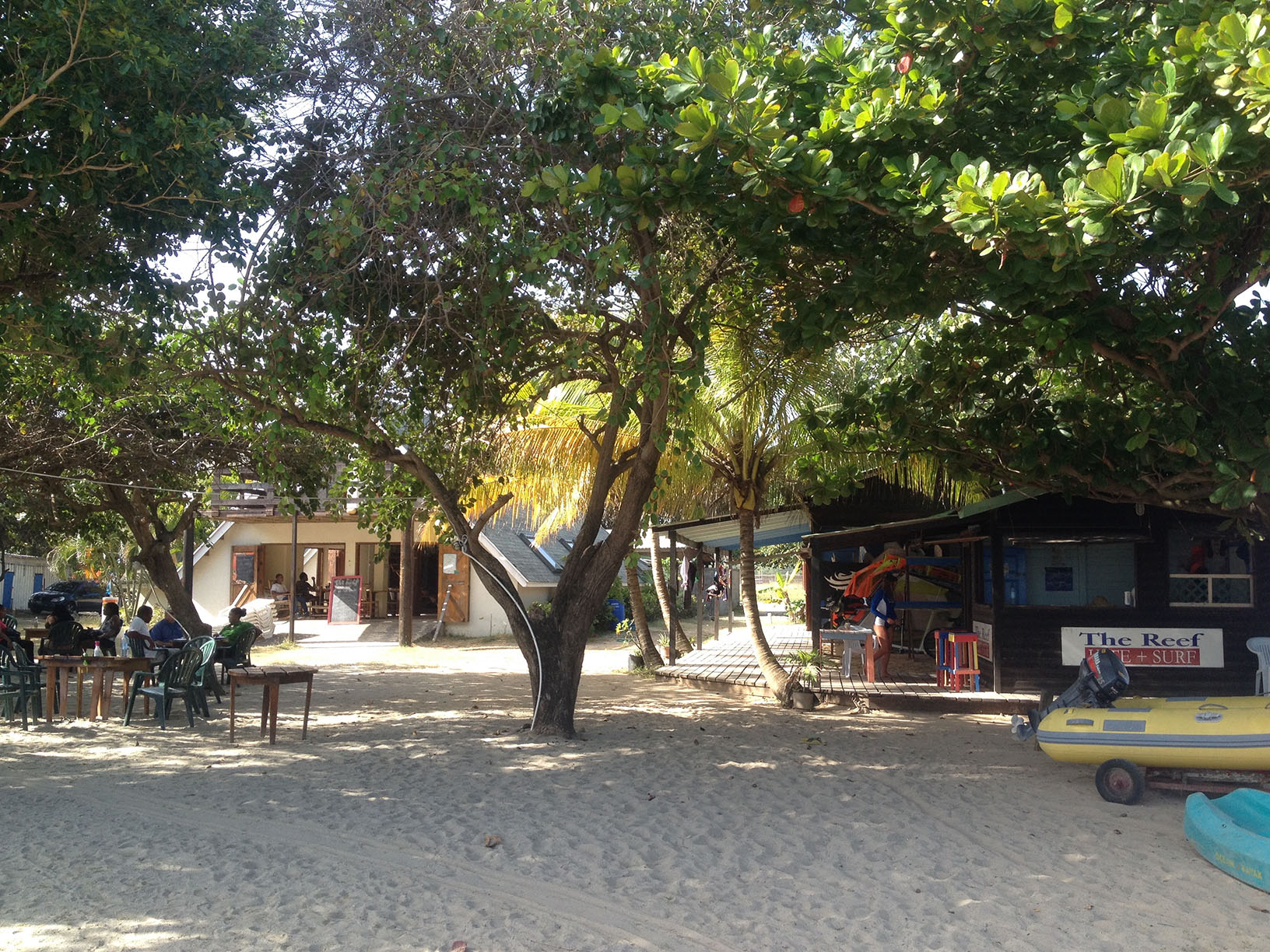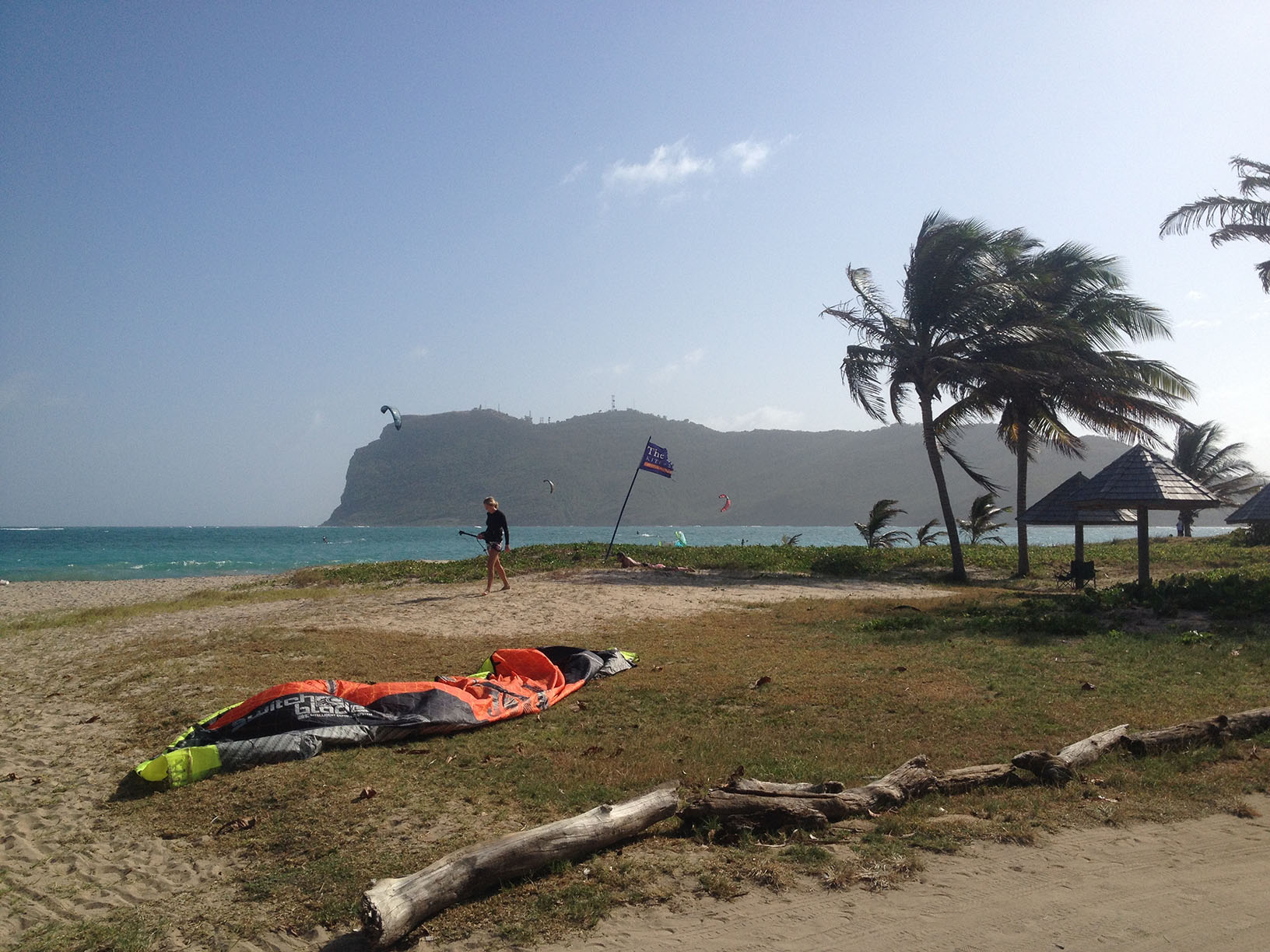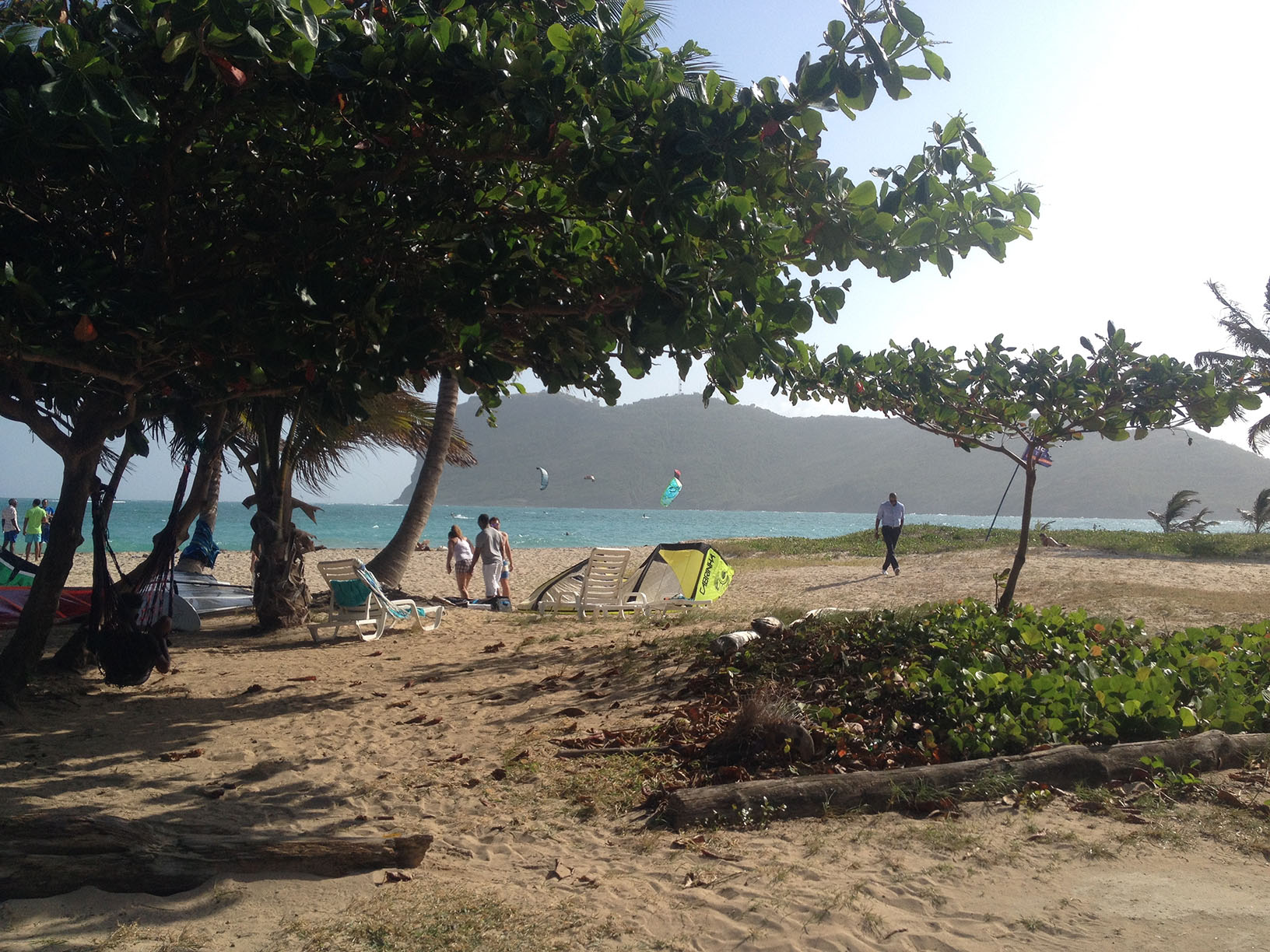 This was a really good trip and it got me curious about all the other kite-able islands around the West Indies. I'm sure I'll be back, but maybe as part of an island hopping trip in a year or two. Kitesurfing is great for your wanderlust!