Date: October 6 – 20
Rideable days: 14 out of 15
Wind: 18 – 32 knots
Air temp: Around 30˚C
Water temp: Around 27˚C
What I liked
Constant wind
Cheap if using local services
Acai bowls for £3
A coastline full of spots for all tastes
Boardshorts temperatures
What I didn't like
Hard to get around without speaking a Romance language
Gets dark around 6 PM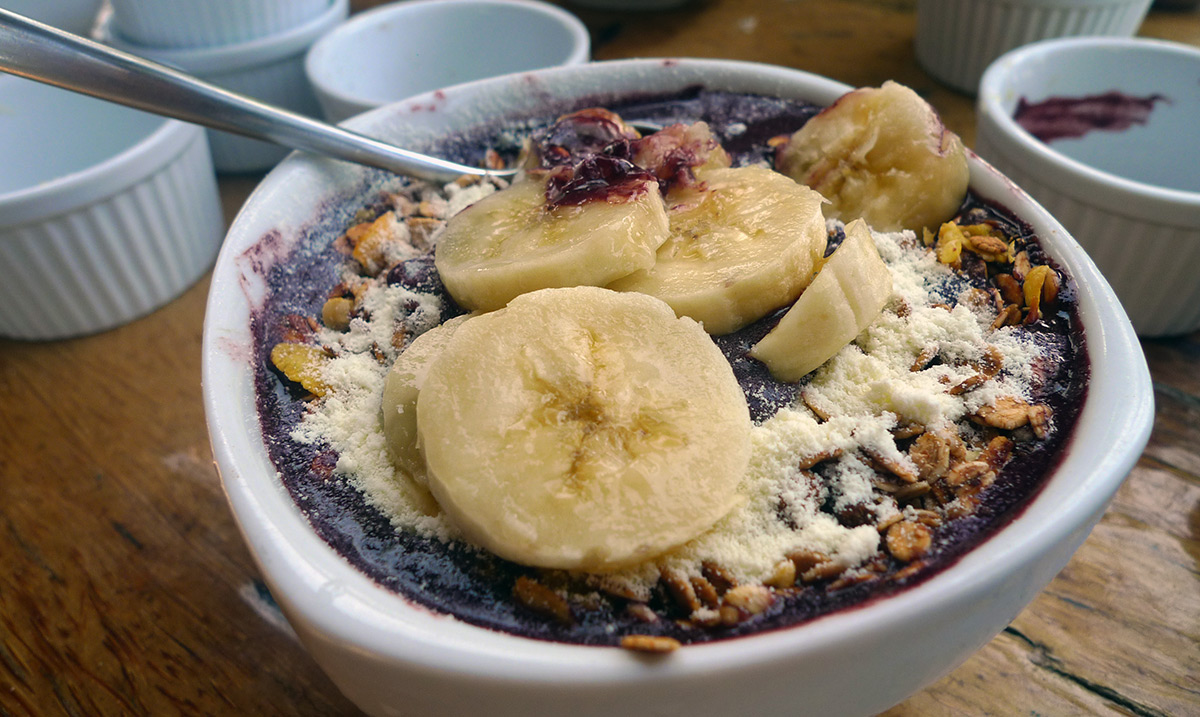 Intro
Brazil is the kite destination every kiter has heard about. It's not like other destinations. The coast North and South of Fortaleza offers so many established spots, so much wild coast, so many 'secret' spots, varied riding and opportunities to customise your trip to your liking. So it's hard to do a normal spot guide for a place this versatile, especially since my two travel companions and I wanted to see as much as possible during these two weeks. Just have a look at the map and all spots we visited during this time.
What I want to share in this review is a brief overview of the kitesurf spots between Cumbuco and Atins and what it's like to make the trip with your own car. Our focus were lagoons and flat water spots, but you don't go to Brazil without doing a few downwinders so I touch on that as well towards the end of this article.
Wind
It's true what they say. It blows pretty much every day from July to January, peaking around November. And it blows a lot. Expect 25 to 30 knots most days. Sometimes a bit less depending on spot and time of day, and sometimes even more.
7m and 10m turned out to be a good quiver for my 78kg frame. The wind strength seemed to peak around Jericoacoara but it was consistently strong all the way really. Only far up North, in Atins there were a few days with light wind.
If you don't want wind quite that strong you can head for spots South of Fortaleza instead. They are supposed to be really good too.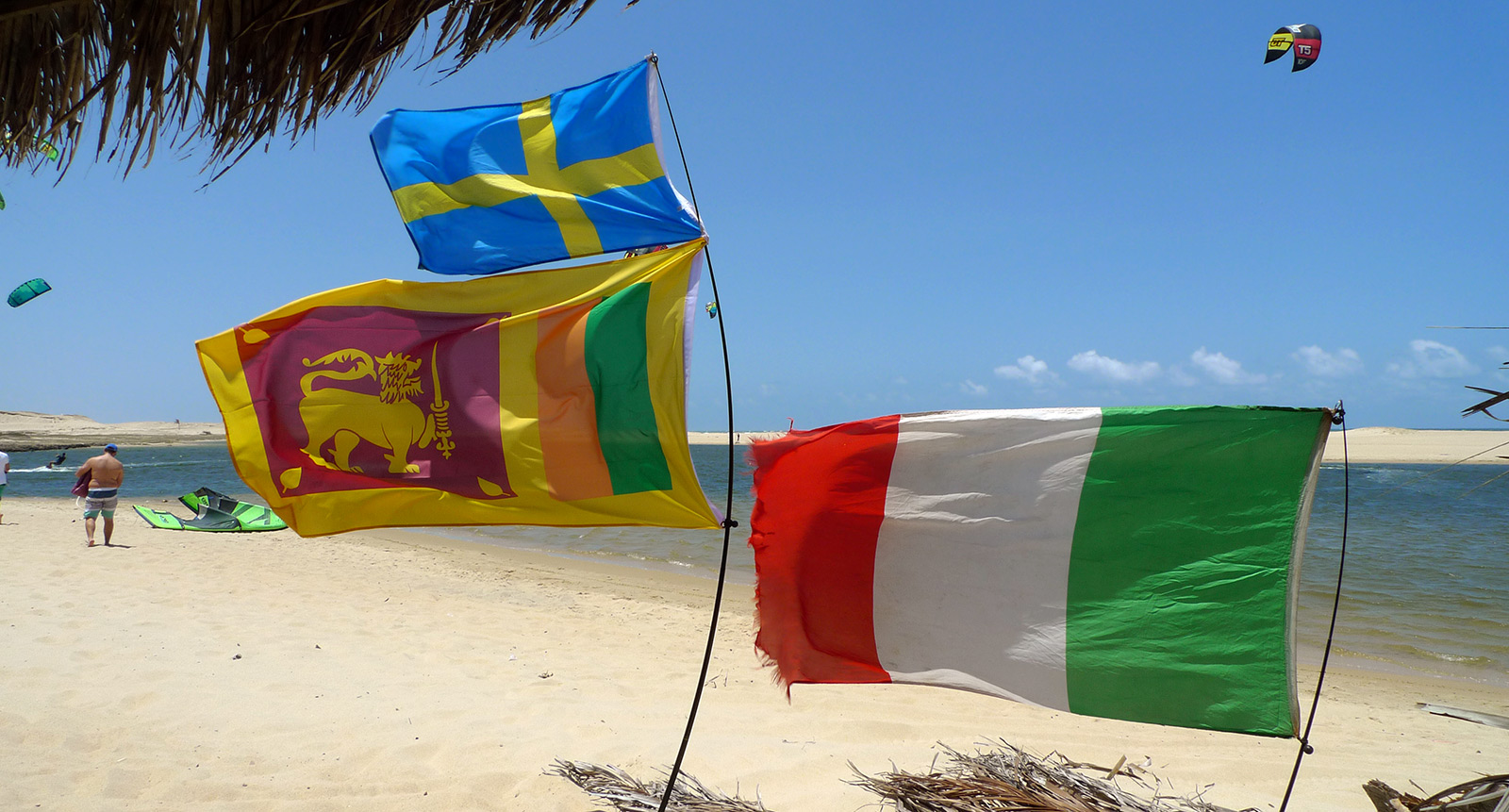 The spots
I normally don't rate spots. A spot's quality is too subjective to put a quantifiable number on, but in this case, to provide an internal benchmark relative to each other I thought it'd be useful to rate quality which is how much fun I had on the water, and convenience, which is infrastructure and accommodation options. 1 is the worst, 5 is the best.

Cumbuco
Quality: 1
Convenience: 5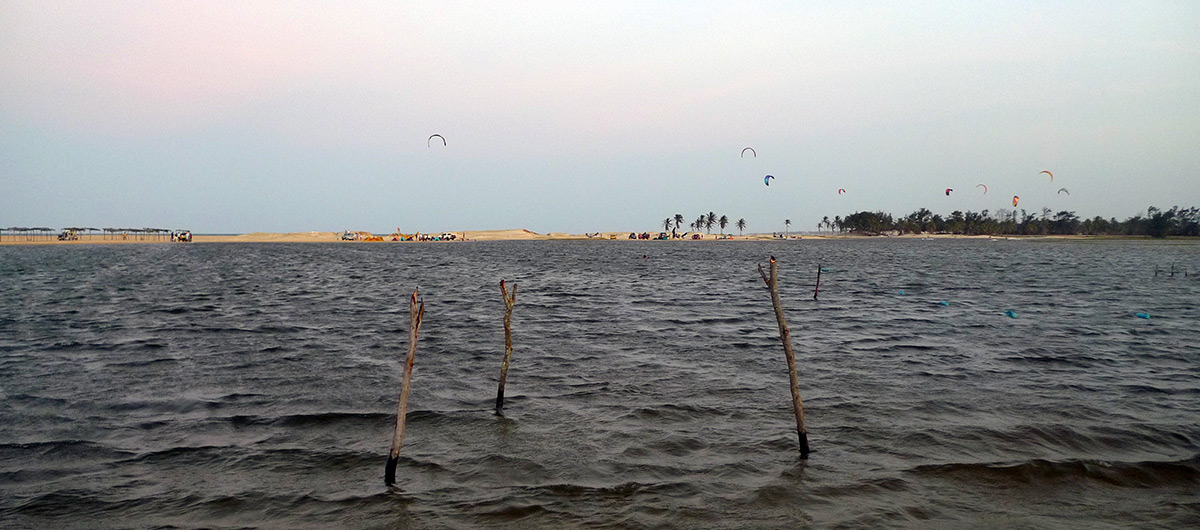 Cumbuco is the first stop for most newly arrived fresh off the plane. It's just under an hour's drive from Fortaleza and for some people this is as far as they go. There are loads of posadas, hotels and hostels, and you also have all the amenities you need. The town has its own beach, and you can ride here by all means. It's nothing special though and most people staying here go to the lagoons of Cauipe or Taiba. You've seen these lagoons in the freestyle kite videos for sure. This is where all the pros throw tricks left and right, and it can get too busy to enjoy.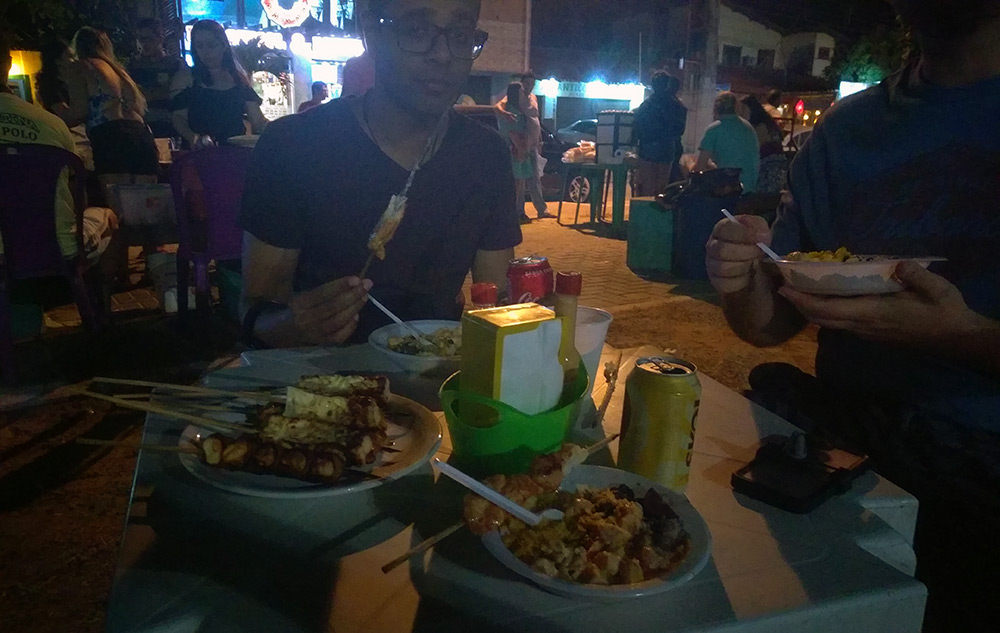 This lagoon is one hour drive from Cumbuco, either by road, or by the beach. There's not much around here, although there are posadas nearby if you'd like to skip the drive from Cumbuco. The last bit is on a dirt road but nothing extreme. The lagoon is great but gets pretty busy even with only 15 kites in there. You can buy some basic food and coconuts by the waterside, and ride both in the lagoon and in the ocean where the swell can be pretty big. Taiba is a popular pit stop for downwinders.
Known as the best wave spot in the area. The waves are small but clean and there's a nice center a bit outside town called Quebramar. There's no accommodation around the spot though so you'll have to drive 10 – 15 minutes to get there from the nearest posadas.
This is another sleepy town with a small but great lagoon only minutes drive away. We got there by a beach drive by our driver, so I can't say how easy it is to get to the lagoon by yourself. The lagoon isn't that big, but only had a few kiters in it when we visited. There's also a small school operating there, and you can ride in the ocean to mix it up.
There is a well maintained centre just outside town, but given it's a bit pricey and there's no flatwater spot I'd skip this one unless you're on a family trip and want the convenience of staying at a nice centre right by the beach. Still, the waves break cleaner here than in Paracuru or Prea and there are flat water spots not far away if you've got a vehicle.
This isn't your basecamp spot, but it's a cool experience and will make for a nice day trip. We had to cross here anyway, so our driver waited while we had a go in the river mouth. The current is strong and the wind can be a bit gusty, but the water is flat and mixes with the sweet water from the river. It will require some dune driving to get here.
Kitesurfing in the bay of Icarai doesn't offer that exciting riding, but if you're staying at Villa Mango you can combine riding and honey-moon level lush. Regardless wether your partner is a kitesurfer or not, this place won't disappoint. Around the corner, there's also a spot by the river mouth near town Moitas. Not the easiest to get to, but apparently very nice with both waves and flats.
Ilha do guajiru is a massive, 6km x 400m lagoon with a dozen of posadas lined up next to it. Since it's a dedicated kite village it's a bit resorty and touristy. But who cares when you can kite-eat-sleep-repeat with a flat water lagoon meters from your bed? The lagoon empties in low tide and leaves a three hour window when it's only kiteable in either short ends of it. In high tide the lagoon fills up and gets quite choppy in the middle. But at the far end, across from the posadas a freestyle paradise opens up with super flat water and loads of little sandbanks to play with.
The posadas are located in the middle, where it dries out in low tide with only a bit of grass to launch and land on in high tide. Mid-tide there's enough beach to use. Definitely stay in one of the posadas with beach access, to the right of the main road. Otherwise you'll have to launch on mud or among fisherman boats.
There's not much to do around here at night, but a quick drive and you're in Itarema where you'll find more dining options. You could also stay in Itarema and drive to the spot if you're on a budget, but that would downgrade the potential of this spot. Here you can go for a morning session before breakfast, kite until sunset and only take a break when the tide goes out.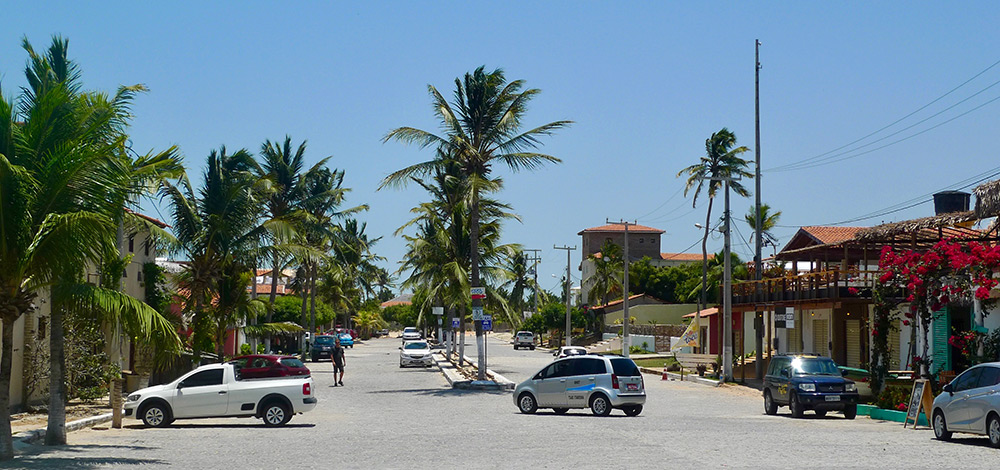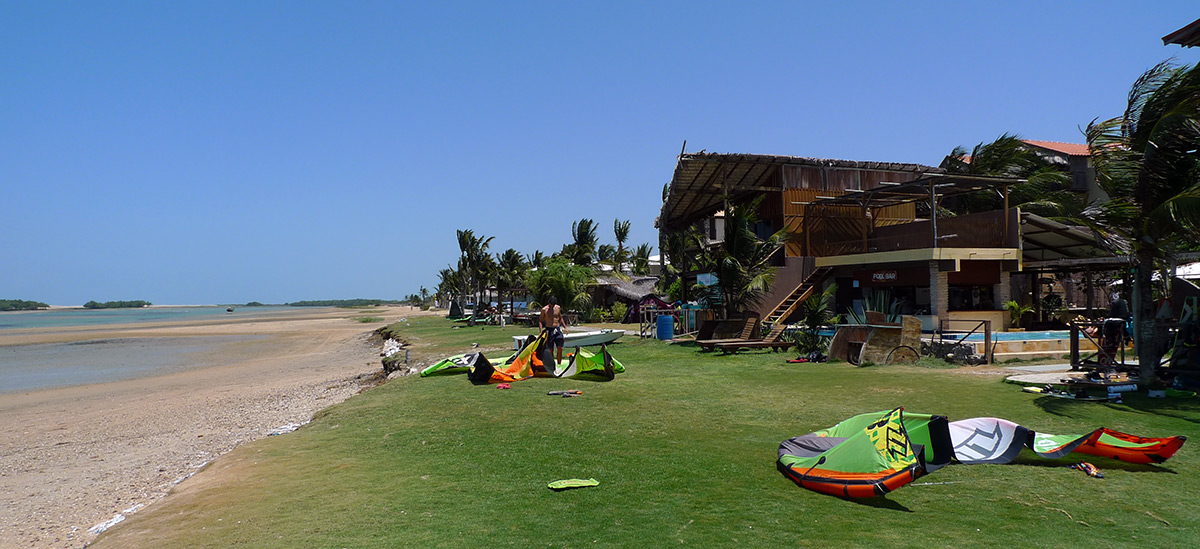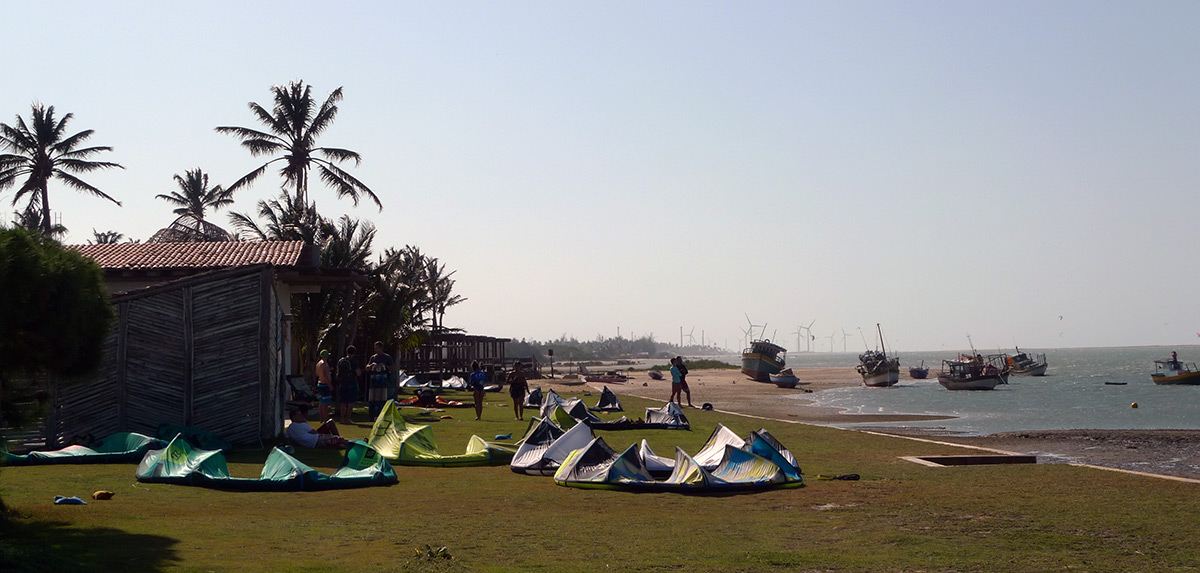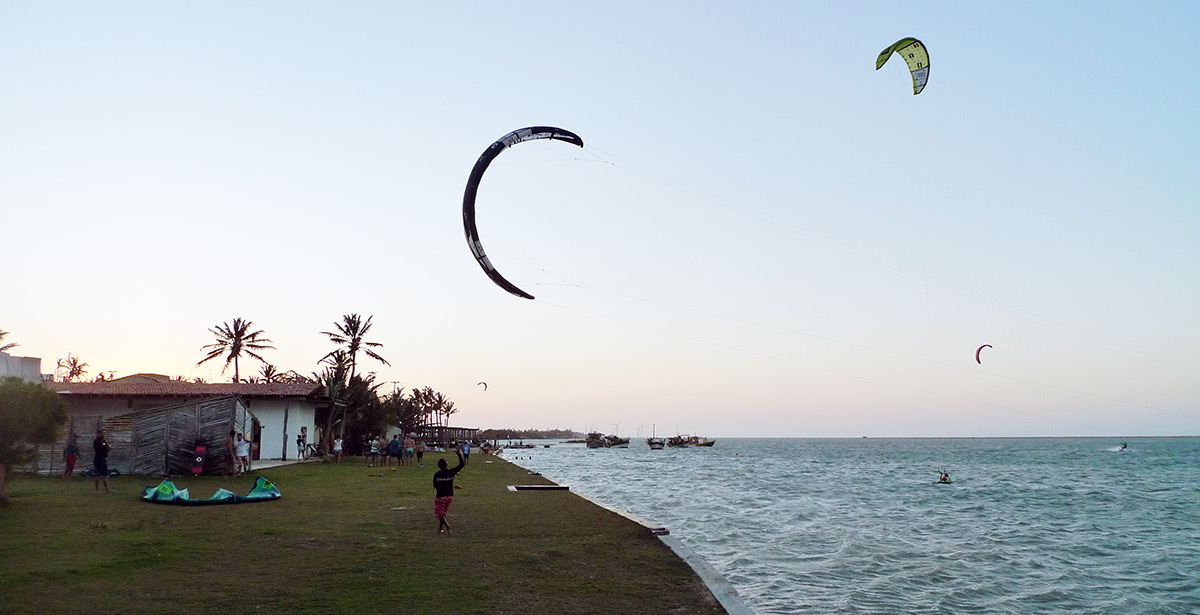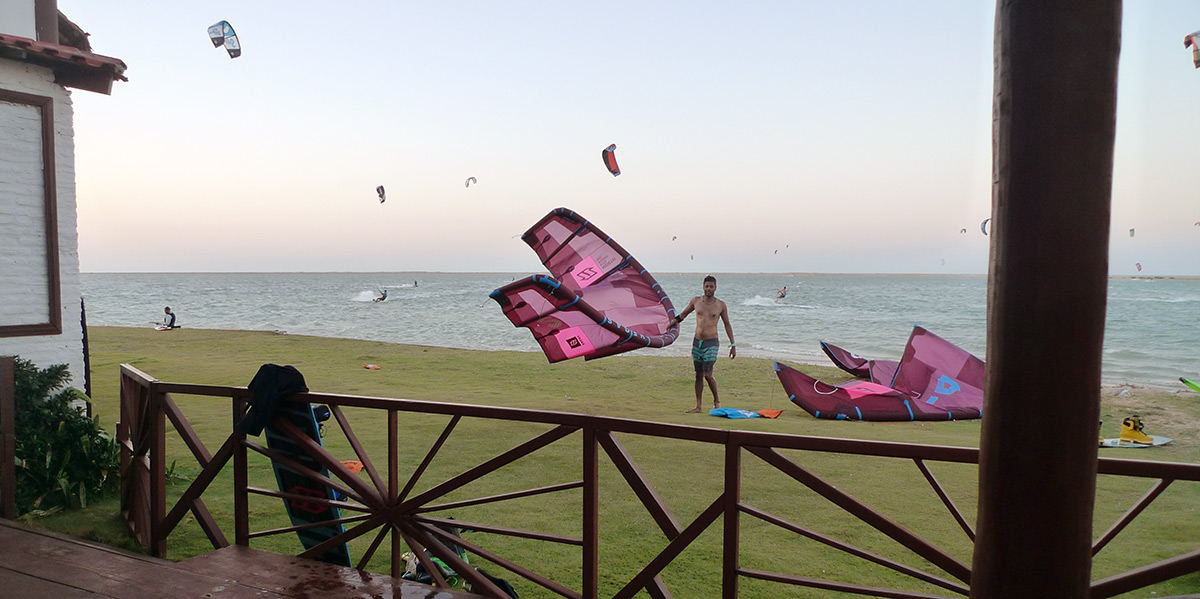 Jericoacoara
Hippie vibe fisherman village meets full moon party. Apparently not the authentic vibe it became famous for years ago, Jeri is now an established tourist attraction, even with its own airport. People come from far to party here, so even though it's very popular with kitesurfer and windsurfers, you'll also meet 'normal' people here. It's famous for its sunset, which you'll admire from the sand dune a short walk outside town.
You can't take your car in to Jeri, and all roads are made of sand. You'll have to park outside on big, paid parking lots so carrying your kite gear from the car to your posada isn't that great. There are however taxis in town so you can get one of those. Most people visiting Jeri rely on buggies and drivers to get around to kite spots since you can't kite in town, so it can get a bit pricey if you're staying here. At the same time, this is most likely where you want to stay as the options are limited around the spots, and Jeri is a lot of fun at night.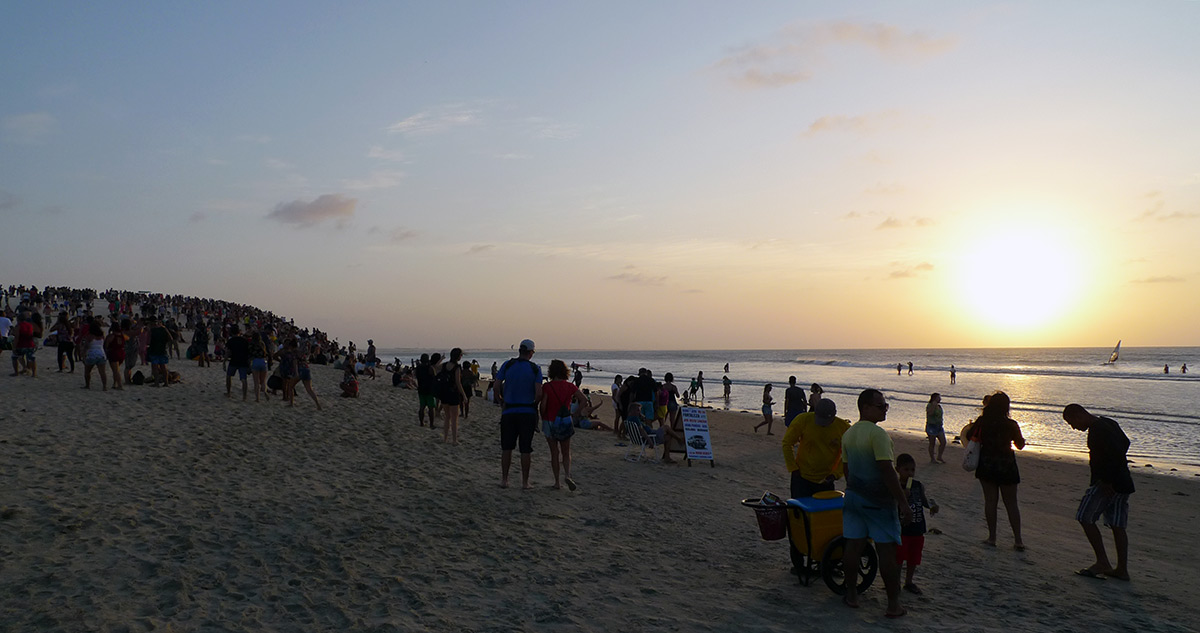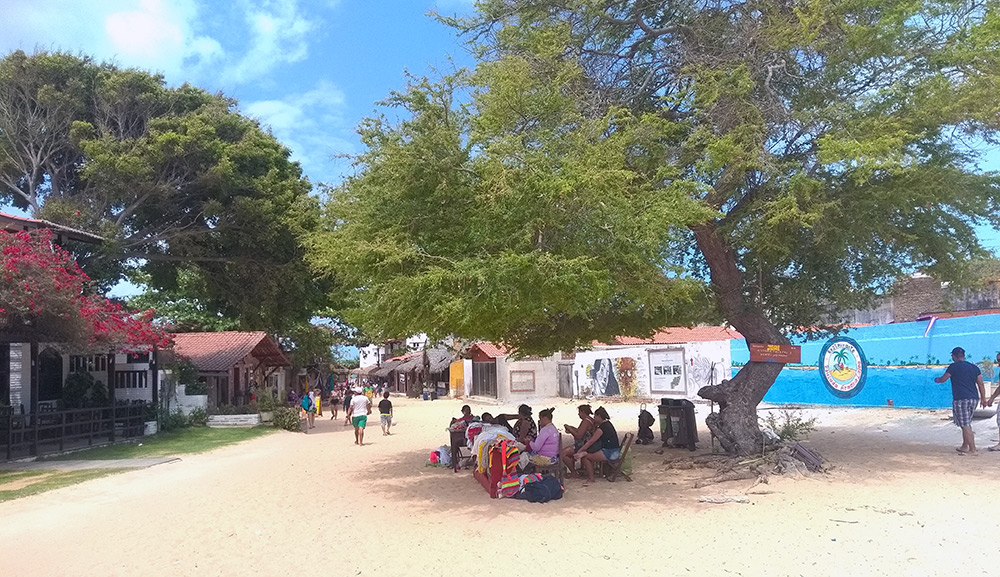 Prea
Quality: 1
Convenience: 3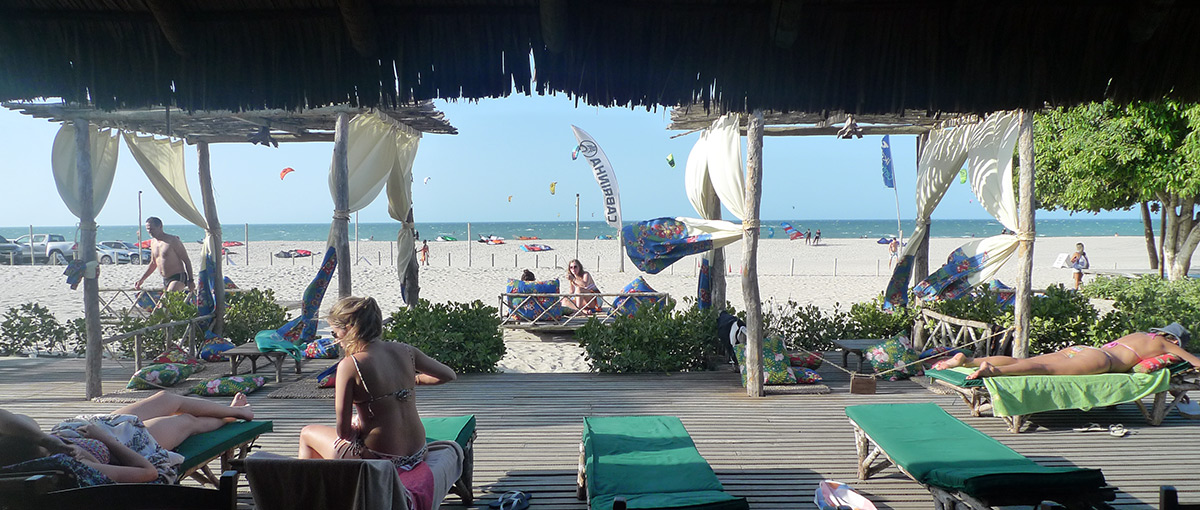 Strong wind, plenty of schools and a big beach. Other than that, the kitesurf spot of Prea has a pretty lush resort and kite centre where you can camp for the day if you ride here. The spot is just ocean chop though and not too stimulating. To get here from Jeri you need to do a beach drive. Not too challenging with a 4×4 but not something to leave for after sunset. This is also how we drove to Jeri. First to Prea, via normal roads, and then we followed the beach East to reach Jeri.
Waist to knee deep flat water spot. To get to Guriu you can do a downwinder from Jeri, or a small dune crossing and a beach ride until you reach a 50R ferry crossing with return. After the crossing, just follow the road through the mangroves and you'll find the river mouth. It takes about 25 mins drive. The spot is located where a river surrounded by mangroves meet the ocean, so both flat water and ocean is possible. There's nothing around, just some huts to protect from the sun.
Beyond Guriu, another 20 mins drive along the beach lies Tatajuba. The main spot is a river lagoon that dries out in low tide, and there's also a big sweet water lake at kiters' disposal albeit a bit gusty. When the lagoon is empty you can still kite in the ocean with some really nice kickers. Both spots requires driving through some dunes, streams and wasteland, so finding it without a guide is not easy. There are a few posadas by the main spot including a Kite Worldwide place, and there's also a restaurant by the lagoon but Tatajuba is proper low-key for now. When we visited there were only two other kiters in the lake, and about 15 at the river mouth. It's a really good spot though and probably both infrastructure and popularity will grow over the next few years.
The lake is huge and surrounded by dunes. It's completely unexploited and nothing you'd go ride in every day, but if you're staying by the lagoon it makes for a nice day trip. It's a bit gusty since the wind is coming over the land but riding in a sweet water oasis type lake is quite an experience, and you can practise your beach starts and dune jumps of the small dunes surrounding the lake.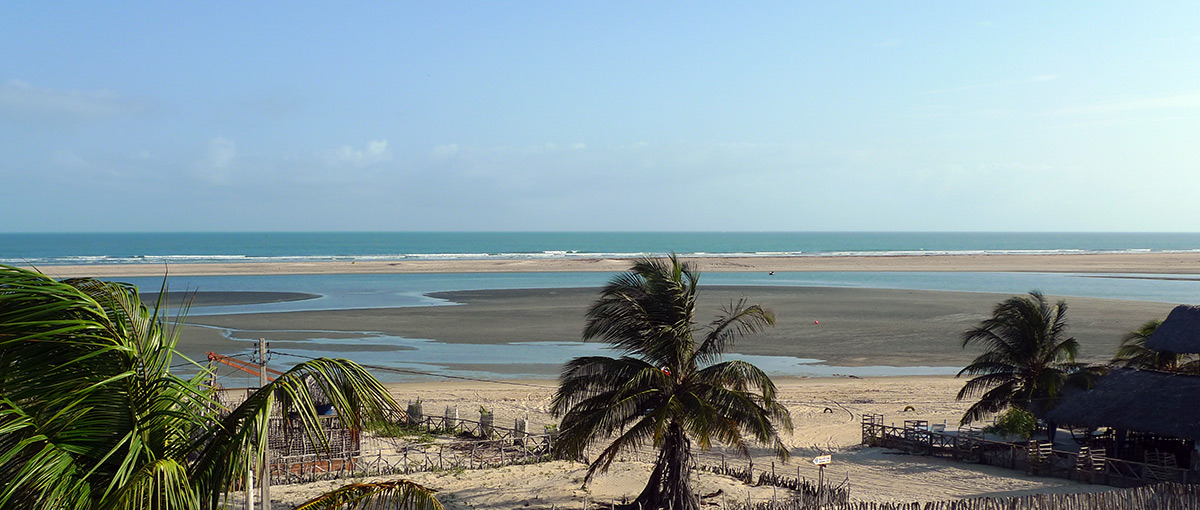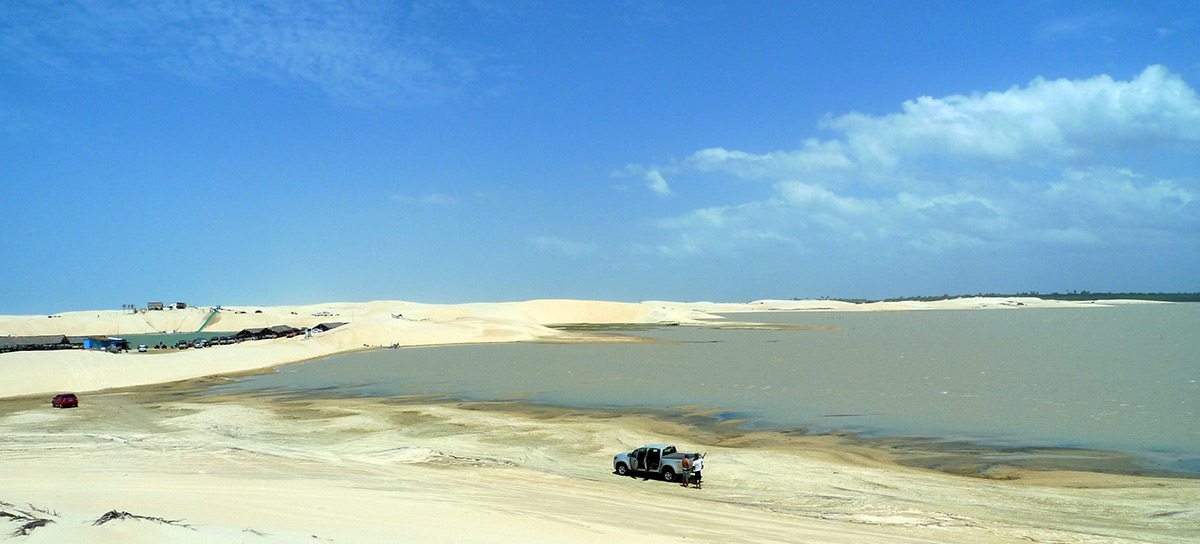 Barra Grande & Macapa
Quality: 5
Convenience: 4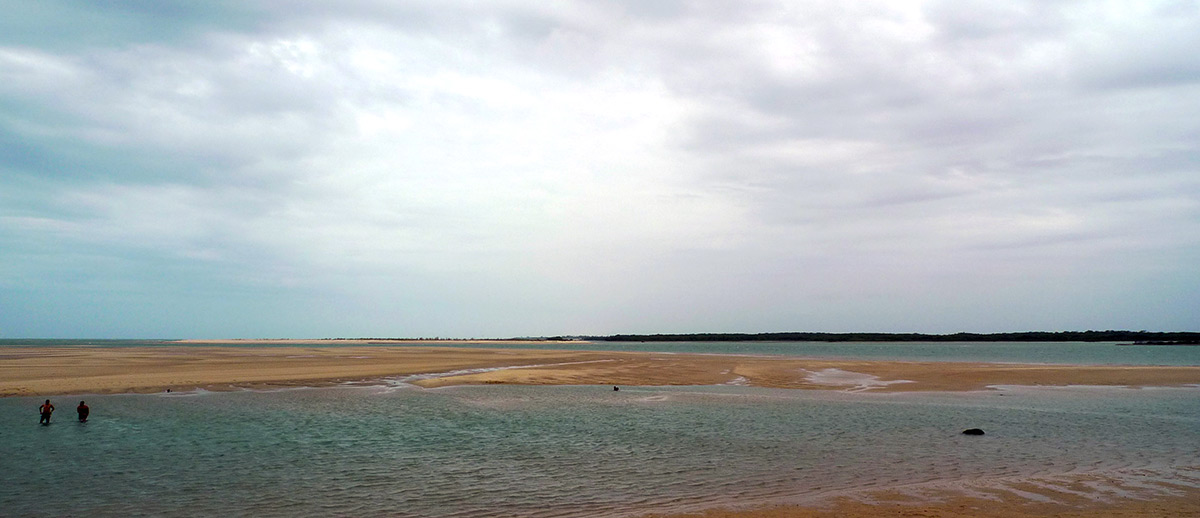 A massive playground with varied conditions. In this spot you have two clusters of posadas either side of the river delta, either in village Barra Grande to the East, or in Macapa to the West. Driving between them takes almost an hour so pick one based on what you're after, or spend a few nights in each. Barra Grande is more established and you can live right on the beach where there are quite a few centres and schools. Here you ride in the ocean, so in high tide it's not that special, but in low tide it gets rather flat.
Macapa has all the lagoons and flat water but it's more low key and you have to walk out on the beach a bit from the posadas. We stayed in Amazonia Kite Club, in my mind the best positioned posada and with very good value for money. Macapa works better on hight tide as the lagoons fill up and offers butter flat conditions, but even in low tide this place has plenty of space in and around the river delta.
Sheltered behind a long stretching sand bank, roughly between the two villages is La Boca; more flat water heaven to the backdrop of mangroves. Both spots get thermal wind in the morning that dies down around 10am and then the NE picks up around midday and builds up over the day.
Atins is as far up North people go for kitesurfing. Maybe there aren't any good spots after that, or maybe it's less windy. I don't know. If you're coming from Fortaleza you've already done a lot of miles, and many won't even make it this far. If you want to come to Atins it might actually be more convenient to fly to Sao Luis and arrange transport from there.
We drove though. From Barra Grande it took us about four hours, oftentimes through undeveloped roads. Once we arrived in Barreirinhas, the nearest town, we asked the tourist information to get us a guide that could take us to Atins as we've been told it was a challenging drive there. A skilled driver would've been good. For some reason we were only given a guide who took the passenger seat and gave us instructions for 250R one way. The path to Atins was the most challenging one so far and although Giovanni did an admirable job driving the pickup to his best ability, we still got stuck in the sand a few times. Get a driver or talk to your posada to arrange pickup by car or boat. Both takes about an hour.
Once you're in Atins you won't need a car. The whole village is pretty much built on sand dunes and people either walk or drive quad bikes here. In Jeri the sand was pretty solid and easy to walk on. In Atins the sand is soft and you'll get a good calves workout wherever you go. The village is super low-key and only has a few places to eat and drink. Focus is on beach and kiting. It's also considerably more expensive than anywhere else we went. Expect at least double the cost for accommodation and dining.
So is it worth it? Is the kiting so good that you're willing to put up with the hassle of getting here and the cost of staying? This is where I'd like to say yes, but for me personally it's probably a no now once I've been and don't risk any FOMO. But of course it depends. If you're on a shorter holiday and are willing to pay a bit more you can fly to Sao Luis, have logistics arranged by your posada, take the boat instead of the car and simply enjoy this special place. You can either stay in a posada with beach access, or do a quick 10 – 15 min walk in the morning. On the beach you'll have a few bars, and you can store your gear at Vila Guara, which also forms a nice chill out place in-between sessions.
The spot is a massive lagoon, so it'll never get busy. It works on all tides but gets quite choppy in high tide. There are a few spots sheltered behind sand banks that get butter flat, so obviously that's where you'll want to ride. I was surprised to see that that wasn't the case for everyone, so even the sweet spots didn't get busy. To the West you'll find some pretty cool riding among grassy areas in high tide. Overall, Atins offers quite varied riding but not as varied as Macapa.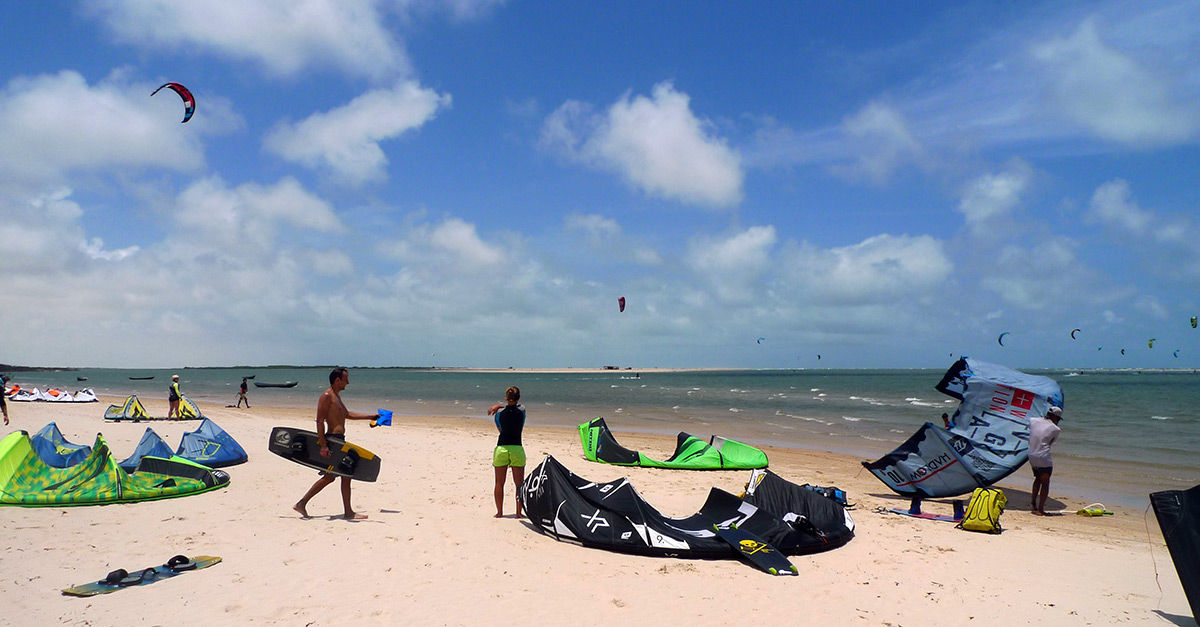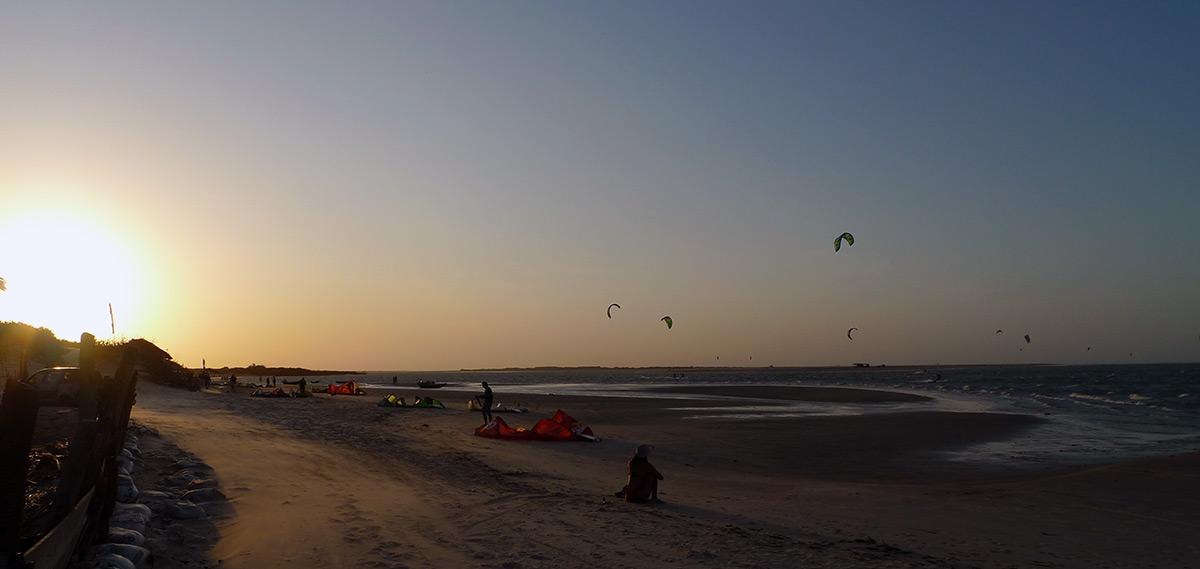 Lencois Maranhenses lagoons (as seen in Red Bull's Rally dos Ventos)
One cool thing Atins does have is the closeness to the Lencois Maranhenses national park lagoons. A day trip downwinder to the Paradiso desert lagoons costs around 650R but the car can take up to nine people so it's well worth it. The downwinder takes about one to two hours depending on level and you get to ride in the sweet water lagoons until sunset. They're perfect for freestyle and a unique experience. Go to the one further away for the best experience and deepest water. The earlier in the season you go, the more water will still be left in the lagoons after the rainy season, so August – September is ideal, but December might be too late and they're all dried out.
If you're interested in Atins, do check this guest post as well.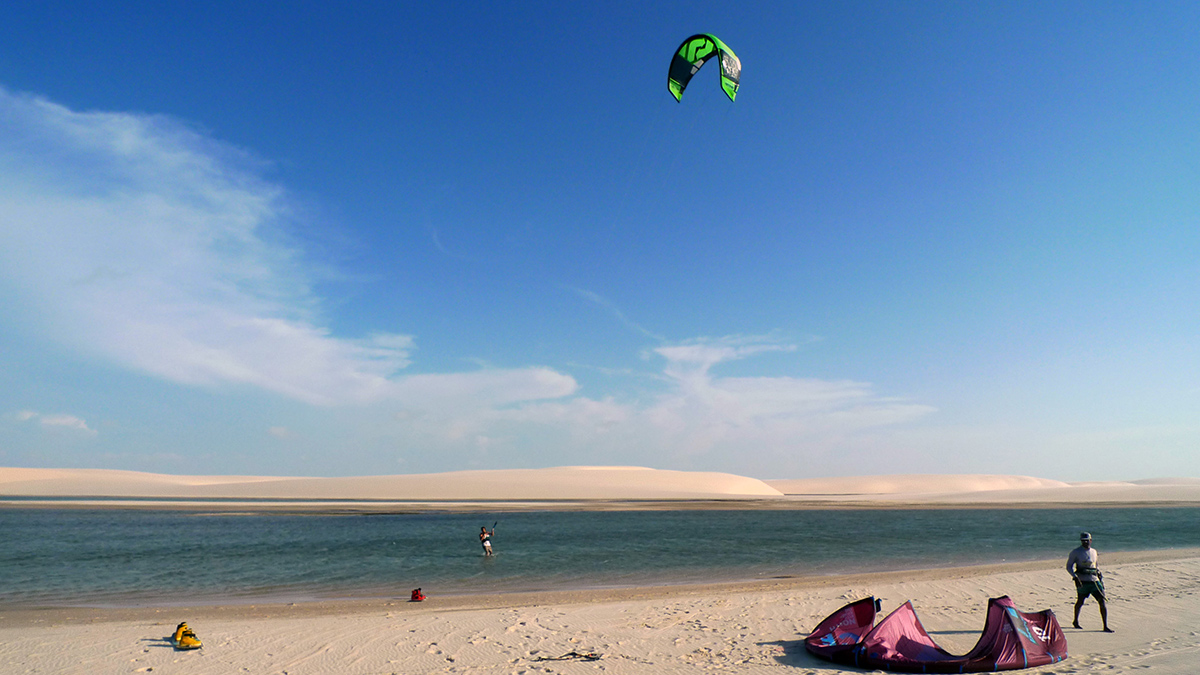 My thoughts on downwinders
The wild and untouched coast of North Brazil is the go-to destination for downwinders. It's so established that you can find numerous trips dedicated only for this purpose. For most of the coastline the wind is cross-on and the waves are gentle and clean. Perfect for directional boards. If you're riding a twin-tip the fascination with downwinders is maybe harder to understand. It's a beautiful experience though, riding from spot to spot with nothing but palm trees and fisherman huts along the way, but it can take its toll on your body, so make sure you take breaks and drink plenty of water.
How it normally works is that you arrange for a driver to follow you on the beach, and when you're done for the day he'll take you back to where you're staying, or to the nearest town where you spend the night, and then continue the downwinder the next day. The driver network is huge around here so you have flexibility to say bye to one and pick up a new one if you want to stay at the same spot for a few days. You can bring your own car, like we did, or they'll provide one.
Many downwinders start around Cumbuco. We started past Port of Pecem. To Taiba it took around two hours and was quite a struggle in choppy conditions. I wouldn't recommend this part. The part between Taiba and Paracuru however was super nice, with nice clean waves close to shore and a more beautiful setting. The wind also settled a bit in the afternoon and the sunset completed the cliché we were here for.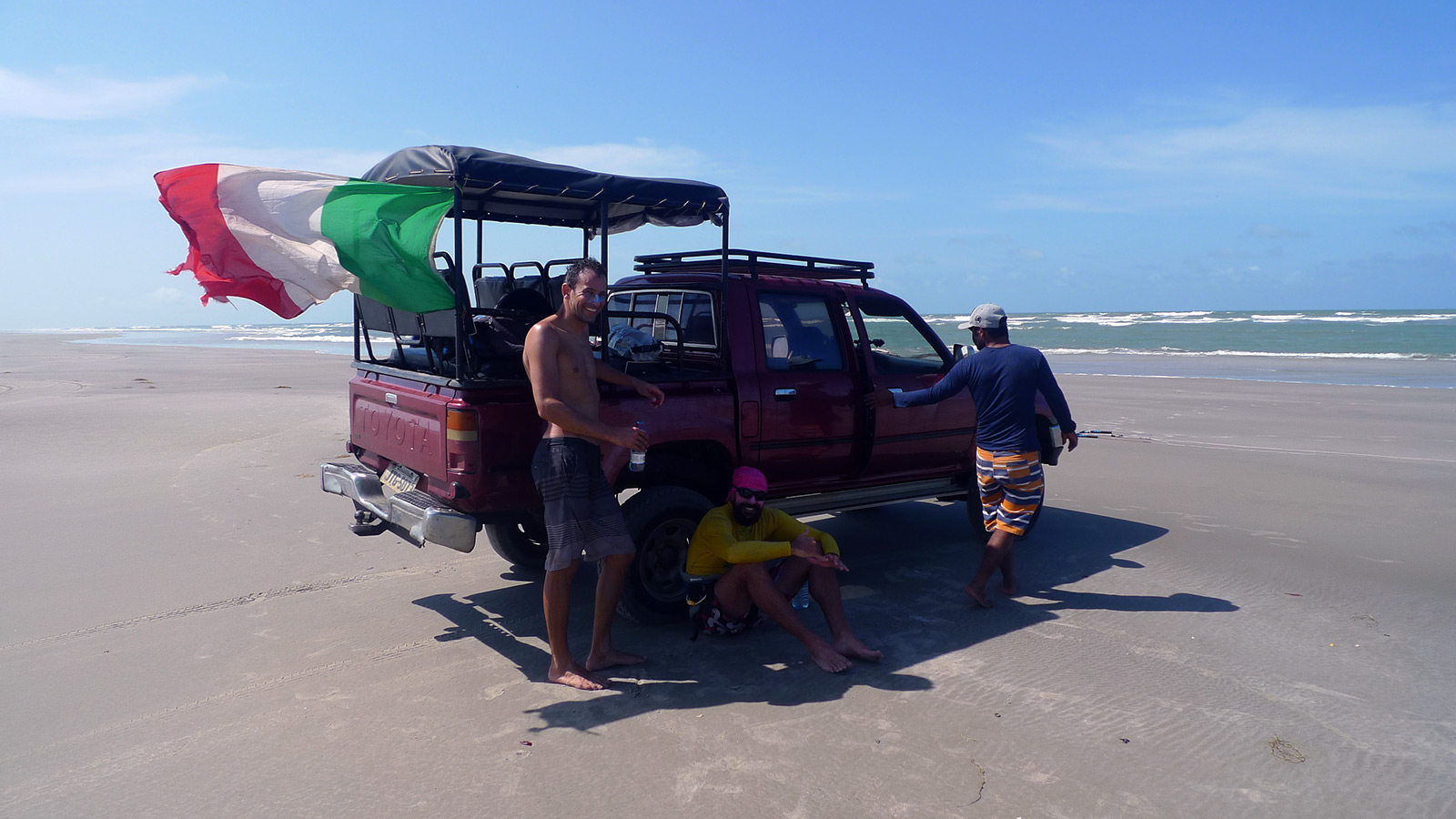 Getting around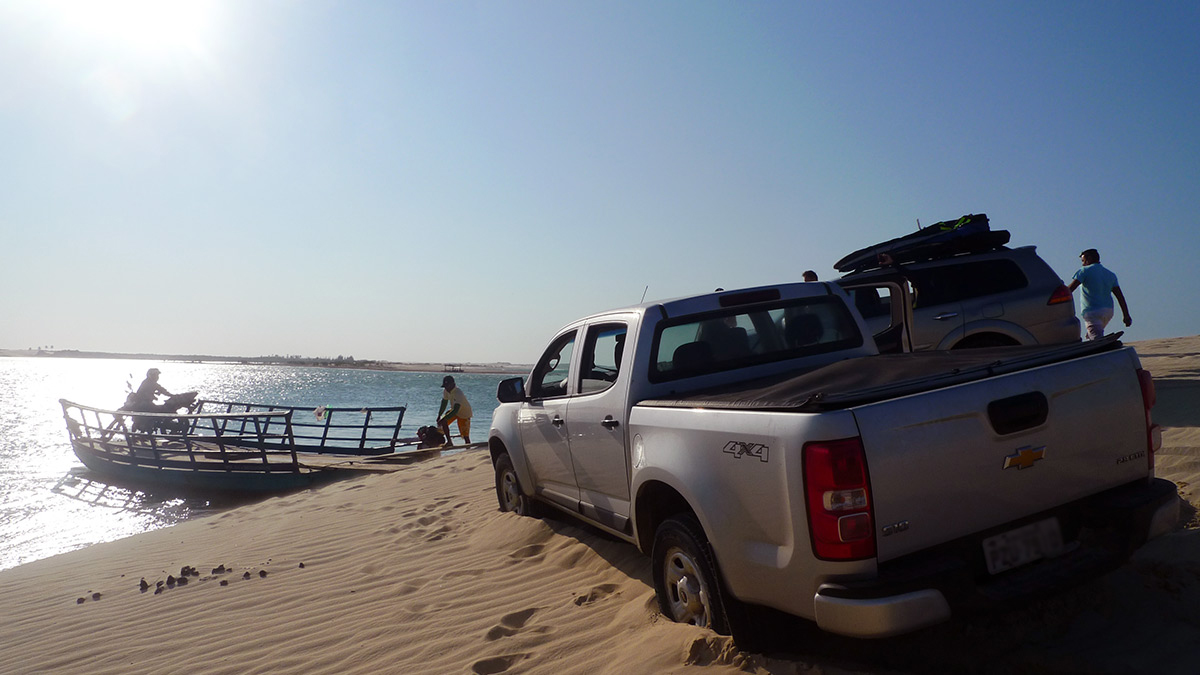 If you're up for an adventure without too many risks involved, rent a car and visit as any spots as you wish with the freedom of being able to go wherever whenever. Most likely there will be some off-road driving involved, by you or a hired driver, so a 4×4 is a must. The more off-roady the better. It will open up possibilities. I promise you'll regret not getting a proper off-road car if you do go for the DIY, rental option. We picked up a Chrysler pick-up at Hertz for a decent price. Toyota Hilux were very popular as well, but if you can get your hands on a Wrangler or Defender with a snorkel you're definitely sorted.
Think about leaving space for a driver sometimes. Three people was good. Four could've worked too since we had a pick-up. Data is not available everywhere along the way but will be very handy to have at hand. At least download Google maps to your phone in advance.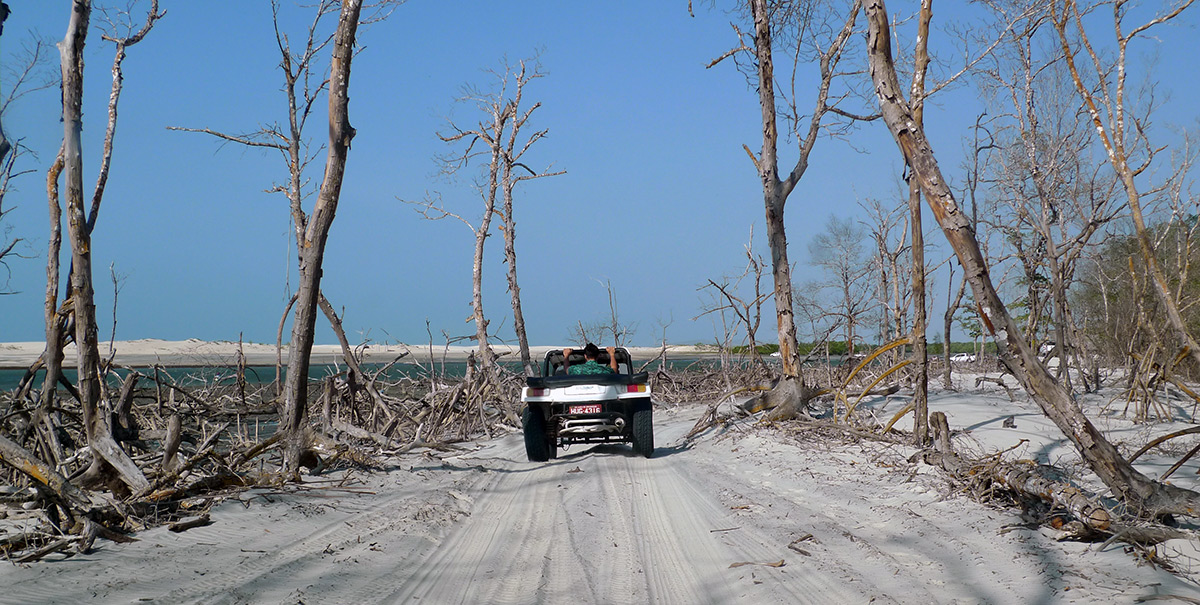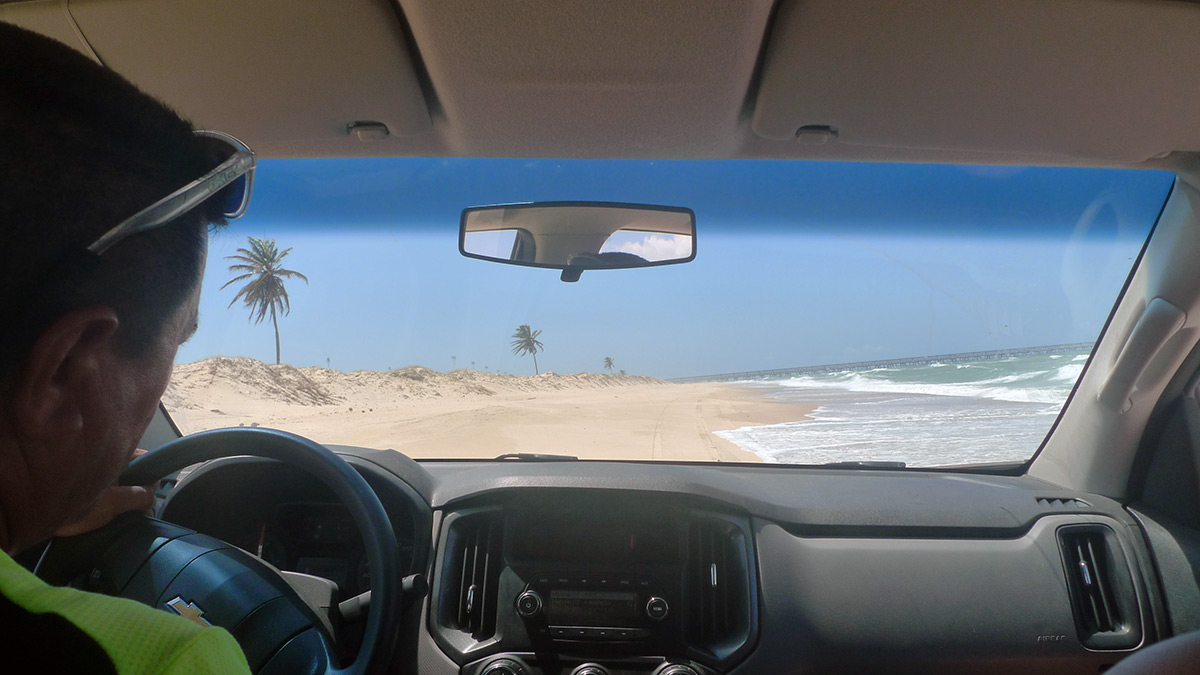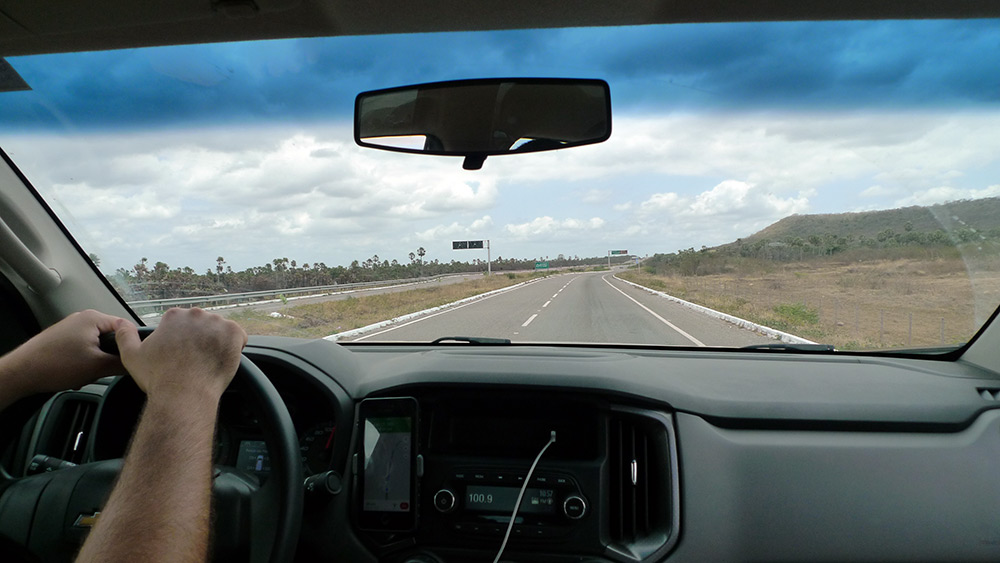 Getting out of Fortaleza takes around 40 minutes. Traffic is pretty heavy but manageable. The roads up to Atins are fine for most part, but many spots are only accessible through beach and dirt roads. Animals crossing the roads are very common. Cows, horses, dogs, pigs, you name it. Be cautious because they don't give a rat's ass about you.
Our driver that we used between Cumbuco and Ilha do Guajiru (For a two-day downwinder with one night in Lagoinha we paid him 400R) was a proper off-road expert and had no issue driving on beach, sand dunes and dirt roads once he had dropped the tire pressure to 17psi. If you're not used to this type of driving you might want to take crash course first. Getting stuck is easy and getting out of the sand can be a bit tricky.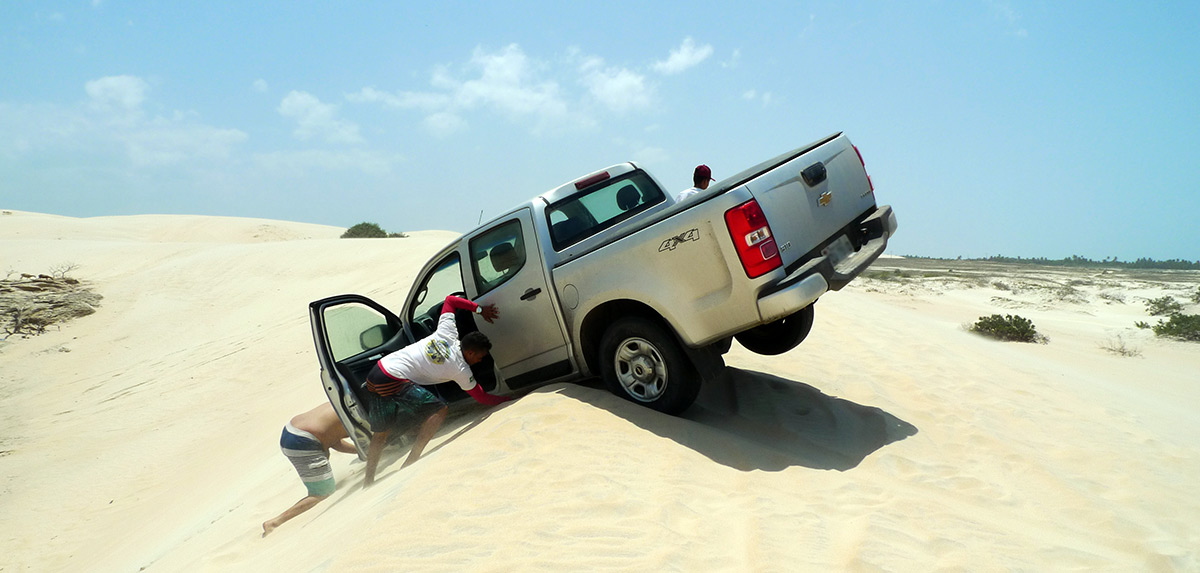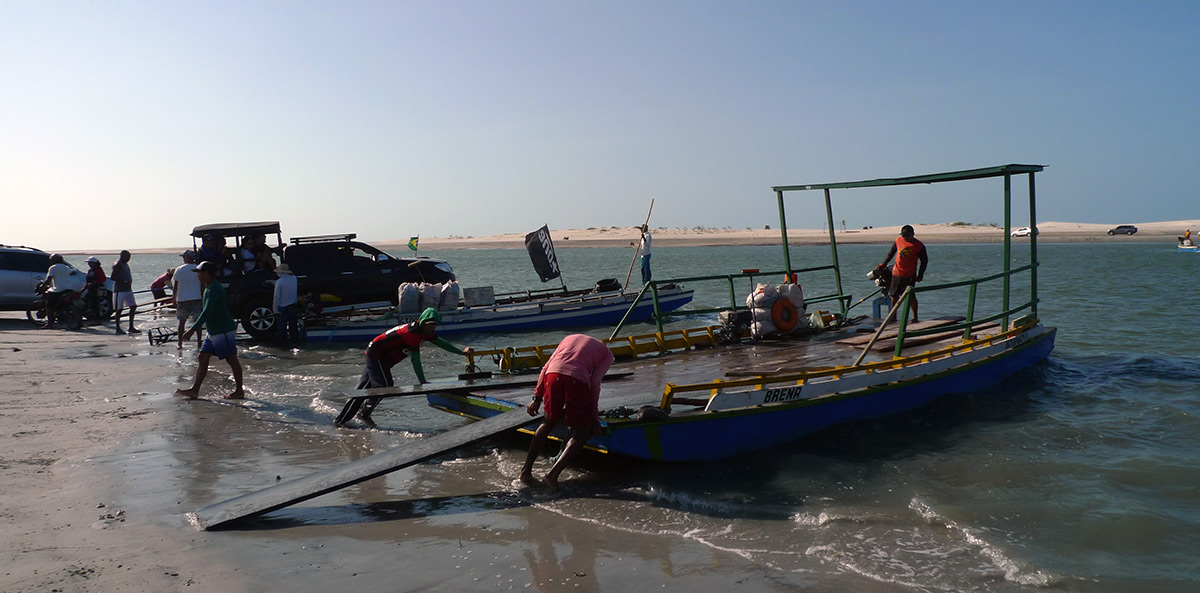 Finding accommodation
To book in advance or not? Using Booking.com, AirBnB etc will be more expensive but otherwise you're not guaranteed a place to stay in the smaller spots e.g. Tatajuba. Except for November and around New year I think it's perfectly fine to wing it. You'll have the advantage of being able to compare rates when you arrive in a new spot or town. For instance, in Ilha do Guajiru we pre-booked a few nights for 400R per night via Booking.com, but soon after moved to a neighbouring (and nicer) posada for 250R a night. On average we paid 200R (£40) per night including breakfast for three persons, but that meant that two of us had to share a double bed at times. There's nothing like spooning your kite buddy after a day of kiting and a few caipirinhas.
Useful tidbits
Check your travel jabs before you go. There are quite a few that are recommended.
Brazil has a reputation of being unsafe so we had to constantly lock things away and keep the guard up. In reality we were met by the locals with nothing but sincere hospitality.
Get cash before you travel, or from an airport ATM on arrival. They charge 25R per withdrawal with 1000R top, but it's worth it if you're going North as it might be harder to get cash later.
Brazil can be cheap. 10R (£2) to fix a car tire. £3 for a big Street food meal. In restaurants we paid around 200R for a big meal with alcohol for three people. But check the menu before entering, as the touristy restaurants charge London prices.
Think about what you're after. Plan your trip accordingly. There is so much to see and so many spots that you either need the whole season to enjoy it all, or you need to cherry pick according to taste.
Other good Brazil kitesurf guides
All spots
Simone Timpano
Freeride Kitesurf
Go-kite
Jericoacoara region
Tatajuba
Barra grande & Macapa