Date: May 3 – 11, 2014
Rideable days: 8 out of 8
Wind: 12 – 40 knots
Air temp: Around 25˚C
Water temp: Around 21˚C
Tarifa is one of those spots everyone knows about. It's the kite Mecca of Europe famous for always being windy. On top of that it's also located at the most southern part of Spain which means sunny and dry weather from May to October. I was looking for a week of consistent wind and sun in May without having to go too far away from England and Tarifa seemed to be my best choice.
Egypt and Canaries were on the list too but having heard so much about it I though it was time to check Tarifa out first person. It is indeed kite Mecca with surf shops everywhere, prevailing wind, a good food and party scene and beautiful beaches. There are many guides and reviews of Tarifa already but since this website is all about kitesurf spots I might as well add mine and maybe help some holiday planners plan their kite trip. Especially if it's due in May.
Around Tarifa there are 2 prevailing winds; Levante and Poniente. Levante is strong, gusty and comes from the East. Poniente is a consistent wind from the Atlantic ocean which means cross on shore 12 – 24 knots. We had Levante all week so this review will focus on spots that work on Levante mainly, even though a lot of them work on both.
Getting there
We flew from Luton to Gibraltar with Monarch. It's a quick walk over to the Spanish side (don't miss the tax free shop with 1L Jim Beam bottles for £6!). Grab a rental car on the Spanish side to avoid the customs cues and follow A-7 and E-5, 40 min to Tarifa. You can also fly to Malaga but that's a longer drive.
Accommodation
We stayed at a small apartment hotel right outside Tarifa. It's ok if you have a car, which you probably need anyway to get around, but ideally I would suggest staying somewhre close to old town for quick and easy access to the bars and restaurants. On the plus side there were plenty of space to spread out the gear to dry at our place. You can also stay in a hotel or camping closer to Valdevaqueros (the main beach) but then there's not much to do in the evenings and you'll have a longer way into town.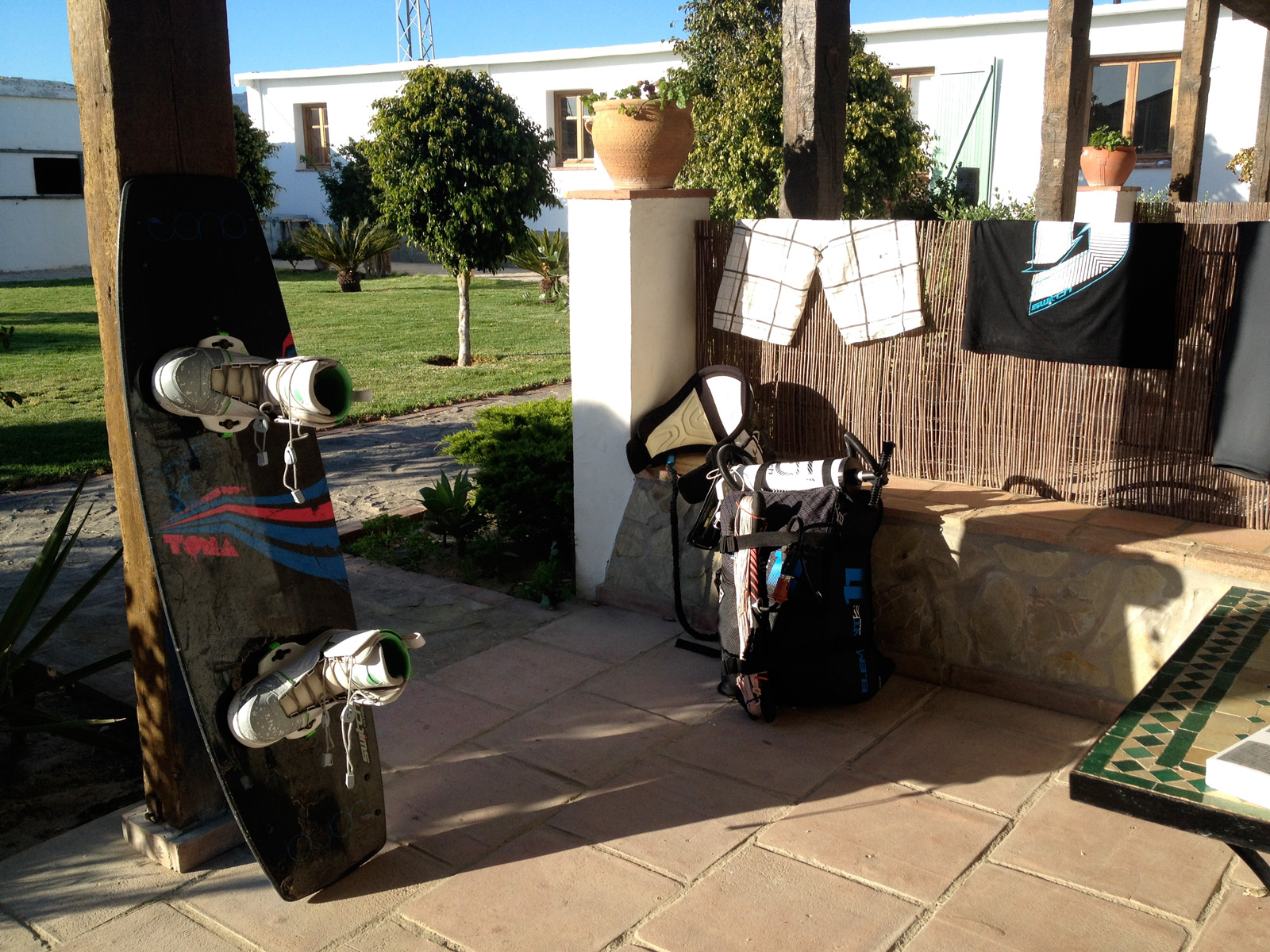 Weather
Levante, varied strength depending on spot (I could've used kites from 5m to 15m). Sunny enough for shorty in the water and shorts and sun screen on land, but a sweater needed when the sun goes down.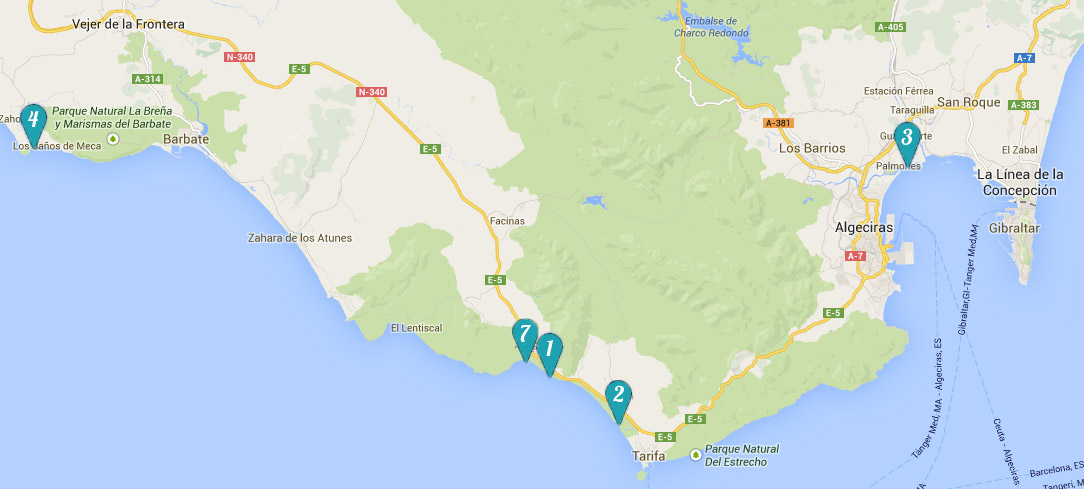 Day 1 – Valdevaqueros
This beach is curved shaped so even on a Levante you're not riding totally off shore. It's still not great though and the wind was strong and gusty. Despite that there were quire a few kite, and wind surfers in the water. We paid €1 and parked at Club Mistral which seems to be the biggest centre in the area. You can park farther up the road for free if you're happy to walk.
Club Mistral is a really nice place with restaurant, bar, music, rental, school… the works. I walked upwind a bit to avoid the jam closest to the centre, launched my 7m and went riding. The gusts made it pretty tough to do anything fancy but I could still enjoy some big jumps.
It's cool to see that there are way more girls riding here compared to the UK. I'd say every 4th rider here was female compared to about every 10th around London where I usually ride.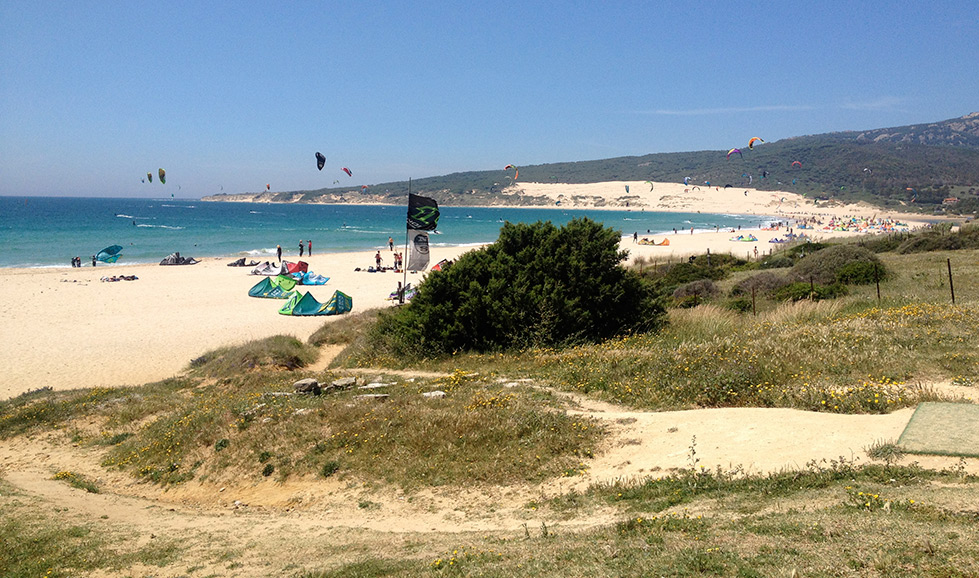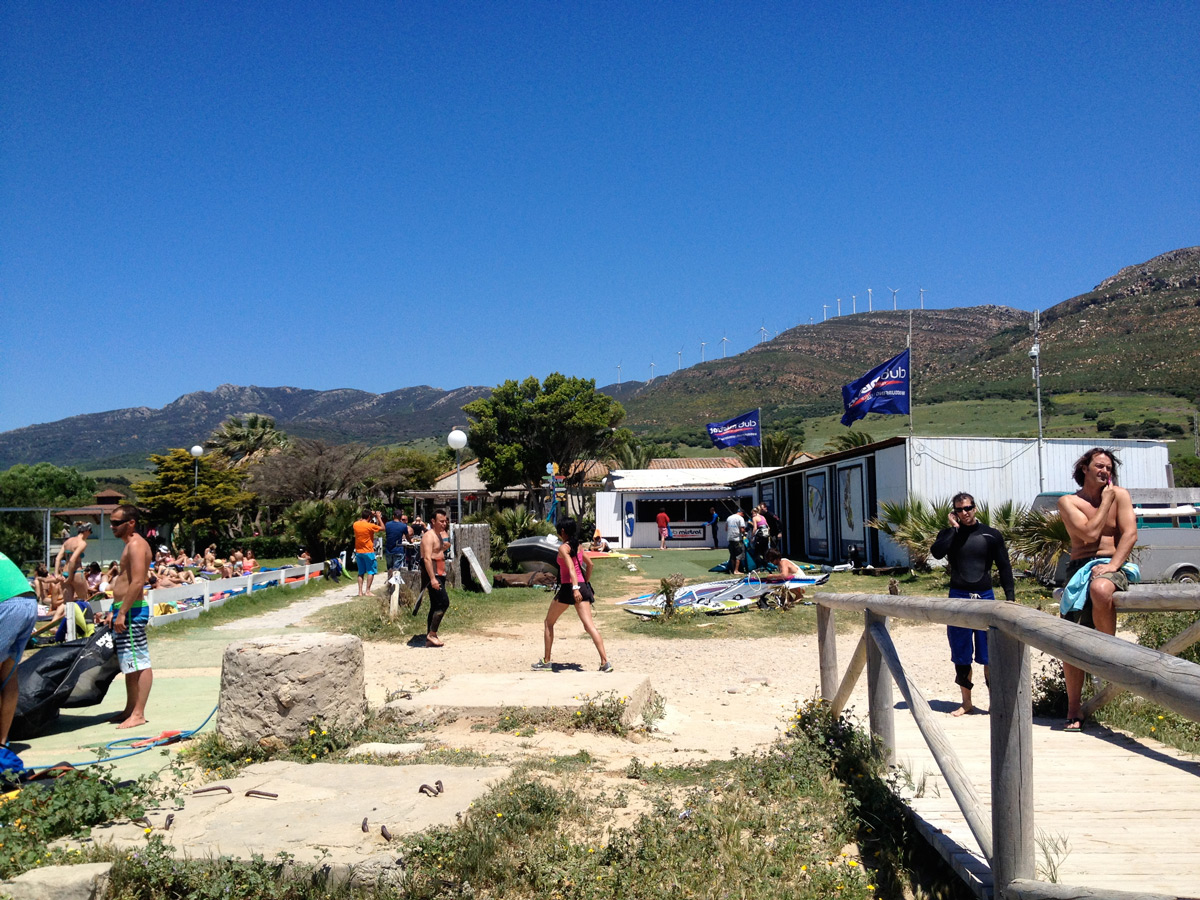 Day 2 – Los Lances lagoon
Los Lances is the huge beach between Tarifa and Valdevaqueros. It's off shore in Levante which makes it pretty much off-limits, but it also has a lagoon that we were told to check out. So first we drove down to the public parking and it's a really nice big beach with a chill out cafe next to the parking. I'd love to try on a Poniente. No lagoon in sight though but I spotted some kites riding "on the beach" a few kilometres towards Tarifa so we got back into the car and drove towards it.
First we tried the camping site but they told us to keep driving a bit and we would find a public parking with access. We then found the Best centre and further down some farm road with restricted access. We chose the Best parking and reckoned we could walk down to the beach and find the lagoon. That was the wrong way we later found out. We ended up walking through a meadow, getting a mud bath for our legs and finally ending up a few hundred meters wrong.
After a short walk on the beach we finally reached the lagoon though. The lagoon is about 100×300 meters big, so not huge but there were only two kiters there so still plenty of space for me to get in and enjoy the butter flat water fun. I had heard that there are plenty of skilled riders in Tarifa so I wasn't surprised when these 2 riders were throwing down some serious moves, but I didn't expect it to be Liam Whaley's kite I landed, shortly followed by Marc Jacobs.
It's pretty cool to meet the guys you see in the vids and photos all the time but judged from my Boracay experience this is not too rare since there are only so many great spots where the pros (and everyone else) go for good wind. I went out on my 9m for a very quick sesh only to realise that it was super gusty and you need to be a pro to handle those conditions so I came in to the shore where some police officers were waiting to tell me that I wasn't allowed to ride in the lagoon. Ok. Good to know. Everybody still seems to be doing it. We walked up to the road, which turned out to be the restricted road at the farm house and went to Pachamama for some great BBQ to end the day.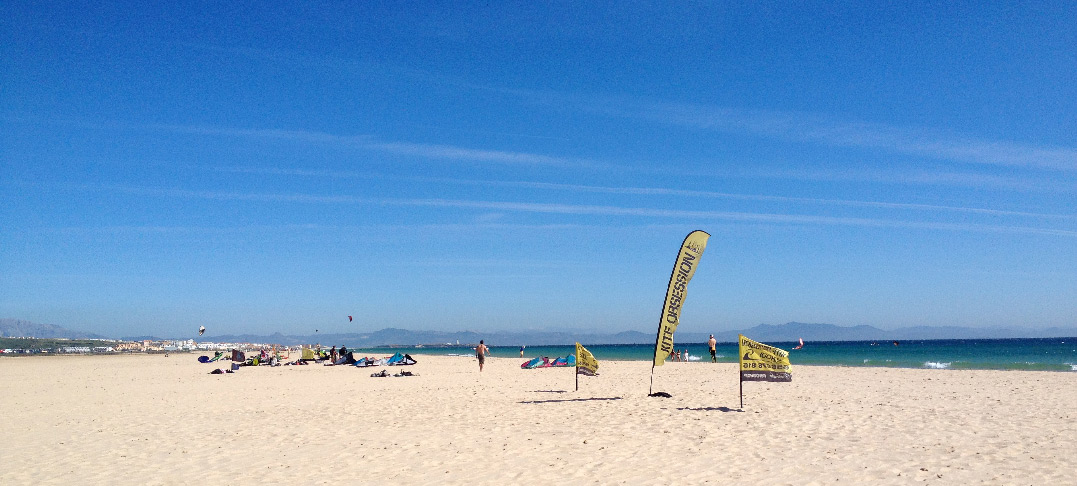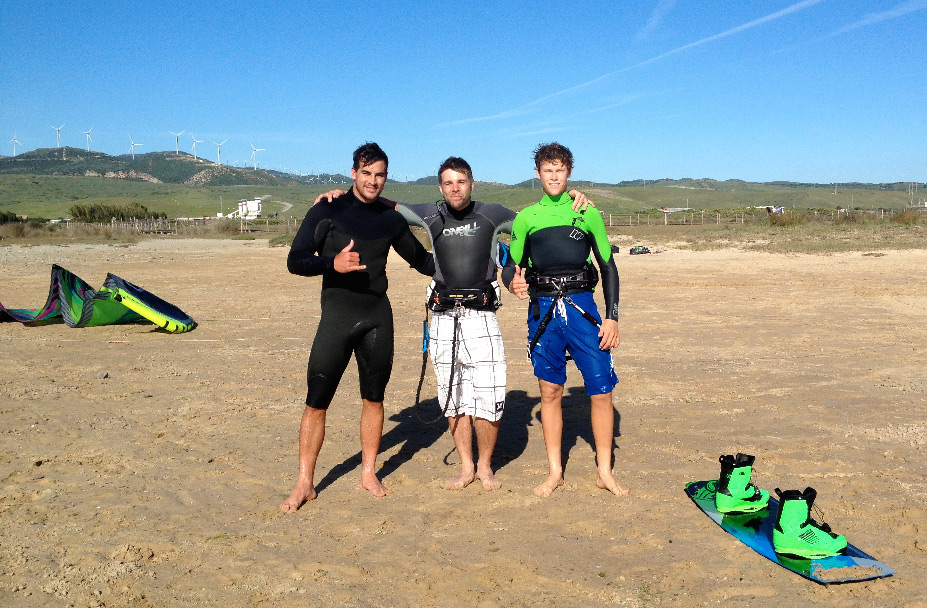 Day 3 – Palmones
Palmones is located shortly after passing Algeciras towards Gibraltar and Malaga. About 25 min drive from Tarifa. It's a small village with a nice beach with flat water and a view at Gibraltar and big cargo ships waiting to enter the port. People come here on strong Levante days when it's too hairy around Tarifa. It's a fairly small beach and a lot of schools and beginners so one have to be careful going out and coming in.
It was borderline this day and I barely got out on my 11m but this would be a great freestyle spot with a bit more wind. In the evening we drove to Valdevaqueors to check the conditions. It was around 35 – 40 knots and people were out on 5m kites. I felt a bit too lazy to rig the kite so instead we had some crazy action with the trainer kite.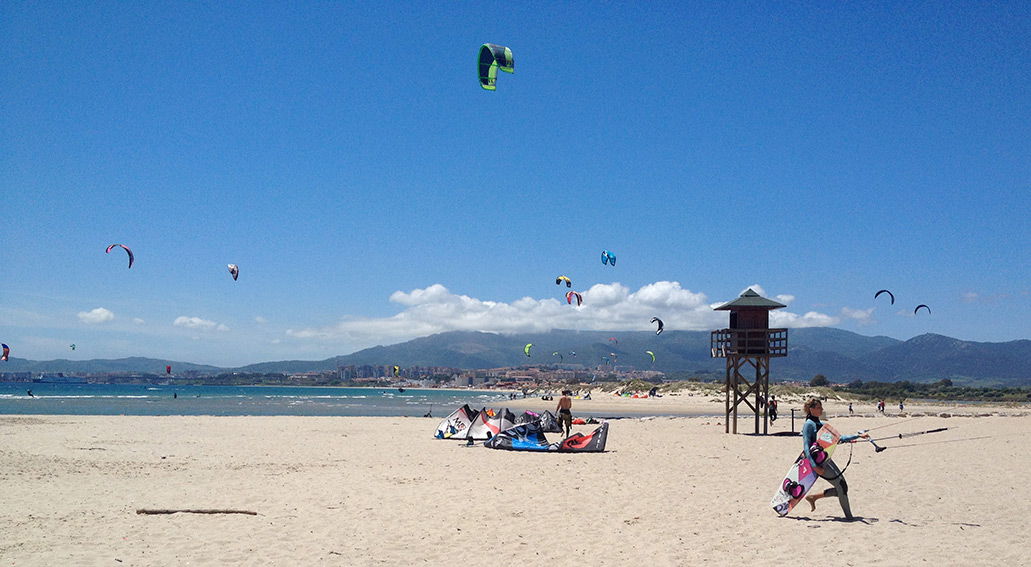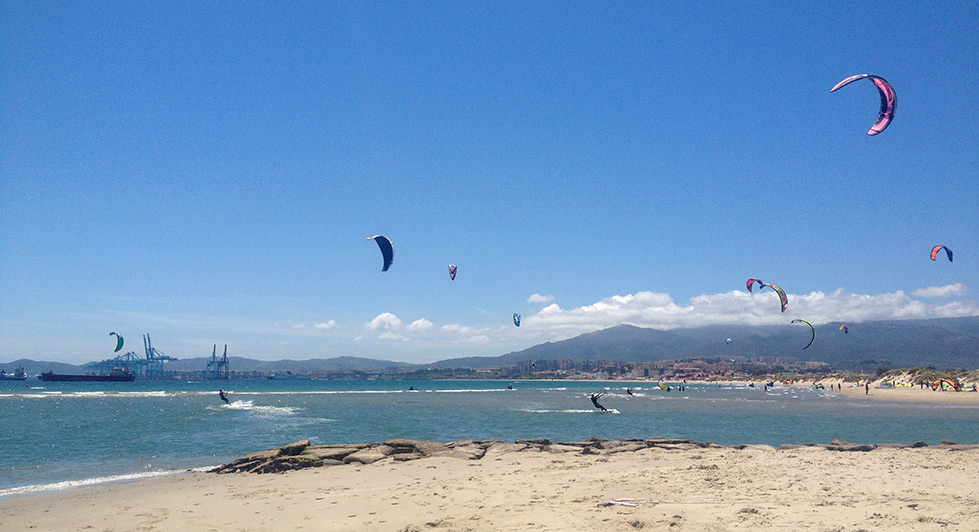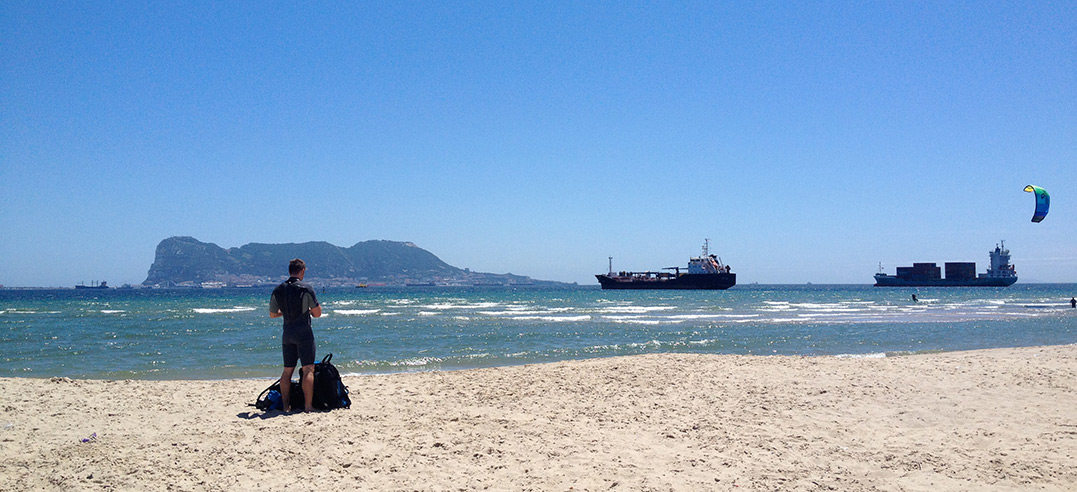 Day 4 – Los Canos de Meca
About 45 min drive from Tarifa you find Los Canos de Meca, close to Barbate. It's great on strong Levante days as the wind is considerably weaker here. We arrived around noon and got in when it was just about enough for my 11m. The wind then gradually picked up until 6pm and gave us a great, sunny day in the water with cross on-shore winds.
This spot has some small, nice rolling waves and at least half of the 20 kiters in the water were on surfboards making the most of the spot. Not great for freestyle due to the waves and some chop but you'll still have a good time on a twin tip.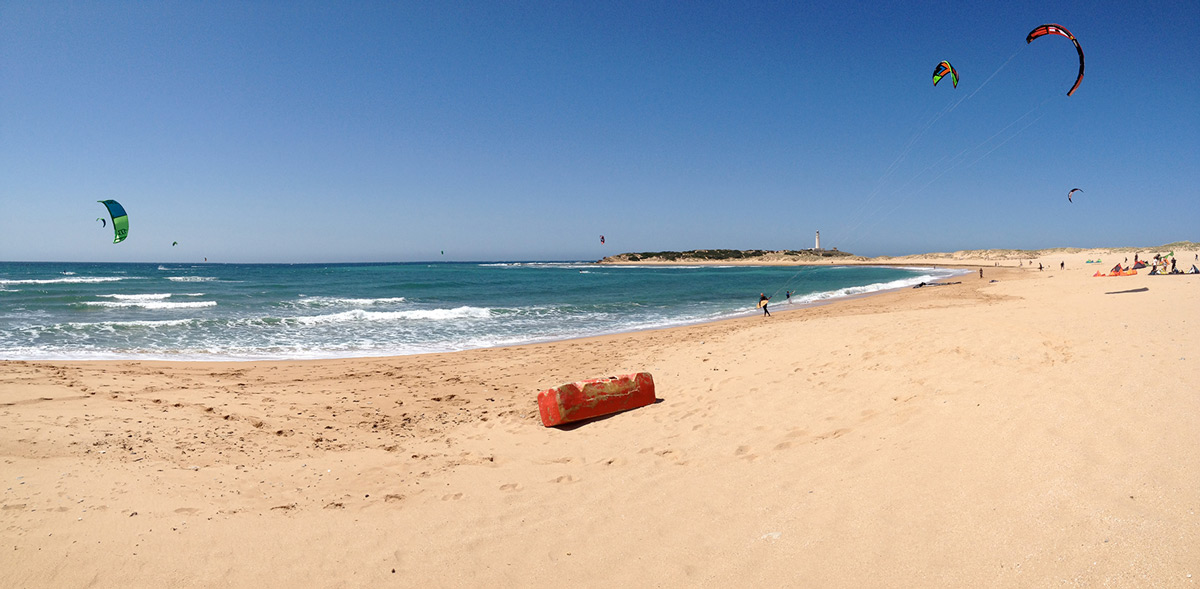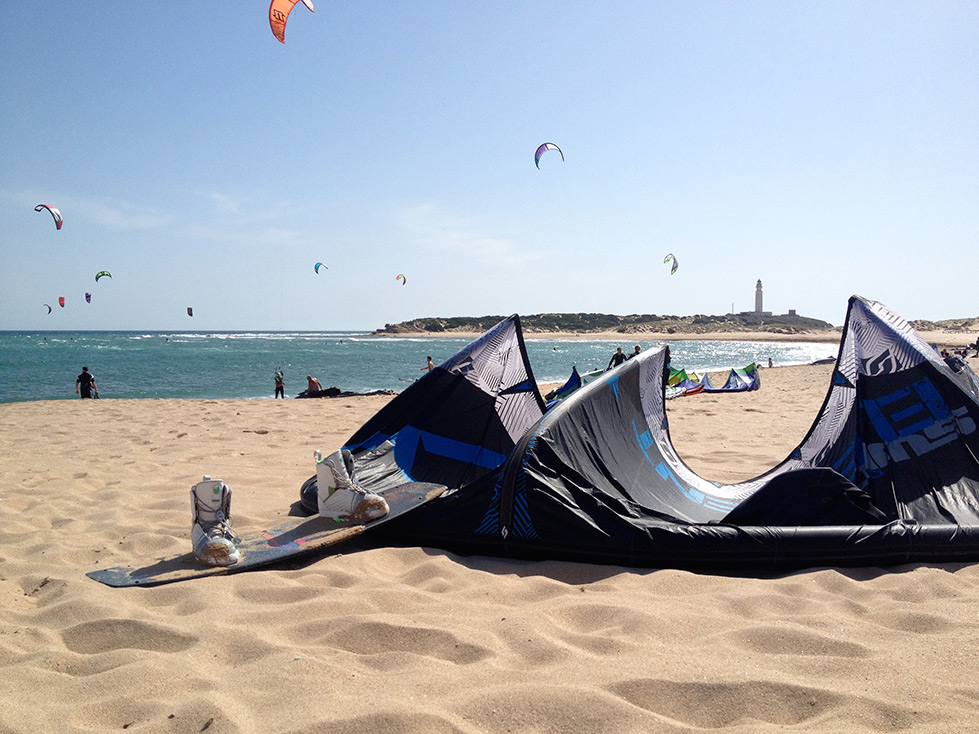 Day 5 – No wind day
It does happen that Tarifa sees more or less windless days. Even on this day, there were still enough wind to go out on big kites, but since 11m is my biggest we spent most of the day chilling in the sun and I only tried a short session in the afternoon but without any luck.
Day 6 – Valdevaqueros
Perfect 11m wind. Around 18 knots and hardly any gust at all. It was good to see that Levante can deliver other than super strong and gusty wind around Tarifa.
Day 7 – Punta Paloma
Punta Paloma is actually the same beach as Valdevaqueros, just a different access point a kilometre or so downwind. A lot of schools teach here so it gets quite busy close to the beach but other than that it's very similar to riding around Club Mistral. Asia took a lesson with a guy from Kite Stick and I had 3 good hours in the water, well powered on my 11m. I came in exhausted but happy after improving my powered rolls and front roll transitions.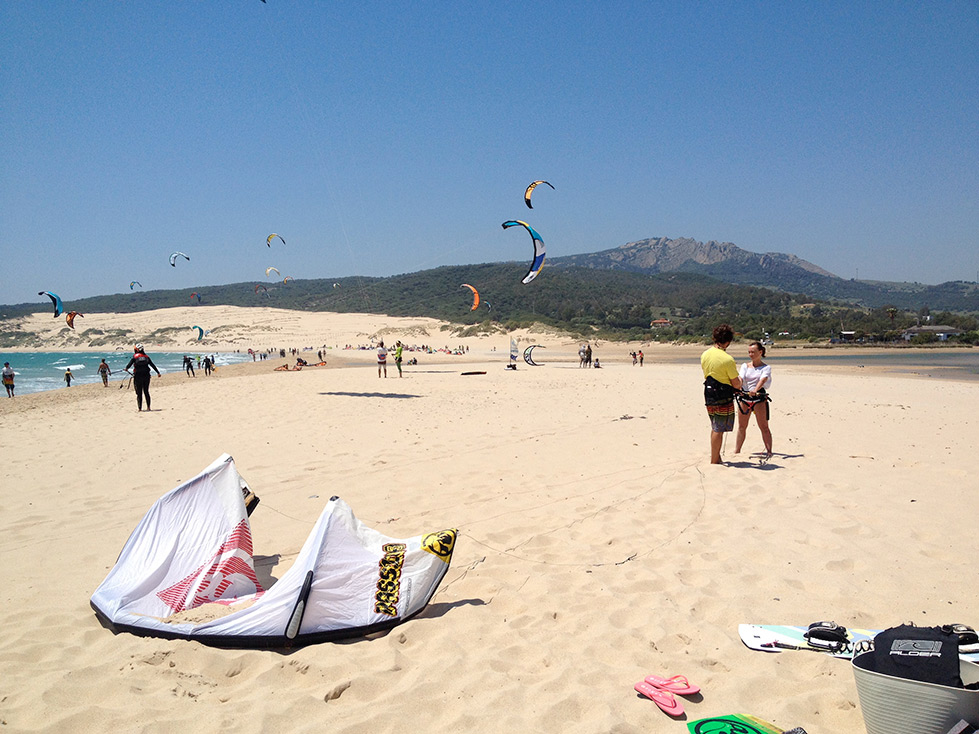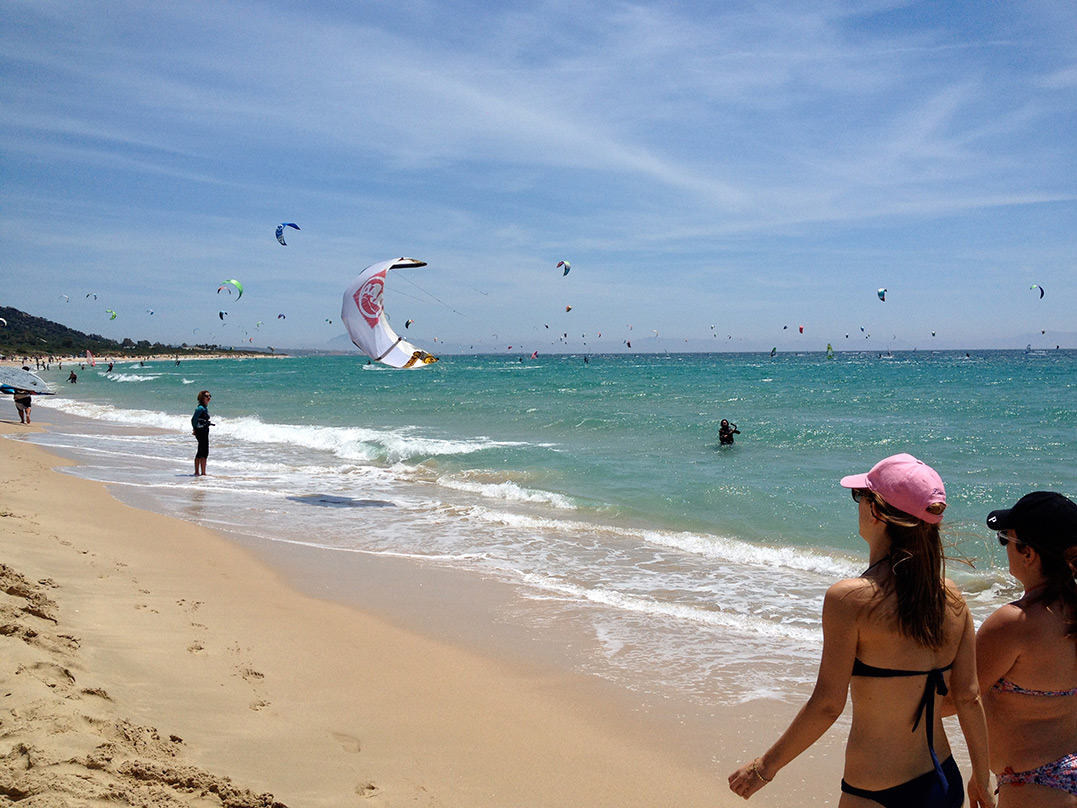 Day 8 – Punta Paloma / Valdevaqueros
Up and down wind on our last day in Tarifa. I was out on 2 short sessions on my 11m and had quite a bit of fun while Asia was body dragging on her 2nd day of her introduction to kitesurfing.