Dates: 15 Jan – 19 Jan
Rideable days: 5 out of 5
Wind: 15 – 26 knots
Temp: 28 – 30˚C
Water temp: 27˚C
What I liked
Selection of restaurants and bars
Friendly kite centres
Malibu wave spot
Your $,€ and £ will get you far
What I didn't like
The constant horn honking along the strip
The constant attempts to sell marijuana along the strip
South America's got Cumbuco, Africa's got Cape Town, Europe's got Tarifa, and Asia's got Mui Ne. Everywhere in the world we find one kitesurf Mecca that never escapes the bucket-list guides and wind-driven expat communities.
So after I sadly had to move on from Phan Rang, I made sure to stop for a few days in Mui Ne. Why not longer you might ask, given its Mecca-status?
Well. Things aren't what they used to be in Mui Ne. Or at least that's what I was told by a biased Phan Rang community. Too touristy, too Russian, busy in the water, choppy shore-break spot. And in recent years the beach has gotten smaller and smaller by erosion.
So what's the Mui Ne I found? Is it still worth visiting? As always; it depends. Read on and find out if Mui Ne is for you.
Arrive by bus
By the way, I took a sleeper bus from Phan Rang to Mui Ne and it was cheap and relatively convenient. If you're also considering bus to come here I recommend vietnambustickets.com. It's in English and Shina and her team will take good care of your booking (and I earn a small commission).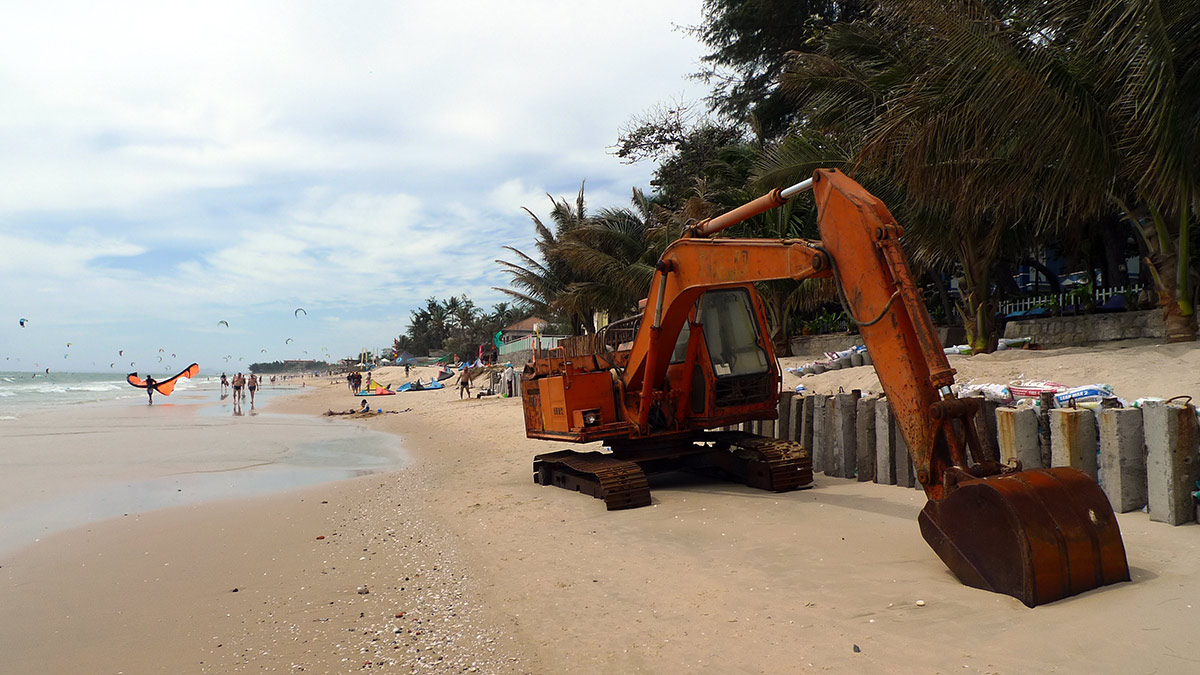 Wind & Weather
The season here is from December to March. It's dry and the trade wind blows more or less every day. Wind can wary in force but 20 – 25 knots seems to be common, which is ideal for a lot of riders. My short sample of  five days in January aligned well with that general description.
The wind picks up around early afternoon, and also slightly changes direction to become a bit more on-shore, resulting in an overall better experience with less gusts. The theory behind this behaviour, I believe, is that the trade wind gets an extra boost of sea breeze when the dunes get heated up.
Kite spots around Mui Ne
Ok, so the first thing we have to make clear is that although Mui Ne as a spot name has stuck with the kitesurf community, we're not actually kiting in Mui Ne. The main kite spot is the beach at the very Western part of Ham Tien.
I suppose Mui Ne is more of a local center in general and therefore it stuck, but Ham Tien is where you'll sleep, hang out and kitesurf. Ham Tien, on the other hand doesn't feel like a town but is rather a long road along the bay, packed with resorts, guesthouses, restaurants, shops and bars.
Phan Thiet is also a name you may come across. This is the the provincial capital to the West, including the larger area with all the villages around Mui Ne.

Ham Tien beach
Like I said, on Google Maps it looks like you can kitesurf the whole bay. And in the past that was almost true. Nowadays, due to erosion which the local authorities will have to deal with at some point to keep the tourists around, the only part left for you to launch and land is in the West corner of the bay.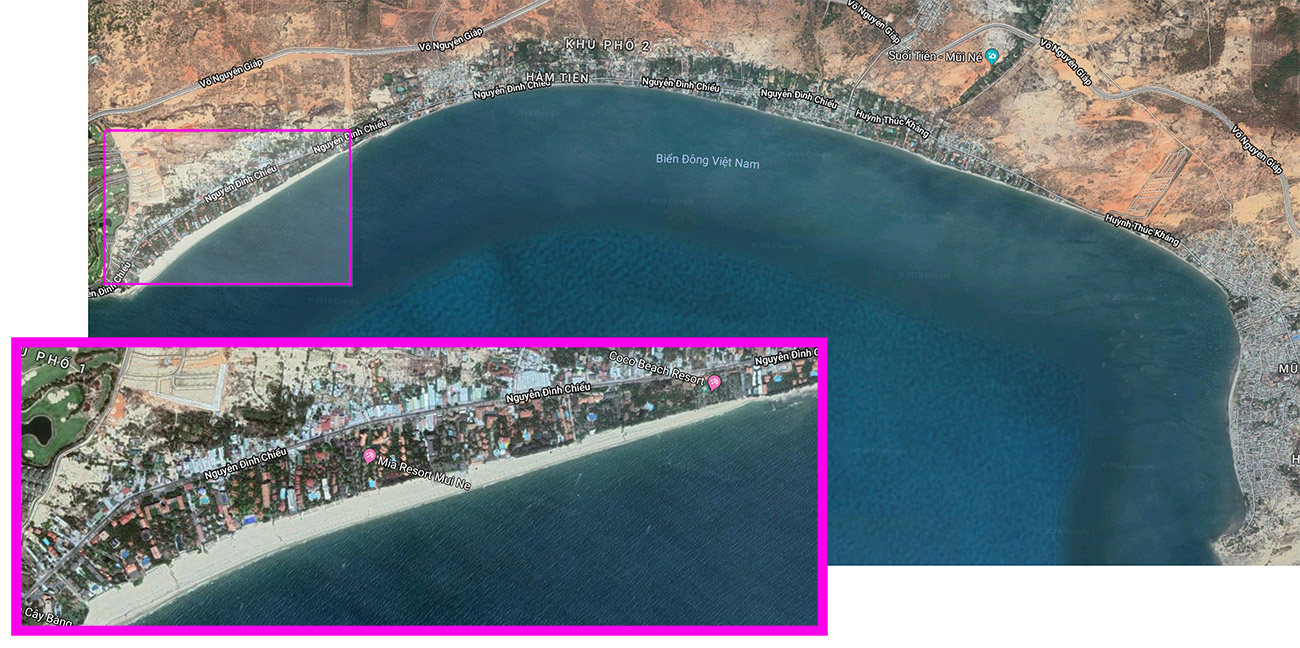 If you're not staying in one of the beach-facing resorts there are only two public access points to the beach, at the beginning and end of the beach. One next to Blue Ocean Resort, and one next to Allezboo Beach Resort. But I don't think anyone would really mind if you're using a resort just to get to the beach. Using one to exit the beach wasn't a problem.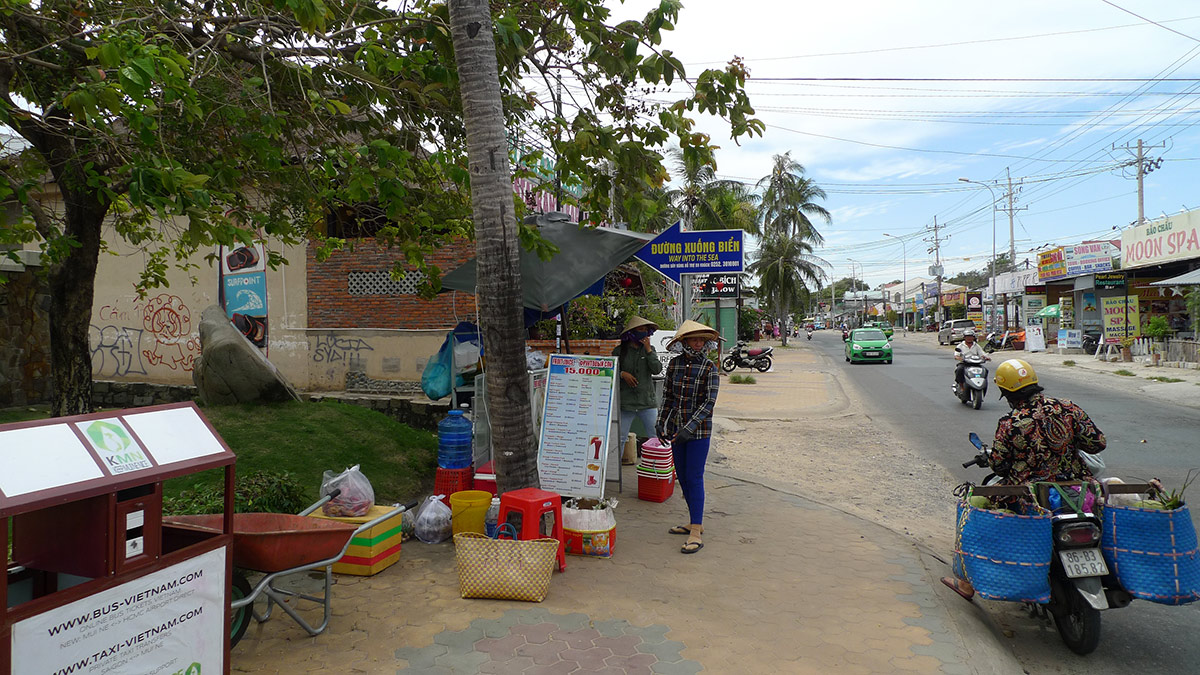 Once you've arrived on the beach you'll notice two things off the bat. One, the sky is covered with colourful kites, easily up to 3-digit numbers. And two, the beach certainly isn't lacking kite schools. They are literally lined up one after the other along the entire beach. A lot of Russian centres, and quite a few Vietnamese but also other nations represented. They usually communicate this by putting up country flags, so you know you'll get an instructor speaking your language if you take lessons.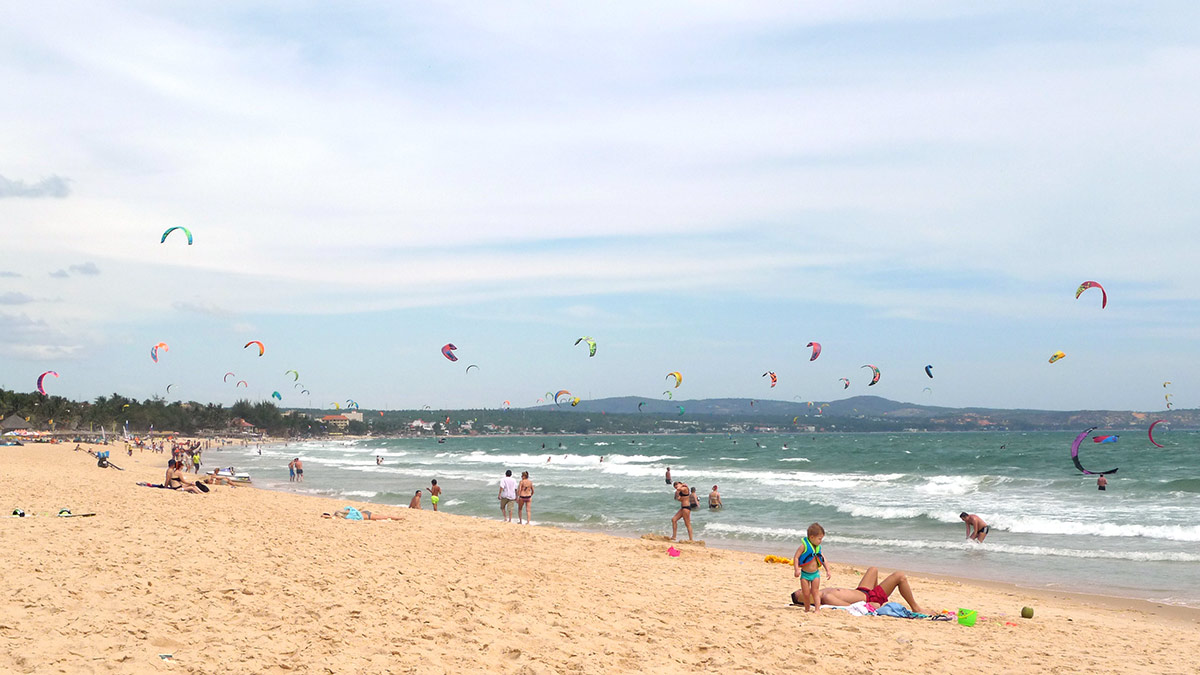 I don't need lessons, but I was running around looking for a second-hand board I could use for the rest of my trip (my old one gave up in Phan Rang) so I spoke to quite a few of them and they're all real nice and friendly. People speak highly of C2Sky which is IKO certified and have a lot of beach still, but also VKS, Surfpoint and Africa are legit.
The conditions then?
As mentioned, the wind is light in the morning and picks up around midday and gradually builds up in the afternoon. The bay has clean, cross-on wind and no obstacles, so is safe in that regard. It gets deep straight away however, which means that the more it blows the bigger the shore dump gets. Not a big deal for experiences riders (this is very similar to the English South coast conditions) but for sure a challenge for beginners. Most newbies body drag out past the waves and then do a board start.
Past the breaking waves you'll get part rolling waves, part chop. It's fun for a bit but far from ideal. The waves can sort of be used as kickers, but the angle isn't perfect and was much better in Phan Rang. It's also quite busy in the bay. Close to shore there are a lot of lessons and body dragging taking place, but further out it won't bother you.
Malibu
Malibu beach aka Hon Rom beach is located on the far East side of Mui Ne, a quick drive from Ham Tien. This is the main wave spot in Mui Ne. Waves can get big on windy days, but the sea is a lot more organised and tidy, and it's less crowded than the main beach.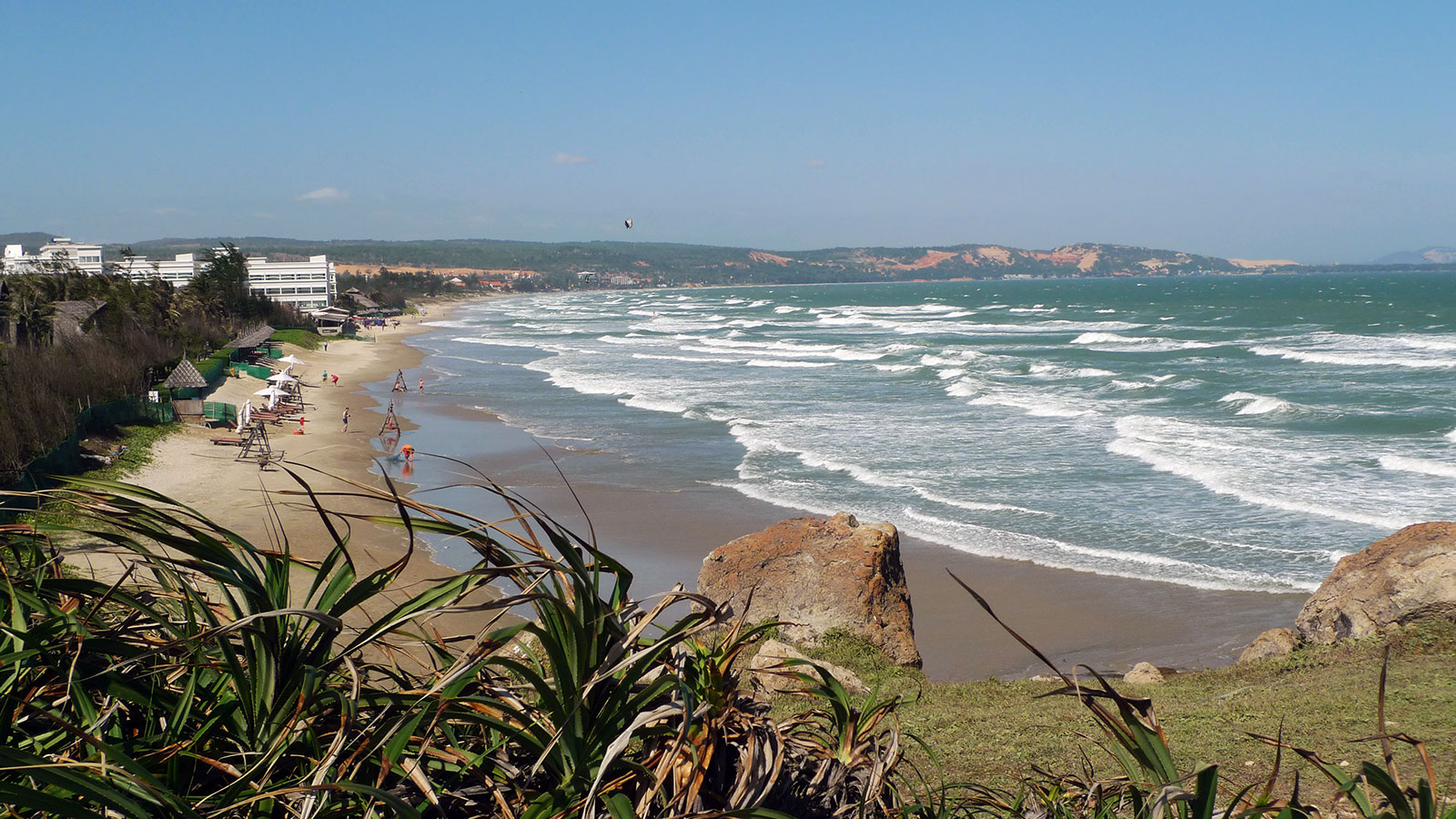 When I visited they held the annual Malibu Kite Wave Contest there, and although I'm not into wave kiting this was a great event to observe.
In my mind, Malibu with it's clean waves rolling in, appears to be a much better spot than the main beach. You even got a couple of resorts with kite centers where you can stay right on the beach. It's not only for wave surfers; there were plenty of twin tip riders out in the waves too.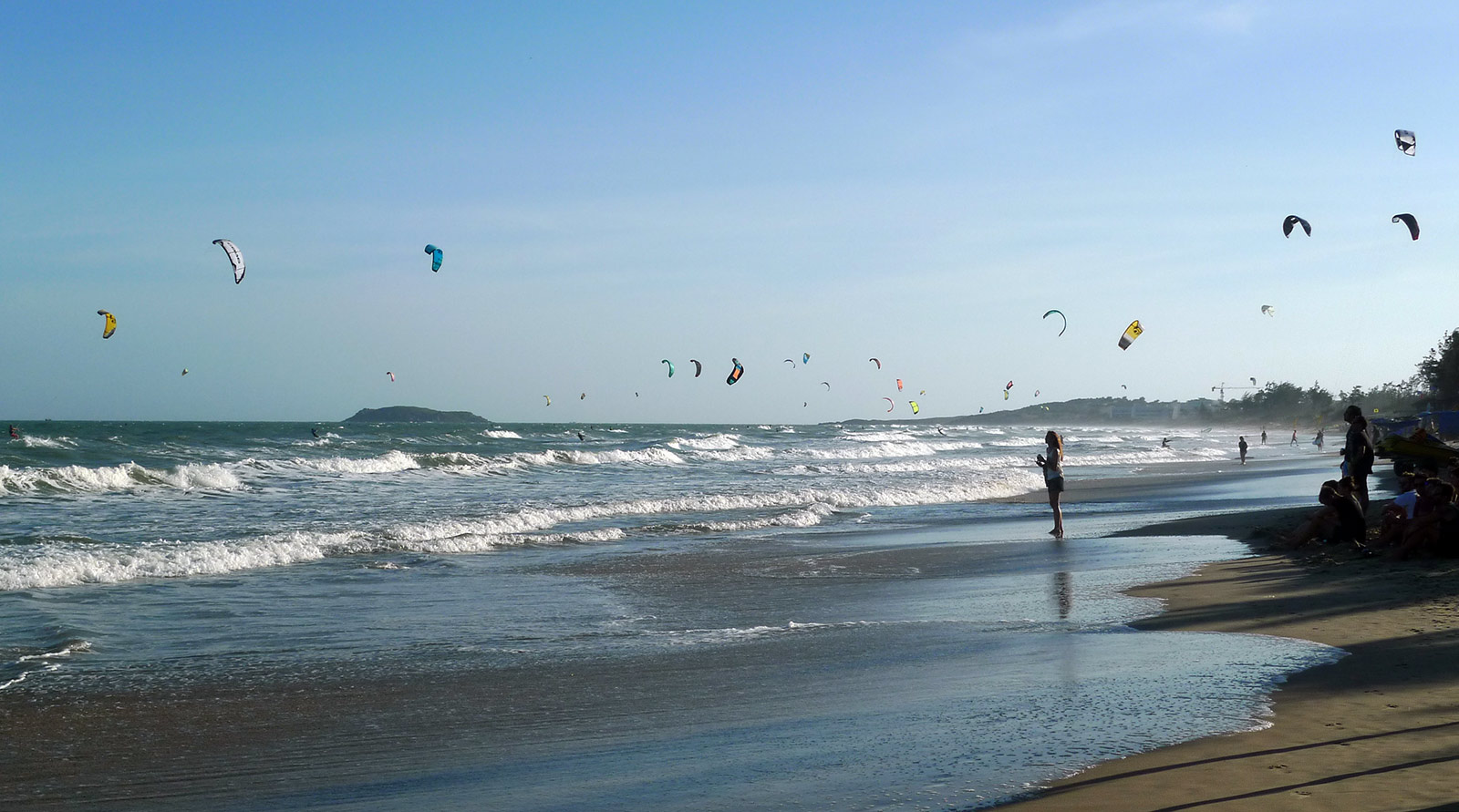 What should be said though is that the wind is more on-shore here, so not the best spot for lessons and beginners who can't ride upwind yet.
To get to Malibu, hop on a local bus by waving when it passes, and hop off either at the public access road (Around Muine Bay Resort), or at a resort or kite center of your choice (Nam Chau, Malibu, Kitenam, RIDS Surf Club…). The ride costs 16,000 Dong one way.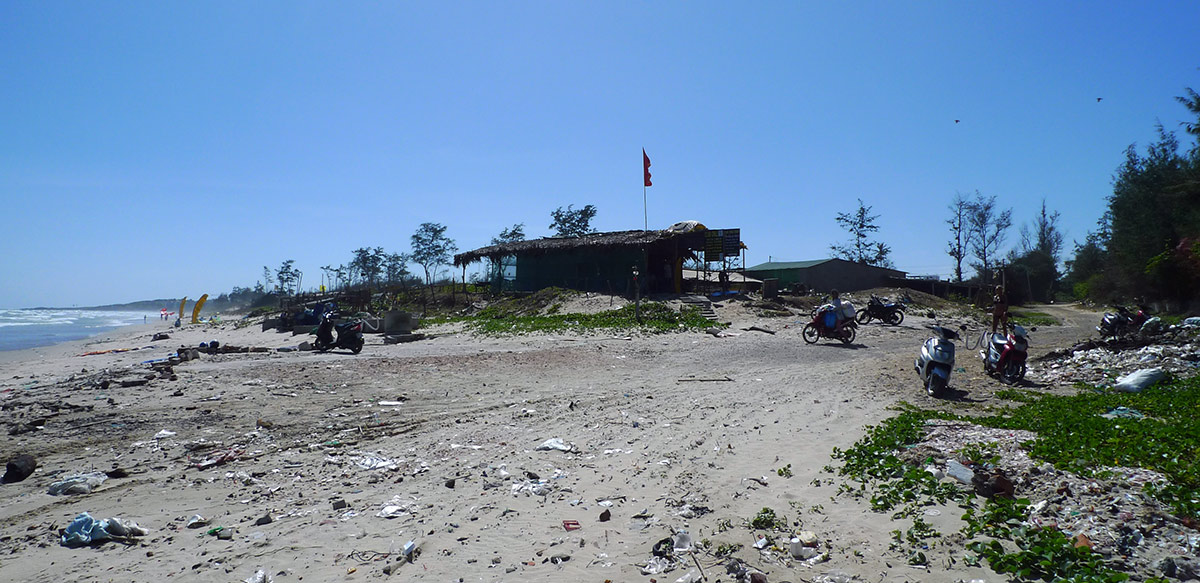 More kite spots around Mui Ne
There are more spots around Mui Ne, like the bay North of Malibu; Suôi Nuôc, the flat water spot behind the Harbour Wall and Turtle Island at the Northern end of Suôi Nuôc. Go explore, and let me know what they're like! I didn't visit so can't comment on them.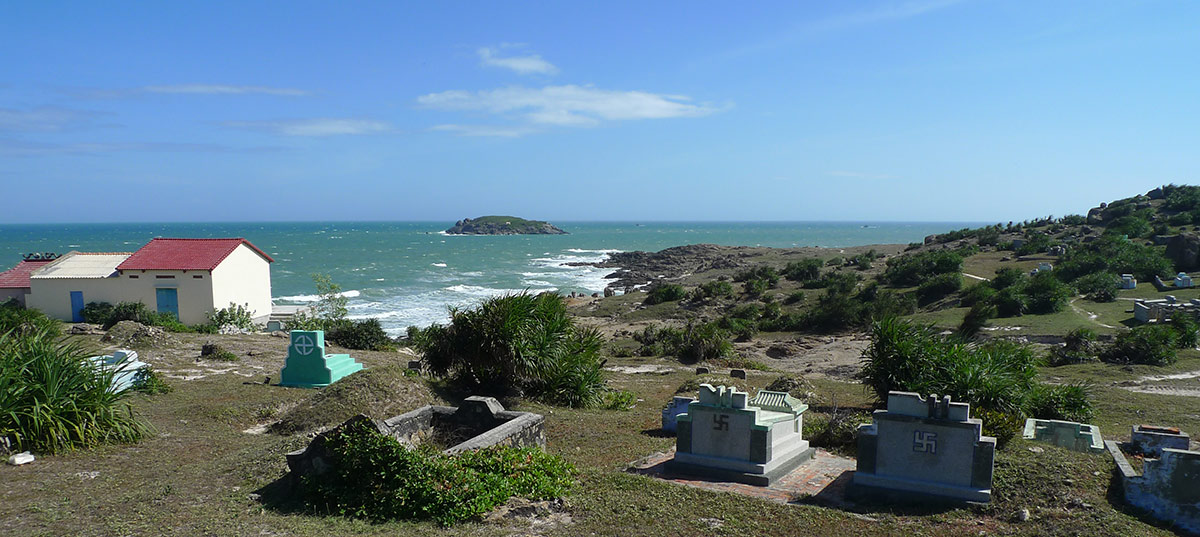 Where to stay
You're here for the kitesurf, so you definitely want to stay close to the action, right? I wasn't aware of how much the beach had actually disappeared and booked my place a tad too far East. Ten minutes walk and I reached the first public beach access.
I'd strongly recommend booking something West of Sunny Beach Resort.
A lot of places have beach access and schools associated with them, but you have to pay a bit more per night to stay next to the beach.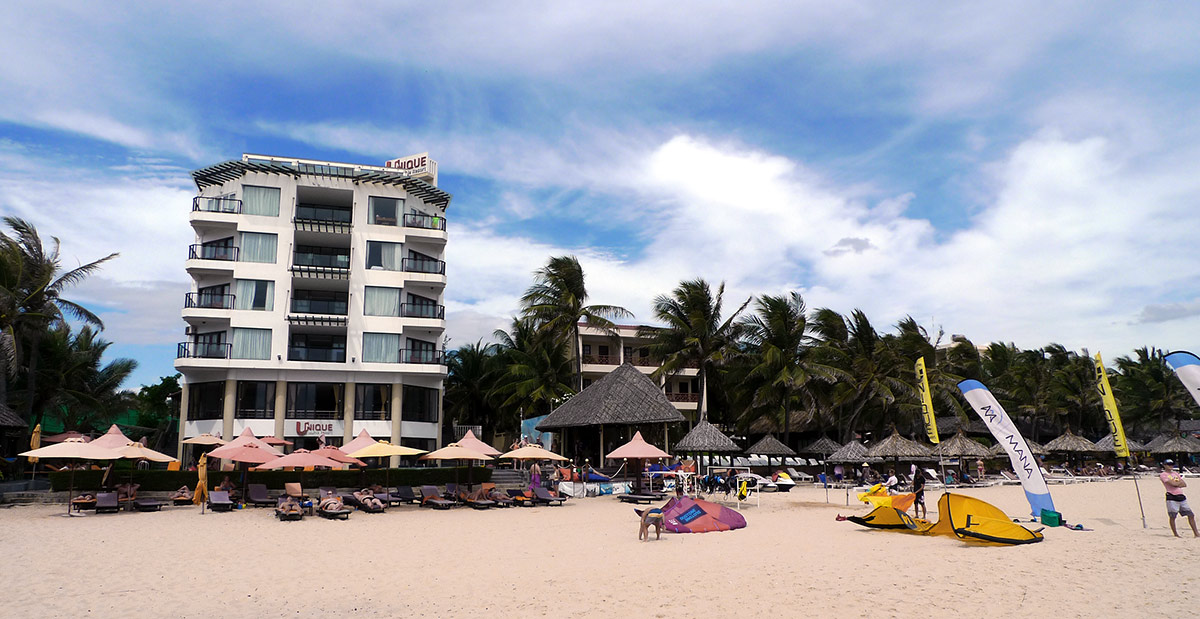 Having said that, you'll find better bars and restaurants between Joe's Cafe and Dragon Beach, so if night life is more important than living close to the beach this might be the better choice.
If you're here for a longer stay I'll assume you'll rent or buy a motorbike with a board rack and stay wherever really. Or if you're more into your wave surfing you should book something close to, or on Malibu beach.
Where to eat
Eating is a big part of life. In My Hoa that wasn't a big deal because we had five places to choose from. But in Mui Ne there are countless options and it's easy to waste a night on a mediocre, overpriced restaurant when there are so many good ones around.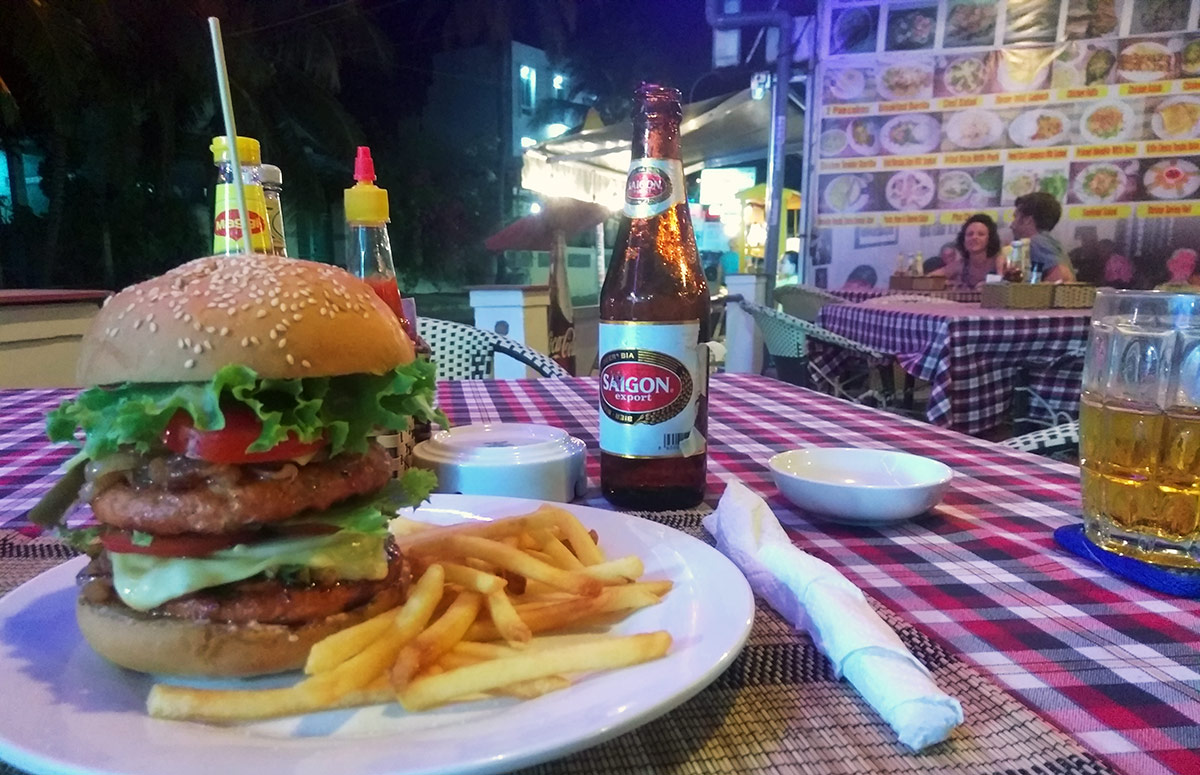 Just to give you an example, at Buffalo Steak I had an average burger for 160,000 Dong. At The Bar I had a really nice double burger and two beers for the same price. I refer to these great food guides for Mui Ne. They helped me and will help you as well.
https://extremenomads.life/top-things-to-do-in-mui-ne-vietnam/
https://www.legalnomads.com/mui-ne/
Other than that, I frequented my local Katie's Coffee and Joe's Cafe because of the mellow vibes and decent WiFi (i.e. perfect working conditions). Food's ok too.
Also. Fresh seafood is big here for obvious reasons. But can you look your dinner in the eyes?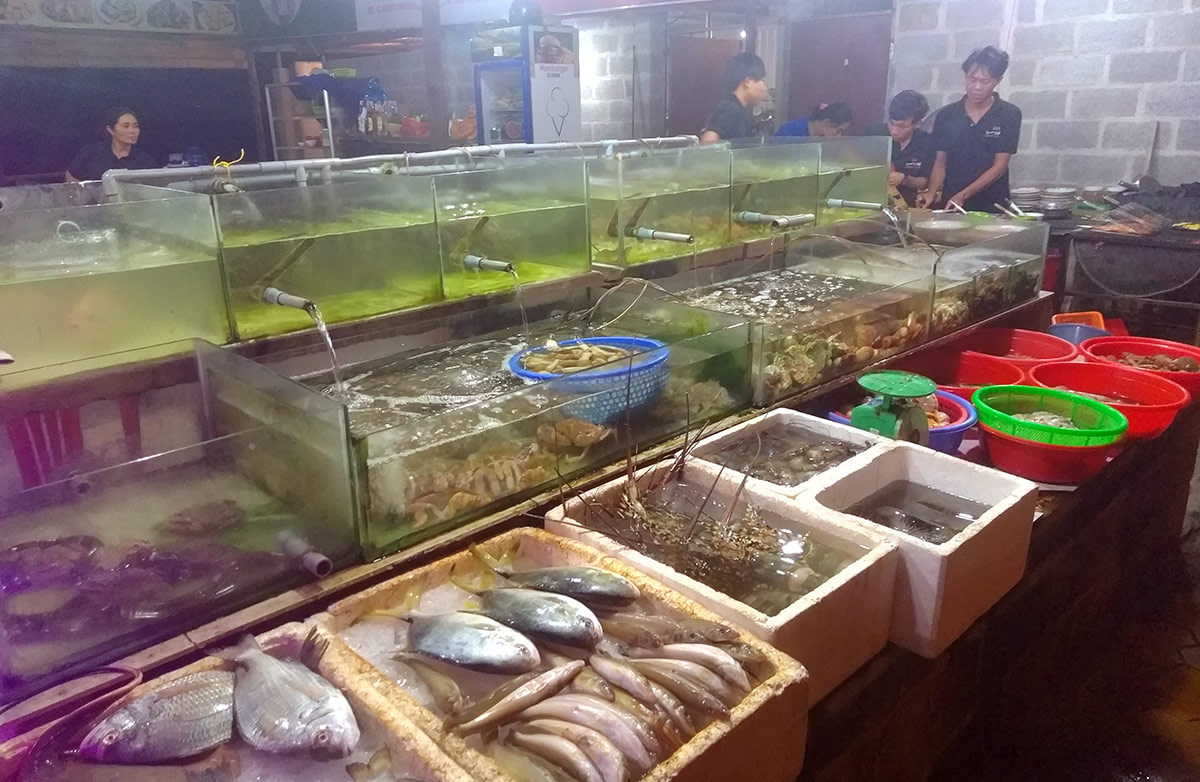 Things to do in Mui Ne
Look guys, I'm a bit one-dimensional. I travel for the kitesurfing mainly. I don't care an awful lot about temples and waterfalls. But some people do, so…
Visit the sand dunes – Because it's what you do around here. But I got my dune fix in Atins to say the least
Walk the fairy trail – Maybe just to get a break from the water action
Take a cooking class – You didn't land the front mobe, but you learnt how to make fresh spring rolls!
Minigolf – You keep bringing that golf bag around. Now live up to it and show your skills!
Trampolines – Now that I do care about, and would defo become a regular if I stayed long term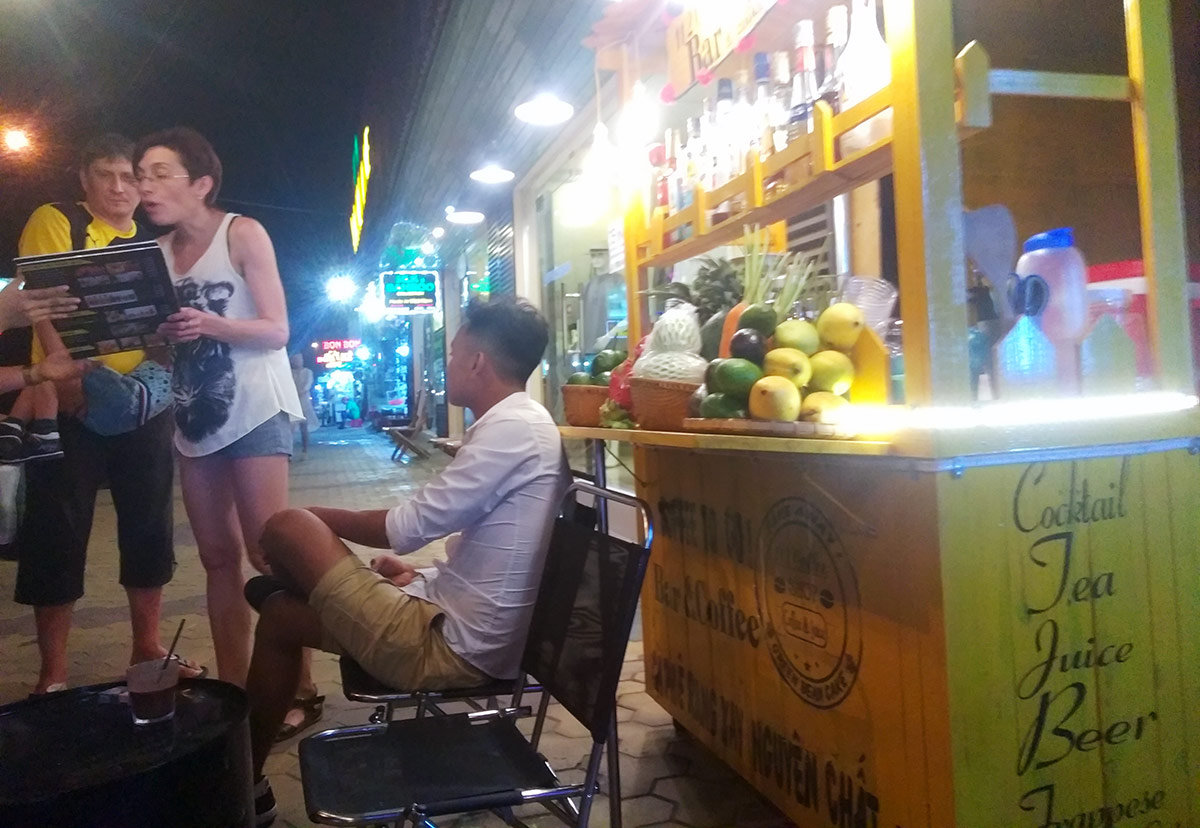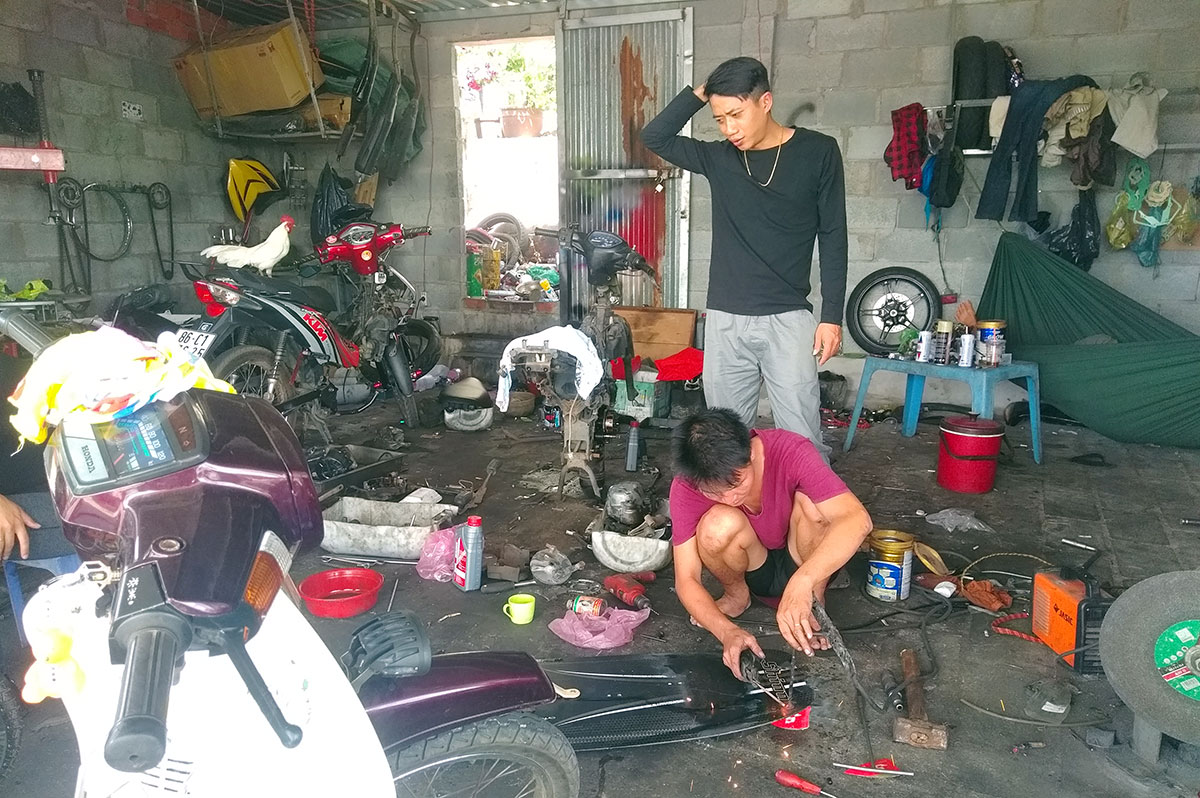 Summary
One has to appreciate Mui Ne for what it is. A lot of people say kitesurfing in Tarifa is shit, and Cumbuco is always too busy. And still people keep going there. Same with Mui Ne. Because it's convenient and wind is guaranteed.
Coming from a great time in Phan Rang, I was pretty sure I wouldn't like Mui Ne. And with an attitude like that what can you expect? And yet, somehow Mui Ne grew on me. It's pretty, it's cheap and it has a good selection of restaurants and bars.
Maybe the kitesurfing at the main beach isn't world class, but if you're looking for an easy solution in the Winter months you've found it. And if you're looking for waves, as a more experienced kitesurfer, Malibu beach is a really good spot.