Date: 5 – 11 September
Wind: 10 – 25 knots (Mistral, Scirocco and thermal)
Air temp: 29˚C
Water temp: 25˚C
This is my second time in Sardinia, the wild and beautiful island off Italy's West coast. With the travel restrictions easing up bit in the UK and the rest of the world, I had the opportunity to join Laura's family in a resort in Chia for a week.
So I dusted off my travel duffel, packed my split board and looked forward to my first kite trip in two years!
I visited South Sardinia in 2015 and knew how good it is for kitesurfing. Back then I focused on Punta Trettu, and I recommend checking out this review for more details on that spot.
This time I was based in Chia, just 45 minutes drive South from Cagliari and this opened up for exploration of some new spots. All in all I had an amazing week with sun, resort life, all sorts of wind conditions and even some heavy thunderstorms. Wind in some format was present most of the days but there were also two or three days with no wind.
South Sardinia as a kite trip destination
North Sardinia's Porto Pollo has long been known to be windy as f*ck and attract windsurfers and kitesurfers alike. South Sardinia on the other hand has always been more wild and stayed out of the limelight, but has in recent years gained a strong following in the kite community.
Nowadays you find happy kiters from all across Europe here in the summer months. It's easy to see why. Sardinia is accessible by both plane and ferry. Because of it's wild nature it's a popular destination for motorhomes, and if you fly to Cagliari you can be at a spot within 30 to 60 minutes.
The wind stats are very good here, but doesn't always show in the forecast. On warm clear days, as in almost every day in the summer, the wind seems to pick up towards the afternoon and give you an additional 5 – 10 knots. As for what kites to bring? Pack all of them if you can, since the wind really varies a lot. From my experience there are more light than strong days, so for me, 10m + 14m would be the perfect quiver.
Travel and where to stay near the kite spots
You definitely need a car to get around here. Distances are not long between spots, towns etc but if you want to have any type of flexibility and freedom I'd pick up a car at the airport. Or, as mentioned you can come in your own car by ferry.
Because there is a large mountain dividing the West and the East coast spots I recommend that you stay on the West coast, in Sant'Antioco or another nearby town. You'll have more spots here without the time consuming drive across the mountain. If you are staying on the East coast I can recommend Chia, both for it's beauty and as a strategic location for a basecamp – from here you can reach all spots within an hour and a bit.
If you have a motorhome there are plenty of wild and formal camp sites where you can set camp on or close to the beach. This island is made for exploration, with so many beaches and wild nature at your disposal.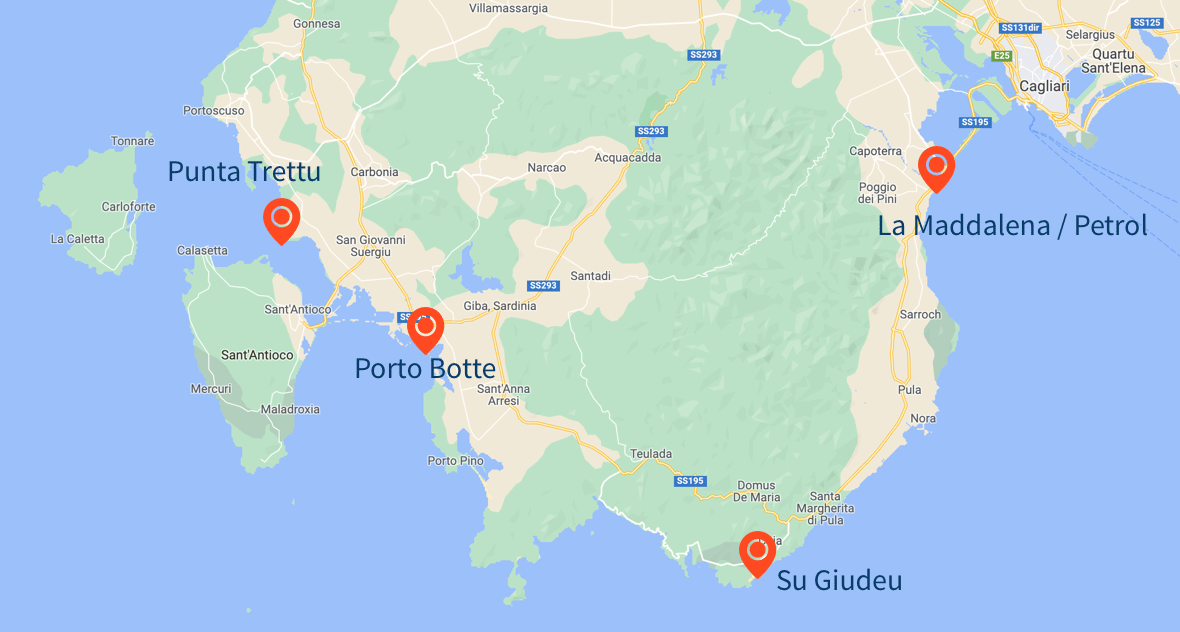 The kite spots I visited in South Sardinia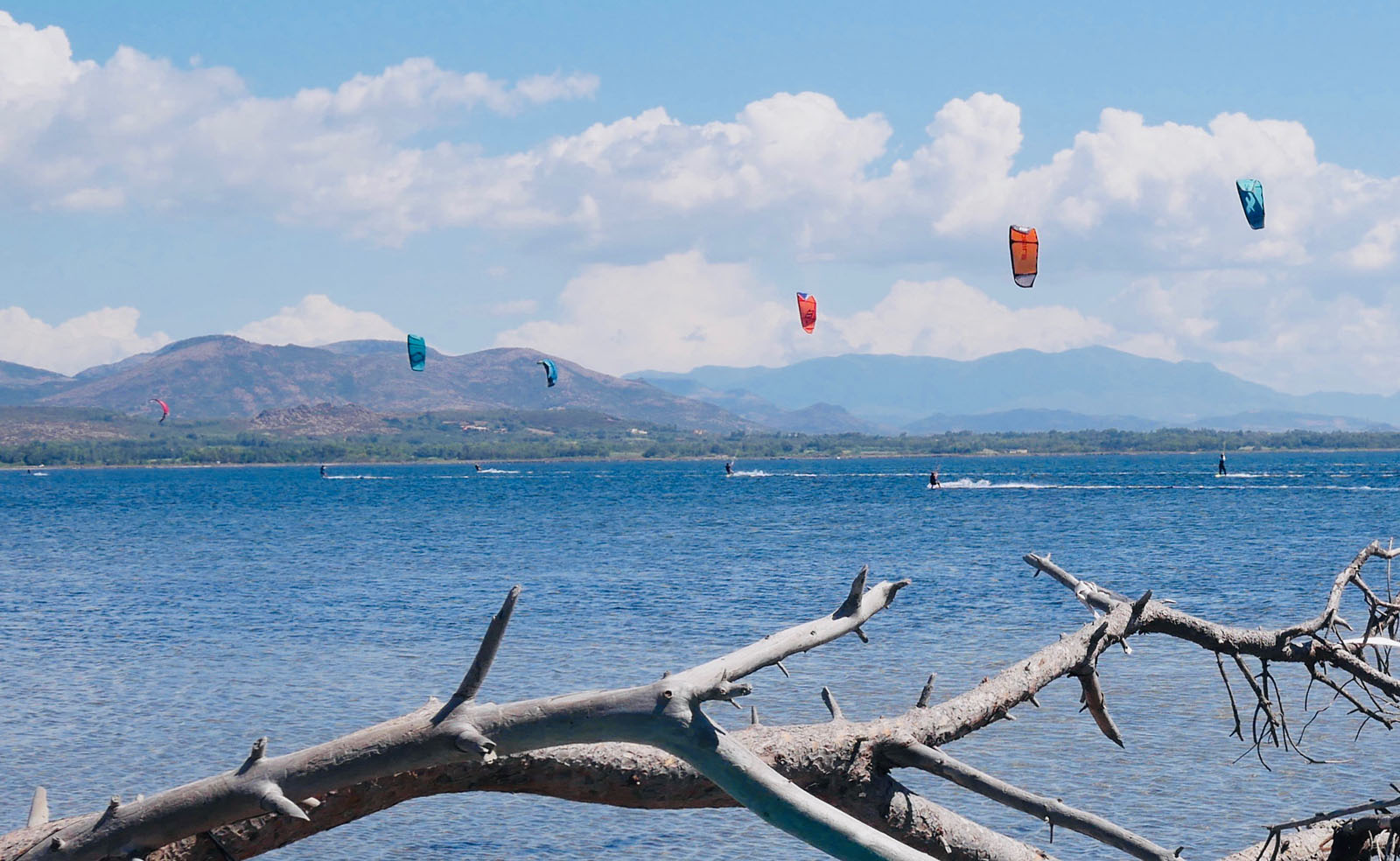 Punta Trettu
This is THE spot for practising freestyle, and also learners benefit hugely from this shallow and flat lagoon formed between mainland and the island of Sant'Antioco. I was here in 2015 and not much seems to have changed. This spot works on either NW (Mistral), which is the prevailing wind here, or on Scirocco paying a visit from Africa every so often. The wind funnels through the islands and Sardinia mainland and creates a much appreciated Venturi effect.
Put 'Kite Village Sardegna' in the GPS and it will take you straight to the free parking where the little peninsula that forms the spot begins. After parking your car you have to walk out 500m to the point where people launch and land their kites. There are plenty of schools, camping and accommodation around the parking, but bring water and food out to the spot since there's nothing but a couple of windswept trees out on the point.
Depending on wind direction you either ride on or off shore here, but because it's so shallow it doesn't really matter that it's off shore. There is also a rescue boat in place most days, operated by one of the schools – should you need it. The local rules here are that teaching happens on the far side of the sand bank, and the body of water on the inside is reserved for freeriding.
Although the lagoon is massive, most riders naturally want to ride close to shore so it does tend to get busy in the sweet spot. A bit of turn-taking and knowing the right of way rules goes a long way in keeping everyone happy and free from tangled kites.
The sandbank that is used for launch and landing disappears in high tide, so at times you have to set up your kite on the grass and walk out in the water for an assisted launch.
On my first day here the forecast predicted 13 knots NW Mistral in the afternoon. In reality the wind gradually picked up from 10 knots around 2pm to a good 25 knots around 7pm. The following day the forecast said 10 knots and that day it never picked up beyond 12 knots, so there is a pattern of wind getting stronger in the afternoon but it's not clockwork.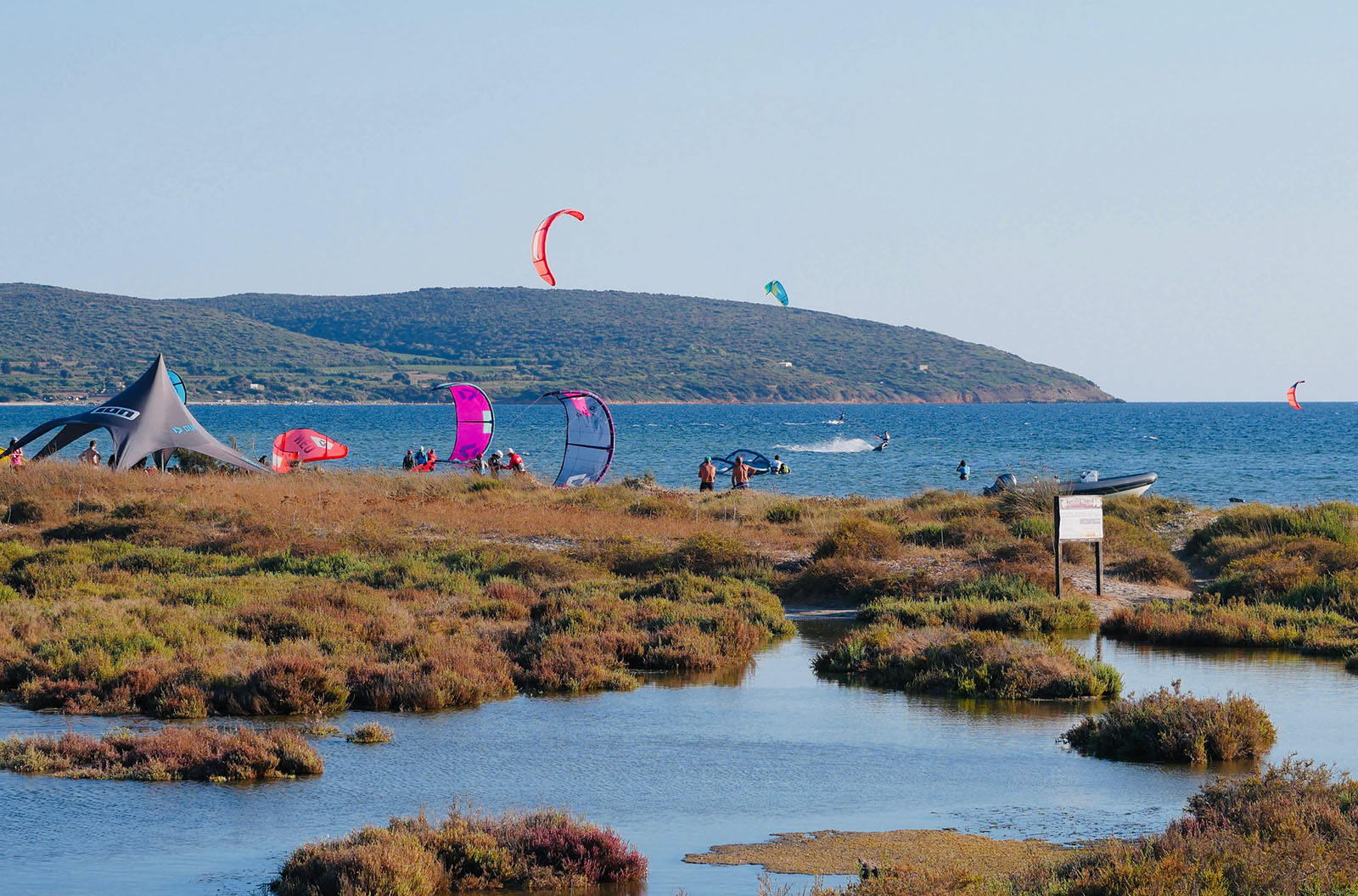 Porto Botte
Another very popular spot not far from Punta Trettu is the Porto Botte bay. This is a wild and beautiful bay surrounded by flamingo-rich salinas which you can ride in wind from NW (Mistral) or W (Poniente). You can basically ride anywhere along the bay, but there seem to be three clusters where most riders gather and kite schools teach (Skyhigh, Critical slide – check for local rules and teaching zones).
Here the water stays fairly shallow for a good 200 meters, but it's not quite as flat as in Punta Trettu. The beach is shallow so you might have to start partly in the water when launching, but once riding there is no lack of space so it's less busy than Punta Trettu.
I've visited here twice but still haven't ridden the spot, so I can't comment to much about the spot quality. I always go with Punta Trettu it seems, but do give Porto Botte a go if you have the chance (and do let me know what you think of it in the comments 😃).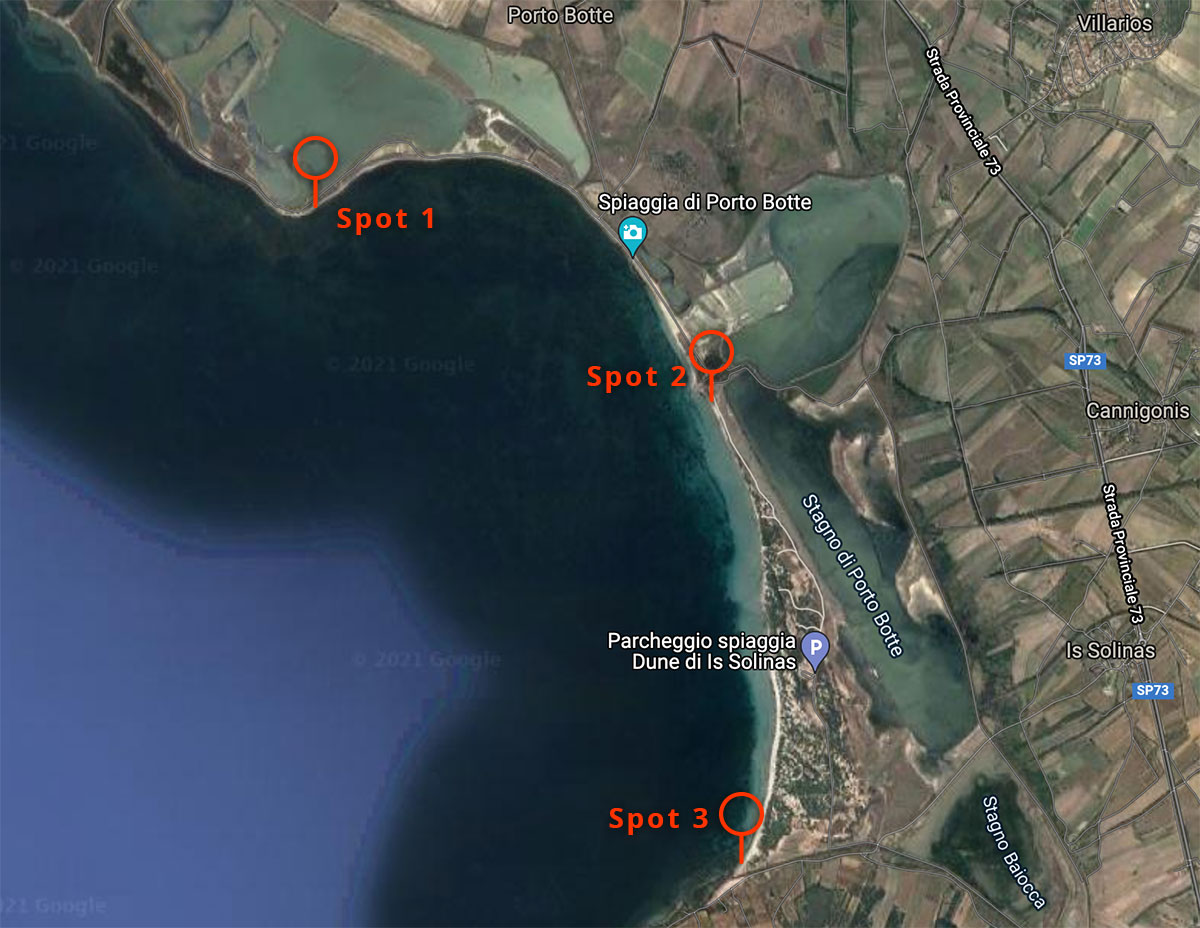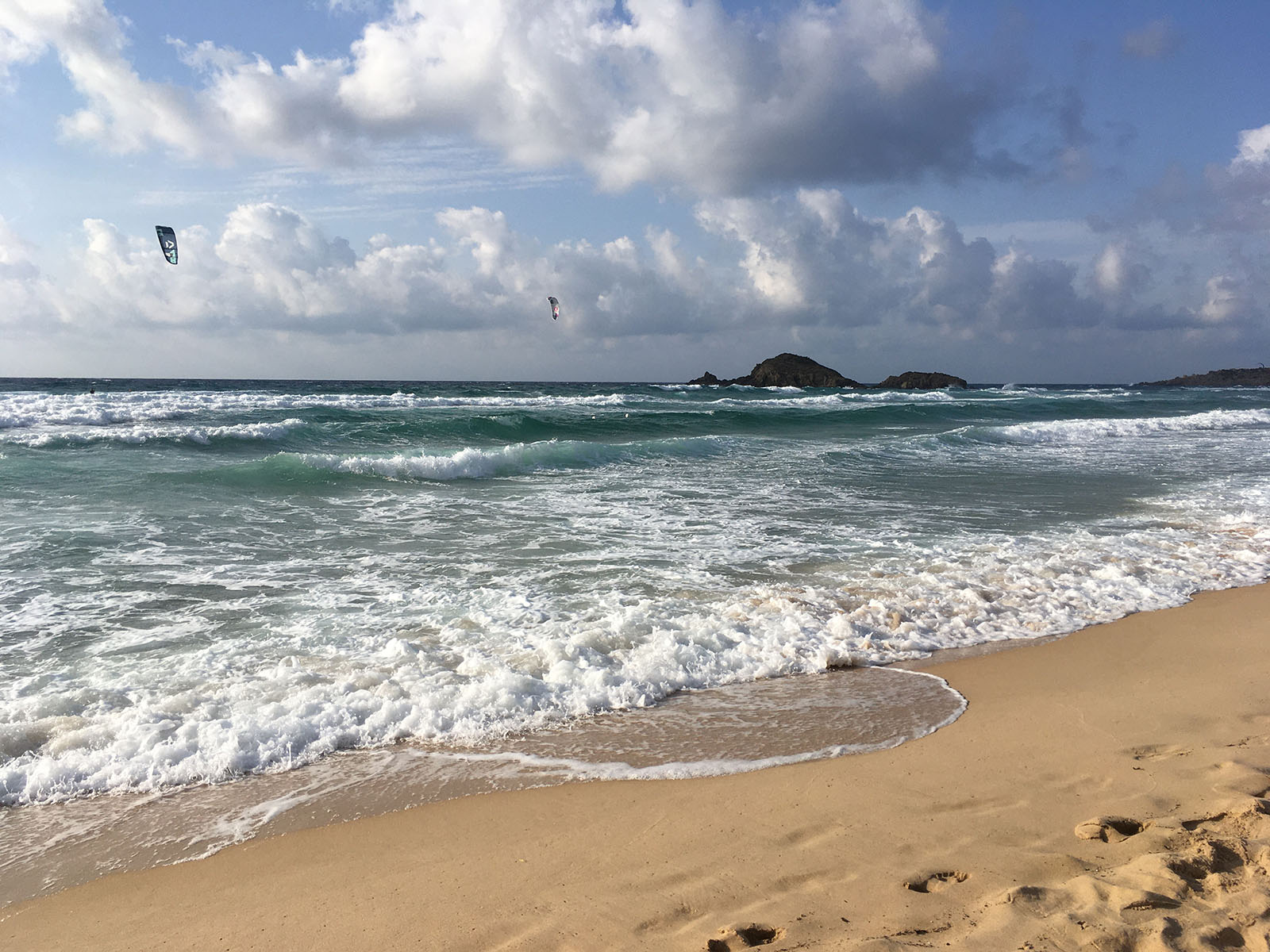 Su Giudeu
Spiaggia Su Giudeu is on the East coast of Sardinia, divided from the already mentioned spots by a large mountainous area. Although they aren't far apart, you have to drive along an extremely tight serpentine road for a third of the way so it still takes an hour between the spots.
This spot is a large, beautiful bay with fine sand. It's very popular with normal beach lovers and is well equipped with beach bars, parking and other facilities. Online I read that you're not allowed to launch from the beach but this didn't seem to be a thing with the locals I spoke with. Especially on a windy day in September I doubt that no one minds as the beach was pretty empty anyway, as they usually are when the wind is too strong.
This is a wave spot mainly for days when Scirocco is blowing from S/SE. The waves can vary in size but on the day I went they were around 1, 1.5m. Not really a beginner friendly spot but if you're confident in waves this is a nice beach to check out. Plenty of directional riders here, but I definitely had a lot of fun with my twin-tip as well since the kickers worked in favour of my regular stance.
I did spot a few kites in the Southern part of the bay, but most riders launch from the North-East part where the wind seems a bit cleaner, and maybe you get cleaner breaks too.
The water here is very salty which really got to my mouth after a while, but also to my kite once it was time to pack it on the fine sand. Bring plenty of water, and try to keep your kite in the air.
If you don't want to pay €5 for parking there is a small free parking and vantage point towards Spiaggia di Cala Cipolla. It holds maybe four cars but if you're lucky you can grab a spot and use the board walk to walk down to the beach.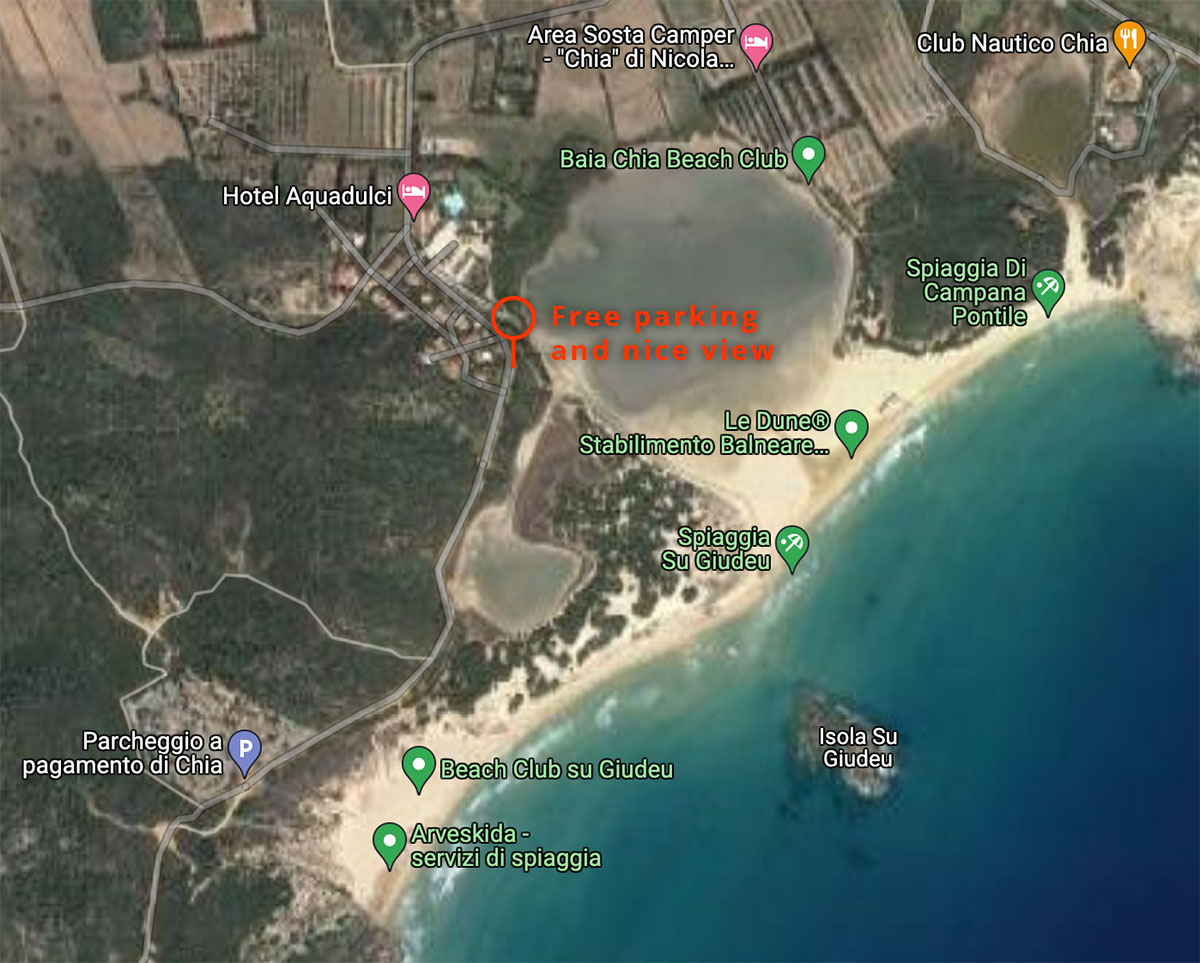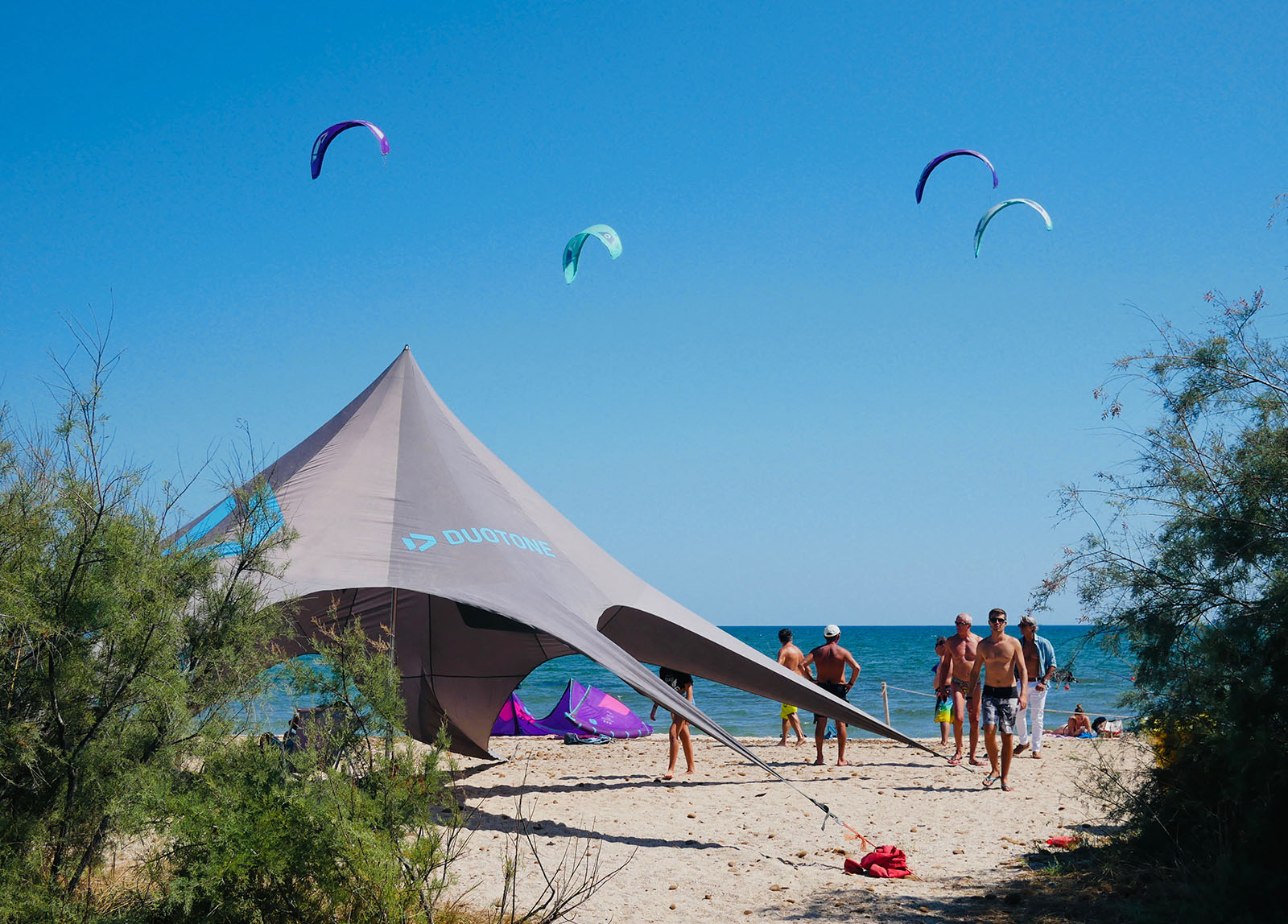 La Maddalena / Petrol beach
Finally we have the back-up beach of La Maddalena, or Petrol as the locals call it. If there is wind nowhere else you'll probably get in here in the afternoon. There is a very reliable thermal wind here, especially if there's a bit of base wind from South East. The day I arrived it was dead flat at 2pm, but around 3pm the wind picked up nicely for a 12m session. Parking is free street parking.
There is a kite school and all kiting happens around it's location. The rest of the beach is for swimmers. The area closest to the beach is for teaching only, so all riding takes place outside the buoys.
The conditions are nothing special, basically small chop. But since this spot benefits from reliable afternoon wind it might come handy if you're staying closer to Cagliari, want to do a cheeky session on the day of your return flight, or want to check out Cagliari in the morning and kite in the afternoon.
Final thoughts
There are only so many spots you can check out in a week (in-between hanging out with the in-laws and stuffing yourself with the local culinary treats from the buffet). I'm over the moon with my combined kite/family holiday though and am pretty sure it wasn't the last time I sat foot on Sardinian soil.
There are other spots I didn't cover in the guide, which you can check out and read more about at these sites:
Thanks to all of the above for providing useful information when I did my own research for where to go during my stay.