Date: 17 – 23 March
Rideable days: 7 out of 7
Wind: 10 – 40 knots
Air temp: 23˚C
Water temp: 19˚C
What I liked about Dakhla
Kite eat sleep repeat set-up
Friendly people all over
Dakhla Attitude got everything you need including a gym
View from top shelf Dragon camp bungalows
What I didn't like about Dakhla
The Speed Spot can get very busy at times, which ruins the fun
It's a bit of a journey to get there and the arrival flight lands past midnight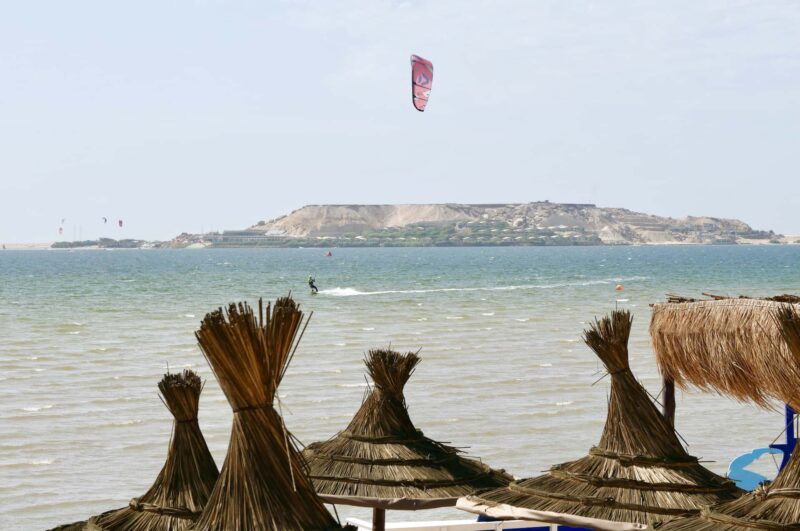 World famous kite spot Dakhla has been around almost as long as the sport itself. From its humble beginnings with only a few tent camps along the lagoon, it has not grown into big business with a well-oiled machinery of logistics and a level of comfort and luxury to suit even the most demanding tourists.
Dakhla is well known for it's large lagoon with flat water, and wind that blows hard most time of the year – especially in the summer. So when an opportunity arose for me to make a spring kite trip I reckoned it was worth taking a chance on Dakhla and see it for myself.
I am happy I did. I got lucky with the wind, and I had a very nice trip full of kiting, sunshine and friendly encounters.
Dakhla's wind & weather in March
Expect varied wind
The allure of this spot is that you can find wind all year around. Having said that, the main season with best wind stats is said to be from April to September. As I was traveling in March I was prepared for a windless holiday full of book reading in the sun, but as it turned out I was lucky and had wind all week.
The wind I experienced was thanks to a strong weather system that came from North-West, the prevailing direction here. As I stepped out of the plane on my arrival late at night, I was met with a strong wind that made the otherwise warm air quite chilly.


This strong wind with 40 knots gusts was more than shown in the forecast. It lasted for a few days and would eventually calm down and towards the end of my stay be replaced by a thermal wind from South that was very smooth and still reached upper 20s at its peak.
On my final day we had a Westerly wind in the afternoon. It was rideable with large kites but I don't think my 10m switchblade would've been enough and opted for the sunbed.
Temperatures
I had a few days with overcast in the mornings but most days were light clouds and sunshine all day long. Temperatures don't fluctuate much here and stay at a pleasant mid-twenties degrees Celsius. You will certainly get a tan and be comfortable in shorts, but in the evenings it's nice to put on a jumper as temperatures drop when the desert sand cools down.
The water temperature in March is not that different from the rest of the year either. Around 18 – 20 degrees, which means that at least a 3/2 wetsuit is recommended. I wore my 5/4 O'Neill and was toasty but not too hot. Others rode in shorties, so it's personal preference really. Do pack your bikinis nonetheless as you'll have plenty of opportunity to bask in the sun.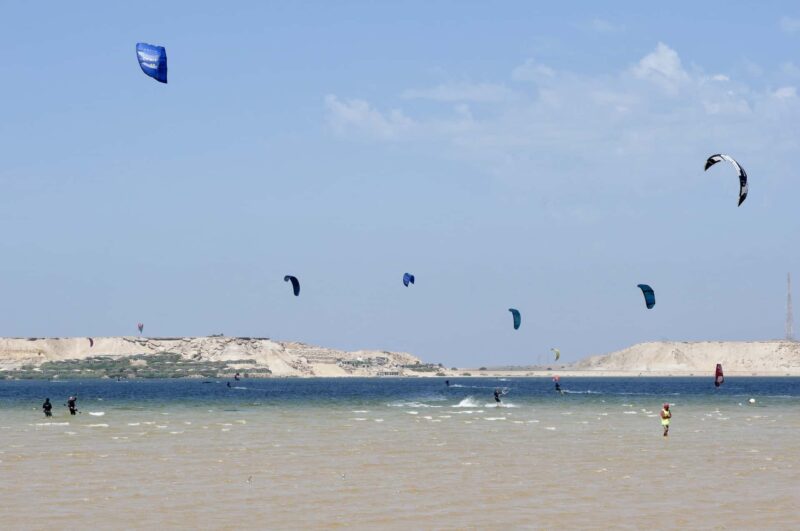 How to get to Dakhla
Many savvy travellers have driven down from Europe to Dakhla in their vans to wild camp around the lagoon. The more common route is flying via Casablanca. There aren't too many flights, and it's likely that you'll arrive with the one that lands past midnight (but on the plus side you get to check in kite equipment for free). If that's the case, maybe choose a cheap hotel for your first night as all you will do is hit the bed immediately. That's what I did, opting for a hotel walking distance from the airport which is located in Dakhla town. If airport transfer is part of your deal, the camp can pick you up the following day from the hotel rather than the airport – just let them know in advance.
Flying home is equally awkward as the flight to Casablanca leaves around 8am. But as long as you wake up on time, your camp will be ready with your transfer to the airport.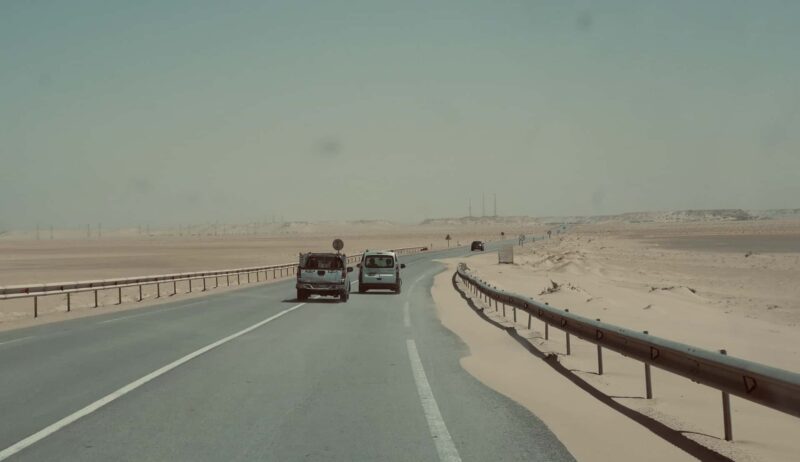 Getting around in Dakhla
I suppose you could rent a car, although I couldn't find any deals on the international websites so you might have to arrange it on the spot. This feels like the best option if you for some reason opt to stay in Dakhla town. But more likely you're happy to stay put in one of the camps during your stay, which means that you're pretty much stuck there unless you arrange cab rides or do group excursions arranged by your camp.
Some camps and hotels around the lagoon are walking distance from each other, so if you're getting cabin fever or want to mix it up a bit you could check out another camp depending on where you're staying.
In that regard the setup reminds me of my stay at My Hoa lagoon in Vietnam. You're more or less stuck in a place, but most likely by choice and with a kite sleep repeat agenda that keeps you perfectly content.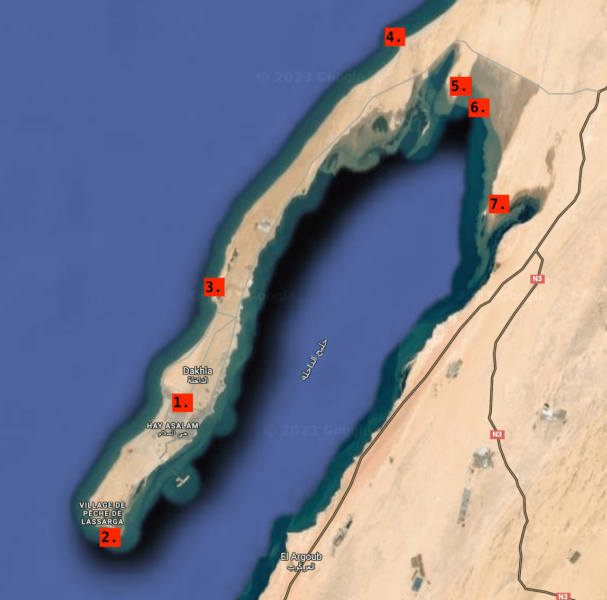 Dakhla town and airport
La Sarga surf spot
Oum El Bouir surf spot
Pointe de l'Or surf spot
Dakhla Attitude
Speed spot
White dune
The kite spots
The kite spot in Dakhla is a large lagoon connected to the Atlantic Ocean, surrounded by a breath-taking desert landscape. On the map the lagoon looks absolutely massive, but in reality most kitesurf camps and resorts are scattered around a smaller lagoon that forms the Northern tip of the large one. A few camps like Secret Spot and Heliophora are farther away, which means a longer drive to get there but surely also means less riders to share the spot with.
The lagoon has no hazards, no rocks or sharp shells to accidentally step on. It's a very safe space to ride in. Most camps give you side to slight off-shore wind and large areas of knee to waist deep water depending on location and tide. Rescue boats are constantly watching over you should you need help.
The tide is prominent here and shapes the spot a lot. It makes for a more fun riding experience as the spot change from day to day and, especially in low tide, you can explore the lagoon and find yourself riding amongst shallow coves, sand banks and flat water spots.
Even at the lowest tide you have an area in the middle of the lagoon with deep water. Here the water shifts from fairly flat to chop to small waves. All in all the riding is surprisingly versatile.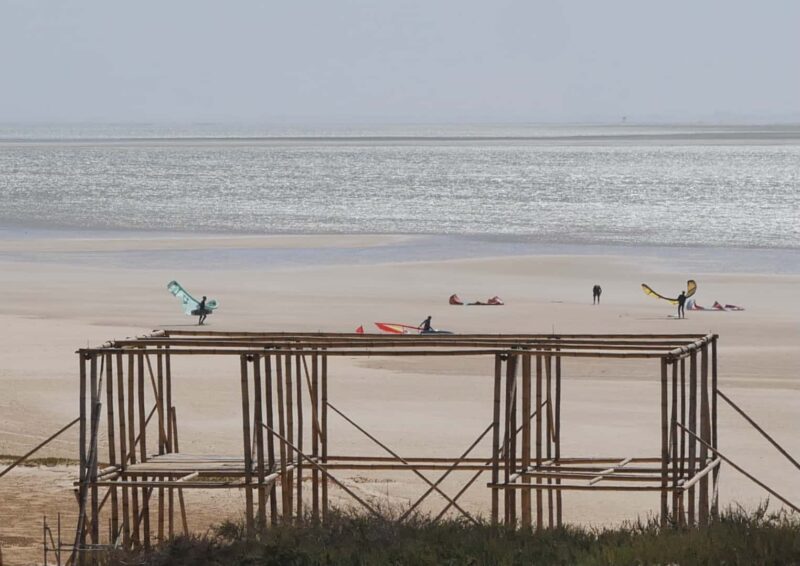 The Speed spot
You'll definitely hear about the speed spot when you're here. It's an off-shore wind shoreline that reveals itself in low tide and can be found just East of Dakhla Attitude. One can walk there across the beach from Attitude, or get taken there and back on a tractor for €15. Other camps also arranges trip there, so unfortunately it was a highway of kites and windsurf and quite stressful. Other days it looked almost empty, so pick a day with few riders there and you'll have a nice spot for yourself. Great for boosting.
The White Dune
The other famous spot to visit while you're here is the White Dune. I'm sure you've seen videos of people launching themselves off a 20m dune. That's the White Dune and most camps arrange trips here. I did a safety boat assisted downwinder from Attitude to the dune on my third day. It was €35 and they drive you back in a 4×4. Totally worth it. The downwinder gives you a bit more exposure to the rugged coastline and jumping off the dune as well as playing in the flats around it are heaps of fun.
Wave spots in the ocean
If you've had enough of flat water you can also find very good waves on the ocean side. There are three main spots, of which two also have resorts on them.
Pointe de l'Or is just across the lagoon camps. Then you have La Sarga at the tip of the peninsula, and finally Oum El Bouir next to Dakhla town. I can't comment on the other spots, but I did check out Oum El Bouir on my first day in Dakhla. A happy and chatty taxi driver took me there for 70 Dirham. By the way, Arabic and French are the two spoken languages here but English and smiles worked pretty well for me to get by.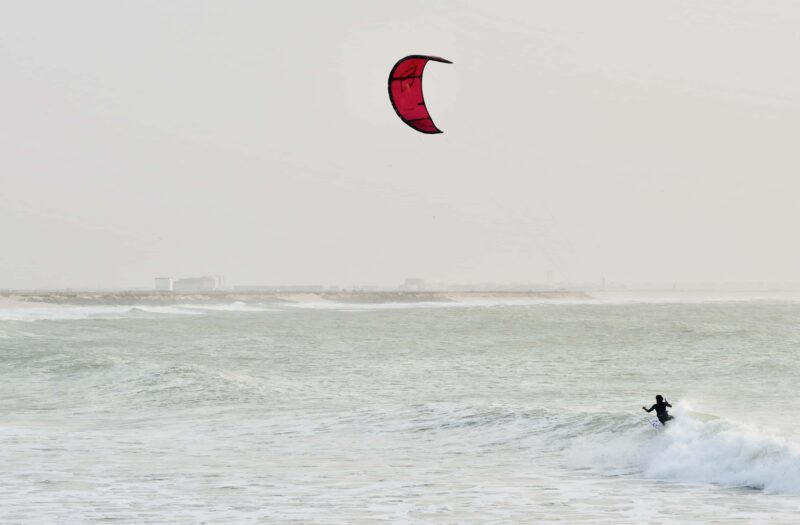 Oum El Bouir
This place used to be completely deserted, only visited by surfers who would wild camp here. Nowadays it's been commercialised with a fair amount of infrastructure with the resort West Point as the center piece. It's a nice resort but sadly the buildings now create a wind shadow in the corner of the bay and added a bit of gust galore to the already gusty, off-shore wind
When I arrived there was not a single kite in the sky. The wind was strong albeit slight off-shore cross and the waves looked nice and clean. Those conditions are normal here, so why empty?
I didn't have a pump with me so I simply had to wait util someone magically showed up with one. While I waited I met Karim who lives in a tent on the beach and showed me some Moroccan hospitality (but with an agenda?). I never stayed to try his friends 'amazing couscous' and instead went to try my luck finding a pump and go kiting when I saw another kite out in the waves.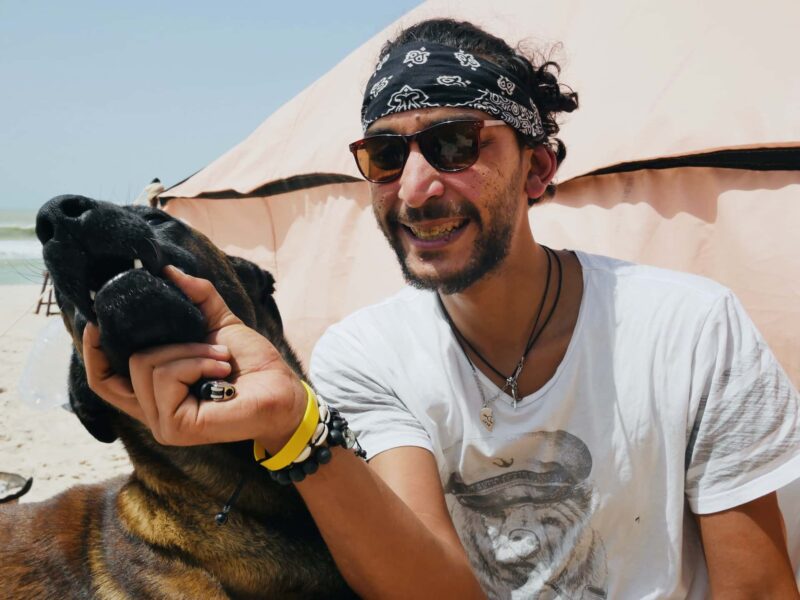 Turns out this spot isn't really a kite spot. It's a surf spot (Billabong were there shooting which was a treat to watch). Experienced wave kite surfers did ride there but it's not for the faint hearted. The swell was around head high and nothing too intimidating but the wind is cross off shore and very gusty. I managed to borrow a pump from some friendly locals and spent 30 nerve wrecking minutes on the water, doing my best to not drop the kite and not get eaten by waves.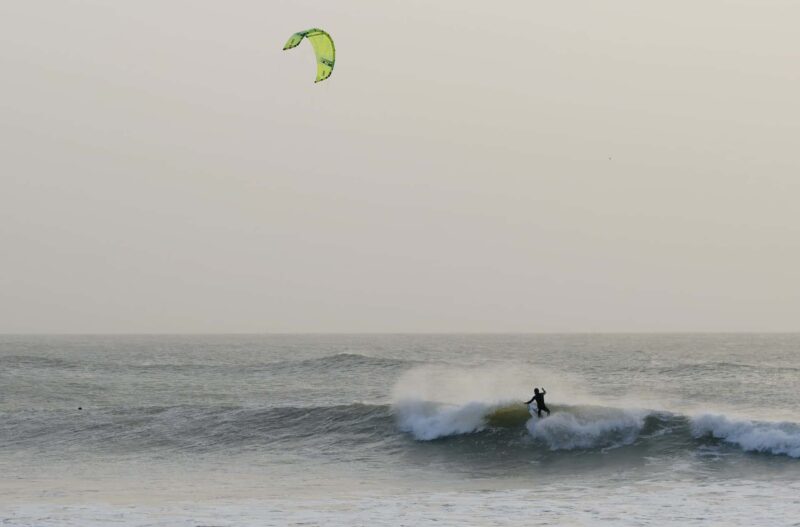 Where to stay in Dakhla for the best kitesurfing
So I've touched on this already, but basically for the best kitesurfing you'll want to stay in one of the resorts or camps along the lagoon. Dakhla town doesn't have much going for it and no access to good kite spots. It got that smell of warm trash that was ever present on Boracay when I was there in 2013.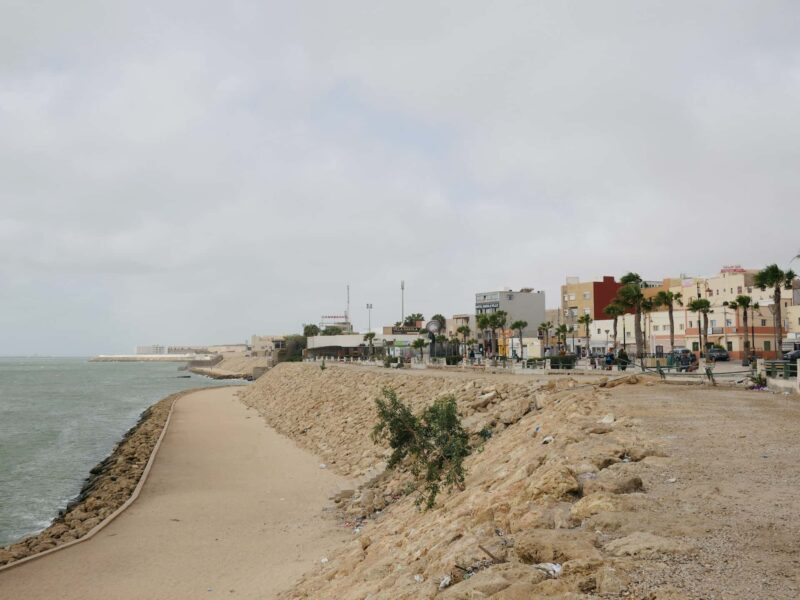 In 2023 you have A LOT of options when it comes to choosing a kite camp in Dakhla. You can go for one of the more low-key affairs like the aforementioned Secret Spot, bit more upscale like Dakhla Club, or the trusted long-time favourite Dakhla Attitude.
Be aware that farther up the lagoon the riding can be a bit mundane with little variation and only a small rideable area in low tide. For the best conditions I recommend Attitude, or the camps opposite the lagoon; PK25 and Dakhla Spirit.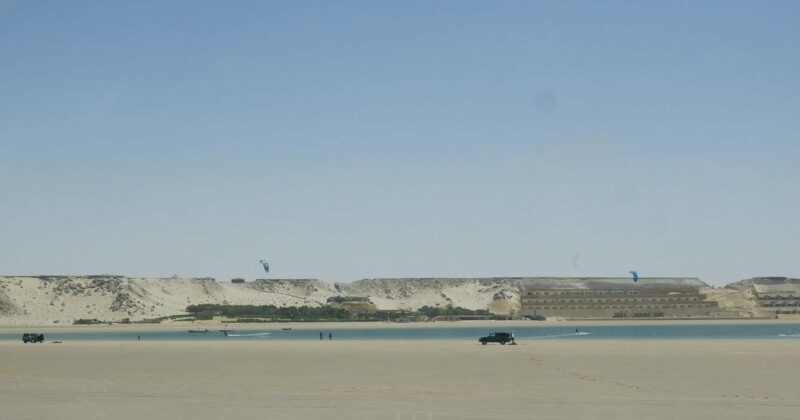 Dakhla Attitude
I stayed at Attitude, a camp which name and logo pay homage to the Fiddler Crab. This funny little creature exists in abundance around the camp's shoreline and is easy to spot after sunset.
Attitude is a mid-budget option (around €100/night for a solo traveler) and one of the larger camps. It's arguably also got the best location in the lagoon. Here you find everything you need from beach assistance to a bar that stays open to midnight and sells alcohol at European prices. You can also book a massage or yoga class, or use the free gym.
Wi-fi works fine in most spots around the camp. Food is included in the price, but all snacks and drinks outside the meals are charged for. There's also a mandatory kite equipment storage fee of €10 per day, which includes storage, beach assistance, rescue boat and compressor pumps.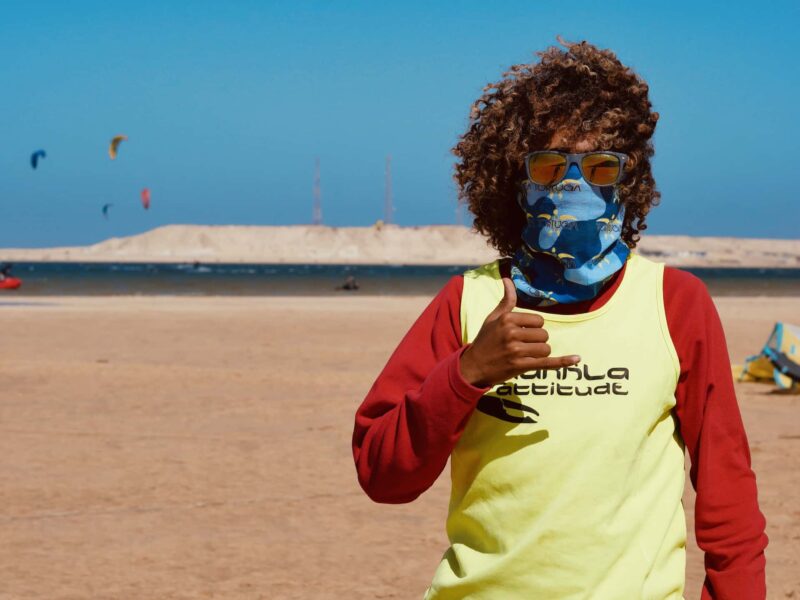 Food was surprisingly good considering the large operation required to serve 100 hungry kitesurfers in the middle of nowhere every day. On the buffet were plenty of fresh and cooked veggies, lamb and chicken tajines, grilled fish and made to order msemen at breakfast (lovingly nicknamed super bread by my Dakhla kite crew).
It's true that a camp this large doesn't feel very personal. It's business, but the staff was very friendly and everything was well organised from the check-in to the daily cleaning of my bungalow.
If you're staying at Attitude you have two options; Dragon Camp or Wind Chaser. Both are good options, but Dragon Camp is closer to everything and has slightly better views over the lagoon and Dragon island. Both are good options but either way I'd go for a chalet located higher up for a good view. The sunsets are truly stunning. I stayed in Wind Chaser because it was cheaper, but I was given a five-person chalet for my solo pleasure (did I get upgraded?) with private front garden and great views so I was very content.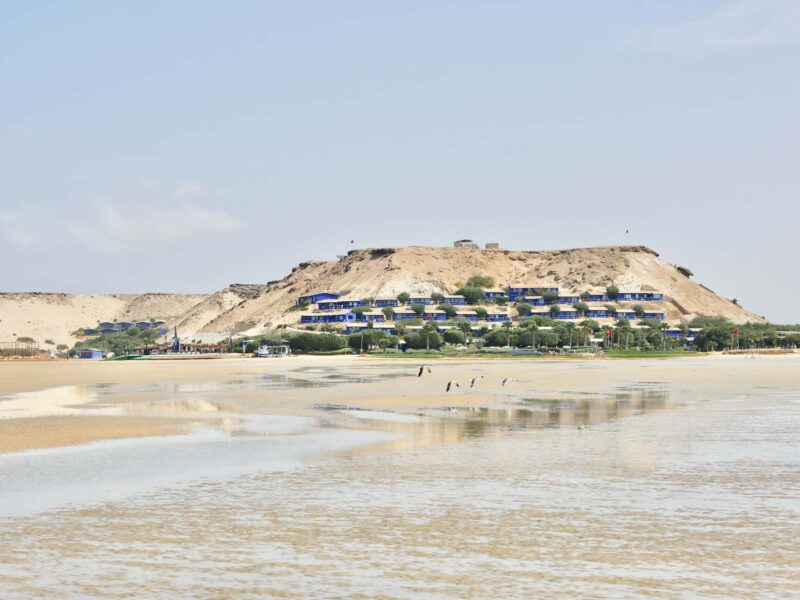 Summary
I'm a sucker for kite-eat-sleep-repeat spots. Combine that with lucky wind stats for my trip and you can imagine I had a good time in Dakhla. The lagoon is varied enough to offer you plenty of variation during your stay and with varied wind strength during my stay I also had to adapt my riding to include everything in my repertoire, from boosting to unhooking.
It's not the best freestyle spot I've visited, and it's also not the easiest spot to learn in, but it's good enough in both regards. For everything in between you're going to have an amazing time on the water.