This is a sponsored post by SPIRIT Kitesurf School Fuerteventura. Visit them here for more info.
All text and images in this article © SPIRIT Kitesurf School Fuerteventura and used with permission.
I'm Andrea and I welcome you to the SPIRIT kitesurf school in Fuerteventura. After some travels and experiences around the world, I decided to start SPIRIT kitesurf school in Fuerteventura – the perfect location both for the quality of the wind and for the always spring-like temperatures.
Fuerteventura is a Spanish island, which is part of the Canary Islands which are located in the Atlantic Ocean, in front of the African continent. It extends for 100 km in length and for a maximum width of 25 km. Given the geographical position and its shape it is perfect for those who have a good level with kitesurfing.
Join SPIRIT kitesurf school Fuerteventura on one of our kitesurf camps
A week of kitesurf camp in Fuerteventura is an experience that I recommend to anyone in love with this beautiful sport. Seven days 100% dedicated to kitesurfing to help you achieve your goals, from doing your first water start to gain confidence and improve your jumps.
The camps are for all levels and has a maximum of four participants to ensure focused quality coaching.
The kitesurf camp in Fuerteventura was not born only as a basic beginner's course, but for an improvement in all aspects of the sport. I assure you that you will come out of this holiday improved and more self-confident. What took me years, money and patience to understand and make the most of it, I offer to you in a full immersion holiday package.
The kitesurfing days start at 10 AM, and end in the afternoon at 5 PM in the winter, or at 6 PM in the summer, with a 1 hour lunch break. During the day we stay in the same spot or can easily move to another one if the wind conditions change in the afternoon.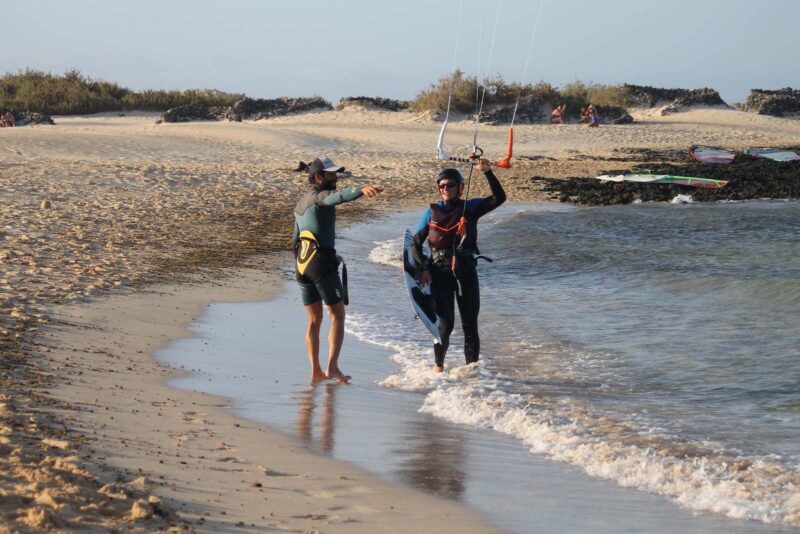 Kitesurf and wind theory
You will also learn the theoretical part of kitesurfing from aerodynamics, wind window, the winds that we can have in different conditions and the effects is has on a spot. This will build your confidence and ability to kitesurf anywhere in the world, analyse local conditions and avoid surprise when arriving in a new location.
The spots we will frequent will be those of El Cotillo lagoon, Piedra Playa, Flag beach il Burro, Glass Beach and the Sottavento lagoon. Trying different spots will allow you to practice and analyse different spots and beaches. Read my Fuerteventura kitesurf spot guide for more details about these spots.
Who is the SPIRIT kitesurf camp for?
Participants in Kite Camp Fuerteventura will be people who will have different objectives, such as those approaching kitesurfing for the first time, those who want to improve their riding or refresh their skills.
Maybe you want to improve your jumps, discover the different ways of kitesurfing between twin tip, surf and kite foil, or simply take a break from home and stay in the company of other water addicts and meet new friends? It's all possible at the SPIRIT kitesurf camp.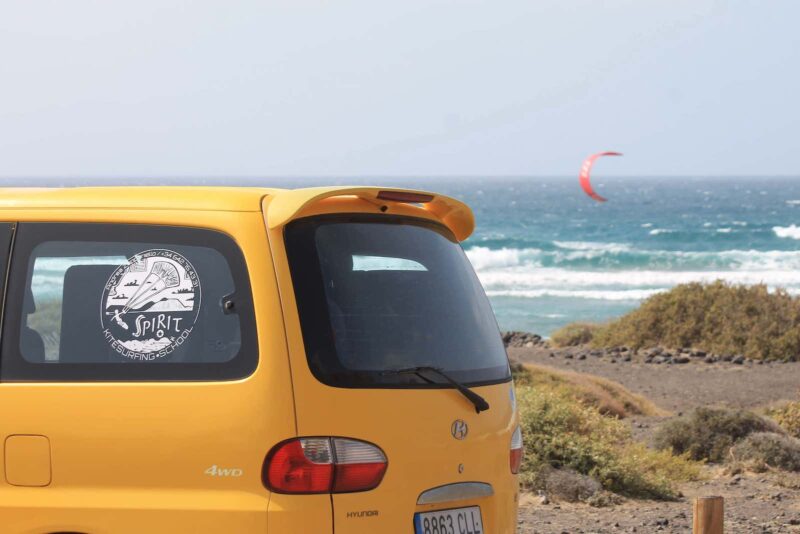 What's included in the kitesurf camp Fuerteventura?
The material is included in the price, but for those who want to perfect their technique it is recommended to have their own equipment to have a better knowledge and practice of their material.
At the end of the day during the kite camp in Fuerteventura there will also be Yoga lessons included to allow for a moment of stillness and change the point of view on what is around us and on ourselves. Or you can simply relax and take a dip in the swimming pool.
The package includes a stay in a room or mini-apartment for up to two people, with the services: swimming pool inside the structure, wifi, air conditioning and breakfast included. You can add any extra meals for a small difference on the price.
Personal service
The evening ends all together with a dinner in typical restaurants with traditional Canarian and Spanish dishes, a BBQ on the beach or discovering the nightlife of Corralejo while evaluating the spots you want to visit the next day and discussing the day that has just ended.
Throughout your holiday you will be in good hands, personally assisted with local expertise by Andrea Zappariello of SPIRIT Kitesurf Fuerteventura. If you already have experience and want to travel light, we also offer the CICERONE KITESURF TOUR where the material is included, moving around the spot and supervision throughout the day of the holiday.
To learn more about dates, availability and price please visit SPIRIT Kitesurf website. I hope to see you soon in sunny and windy Fuerteventura!
About Andrea and SPIRIT kitesurf school
Kitesurfing has always fascinated me from the first time I saw it. I was on the Romagna coast, in Rimini Italy and from there it was love at first sight. It took me a long time before I was able to enjoy the thrill of riding freely and managing the kite in varied conditions from light wind to strong wind to gusty wind. After many years and attempts and without ever distracting myself from my goal I have achieved a solid understanding of all aspects of kitesurfing. This is why my kitesurf school is called SPIRIT kitesurf.
Before opening my school in Fuerteventura I dedicated a lot of time to kitesurfing. Until 2019 it was a hobby and I dedicated my holidays to discover new spots around the world. After two years of experience in a school in Fuerteventura's Corralejo, where I learned about the local winds, beaches and conditions on the island, I decided to open SPIRIT kitesurf school.
SPIRIT kitesurf school Fuerteventura teaches the technique of how, why and when to kitesurf without ever giving up. This is an attitude than can be applied to all aspects of your life – if you have a goal, no one can stop you from achieving it.