Dates: 8 – 22 Dec
Rideable days: 8 out of 15
Wind: 10 – 28 knots
Temp: 32˚C
Water temp: 29˚C
What I liked
Massive flat water area
Never gets busy
Warm and sunny
Very cheap
Visit to Bokor mountain
What I didn't like
Gusty off-shore wind
Spot's outside town and road there is dusty and full of pot holes
Not much to do in town
If you find yourself looking for kitesurf spots in Cambodia you're either traveling SE-Asia like me (Thailand, Cambodia, Vietnam, Philippines) or you're desperate to try new kite spots. What I'm saying is that Cambodia isn't known for its kitesurfing. It's rarely a place you travel to in isolation simply to kitesurf, as people do with Vietnam and the Philippines. There is however one spot that both has decent wind stats and a massive flat water playground.
This spot is right outside Kampot, a sleepy river town at the foot of Mt Bokor. Here I spent two weeks in the final days of 2018.

Weather and wind
Kampot has two distinct seasons. During the rain season, between May and September, the wind is coming from SW with nice and steady on-shore conditions. During my stay in December, the winter season had just started to kick in and was bound to provide North-Easterly off-shore wind up to March or even April.
This wind comes in chunks for a few days with very consistent direction and decent force. It builds up strength, lasts for a few days and dies down. Wind is coming over land and is naturally very gusty close to shore. Luckily the spot's shallow area is huge and farther out the wind is a bit cleaner but the water is still shallow and flat.
Weather-wise it's mostly warm and dry (shorts and t-shirt is enough during day and night) but a few times hour-long thunderstorms would pass by with heavy squalls. You can tell they're on their way by the darkening sky and increasing wind. Make sure you're indoors when they hit or you'll get soaked. And obviously land your kite if you get caught while out riding.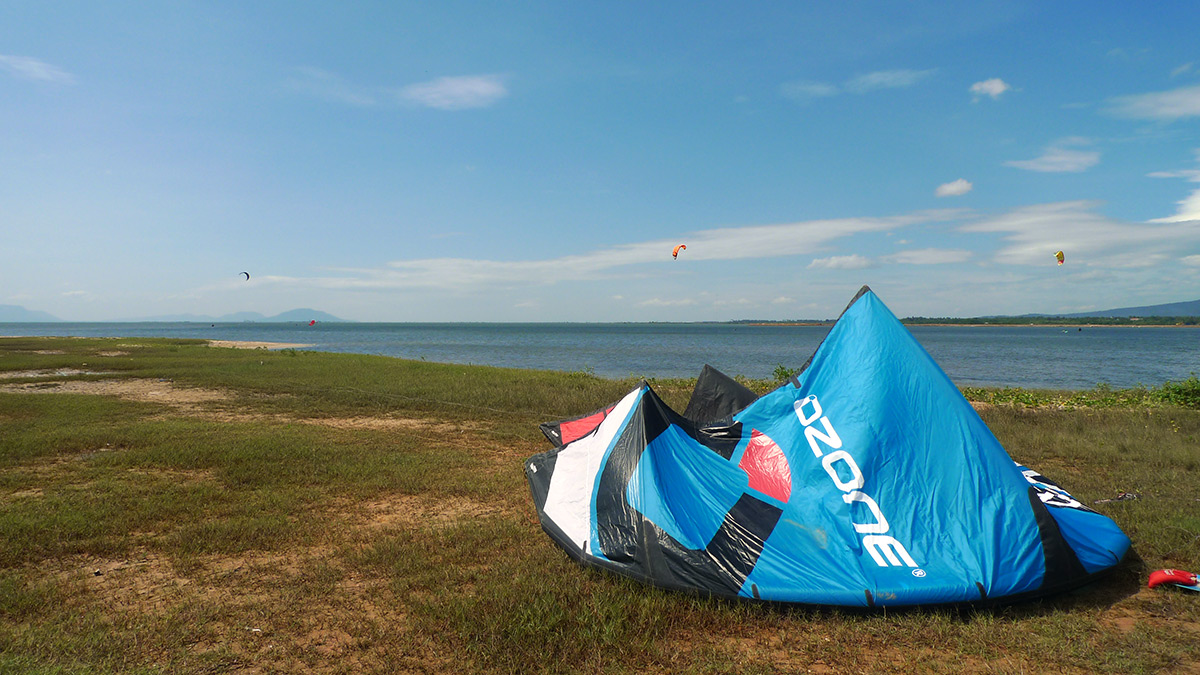 The spot
The spot is about 15 – 20 minutes drive from Kampot. Best way to get there is to go by boat and follow the river since it's located right where the river begins. Finding a boat might be hard though so second best option is to rent a motor bike for about 4 USD/day and drive there.
The road there is dusty, full of pot holes and trafficked by heavy trucks so it's not very nice, especially if you're balancing your board under your ass (still the best way to bring your board on a bike in my experience). The last bit is a dirt road. It gets very muddy after rain so not advisable.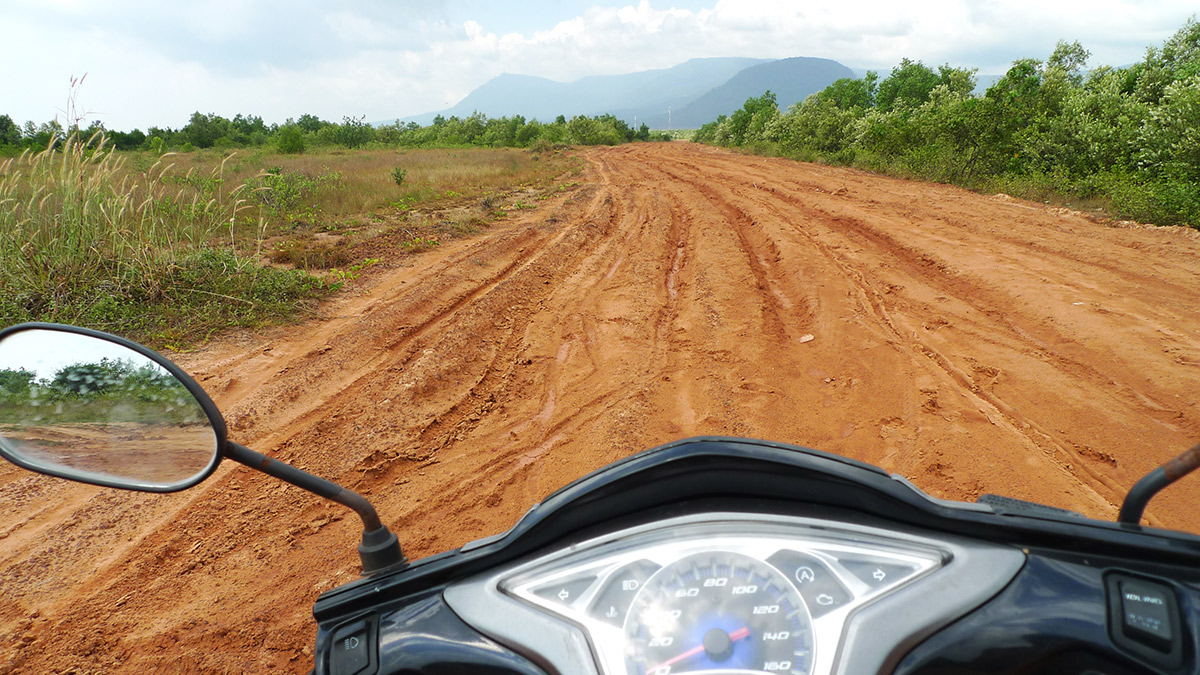 Once you reach the spot you have a good launch/land area and options to ride either side of the river. It's a super low-key spot with nothing around. A few expats from Phnom Pen might show up in the weekend but otherwise it's just you and the local school, who's there most days of wind. I never counted more than six kites in the air.
With off-shore wind it sure feels safer to stay closer to the launch area, but here it's also a lot more gusty. The shallow area stretches farther out than I cared to explore and a better option is to head out a bit, at least in height with the third island for cleaner wind.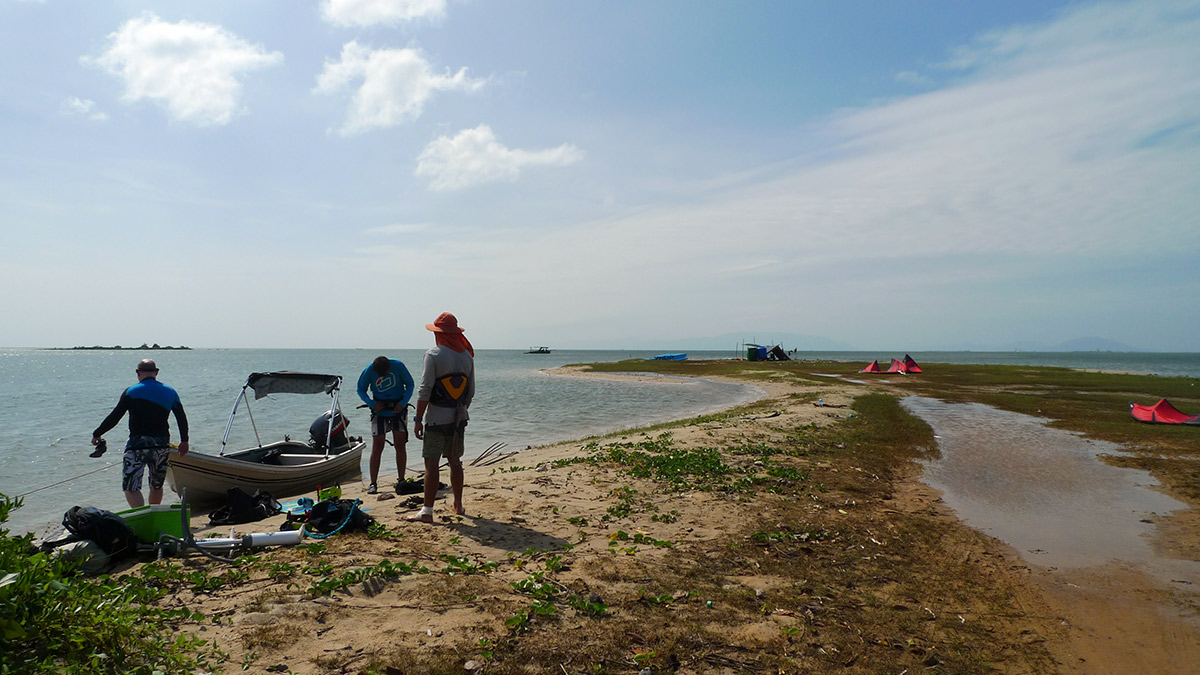 The water level varies from knee to waist deep and the bottom is varied sand and mud. It's a bit slippery to walk on but manageable in most spots. Avoid drifting to the other side of the bay if you're riding on that side. It's super muddy and has sharp stones easy to cut yourself on.
On the spot there is one school operating during both seasons. Cambodia Kiteboarding, led by Frank van Zoggel. He told me that the land owner has big plans to expand the area commercially, and the kite school is looking to be part of the plans. Maybe in a few years, this now so relaxed and empty spot will look completely different.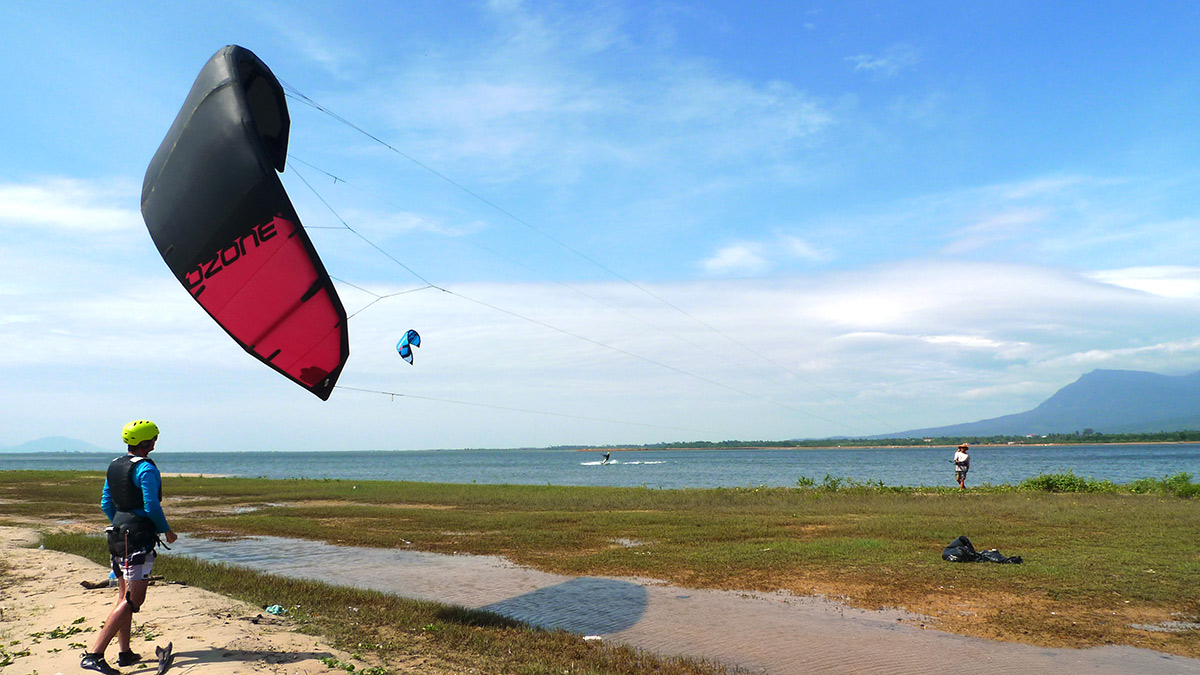 Launch area
Gusty but sheltered. The school mainly teaches here.
Sweet spot. Not too far away should something go wrong, but less gusty.
River outlet. Strong current and a bit of deep water.
Vast area past the small islands. A bit gusty but shallow for most part.
How to get there
Getting to Kampot is easy enough by bus from Sihanoukville, Phnom Pen or Siem Reap. There are both day and night buses that can be booked online.
Or you can come from Vietnam, crossing the border at Ha Tien. There are yet no direct ferries from Phu Quoc island.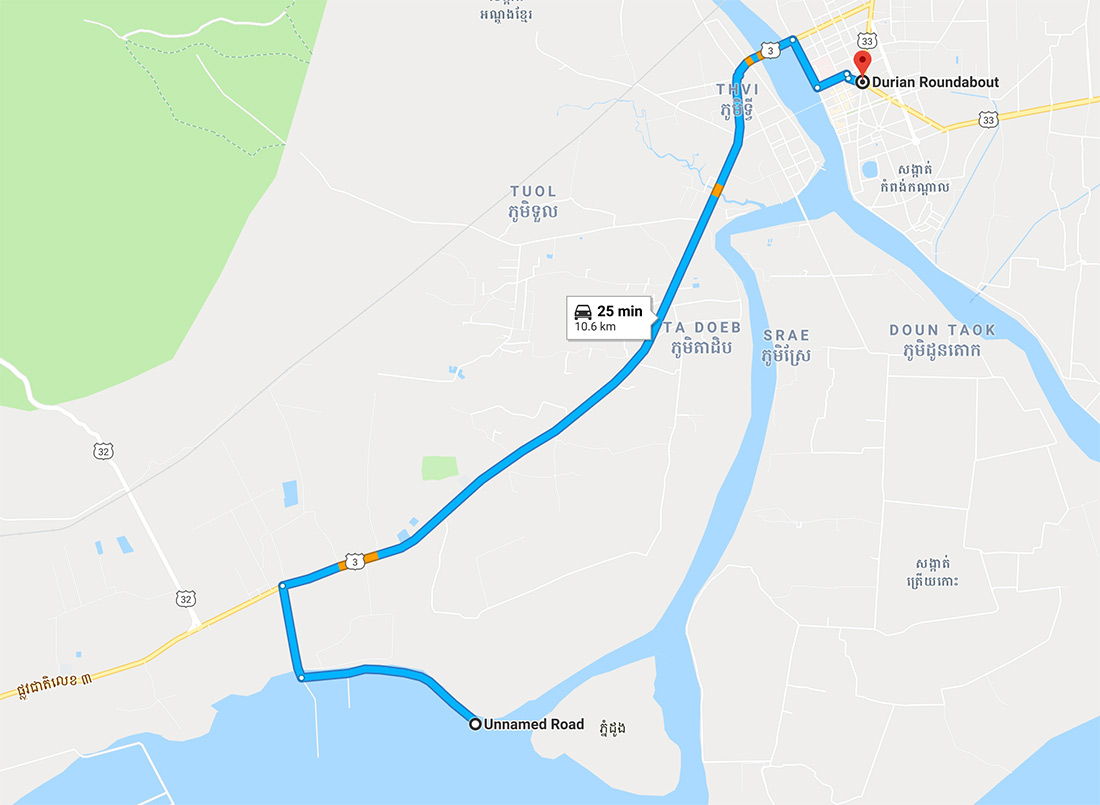 Where to stay
Kampot doesn't have much to offer other than kitesurfing, but it's still advisable to stay somewhere in, or close to town so you can at least get access to the restaurants and bars it's got. This place is surprisingly touristy with a lot of backpackers and expats roaming the streets (Cambodia is many backpackers' favourite since it's not as exploited and you can still get a bit of that authentic experience they all crave).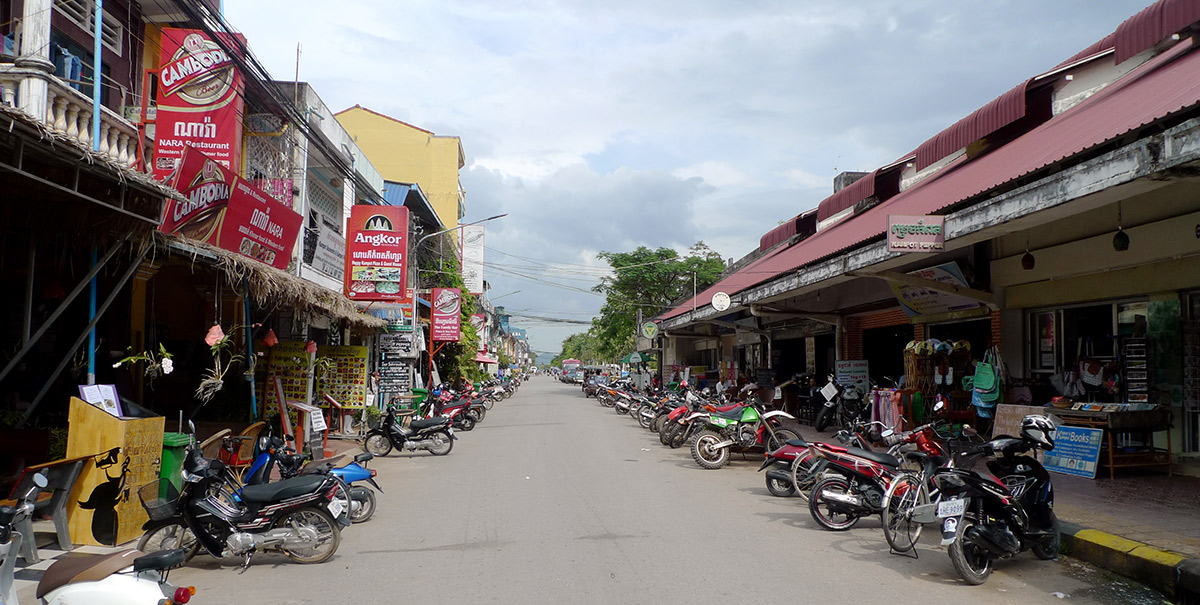 A lot of people stay here for a few days in conjunction with crossing the Vietnamese border, only 40 minutes away. You can catch some lovely sunsets around the river, and there are plenty of bars around, but somehow the town didn't appeal to me much.
There are plenty of guesthouses, hostels and bungalows and you can find decent accommodation for only a few dollars. I paid 20 USD per night for a large bungalow for two in Fish Island Bungalows. It was nice but very noisy from wedding celebrations to roosters crowing and dogs barking at night.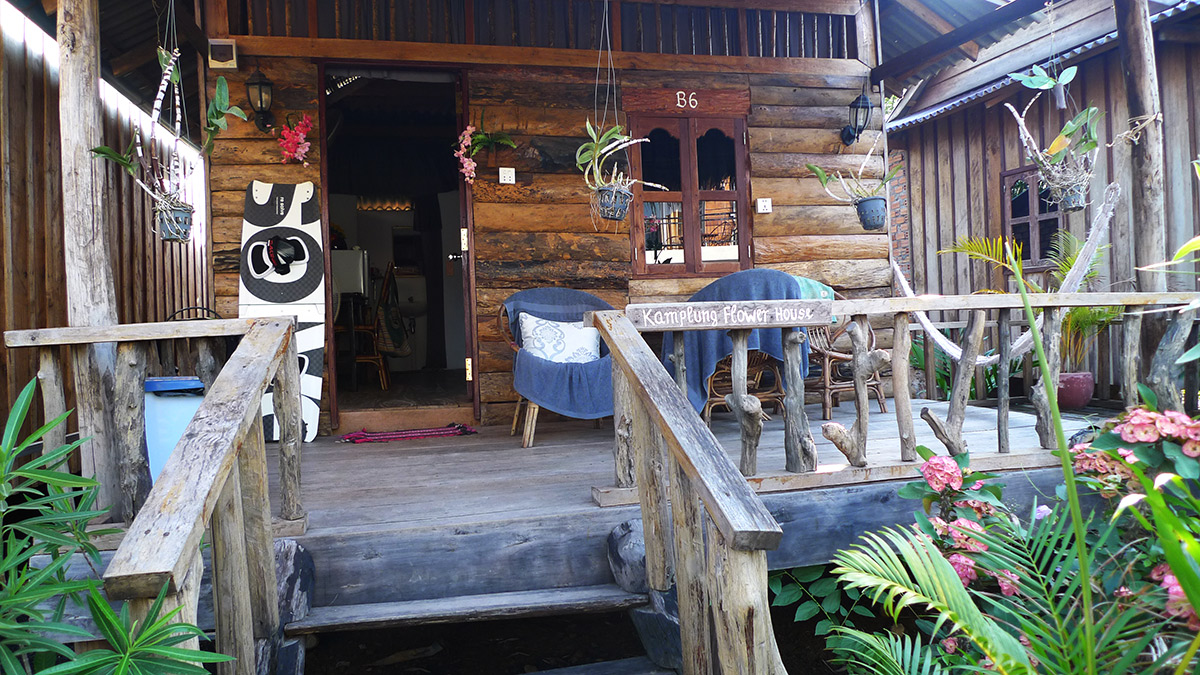 Useful tidbits
Cambodia is cheap, but the supermarkets aren't. There are no local brands and imported goods is same price or even more than in Europe.
On no-wind days head to Gym Club; the basic but dirt cheap gym in town.
Ciao is an Italian make-shift restaurant run by a local expat. It's on the way to the kite spot and his home made Italian is definitely worth a visit or two. He does lunch and dinner.
Just past the kite spot is the entrance to Preah Monivong National Park on Mt Bokor. A day trip drive there will give you stunning views, super fresh air, fun driving and a serene sense of freedom.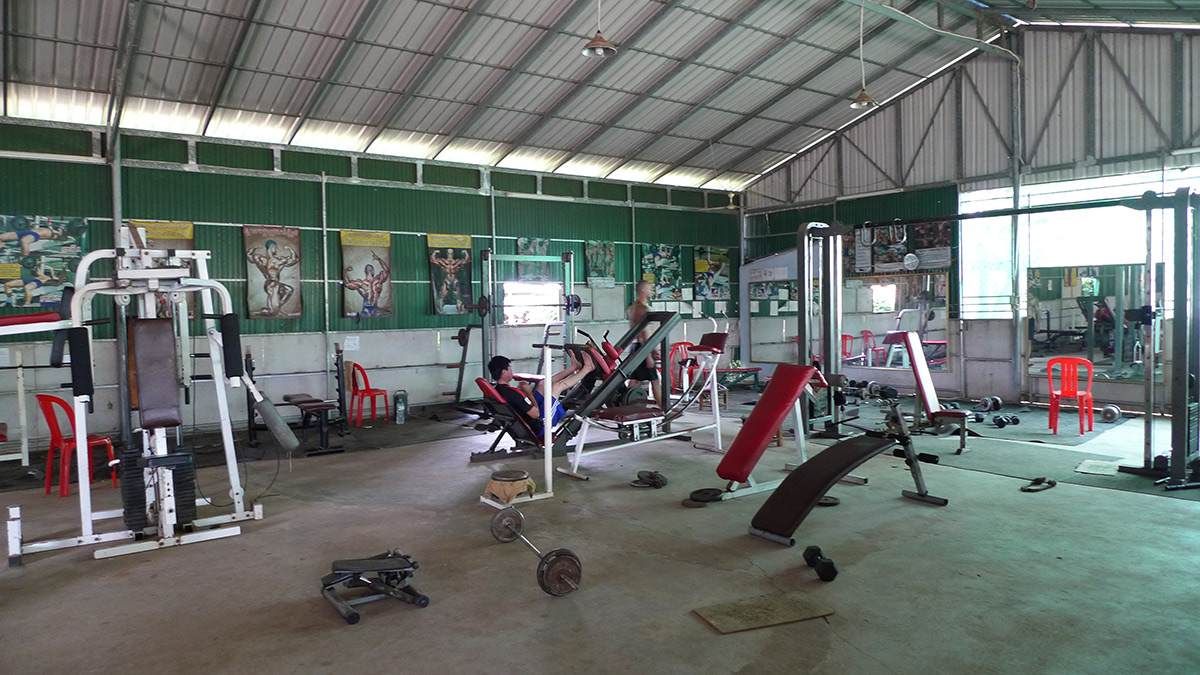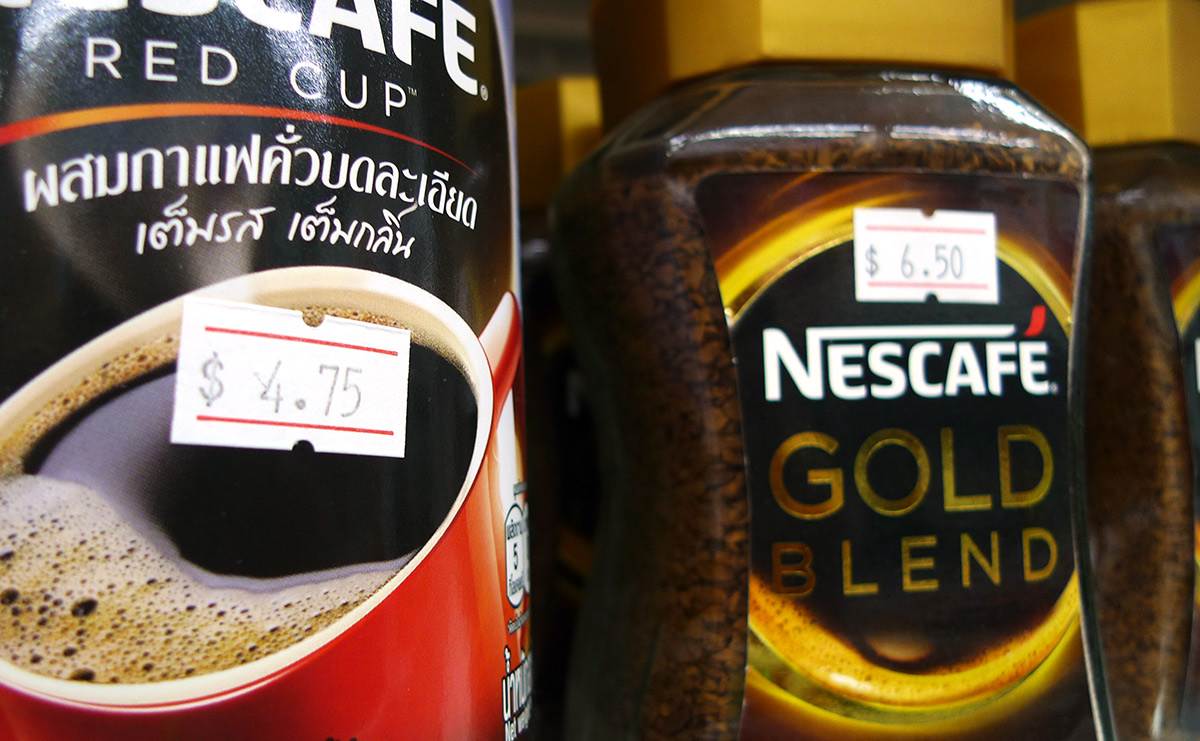 Summary
I had high hopes for Kampot, thinking it would be this amazing freestyle spot next to a charming river town. On paper it is all that, but in reality I think it's just not that hot of a spot. It's like pre-ordering a new watch from a very promising micro brand, waiting and building up the hype. But when you finally receive it and hold it in your hands the quality and finish just isn't up to par (because everyone can relate to a watch metaphor right?).
Make it a stop if you're traveling these parts of Asia. It's certainly the best spot around here, but I wouldn't make a detour just for this, at least not in the winter season.
In the next couple of days I'm off to Phu Quoc, which I don't expect much of, and then Phan Rang and Mui Ne which at least should deliver wind. As for vibes we are still to find out.