Dates: 29 Jan – 15 Feb
Rideable days: 12 out of 18
Wind: 10 – 27 knots
Temp: 30 – 32˚C
Water temp: 25 – 30˚C
What I liked about Cuyo
Amazing flat water spot

It's cheap (e.g. £12 daily budget)

Not busy
What I didn't like about Cuyo
Hard to get to

No ATM's or WiFi on the island

The threat of sea urchins

Tide-dependant spot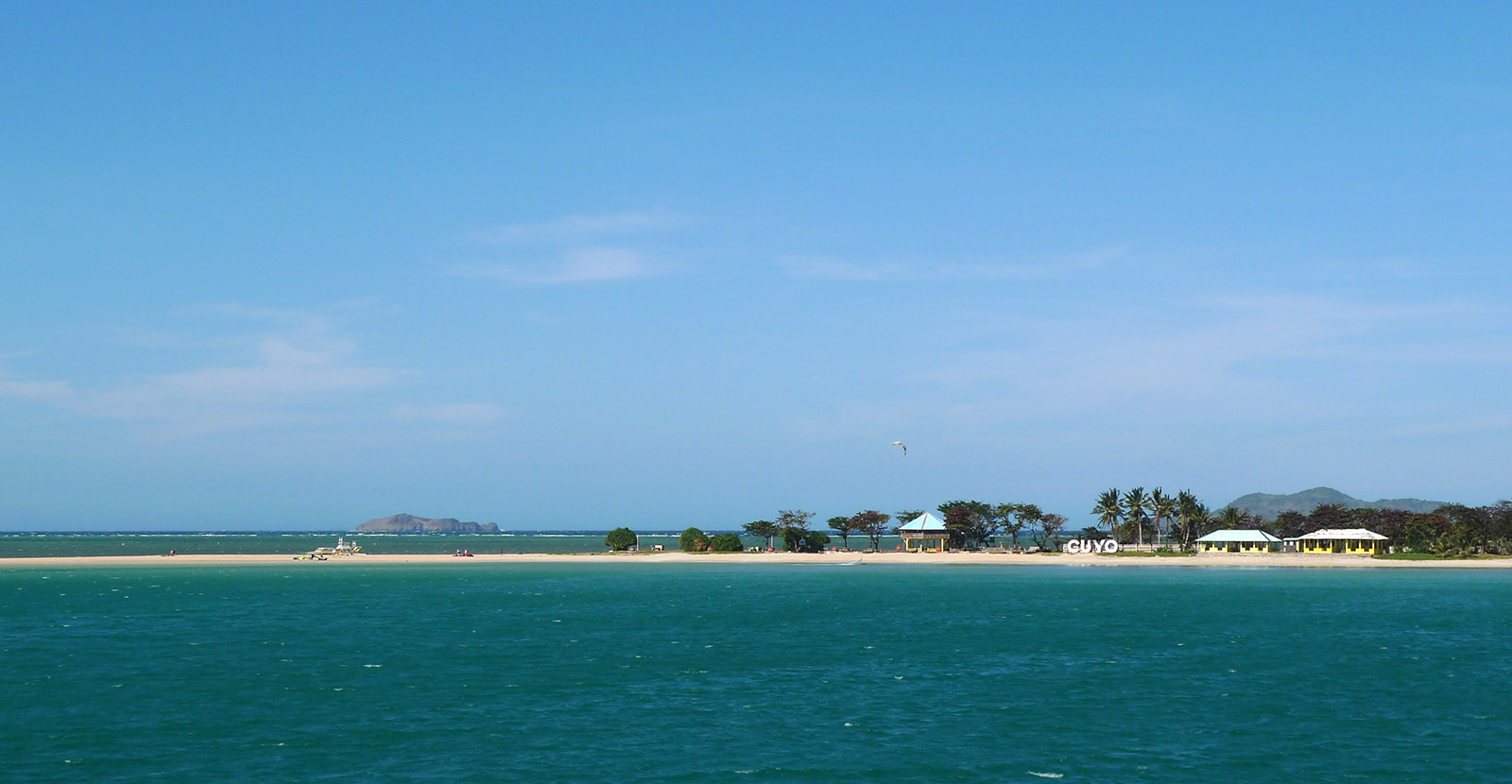 Cuyo's been on the kitesurfing map for some years. And rightly so, because it's an amazing spot when the elements work in your favour. It's just that means of getting here are so unstructured that it doesn't make sense for a short holiday. No, this spot is for the nomads, carelessly traveling from spot to spot with no need for punctuality and real-time departure updates.
Fittingly the island is almost completely void of internet and digital payment systems as well, so bring a pile of cash, leave the control freaks at home and enjoy one of the better flat water spots in this part of the world.
In other words, this was the perfect final stop on my S-E Asian nomad trip that had already covered Ko Phangan, Kampot, Phan Rang and Mui Ne.
Wind & Weather on Cuyo
The season here is the same as for Boracay and runs from November to March. During my stay, peak season as it were, we had a mix of no wind days, light wind days around 14 – 18 knots, and days with stronger wind around 20 – 25 knots. My 10m kite proved to be a perfect one-kite quiver, but a classic 9 + 12 might've given me a few more hours on the water.
This is the dry period of the year and you'll have sun pretty much guaranteed every day. The water is also warm, especially inside the reef, so board shorts or a thin layer of neoprene to protect from windchill is sufficient.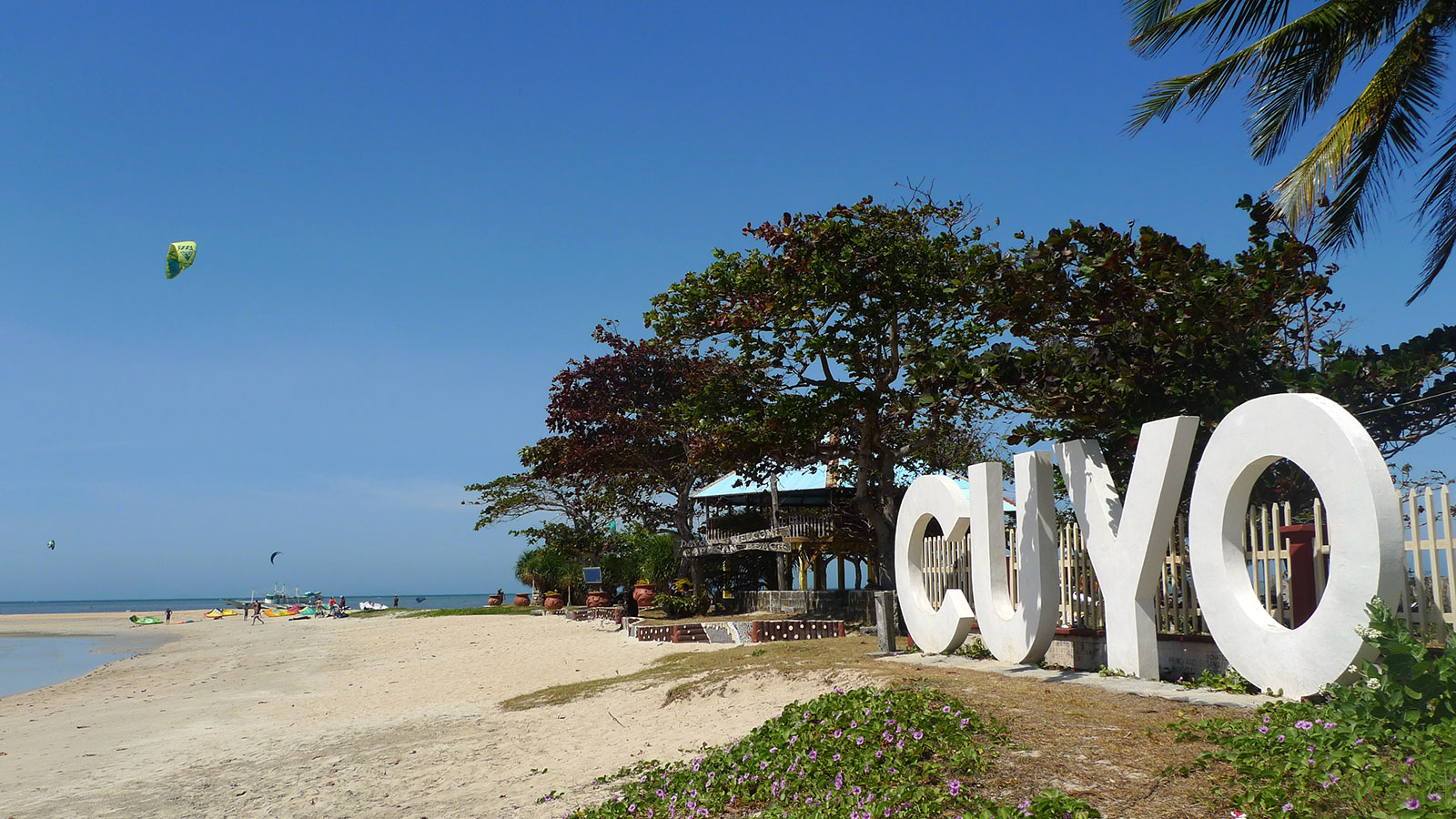 Capusan beach town spot
This is the main kitesurfing spot on Cuyo, and it's a dream spot. The few brave souls that make their way to this secluded part of the world will be rewarded with one of the best flat water spots I've encountered during my travels. Here you can ride right into the sunset, and boy oh boy is it even more beautiful than peaches and cream!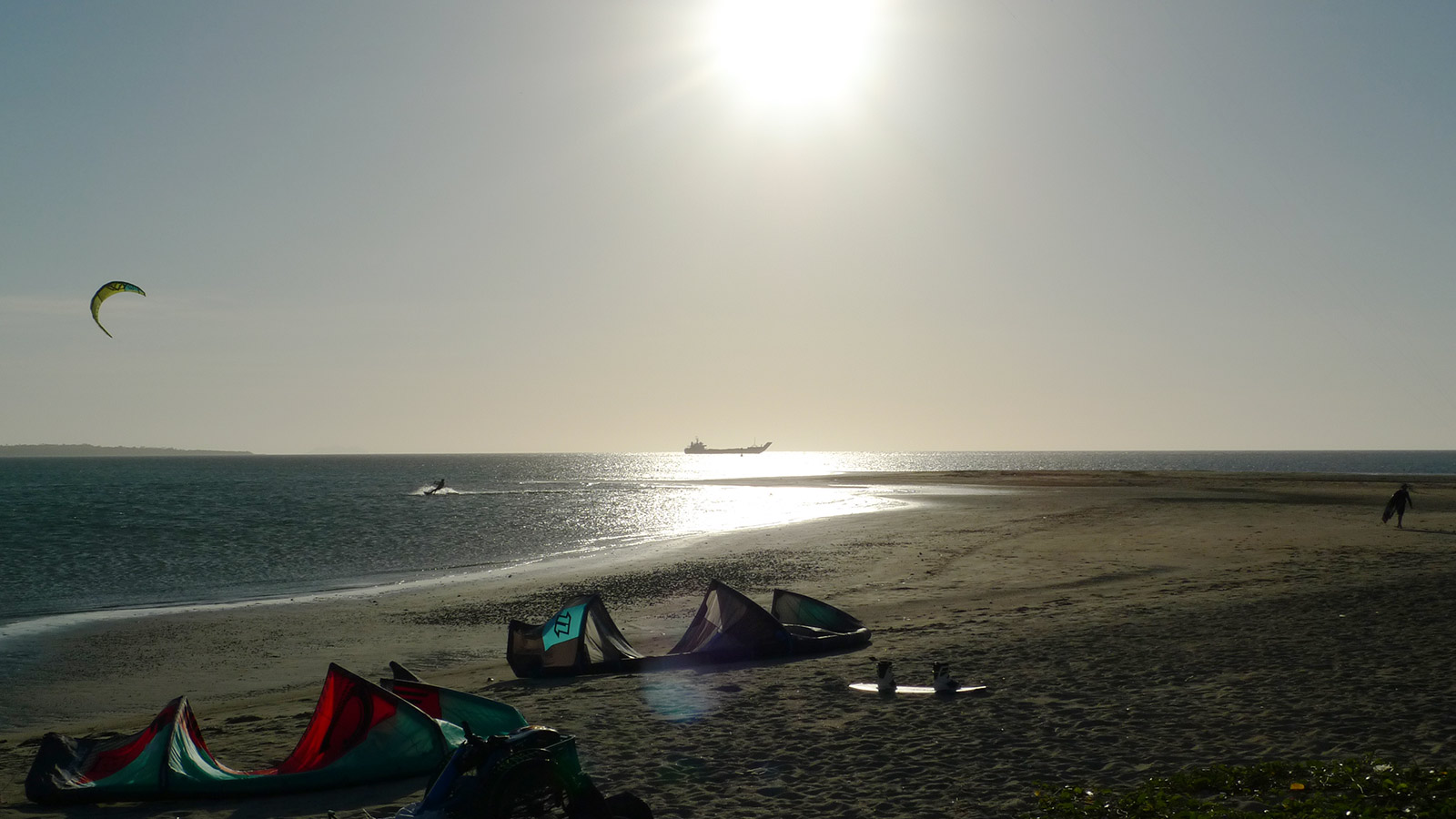 A quick 5 – 10 minutes walk on the beach or via the college campus takes you to a sandbank that works as launch and landing area (they do their lines sideways here since the sandbank can get tight in high tide). The wind is coming from NE normally which makes the reef lagoon to the right of the sand bank blessed with smooth consistent wind and knee to waist deep water perfect for learning and free riding. The water is what would normally be advertised as butter flat, which in reality means tiny chop. It's still rather decent.
Off-shore & Butter flat
On the other side of the sand bank you get proper butter flat water and off-shore wind. It gets deep quick here and you'll either drift into the ferry pier or end up in the neighbouring island if you can't come back upwind. The area closer to shore is unfortunately gusty due to trees but there's still a sweet spot where the wind is clean, the water is smooth as butter and you can crash without feeling too anxious about not making your way back. Still, a rescue boat would certainly be in order to really make this part of the spot fully enjoyable.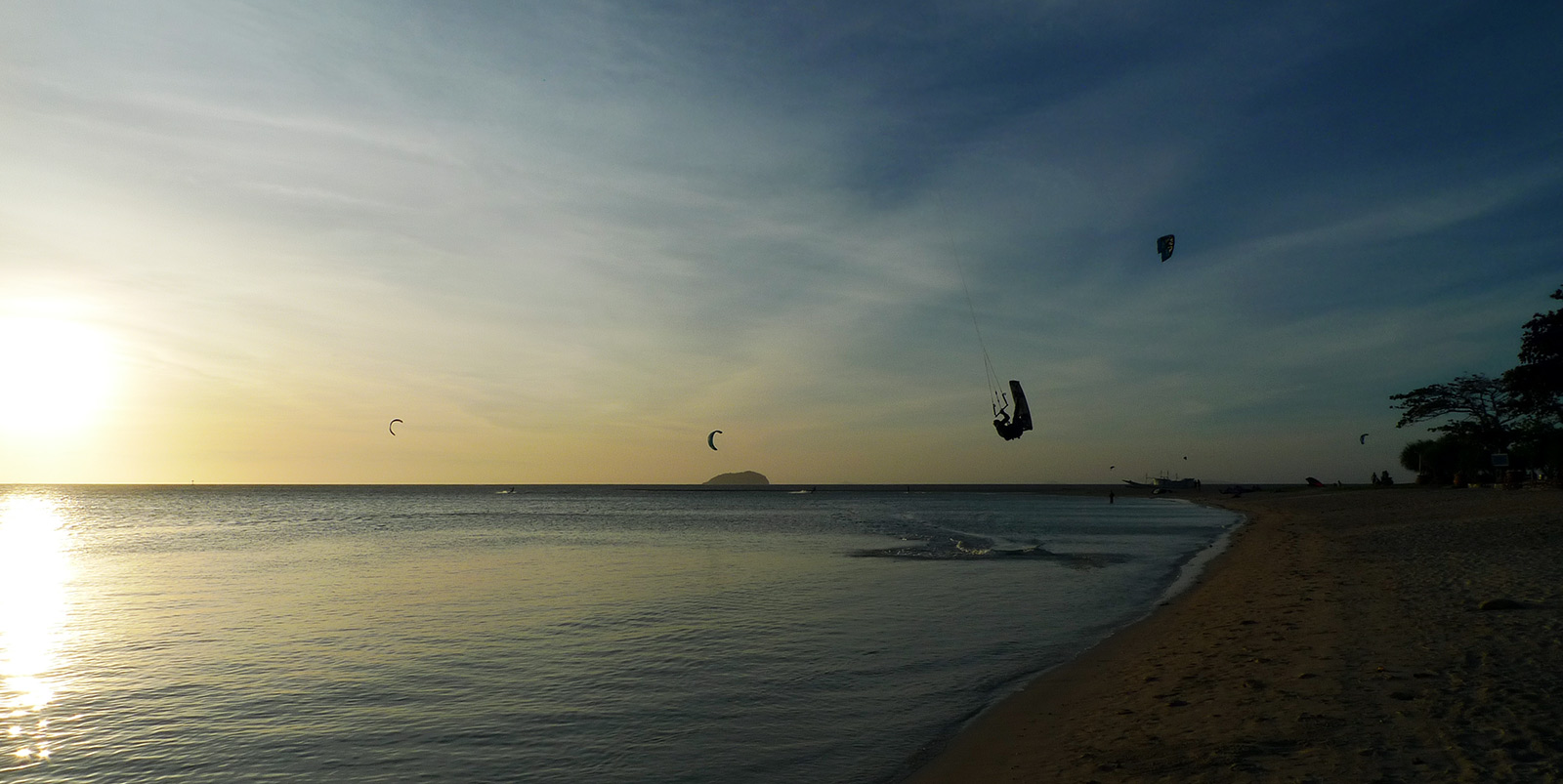 The off-shore spot fills up quite quickly with three or four kites competing for the sweet spot. The lagoon on the other hand, which still offers very nice conditions, would be hard to fill up. So with 20 kites tops during my stay this spot never feels busy. And should you want to, you can go past the reef and ride in the deep. There aren't any waves to mention though, but on windy days you can get just enough swell to have a bit of fun with starboard-tack kickers.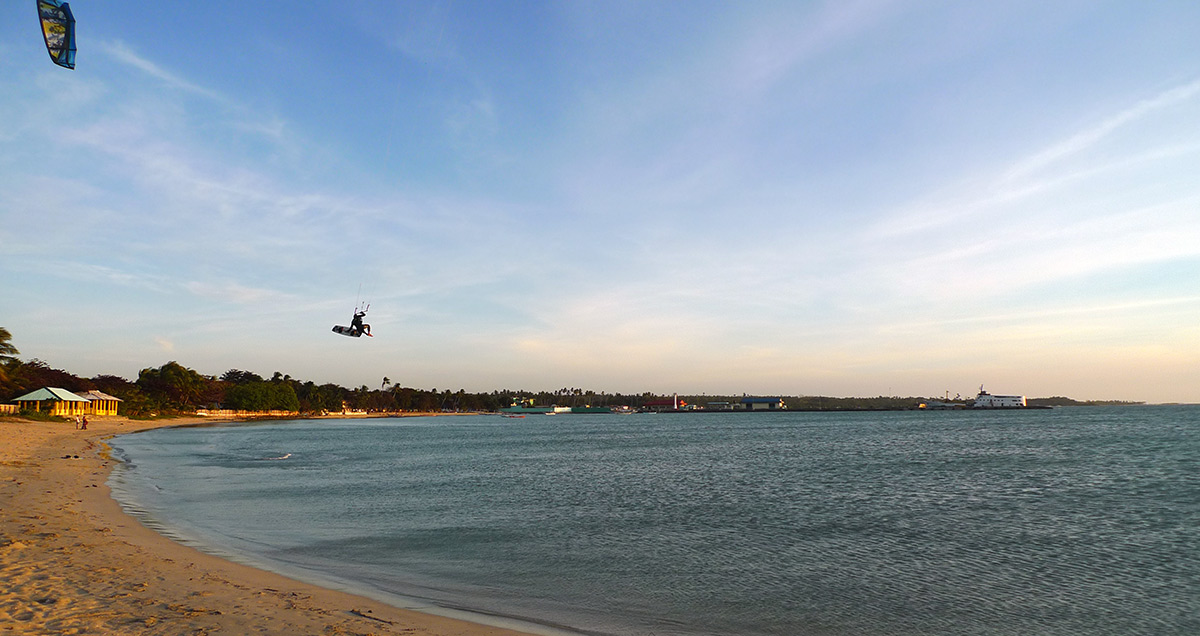 Right next to the spot, Jing of Cuyo Watersports Association has his base, so if you need lessons or your kite repaired it's never far away. Other than him there aren't many local kiters on Cuyo. You share the water mainly with international guests, mostly from Europe.
The only negatives
The lagoon is void of hazards, part from two boats right next to the sandbank. There are however areas of sea urchins. So if you plan on walking in the water, booties are recommended. There aren't that many apparently but when one is all it takes to be in pain for hours or days even, you better be safe than sorry.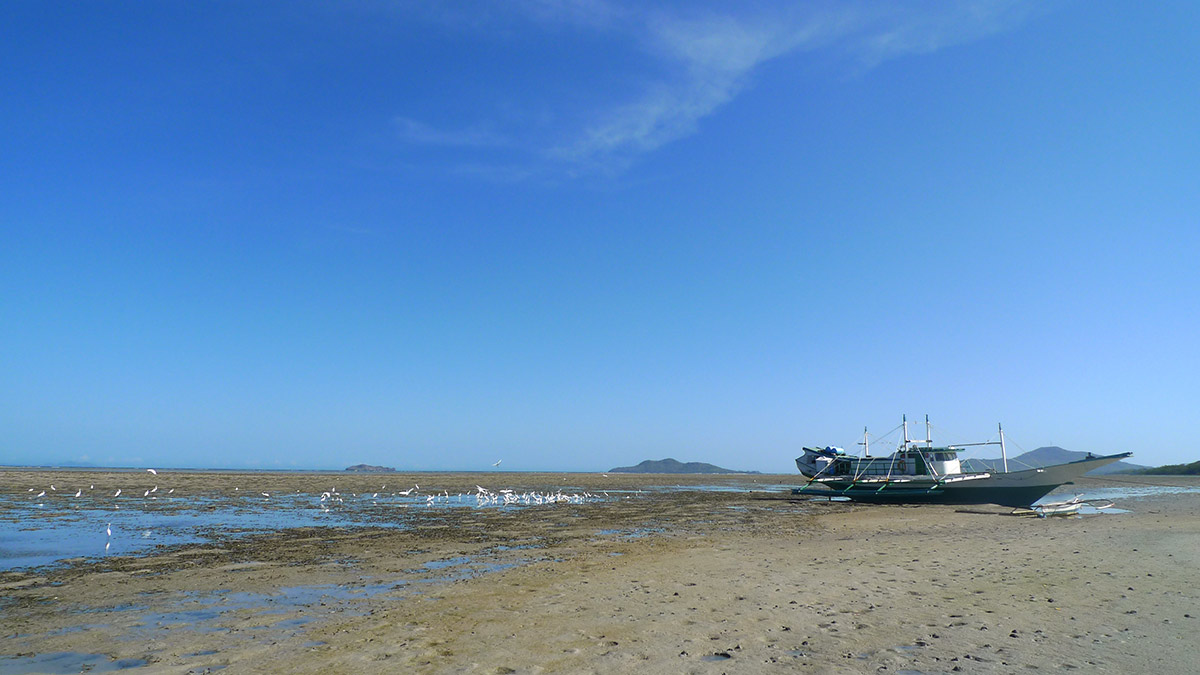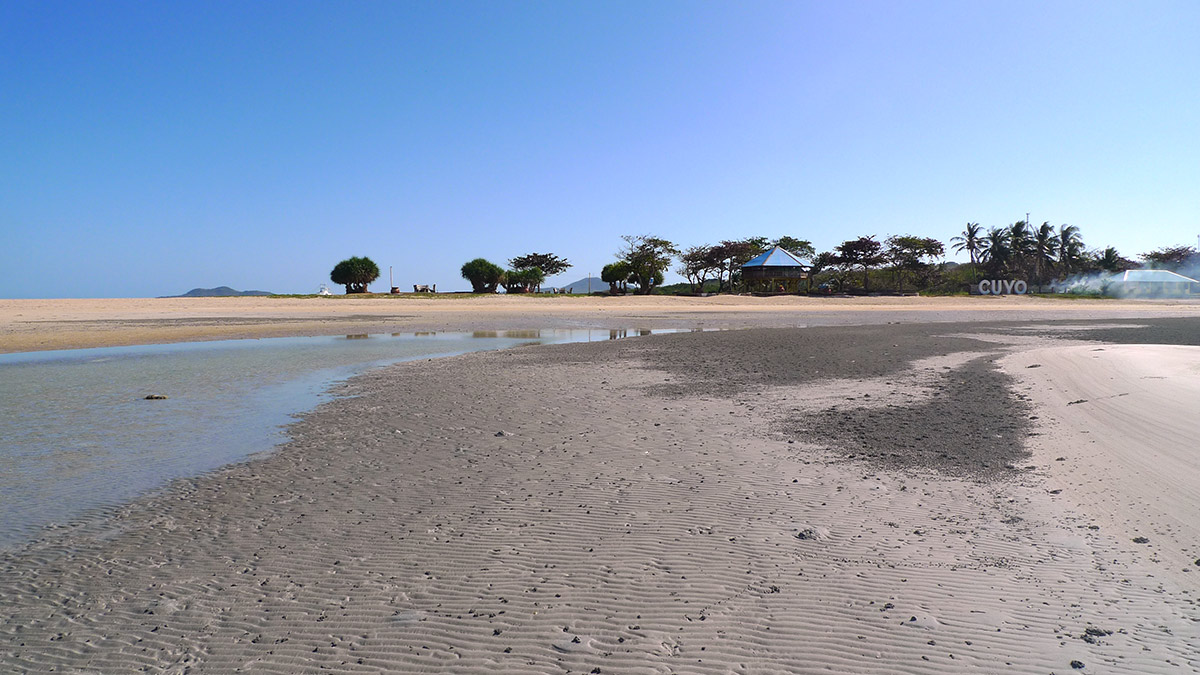 The other thing that could sabotage this spot from being best-in-class is the tide. In low tide the rideable area gets reduced a lot and during spring-tide you only get high tide once per 24h. This means that if high springs falls a few hours after 6pm, when it gets dark, you won't get the ideal high tide conditions until high tide is in the morning, somewhere around ten days later. You can still enjoy high neaps after only five days.
Luckily there's another spot on Cuyo. One that works better on low tides.
Anino Kitesurf Resort
The other spot on the island is about 30 minutes drive over to the other side of the island, not far away from the airfield. Here Anino resort have their private beach and sheltered reef lagoon for their guests, but also non-guests are welcome to ride for a small fee of 50 pesos.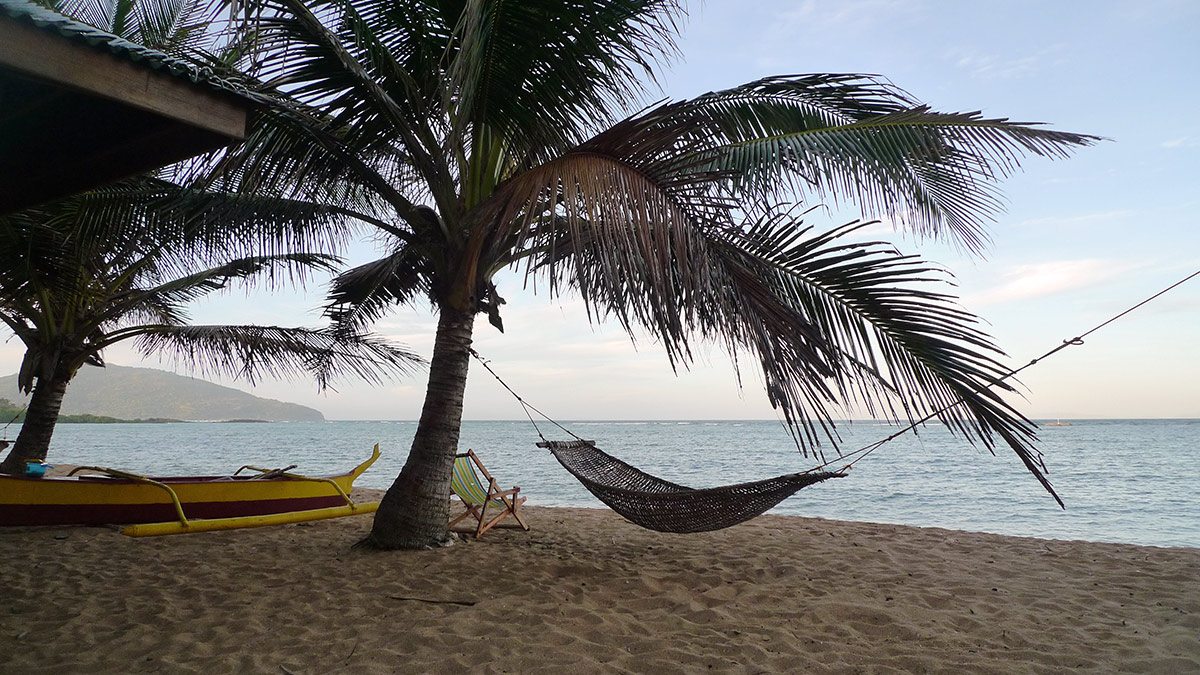 The spot has on-shore wind with the advantage of being rideable on any tide. The lagoon is big enough to host dozens of kiters but rarely sees more than ten kites in the water.
It's a great spot to mix things up a bit with, and works particularly well in combination with their 500 pesos buffet style dinner.
To get to Anino, rent a bike for around 350 pesos a day, or pack yourself and gear into a tricycle who should be willing to take you there and back for around 700 pesos.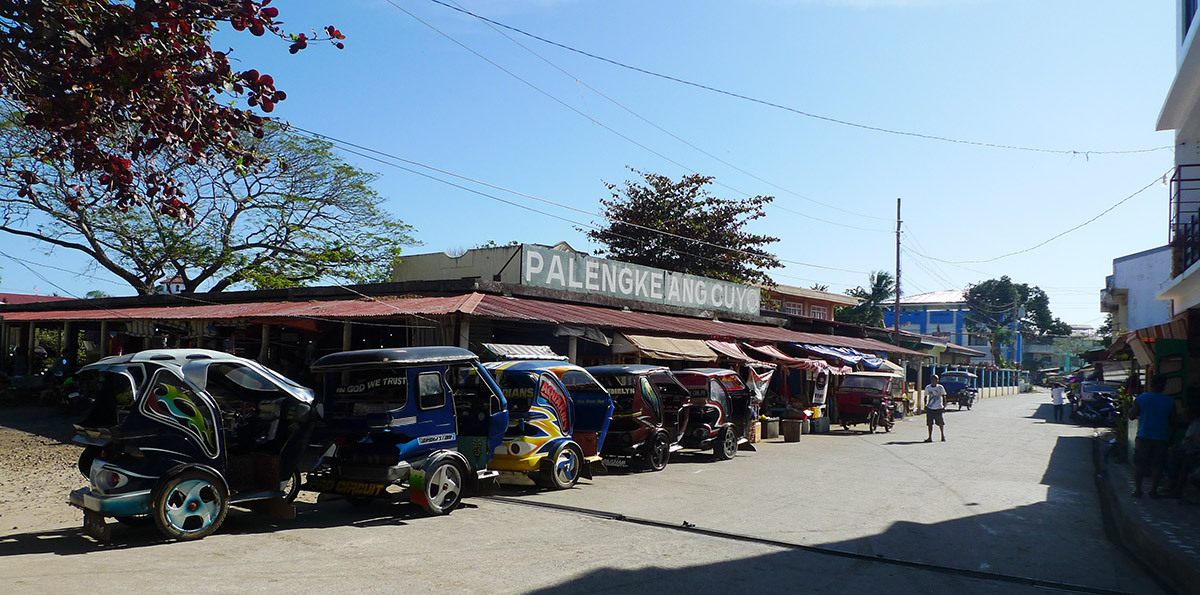 Getting to and off Cuyo
Getting to Cuyo can be a bit of a mission. But if it was easy, everybody would do it as they say.
Best option is to either go to Puerto Princesa or Iloilo, of which both have daily flights from Manila. From Puerto Princesa you can take an overnight ferry or a 1h flight. Iloilo only offers overnight Ferries.

From Puerto Princesa with Milagrosa ferry
Leaves on Thursdays and Sundays 3pm
Takes somewhere between 16 and 30 hours
Ticket office open all days but Fridays
One way ticket around £12
Main office is in Iloilo and can be reached on +63 33 3350955 or +63 33 337862
Can get delayed a day or two if the sea is too rough
Hard to find info online so call and check in advance or go there and ask in person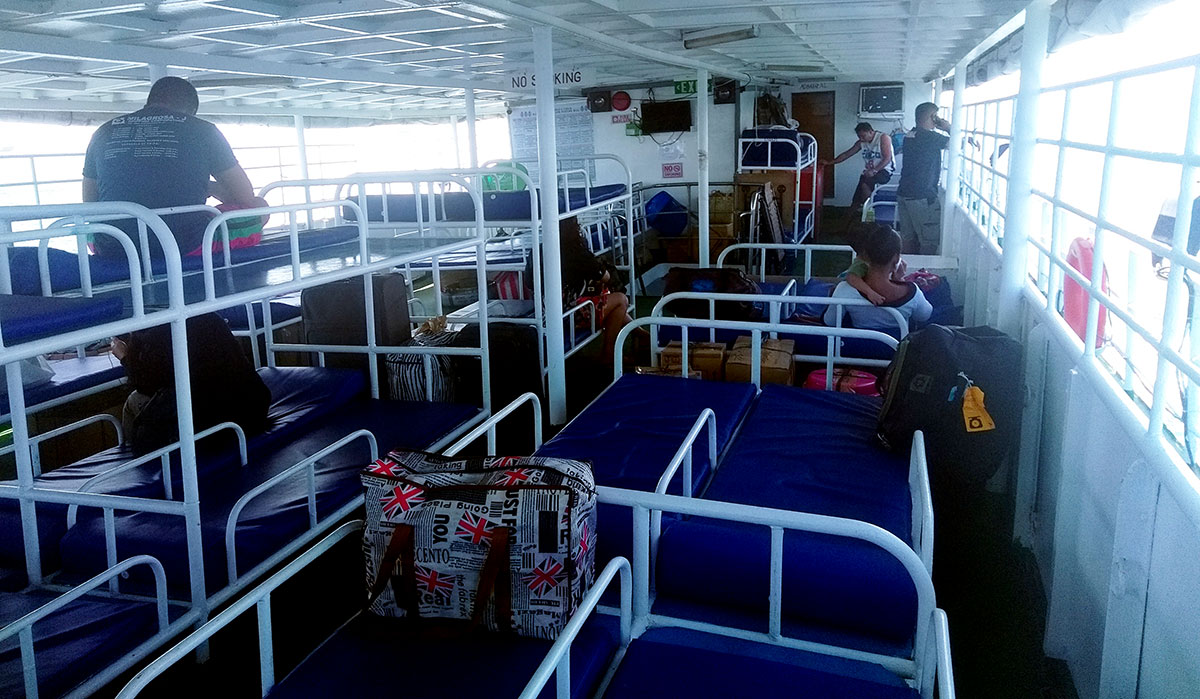 From Puerto Princesa with Montenegro ferry
Leaves on Monday 6pm
Bigger and faster ferry than Milagrosa
Can get delayed a day or two if the sea is too rough
Hard to find info online so call and check in advance or go there and ask in person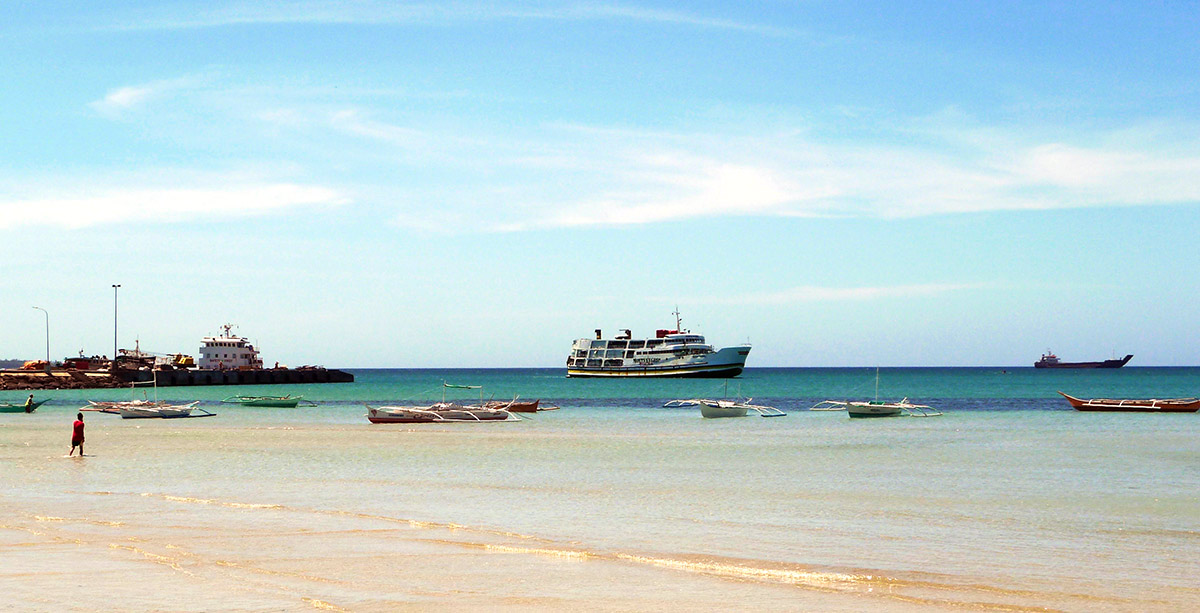 From Puerto Princesa with Air Juan
Small plane with limited luggage allowance
Seems to be just as flakey as the ferries
One way ticket around £100
I flew to Puerto Princesa, bought a ticket with Milagrosa and waited for the departure date. Spending three nights in Puerto Princesa wasn't too bad, but it doesn't have that much to offer. Other than taking in the scenery by foot in this fairly small city I mainly spent time on my laptop, working from Itoys Coffee Haus or Sweetcorner Cafe and Restaurant (dude, their French toast… yum!).
After departing one day later than scheduled we faced some pretty rough sea and the journey took 29h. The ferry offers nothing but an open space bunk bed so bring a blanket or warm clothes. Sea sickness tablets is also a good idea since the boat rocks a lot. There are snacks and drinks for sale and the toilets are rank.
Leaving Cuyo
Getting off the island might prove almost as hard as getting on it. At least you see when the ferries arrive at the pier and that's when you can go to the ticket office and join the crowds for a ticket.
Milagrosa's office is in the corner of the main road, following the pier into town. Montenegro's office doesn't have signs outside but you find it further down the same road, past Mae Joy Pharmacy. Last minute changes, cancellations and delays seem to be the norm so give yourself margins of a day or two if you have a flight to catch.
Ferries are supposed to leave for Palawan on Tuesdays, Fridays and Saturdays. And for Iloilo on Mondays, Tuesdays and Fridays.
Where to stay on Cuyo island
Nikki's Pension
The natural kiter hangout place on Cuyo, from which you can see Capusan beach. Rooms range from cheap and very basic (350 pesos) to pricier and better standard (1000 pesos). The showers tend to run out of water on a daily basis.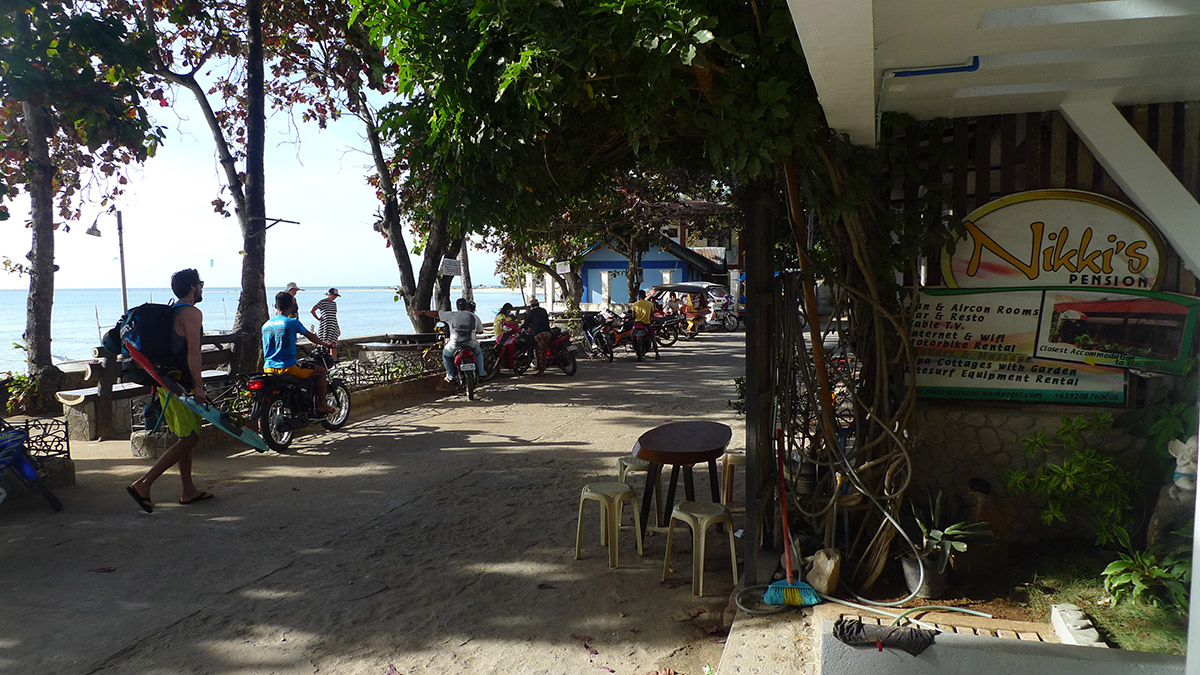 Feroland Hotel
Around the corner from Nikki's, on the main street, Feromar offers similar rooms and prices as the better rooms at Nikki's.
Villa Gange
Not far from the spot, Gange has eight rooms that are popular with long-stay guests.
Amihan Apartments
For long-term self-catering, these flats next to Villa Gange can be booked on Airbnb.
The charming kite resort on the other side of the island will set you back way more than in town, but you get your private kite beach and breakfast included in the price.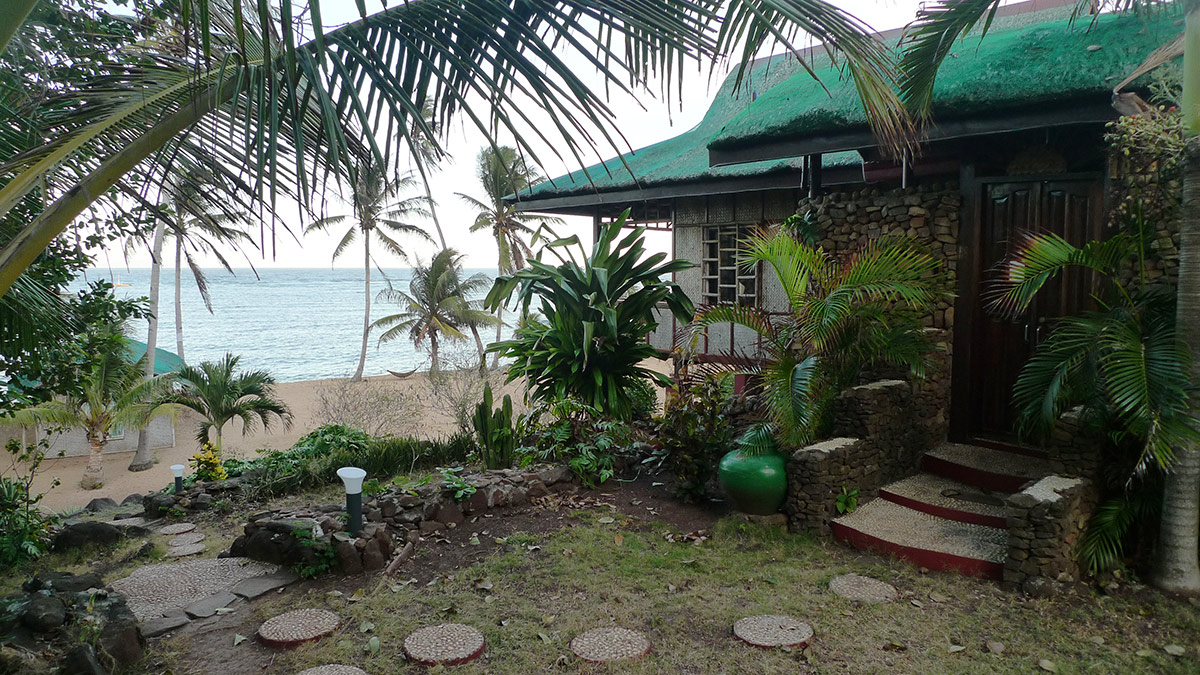 Handy tips: Read before leaving for Cuyo
Be aware that you need to show a ticket out of the country to be allowed to travel into the Philippines. If you've only got a 1-way ticket you can solve it for €12 with onewayfly.com
Budget your stay on Cuyo and bring cash, including extras for kite repairs, extra nights etc.
Plan ahead and plan for extra days on the island if your transport gets delayed or cancelled
If you can; time your arrival when high tide is around midday or earlier. Then you can ride almost all day for a week or two.
Buy a GLOBE mobile SIM card. You can do this before arriving, or on Cuyo. Charge it with one of the data plans (8 GB is 999 pesos) at Mae Joy Pharmacy.
For Android users: Download an app that forces your phone to use the 4G network, otherwise it keeps jumping around between LTE, EDGE and GPRS.
You get better data speeds at night when most people are asleep
Food-wise: Nacks Café / Nacks Bar opposite the gas station probably offers the best food and coffee in town, at low prices. The place next to Nikki's makes brewed coffee and nice omelettes and calamari. Haydee's on the main street is brand new and offers good food too.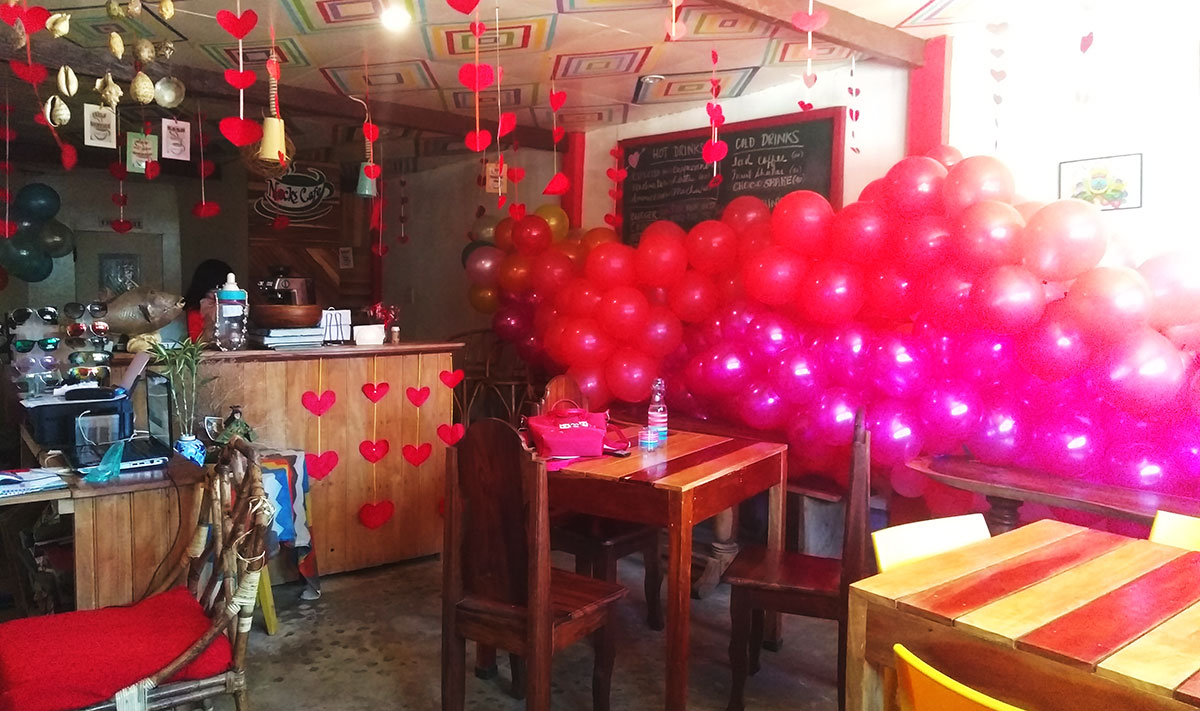 In terms of nightlife just forget it. After six, when it gets dark the town quickly turns very quiet. This is a place to come and unwind, have a digital detox and enjoy a few beers or grogs with the other kiters.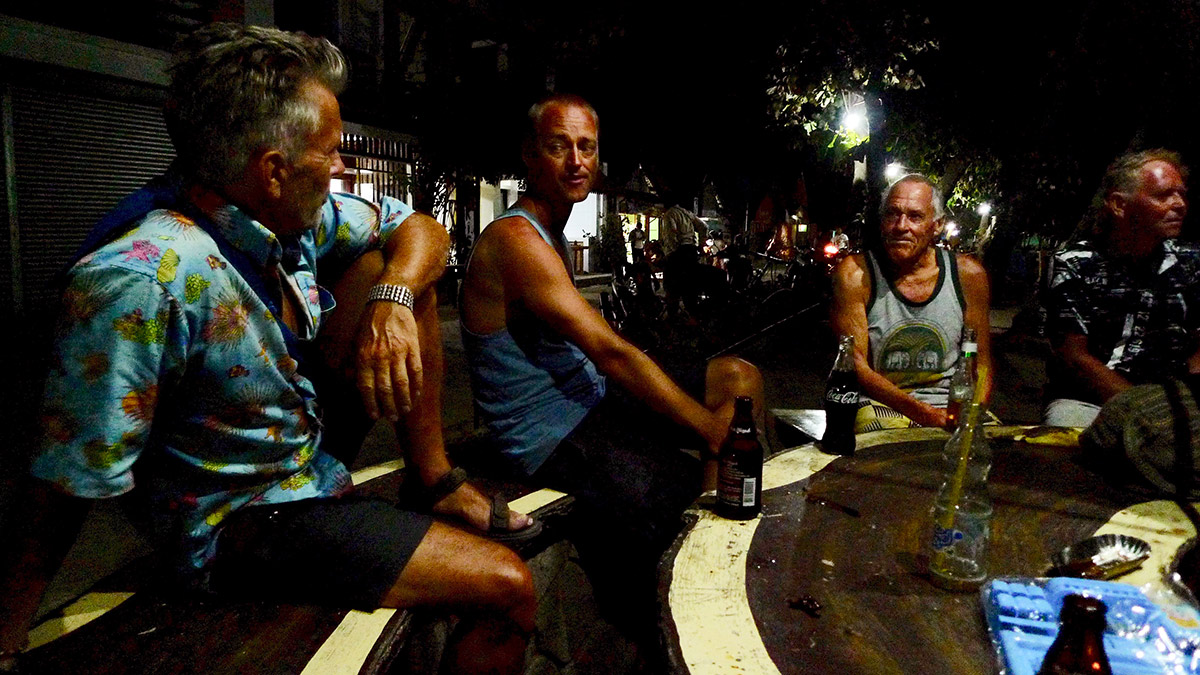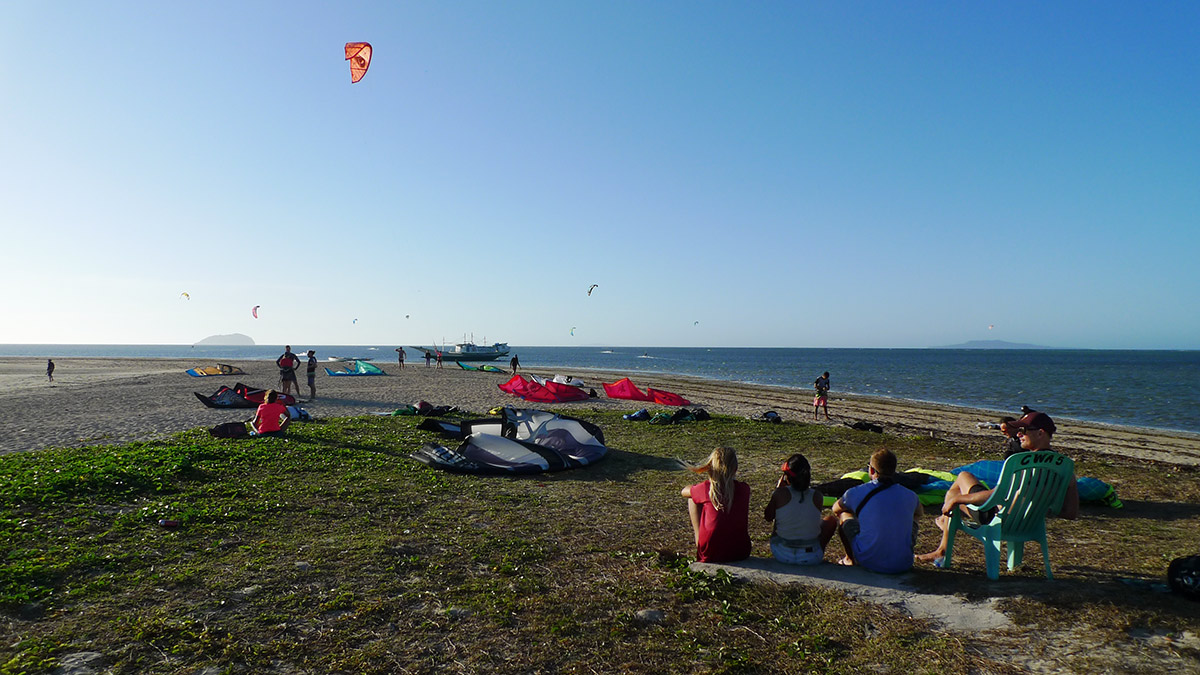 Summary
Cuyo takes it back to the basics. It's cheap, friendly and the kiting is great. Cuyo's not a place to come and work remotely from, nor is it a place to combine kitesurfing with party or other side-activities. The island is small and as soon as you leave town it's very rural and not much going on.
I quite like that sort of disconnect and detox. Given the difficulty of timing your entry and exit to Cuyo, two or three weeks feels like the optimal time to spend here.
If you're spot-hopping Philippines next season and you like quiet flat water spots, it's definitely worth a place on your itinerary.