Dates: Oct 30 – Nov 5
Rideable days: 0 out of 7
Air temp: Around 23˚C
Water temp: Around 21˚C
With kitesurfing holidays we know that days of no wind is part of the experience. We try and mitigate for it as much as possible with the help of wind statistics, late bookings and big kite quivers, but it's still rare to come back home and say 'I could've kited every day if I wanted to'.
I've had some tough luck trips before. But in terms of kiting this was the worst one so far. I managed to book in a week with no wind at all. Speaking to locals, the summer is the time to come for wind consistency. Note taken. Having said that, check this out; the following week shows strong consistent wind all week long. Tough luck.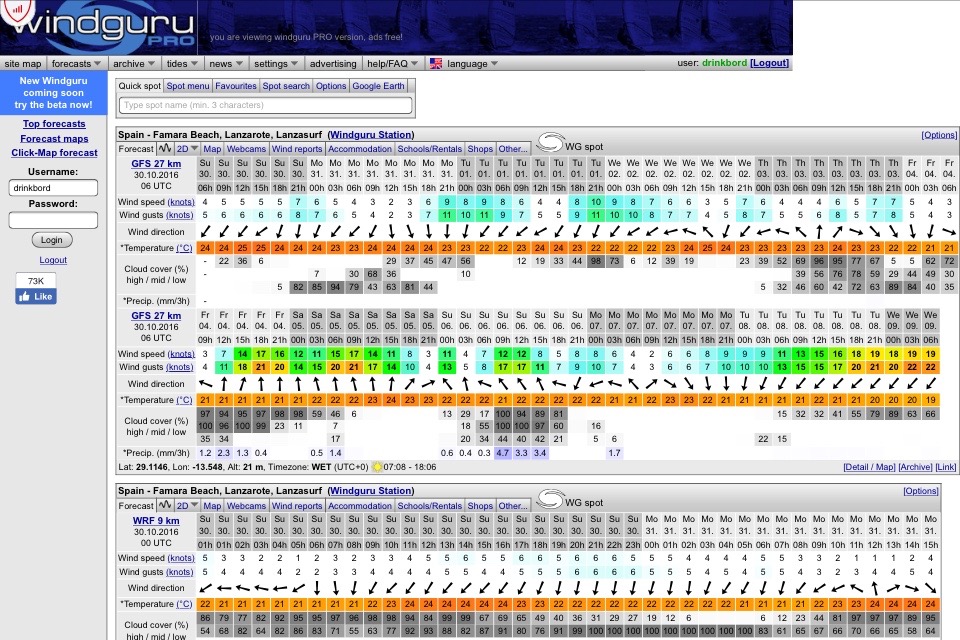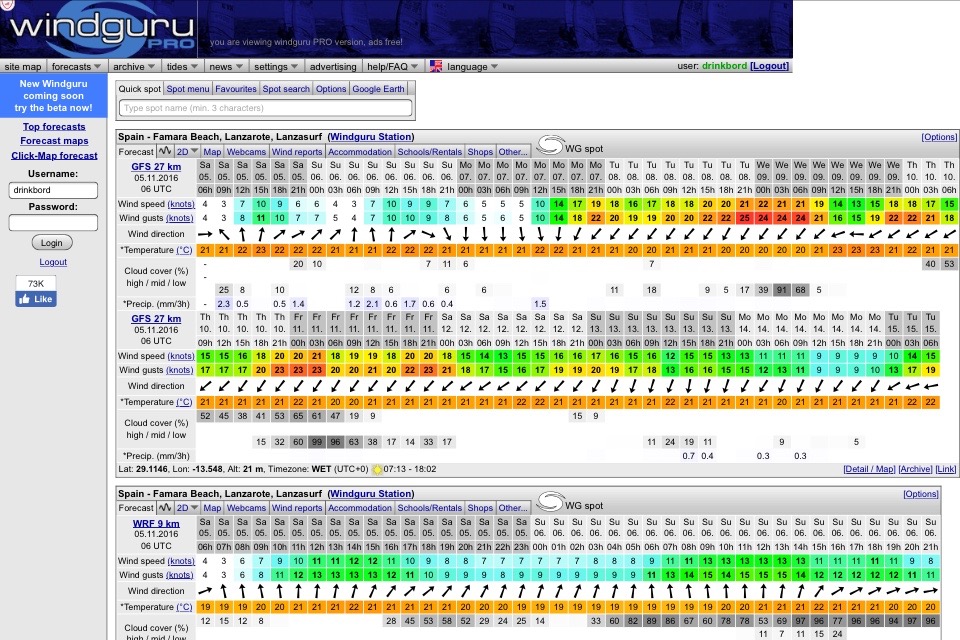 So what do you do on Lanzarote when there's no wind? You surf. Luckily Famara beach, which is the main kite spot is a surf spot even more so.
Here's my review of Lanzarote for surfers and kitesurfers in early November. Bottom line for kitesurfer; be flexible with your booking or stay for at least two weeks, or you might end up like me with no wind. Except for that little detail, you can still gain some insights with this review and decide whether it's a place you'd like to visit.
How to get to Lanzarote
Lanzarote is well connected with mainland Europe. I flew with Vueling, but this is after all a package deal resort type of place and most low-budget airlines will drop you on the island
Be sure to add extra sport equipment, which most airlines have reduced to 23 or 25 kg nowadays, or travel with a split kiteboard. My kite bag was 26kg and they didn't mind but be prepared to shift something over into your hand luggage if they start bitching at check-in.
Renting a car is both cheap and convenient. I see no reason not doing it, but you could of course take a 30 min cab ride to Famara and stay there all the time.
Where to stay during your surf holiday
You can find places to rent via the ordinary booking sites, like AirBb or Booking.com, or book via some of the local agencies.
Caleta de Famara is a tiny village right on the beach with almost more surf shops than permanent inhabitants it seems. You'll find a few restaurants and two tiny supermarkets, but there is no night life to talk about. Overall, you don't stay in this part of the island unless you want peace and quiet in the evenings. Personally I really liked the tranquil atmosphere.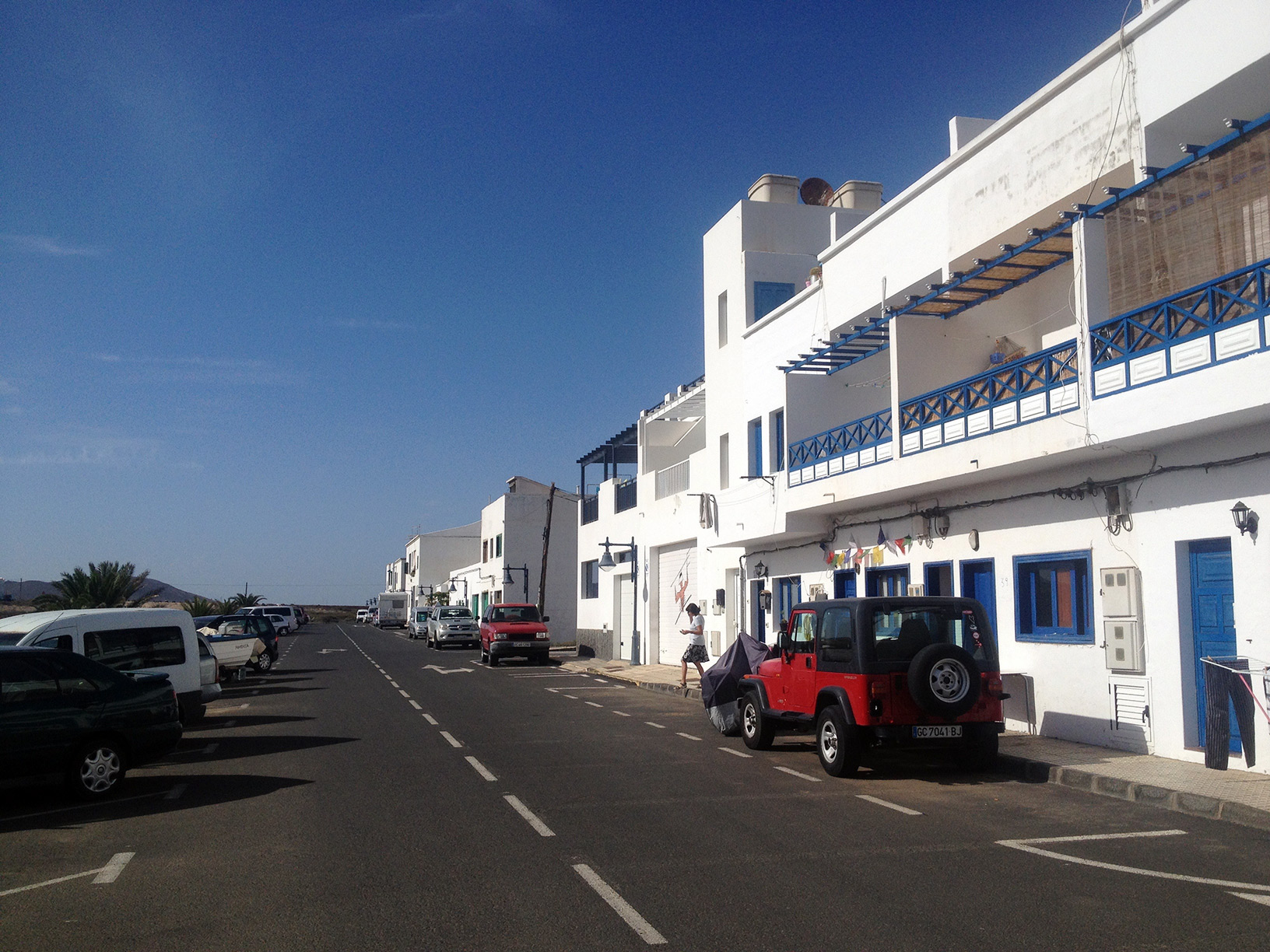 Famara Bungalows are right next to Caleta de Famara, on the far side of the beach. They have closer to the best surf, a shop and a restaurant. Most places seem to have their own terrace which is nice but they are a bit more pricey than the flats in town.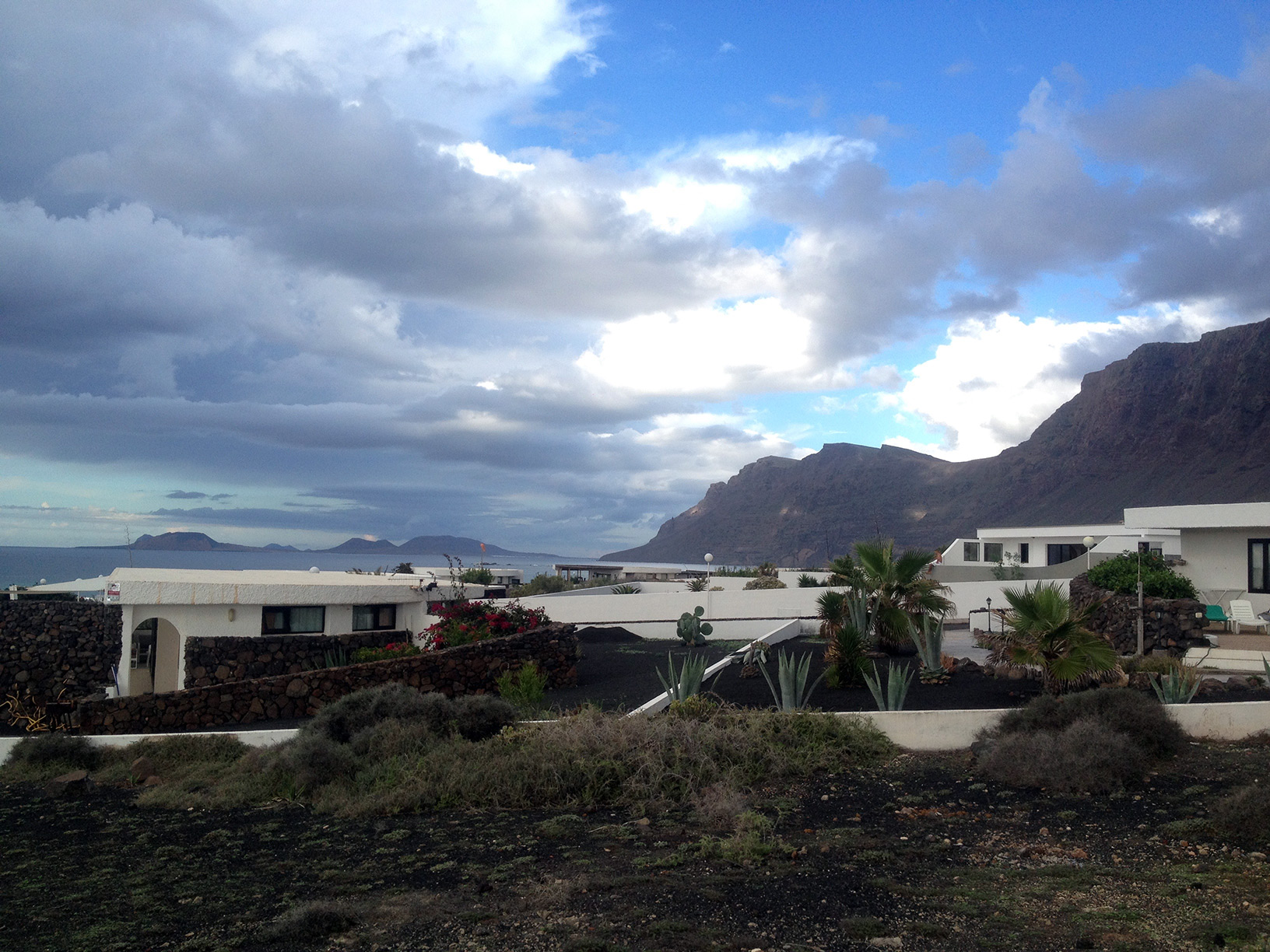 Campers on the beach also seems to be a legitimate, and classic way for surfers to be as close to the action as possible. Is it your thing? You can rent campers, but I only wish they would rent surf dogs to go with them.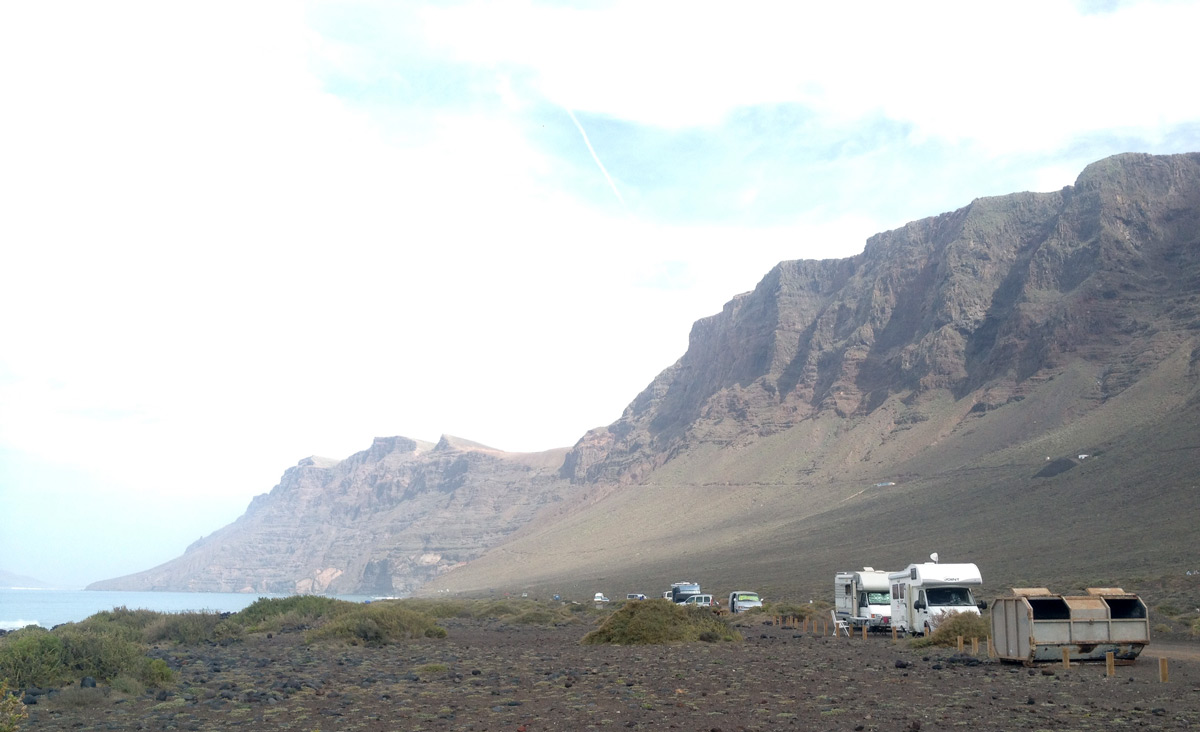 La Santa we should not forget, as it's the neighbouring village, also with a few restaurants etc. Plus they've got their own surf spot but it ends in sharp volcanic rocks so only for experienced riders. It's also smaller so I wouldn't kitesurf here.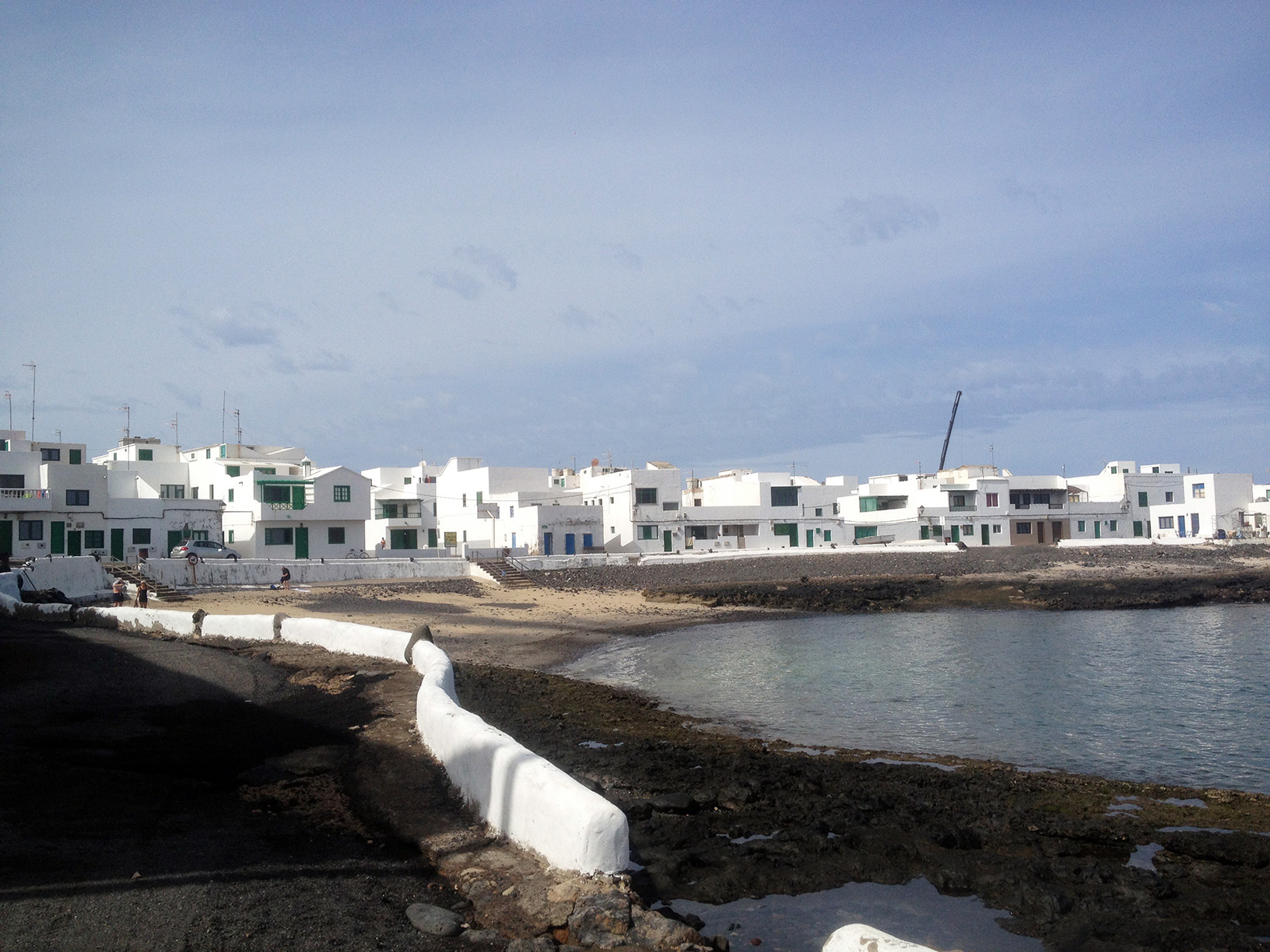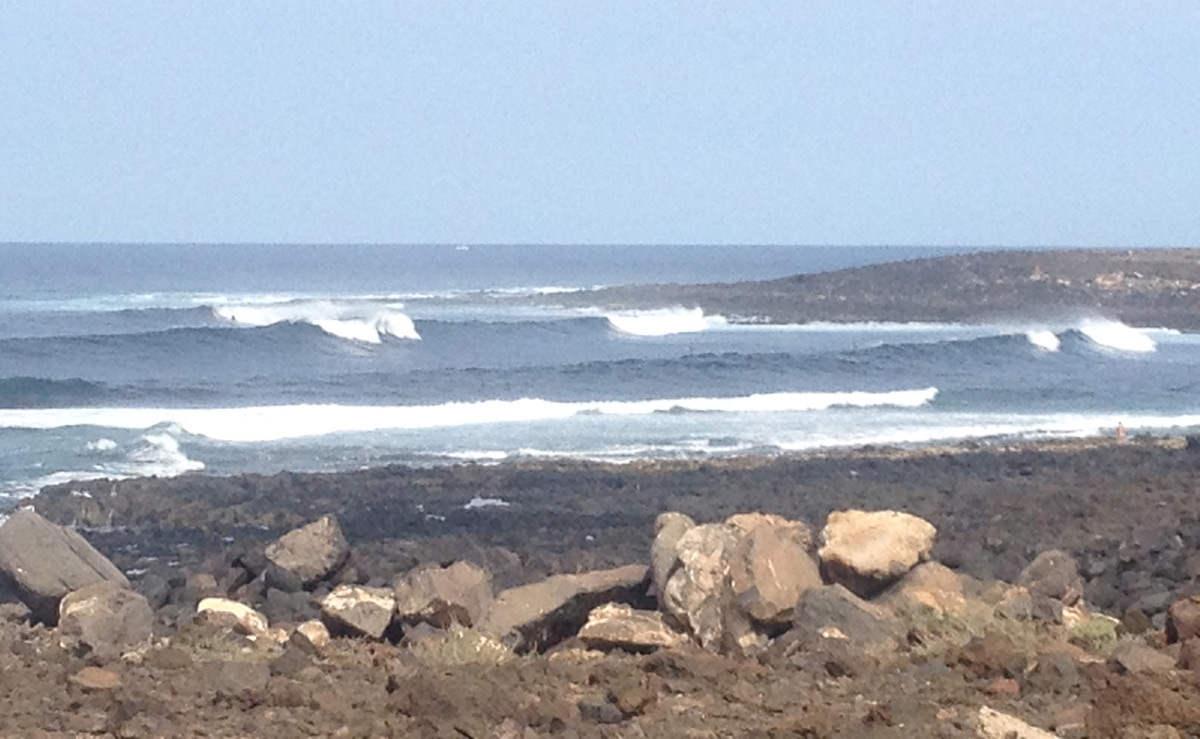 The spot: Famara
So we already covered a bit about Famara. This is your best basecamp. Stay here and have minutes to the beach for both surfing and kitesurfing. 30 minutes to the airport, and no more than one hour from everything else there is to see.
The beach itself is about three km long with cross onshore wind and swell. When I was there the waves were gentle and good for beginners. There are a lot of schools around and it can get quite busy. This was in November so I can only imagine summer being a lot worse with both surfers, kitesurfers and even swimmers in the water. At least the water is warm (I was only using neoprene boxers and a rash guard). There are some rocks near Caleta de Famara, but otherwise nice sandy bottom with no obstacles.
The kite zone is restricted to the far part of the beach, and in the summer months the zone is reduced even more.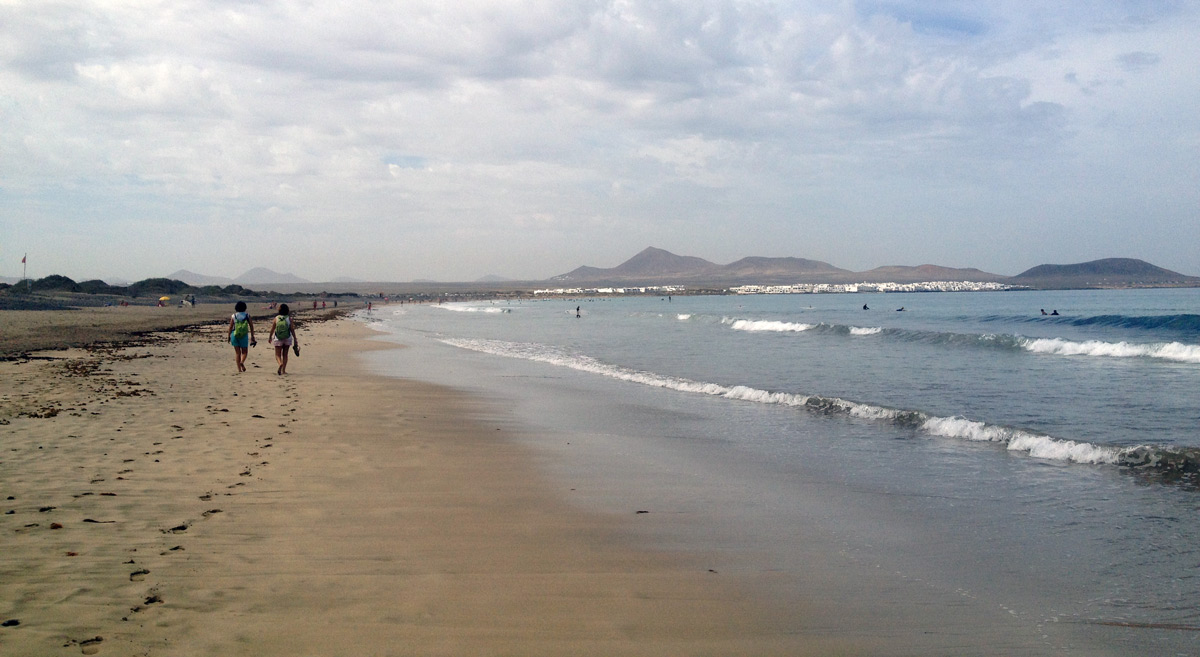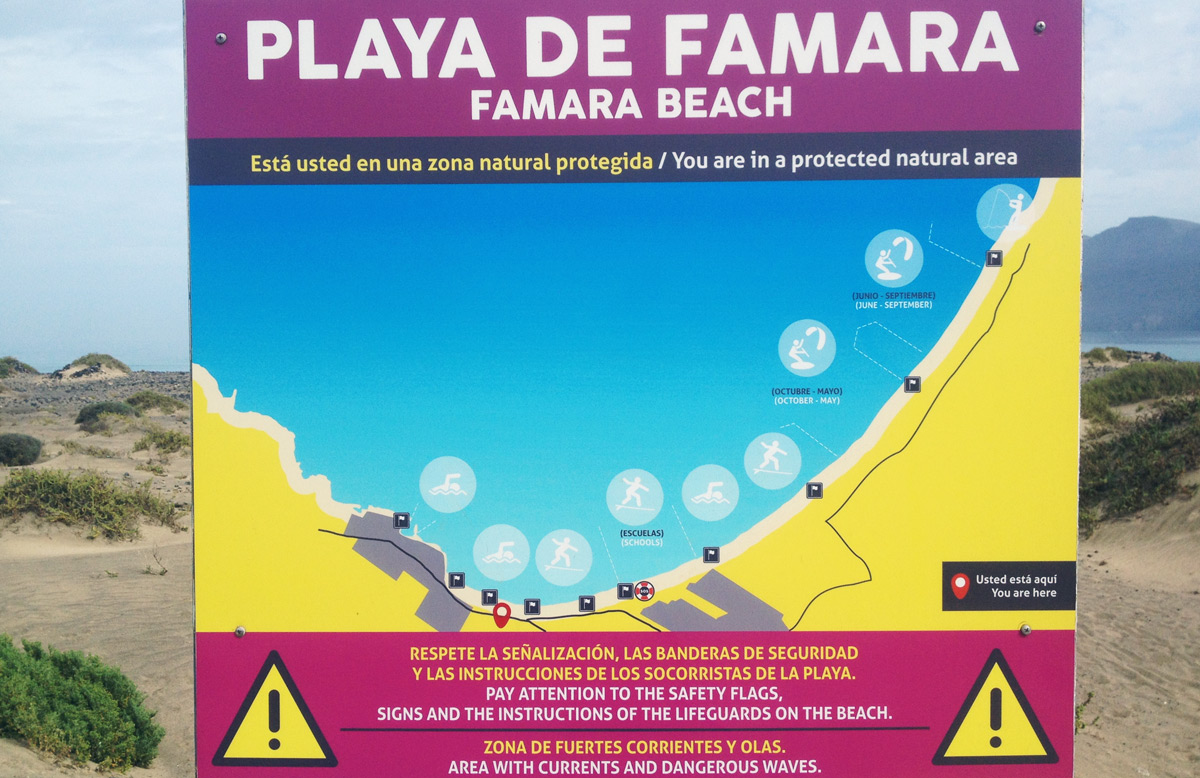 The spot: Playa Honda
Playa Honda is the other main kitespot on Lanzarote. Kiteboarder's come here when the wind is Easterly or Southerly, which are the less common directions. This is a pretty average beach with moderate chop and decent launch areas. I bet it's really busy in the summer as the place is right on to a village and not far from Arrecife. It's also neighbouring the airport so make sure your kite doesn't get stuck in a jet engine (just kidding :P).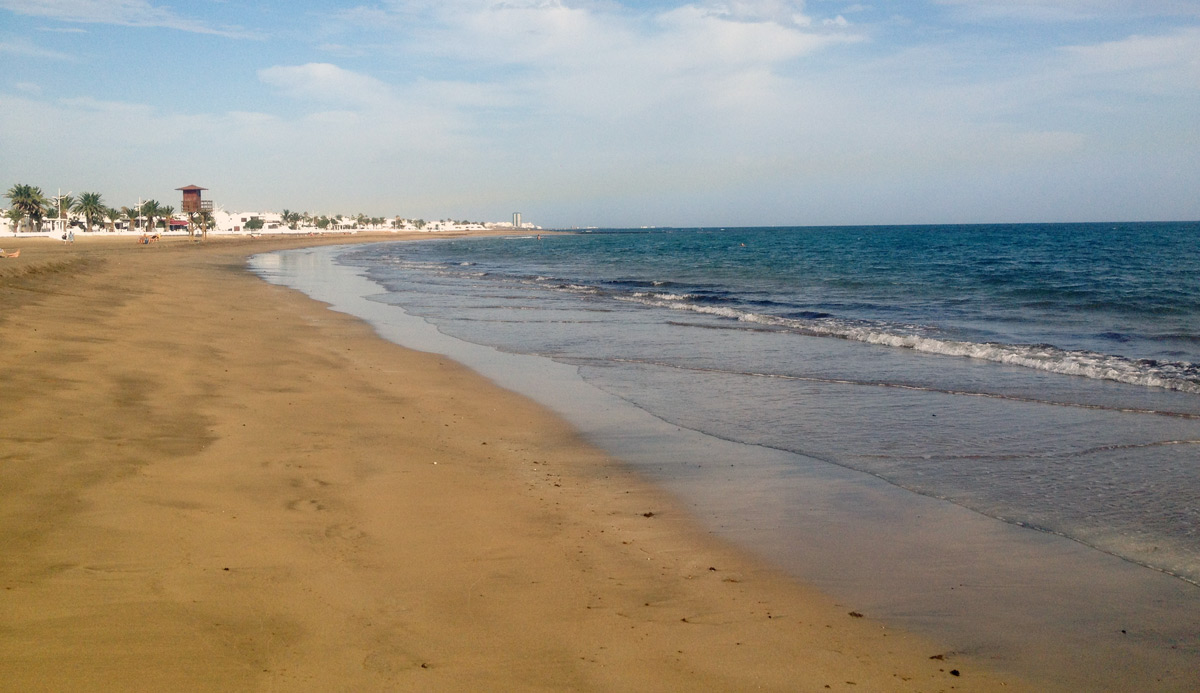 Things to do on windless days
Lanzarote is a small island. You can drive from North to South in 2 hours, and see pretty much all there is to see in one week. Renting a car is recommended as it will help getting around significantly.
Luckily for me there is quite a lot to see and do on this volcanic island. The landscape is harsh with little vegetation, and you sometimes feel like you're on a different planet. It's definitely worth exploring.
Surf – €10/day €50/week
This is a no-brainer. Just do it and have fun with it regardless level. As opposed to kitesurfing you don't need an instructor if you don't want to. You can simply rent a board and give it a go.
Timanfaya National Park – €9
Not sure I'd do this in hindsight. I sat in a car queue for 1.5 hours just to get up to a restaurant and hop on a guided tour bus for another 20 minutes. It's cool. But it was just more of the volcanic climate I've already seen plenty of.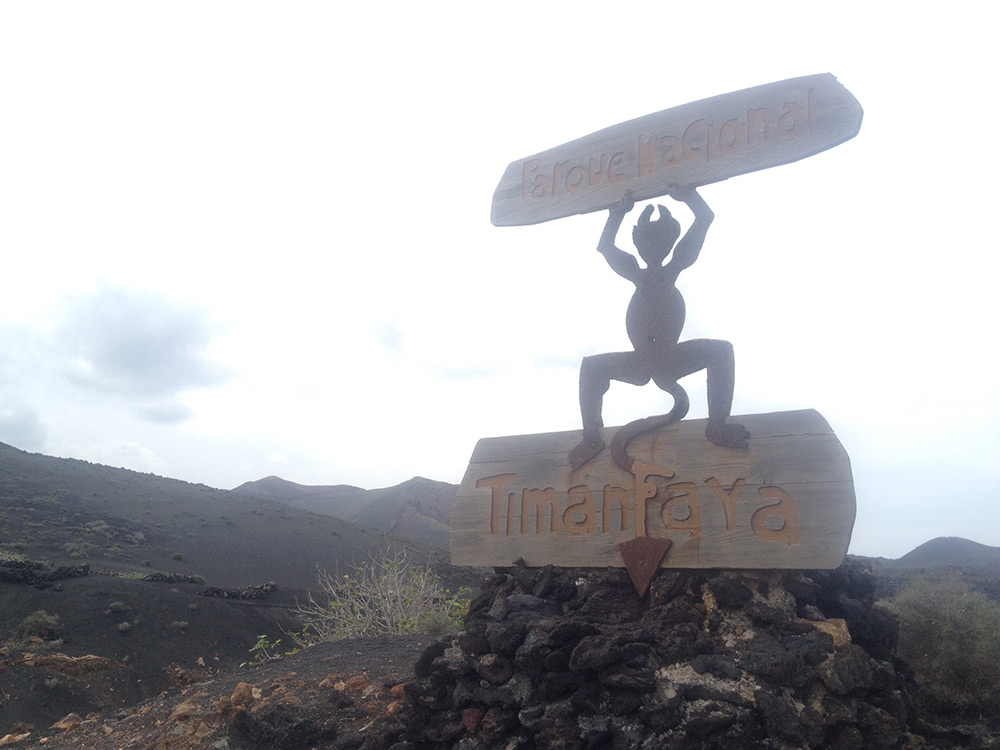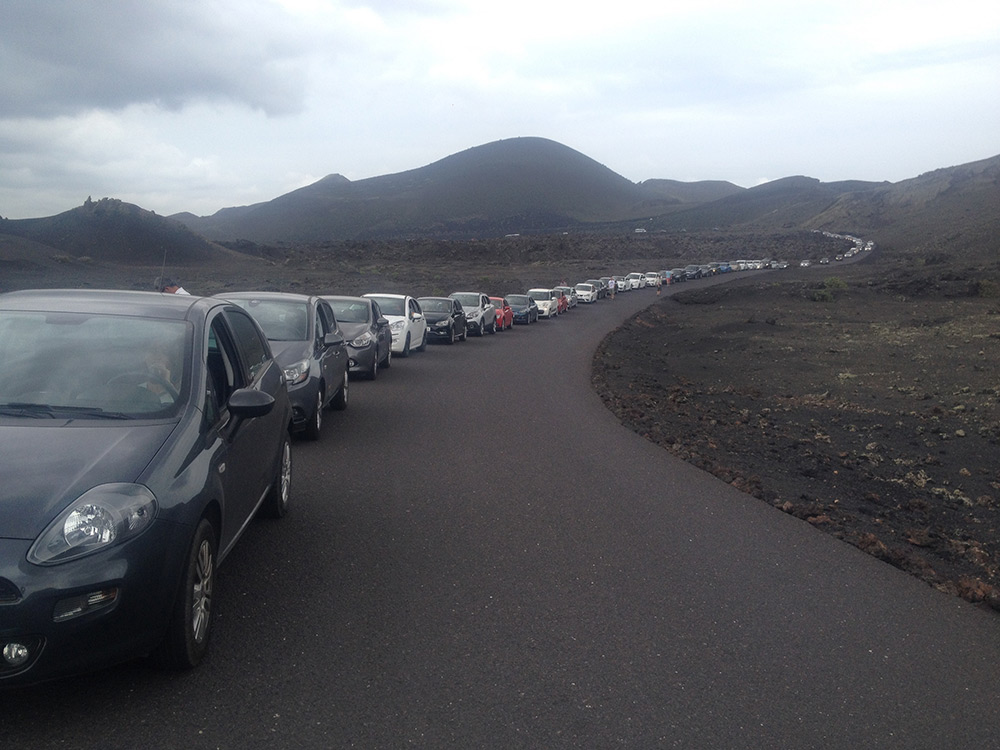 Cueva de los Verdes – €9
This is a guided tour of a volcanic tube/cave where they also hold concerts. I bet the acoustics are amazing but the tour wasn't too special. Unless you love caves and shit.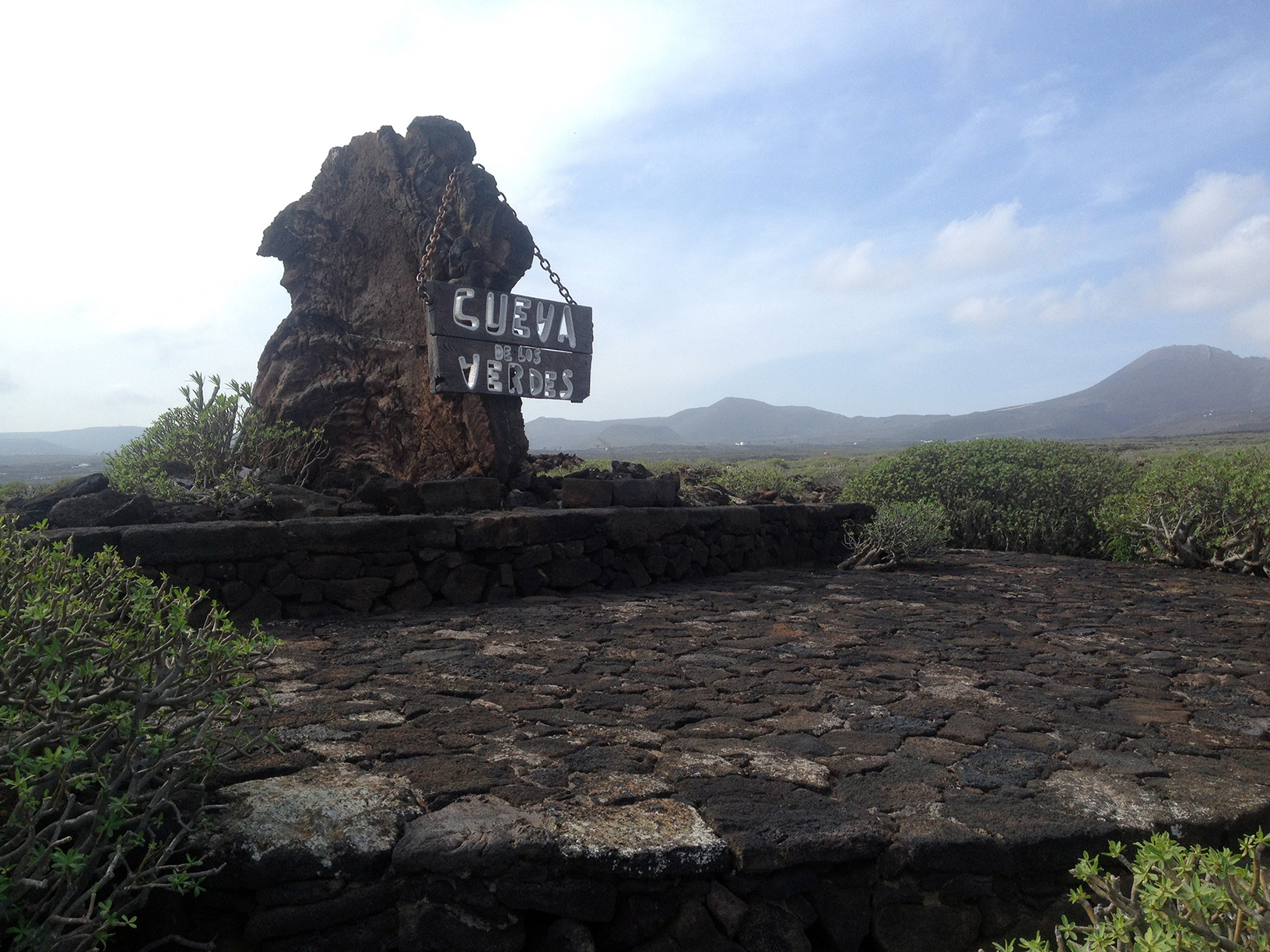 Jameo del Agua – €9
A pretty cool place that apparently attracted the Hollywood elite back in the 60's. It's sort of a nightclub built into the lava formations, so I wish I could've experienced it that way. Now I paid €9 and they didn't even have a DJ. Designed by the Lanzarote born architect Cesar Manrique who is the mastermind behind most of the attractions on the island (picture what the place must've been before he put his mark on it).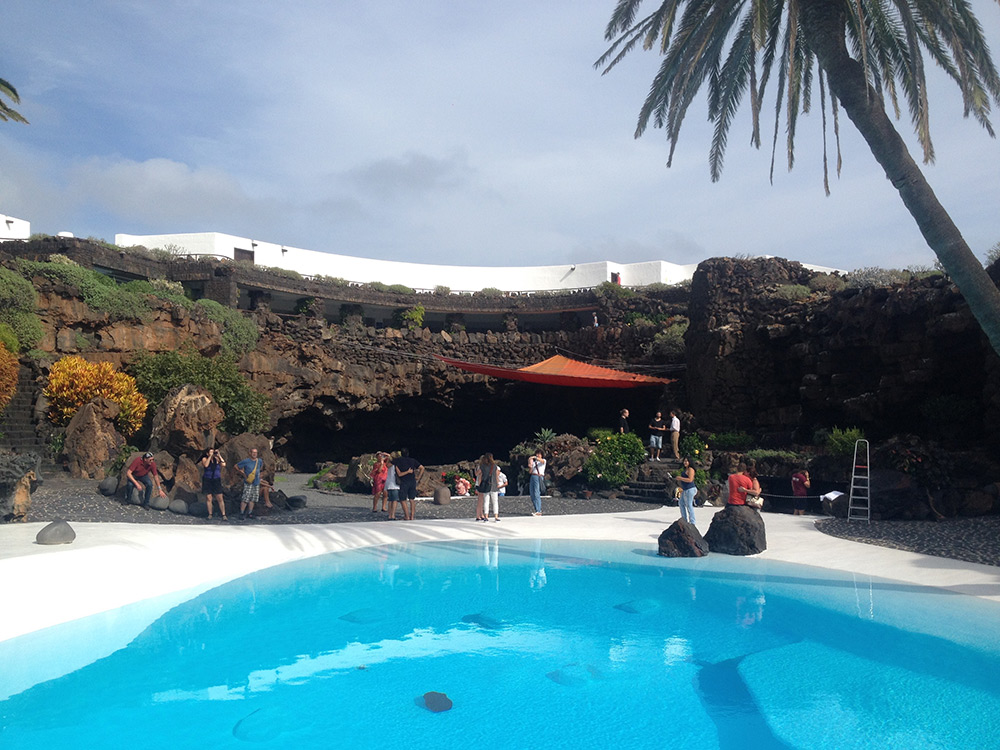 Mirador del Rio – €4.50
Another Manrique creation. This was a highlight. Great views and interesting 1960's technocratic architecture. No ball-chairs around.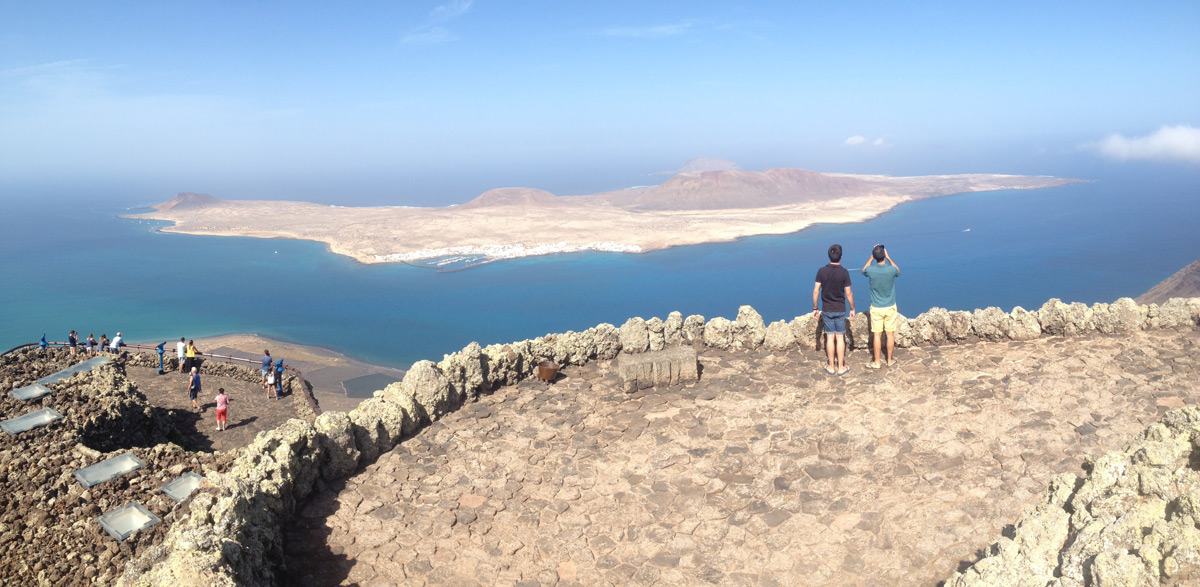 Playa Papagayo – €3
This was supposed to be a top notch beautiful beach by international standards. Don't bother.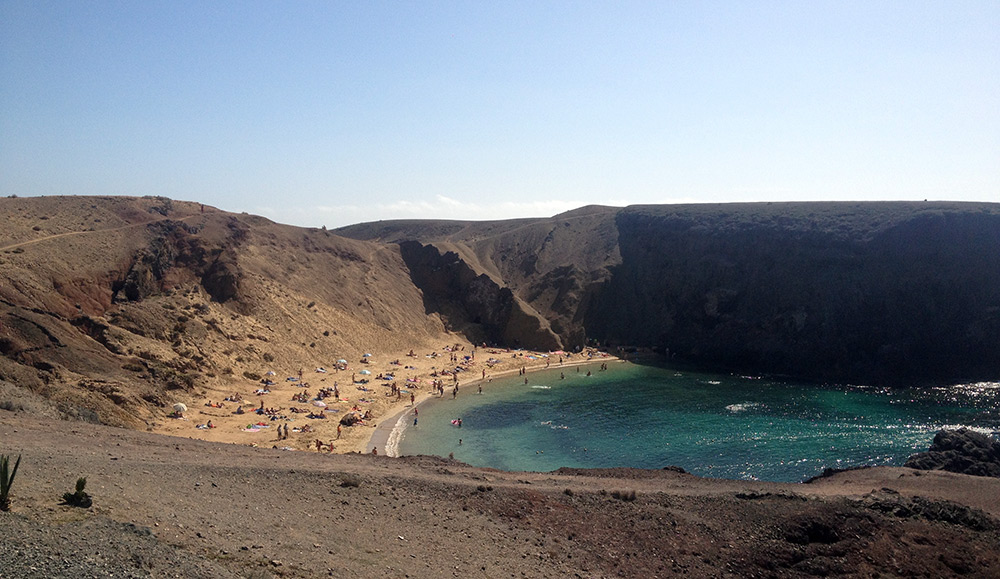 Arrecife
The sad, run-down capital. Not much to see here but do go and support the local business by buying some cake and coffee.
Puerto del Carmen
The tourist center with all bars, shops and restaurants you can ask for. Typical tourist style but not bad after a few days of void over at Famara.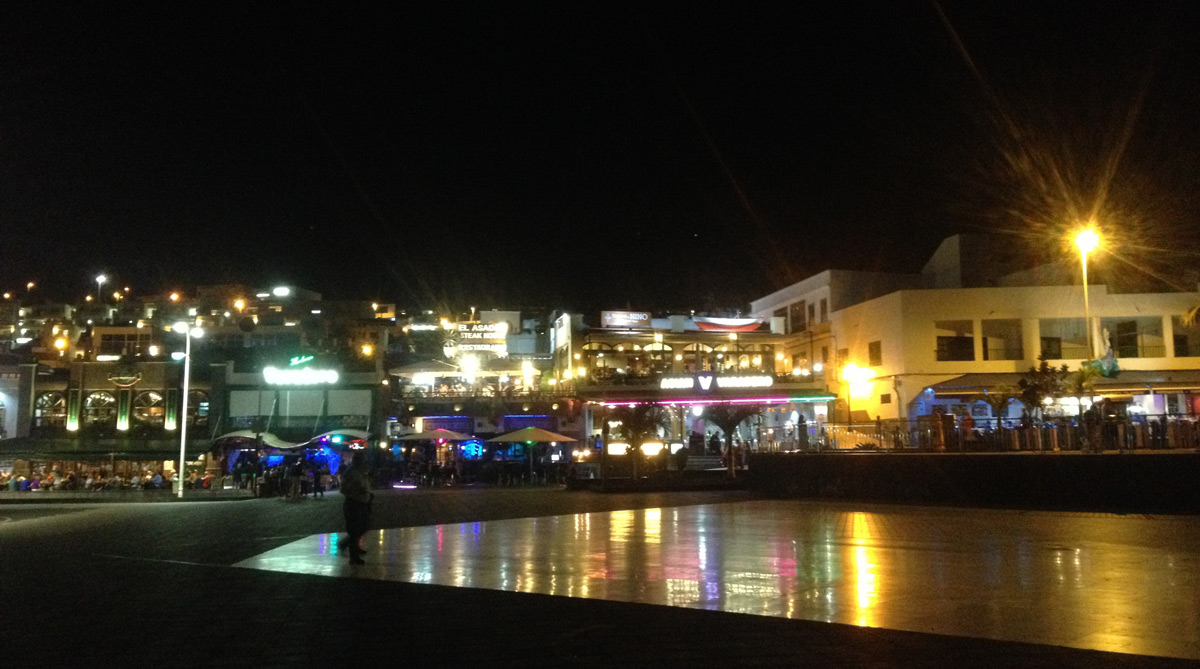 Playa Blanca
I don't know what to say. Touristy bad taste galore maybe sums it up.
 To sum it up
So. Would I go back. Despite my somewhat negative tone in this review, I had a great holiday. I could definitely come back for a combined kite and surf holiday, but Lanzarote would have to fight against similar destinations like Fuerteventura, Cape Verde and Egypt and I'm not sure it'd come out a winner.