This is a guest post by Atins.me. Thanks for the info guys, this place looks amazing! For more info on Atins, I've done my own review here.
All text and images in this article © Atins.me and used with permission.
One of the best Flatwater Kiteboarding spots in the world. For pros and beginners, Atins offers ocean waves, a variety of flat water lagoons, and wide, empty beach fronts at steady cross/onshore winds of 15-30 knots.
Atins kite spot summary
Why Kite in Atins

One of the best Flatwater Kiteboarding spots in the world.

Kite season:

July – January, with strongest winds without fail: October – December

Wind:

15-30 knots, sideshore (always)

Kite sizes:

Mostly 7 – 9, sometimes 12

Weather:

Shorts and wetshirt

Freestyle Kite:

Huge river delta/flatwater spot

Kitesurfing Wave:

Exit the delta and you'll have waves, albeit a little choppy and white-waterish

Kite Beginners

Perfect to learn in the lagoon close to the beach

Kite services:

There are various small schools and centres, some also rent and repair.

Trips can be organised. Bear in mind it's a small place of the trodden path,

so infrastructure is limited.

Kite trips:

Downwinder arriving in Atins, downwinder to along the beaches of the Lençóis

Maranhenses (spectacular dunes)

Kite Hotels:

Plenty of pousadas, some of which are specialised in Kiters. For preservation

purposes nothing directly on the beach (yet).

Get there:

Closest domestic airports are São Luís (SLZ) and Parnaíba (PHB), international is

Fortaleza (FOR). From SLZ it's 4 ½ hours by car/bus/van to Barreirinhas and from

there another hour by boat. Atins is the final destination for the amazing and ever

more  popular downwinder from Jericoacoar, as well as of the touristic route "Rota das 

Emoções".  

Kitesurfers Night:

Unlike Jericoacoara Atins does not have much in the way of night life to offer. Here,

you

unplug, kick back, relax.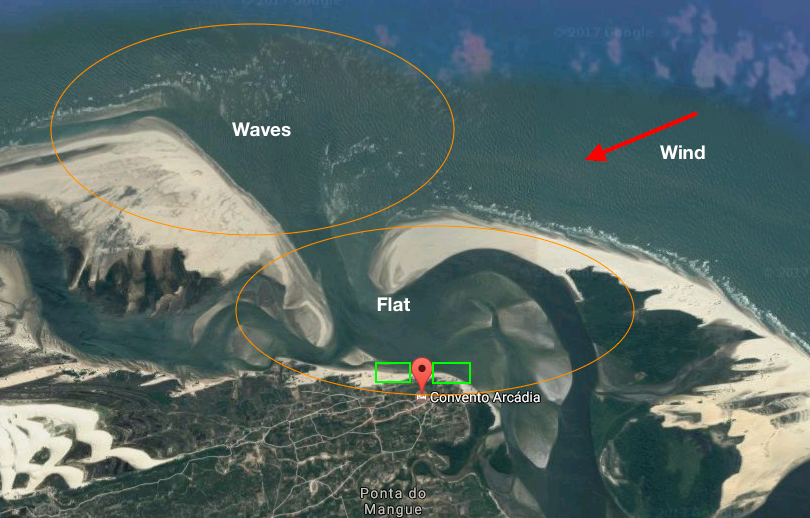 Wind in kite area
Thanks to the trade winds Brazil's entire Northeast coast is as safe a bet as it gets when it comes to constant winds. From July to December you're guaranteed to kite, October and November see the strongest  winds of up to 30 knots. The wind is a constant cross / on-shore to the beach.
Gear
Bearing in mind Atins is well off the beaten path, there are a few schools, some of which also rent, sell and repair equipment. There's also always someone around interested in buying some equipment. Some pousadas such Convento Arcádua offer distinct facilities to wash, dry and store your equipment. The Bar.co by the beach also offers storage.
Beginners
The best time for beginners is low-tide launching right on the main beach. The lagoon is superflat and the bottom is sandy (no rocks). There are a few schools that give classes.
Kitesurf trips around Atins
Kite schools in Atins offer custom downwinders along the extensive beaches of the Lençóis Maranhenses. Kiting inside the parque and the dunes is under intense scrutiny by the Nature Reserve Organization (IBAMA).  

Hotels for kitesurfers
Convento Arcádia
Peaceful refuge, 100m from the beach. Great for chillaxing, kitesurfing and exploring the dunes and lagoons of the Lençóis Maranhenses!
Your host, Carmen, will welcome you to the Convento Arcádia set in half a hectare full of coconut palms, a grove of cashew trees, and carved into the bend of a sand dune. In less than 100m you will find yourselves at the beach or in the nearest restaurant.

We carefully developed the architecture of the Convento Arcádia in harmony with its surroundings to provide for a unique and cosy atmosphere. Its outdoors kitchen is designed for dinner parties to the sound of the sea and the wind, large verandas provide ample shaded space to relax and kick back with a good read in one of the many hammocks.
For Kiters the Convento offers purpose-built facilities to wash and store your equipment. And if you're into Yoga there's a fully equipped open-air studio inclusive mats, blocks and belts.

The main house offers three rooms, two doubles and one large suite with a double and two single beds, and sleeps a total of eight people. We also rent these rooms individually. In addition, we offer three chalets each with its large private veranda. The chalets come with a large double and two single beds.

All rooms come with ensuite baths and are tastefully arranged and decorated. Breakfast will be served on the main house's veranda and rooms are cleaned on a daily basis. The kitchen is ready for you to prepare meals at your own convenience, just be prepared to bring some essentials from Barreirinhas or São Luís the choice of groceries in Atins is very basic.
Of course, Carmen will provide tips on where to buy the freshest fish, and the like. Upon request we can also arrange meals to be prepared for you in the house.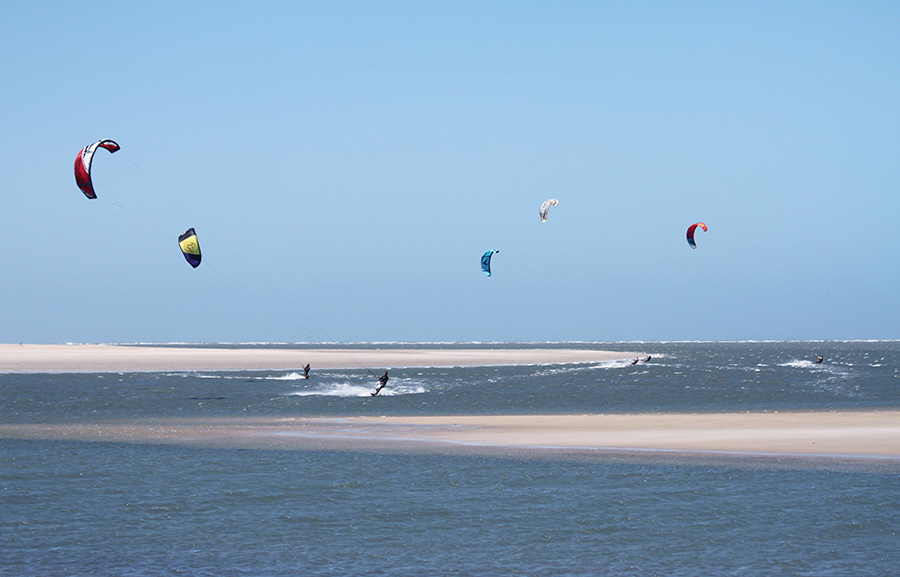 Travel to Atins
The nearest major domestic airport to Atins and the Lençóis Maranhenses is São Luís (SLZ). The closest international airports are in Fortaleza (FOR), Belem (BEL) or Natal (NAT), from where you can fly on to São Luís. Many domestic or international flights might also be routed via the capital Brasília (BSB).

SLZ is serviced by the following airlines:

– Azul
– GOL
– TAM

The Lençóis Maranhenses National Park is quite extensive and has no access roads. Because of the nature of the park's protected status, only especially licensed vehicles are permitted access. Entrance to the park is made exclusively by 4-wheel drive trucks.

When planning your trip to Atins some thinking ahead might be sensible. The schedules of the means of transport for the various sections are not fully aligned and you might experience some unwanted down-time in Barreirinhas when missing the connecting 4-wheel truck or boat. Check out http://www.atins.me/travel/ for detailed and up to date info on the various means of transportation.
Atins itself is a little spread-out, so for Kiters it may be worthwhile choosing a Pousada close to the beach for convenience. Transport in the village is generally on foot, or you can call a Quad Taxi.
Need to know
Other useful tips and information can be found on http://www.atins.me/read-this/. Most importantly: Do bring cash, card payment is still not accepted in many places!
Costs
Atins is a little pricier than other places closer to say Fortaleza, mainly due to the added cost of logistics. Accommodation for example can range from R$ 50 to R$ 1.000 per night.