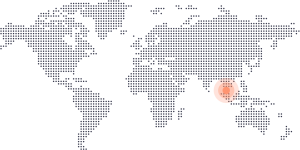 Wind season 1: November – April
Wind season 2: May – October
Air temperature: 25˚C – 32˚C
Water temperature: 28˚C – 30˚C
Wave spots: Meh
A well established tourist destination and tropical paradise famous for its food, beautiful beaches and full-moon parties. Thailand is a bit in the shadows of neighbouring Vietnam and Philippines as a kitesurf destination, but bring big kites and it can be the perfect kite/non-kite mixed holiday.
Season and wind conditions depend heavily on what part of Thailand you're visiting, so do local research before you're booking the ticket. Generally there is an Easterly wind season during the dry winter months, and a Westerly storm wind season during the wet summer months.
Popular spots include Hua Hin, Pranburi and Chumphon. But you can also find kitesurf schools in spots on the islands of Phuket, Ko Samui and Ko Phangan.

Regions with similar wind season