All text and images in this article © ION Club Gulf de Roses and used with permission.
The Bay of

Roses is located on the Northern end of the Costa Brava in Spain close to the French boarder. Sant Pere Pescador is the main
kitesurfig beach of the whole bay, a wide and sandy beach gives perfect conditions to practise kitesurfing all year around. Here you can find three official kitesurfing zones as in high season kitesurfing should only be practised in official zones. The spot "Sant Pere Pescador " is featuring the strong Tramuntana wind from the Pyrenees and steady sea breezes from south east in the summer months.
Like mentioned before, Sant Pere Pescador is a spot offering wind conditions all year around but if you look in lessons and rental of Kitesurfing Equipment you should plan your trip between April and October as during the winter months none of the schools located here are operating. Nevertheless you may find wind and even warm temperatures during the winter months. Let's explain a bit more about the prevailing winds in Sant Pere Pescador.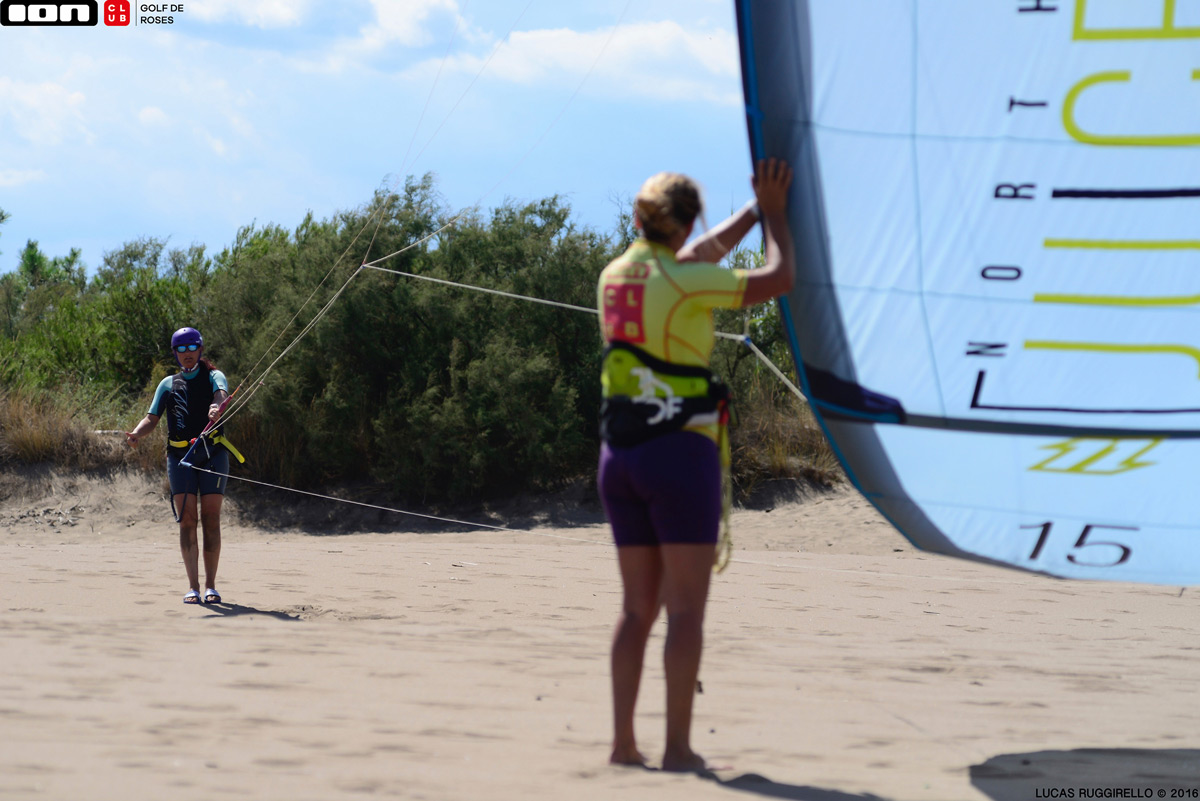 Wind
Sea breezes (thermal winds) blow side-onshore from the right, gradually picking up during the day. As a general rule you can expect the thermal to get up to between 3.5 – 4.5 Bft, with good days blowing a steady 5 Bft though (in knots 12/13- 18-20 knots).
The wind here is also particularly constant, which is perfect for learning and improving your kitesurfing skills. Your best chances of catching the thermal winds are between May and September. We recommend kite sizes for an 80 kg person from 10m²-15m².
The Garbi: this very warm south wind is not blowing too often here, in some seasons we see this wind more often than in others…
The Garbi tends to appear after the south-easterly thermal wind has kicked in, with the wind slowly swinging to a southerly around 4 pm.
This southern wind, blowing side-shore from the right in Sant Pere Pescador and Side-ONShore from the right in Empuriabrava, tends to be somewhere between 5 and 6 Bft (in knots 16-22).
In Sant Pere Pescador it can be a bit gusty though close to the shore, Kitesurfers enjoy this wind a bit further out. Or you enjoy the Garbi a bit more north in Empuriabrava where it might blow a bit more constant. We would recommend kite sizes for na 80 kg person from 8m²-12m²
The Tramuntana on the other hand is a little different. This wind comes rushing down from the Pyrenees in the north, usually picking up to between 5 Bft and 8 Bft (in knots 20-35). The water state also changes due to the perfectly side-shore from the left wind in Sant Pere Pescador, leaving you with small waves breaking by the beach, further out the wind swell can be quite impressive.
It is very hard to predict the Tramuntana, although it is more common in cooler months. But actually the Tramuntana can kick in any time and once it arrives the weather tends to stay that way for two or three days. Often the Tramuntana is blowing day and night, so no quiet moments for kitesurf beginners – only action for experts. Recommended kite sizes for an 80 kg person is 5m²-9m².
Kitesurfing Center and Kitesurfing Zones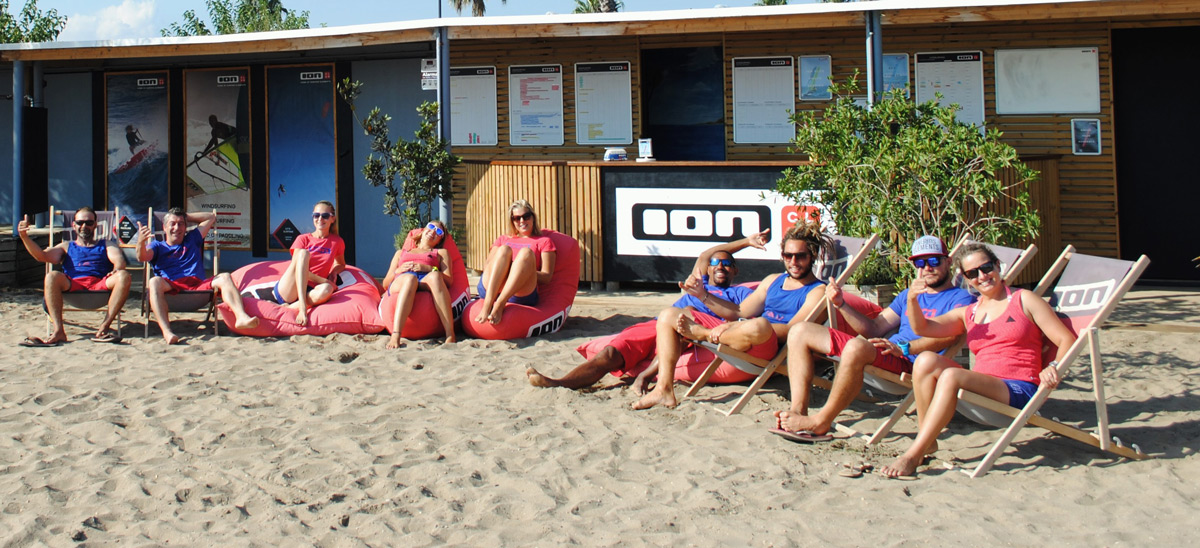 The ION CLUB Golf de Roses Kite Centre is open from spring to autumn every year. The center is located at the southern end of the bay of Roses between Sant Pere Pescador and L' Escala at the 4-star campsite and bungalow park La Ballena Alegre Costa Brava. The Kitesurfing Zone has been operating since 2005, and is not only the first official kitezone in Catalonia, it is also the safest in the area.
The Kitesurfing zone consists of two areas, one for ION CLUB's classes and another for kite-experts. In high season from June-September you should book very early to use the Kite Expert Zone. No restrictions are applied before or after the above dates, except those of the Teaching Area. Kitesurfing instruction are offered daily for all levels & ages and in many languages in the official ION CLUB teaching zone.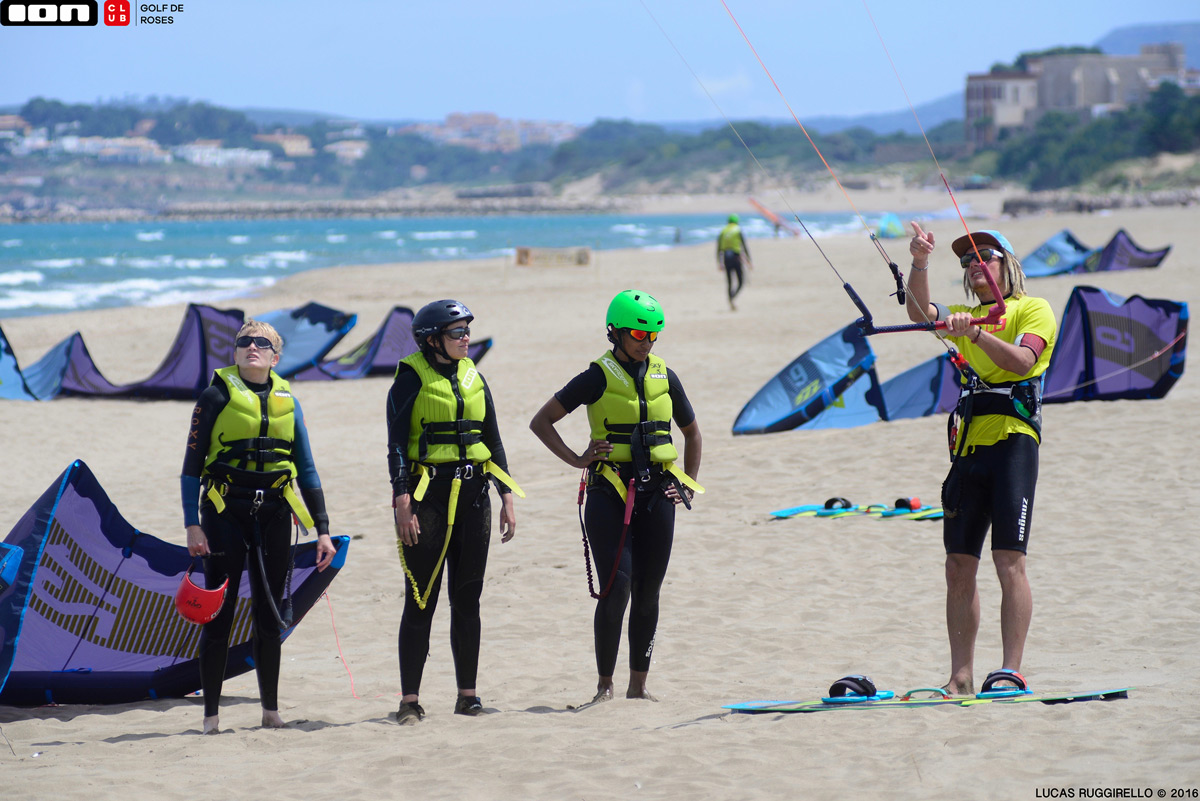 The Starter/Refresher courses are designed to teach you the fundamentals of kitesurfing. After a short theory session, which includes safety rules and guidelines, you will quickly move on to practical handling and feeling the power from a kite; first on the beach, and then on the water. This will help you learn how to move the kite correctly and how to react in different situations.
Safety is priority, which is why we use the buddy system when teaching beginners and 'refreshers'. This means working together in groups of four students with two kites per instructor. To take part in our Intermediate and Advanced courses, you will need to have mastered the waterstart. We'll start things off by checking what you have learned and filling in the gaps. Next we'll look at improving your body position so you can learn to ride safely and confidently in both directions. Conditions permitting, we'll have you sailing upwind in just a short time! Who knows? You might even want to try a few small jumps. The ION CLUB instructors may choose to use the centre's video camera for post-session visual feedback. Specials: teaching with Radio Helmets (Headzone).
Two other kitezones are located further north in the bay of Roses close to the Campsite la Gaviota in the community of Sant Pere Pescador or in Empuriabrava. Please remember that actually in low season you are allowed to kitesurf everywhere, the restrictions/zones are concerning only the high season. The zones are necessary to keep the sport safe and all other beach users should be able to enjoy the water as well in a safe way. Read more here.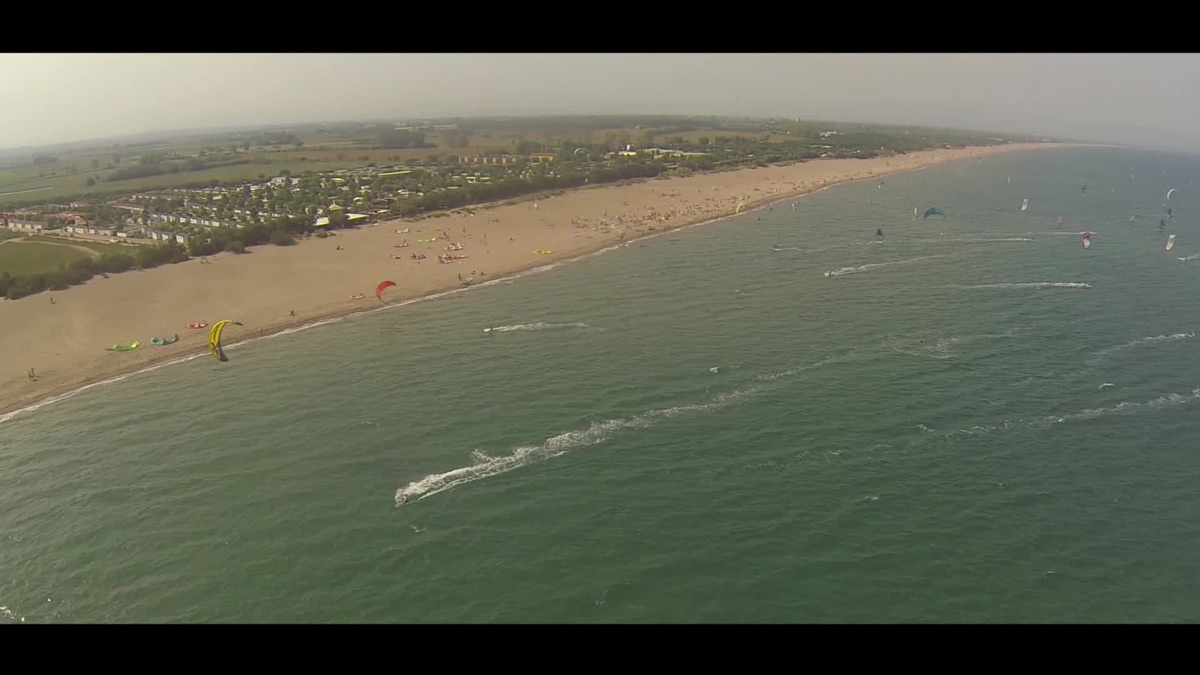 Where to stay ?
The North of the Bay of Roses is not so ideal for kitesurfing due to the fact that the wind is either offshore when the Tramuntana is blowing or onshore when the thermal wind is blowing. So if you look in kitesurfing we recommend to find a place to stay further south even if ROSAS itself has a big offer in apartments and villas. From Empuriabrava onwards further south you have a big variety of Camping Sites and Bungalow Parks. Especially the community of Sant Pere Pescador offers many campings such as La Palmera, La Gaviota, Aquarius, Riu, Amfora, Las Dunas and the last one is La Ballena Alegre.
All those Camping Sites are located in the naturalpark Aiguamolls, so the whole area is preserved from constructions. Further south towards the end of the Bay of Roses you can find the medival village of Sant Marti d'Empuries offering some nice Villas and especially L'Escala with a wide range of Villa -rentals and hotels. A good plan is also to rent a room or apartment in one of those "Casa Rurales" which you find in the little villages in the inland. Read more here.