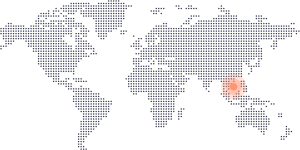 Wind season 1: May – October
Wind season 2: December – March
Air temperature: 27 – 32°C
Water temperature: 27 – 31°C
Wave spots: No
Cambodia's main spot, Kampot, offers both a winter and a summer season, and shallow flat water in the river mouth of river Preaek Tuek Chhu. The wet summer season brings constant wind in the 15 to 25 knots range, gradually building up strength over the summer. The dry winter season provides varied wind conditions with off-shore wind ranging from 11 to 25+ knots. Add to that that Cambodia is cheap and still an undiscovered gem, and you might have found your next holiday destination.