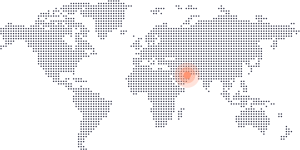 Wind season 1: April – May
Wind season 2: September – November
Air temperature: 25˚C – 33˚C
Water temperature: 22˚C – 32˚C
Wave spots: No
The Persian Gulf sees light wind all year around with roughly 10 – 20 days of wind per month. Bring your big kites and aim for spring (March – May) or autumn (September – November) for slightly better wind stats. Also be aware that their summer can be very hot and not ideal for outdoor sports.

Regions with similar wind season