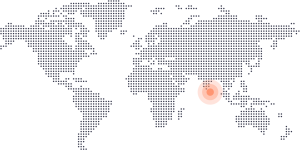 Wind season 1: December – February
Wind season 2: May – september
Air temperature: 27˚C – 30˚C
Water temperature: 28˚C
Wave spots: Yes
Sri Lanka is a popular kitesurf destination, famous for both wave spots, flat water lagoons and a laid back mellow vibe, perfect for a relaxing holiday. The summer season brings strong and consistent wind, whereas the winter season is lighter thermals around 12 – 18 knots. Both seasons are warm and sunny.
The classic kite spot in Sri Lanka is Kalpitiya lagoon; so large that you'll never run out of space. But you'll also find exciting riding in Kappalady and the recently hyped, but still unexploited Mannar in the North.

Regions with similar wind season