Period: Jan 19 – 2nd Feb (peak summer wind season)
Windy days: 10 out of 13
Air temperature: 30+ degrees
Water temperature: 28 degrees
This is a guest post by Persida Roata. Thanks for this great kite spot review!
All text and images in this article, unless stated otherwise © Persida Roata and used with permission.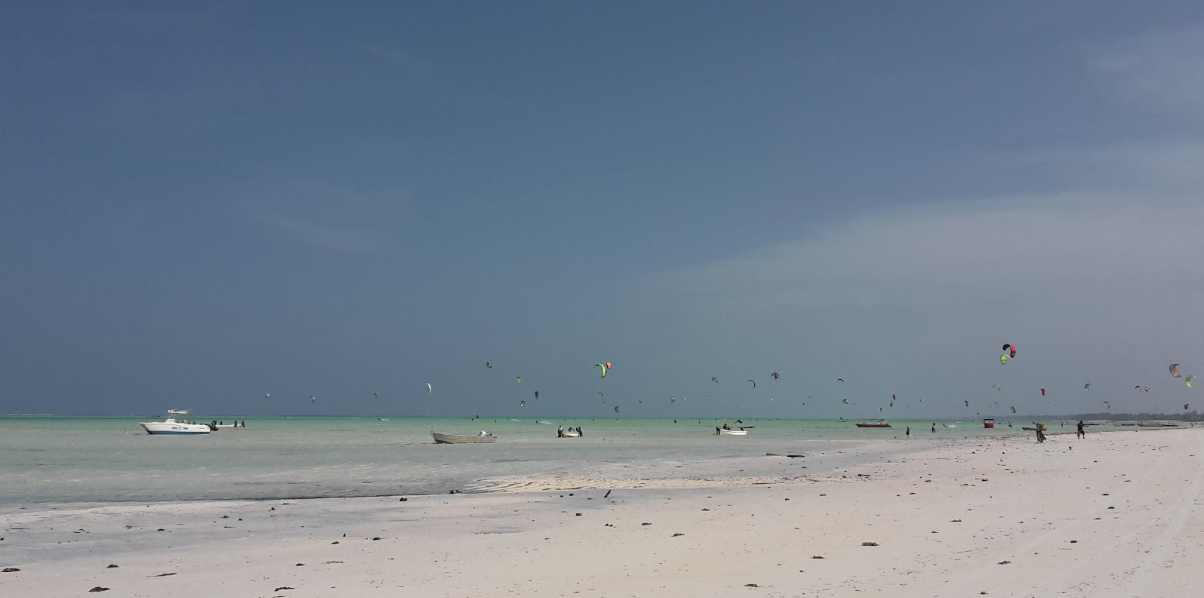 Kiteboarding in Paje, Zanzibar was one of the most spectacular experiences for me. The island is a mere paradise, for kiters or non kiters. That is why you can always take your other non kiting friends or your family (children included) on a wonderful vacation here.
The climate is sub-equatorial and it is located in the Southern Hemisphere. That is why January was summer time there and it was very hot and sometimes humid. The sun is not what most Europeans are used to. It is strong and it can burn your skin easily and fast. So make sure you have some very good sunscreen lotion with you, lycra rash guard and a hat.
We had very little rain in the two weeks and sometimes it was a bit overcast.
How to get there
So we were a small group of four kiters from Romania travelling for two weeks on a low budget.
There are several well known companies flying directly to Zanzibar Airport, which is a fairly new airport – Turkish, Qatar, FlyDubai, Ethiopian. You can also fly to the mainland, to Dar Es Salam, in Tanzania, and get the ferry boat to the island.
Low fares
We landed a super price deal, flying from Sofia, Bulgaria – which is not far from Romania – 350 euro round trip, by Turkish Airlines. There are several very good deals you can look for and most of them fly from the very big European airports, like Milan, Istanbul, Rome, Amsterdam, Paris, Munich, London etc. Look for smart combinations and you can also take a low cost flight to get there.
I've used momondo.com – which is a flight aggregator.
Luggage – best practices
Travelling for kiteboarding can be a hassle. You are packing several thousand Euro worth of equipment there and you want to get it there and back safe and not to cost you a fortune.
I wish I could tell you how exactly to avoid sports luggage fees, but there doesn't seem to be a clear guide to that. Turkish Airlines, for instance, doesn't have the clearest policy on that. While there is a sports baggage section on the site, kiteboarding equipment is not among the listed types that are subject to extra fees. They also don't have a clear policy about oversize baggage.
So we got through for free, with no extra fees. Other friends, flying the same flight, the same day weren't so lucky.
Therefore I think people should print out the luggage policy and be ready to support their cause, if it gets to that. And also have some extra money on the side, in case you don't win this one  ☹. Also European low-cost air companies apparently accept sports luggage for an extra €30-50 fee, which is not that bad after all.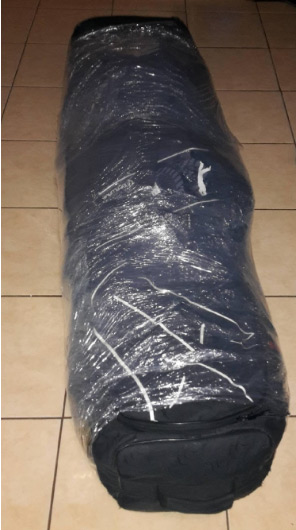 Another tip I'd like to share regarding the luggage is to have it all wrapped up in plastic foil. Thus you are protecting your bag as well.
Lost baggage isn't any news to anybody, but arriving at your spot without your gear can suck big time. So what we did – I know it doesn't look very flashy, but it can save you lots of trouble – is to add a sheet of paper under the plastic wrap that mentioned the destination, name and email address or phone number. Sometimes, if it's snowy or rainy you baggage tag can soak up and get ripped off and they can never know whose that bag is. Better safe than sorry!
Where to stay – How to find good accommodation
We stayed at Summer Dream Lodge, in Northern Paje. It was 100m away from the beach and even if it was a bit far from the crowded kite spots, we had a lot more room on the beach and the water just for us.
The place was really nice. Very clean, with delicious food and very good value for money. It can host groups, families or even single travelers, as they have different types of bungalows, including a dorm type one. The bar and restaurant prices are very good and the owner and the staff are very friendly and helpful.
The four of us shared one bungalow with a private bathroom.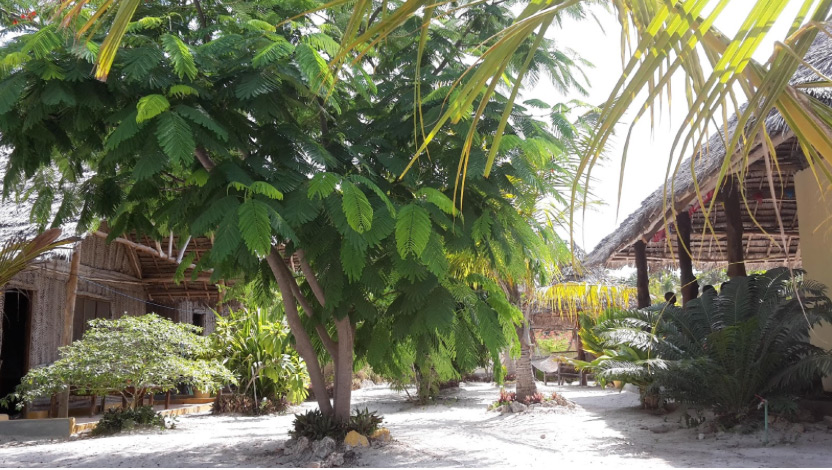 There are lots of accommodation options all throughout Paje, for different kinds of budgets. Some are spectacular but they can of course charge you up to $200 per night for larger apartments.
We booked our bungalow through AirBnB which was easy, but we later on realized that the site fees were rather high for both sides – guests and host as well. So watch out for that.
The kite spot
Now let's get to the most important issue ☺. Kiteboarding in Paje is indeed spectacular, but to be honest, that is mostly due to the incredible scenery. The water is crazy blue sometimes, it looks like you are riding in the sky!
Wind
January to February is one of the windy periods in Zanzibar. There are also windy months during their winter – June to July.
But to be very clear about it: it may be a matter of luck, but this is not a region for small kites. So when you pack, make sure you get your bigger kites too. Most kites flying varied from 11-12m up to 19-20m foils!
I weigh less than 50 kg and I only took out my 9m twice. The rest of the days were for the 12m one.
We were lucky to be able to ride in about 10 days out of our entire stay, but most of them were not very long sessions and some were really light wind. So also, make sure you pack a bigger board too.
The wind is usually starting in the afternoon and during our stay it ranged from 10 to 16 knots, and rarely maybe 18 knots. If you check the forecast you will see much less wind. That is because there are extra knots adding up from a thermal wind.
When the tide is low or moderate, the water is flat. When it gets high, the water becomes quite choppy.
We also caught two incredible morning sessions, one at the very sunrise. It was breathtaking! You can also ride all the way to the reef. It looks like it's from another planet. A couple of friends who stayed in February as well went out on a full moon too!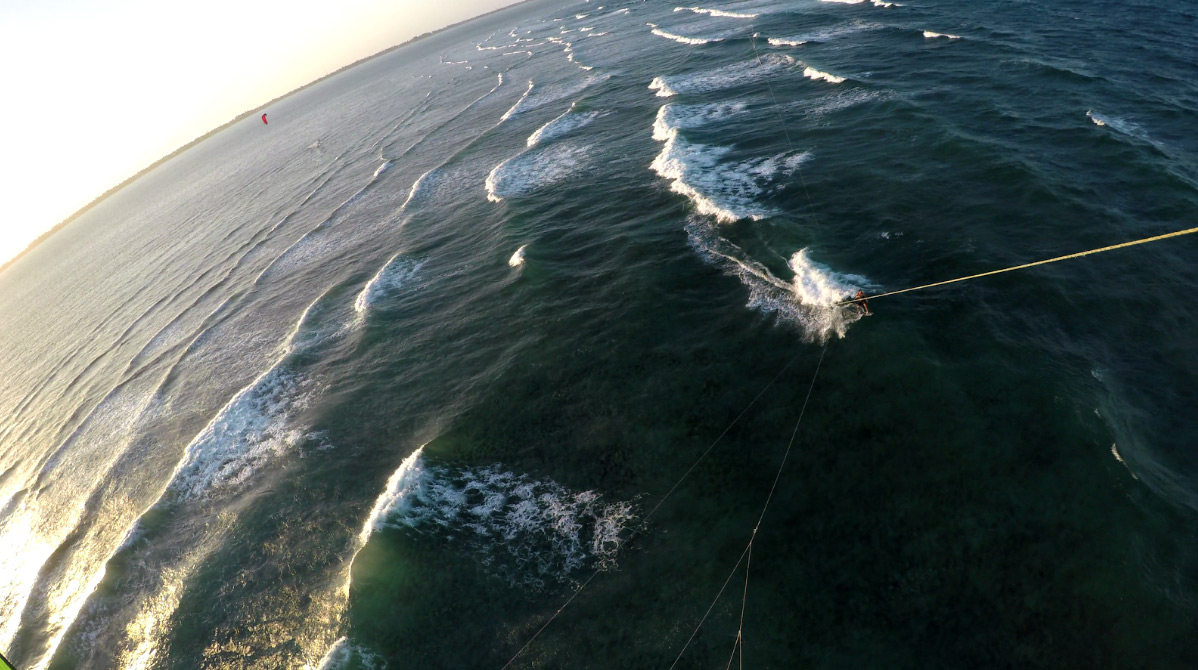 Tide
Now this was one of the difficulties we had to face. Depending on how the tide goes in and out, you may be in the situation to have wind but no water. In the Southern part of Paje Beach, there is a small lagoon that is full of water even in low tide. But the water is rather shallow and you could also get your fins stuck in the sand, since the bottom of the sea is not even.
The tide varies. Sometimes you get low tide most of the day and the water returns only in the afternoon. You can always check the tide forecast online. Sometimes the tide is very low, and sometimes it is moderately low.
On the other hand, when you have a high tide, there are other issues. The water gets so high it covers most of the beach. So setting up, launching and landing you kite can turn into a challenge. Kites hanging in coconut trees were pretty fashionable here ☺.
If you are lucky to catch windy mornings, usually the tide was high, but it starts going low already. Thus you can ride for a couple of hours until it can get dangerously shallow and then land safely on the beach. Plus, the sun and ocean as well are much nicer in the morning.
The water temperature can get uncomfortably high in the afternoon. So if you're looking for refreshing water, get on the board and ride out farther from the shore, because close to the beach, it feels you are soaking up in a cup of hot tea.

Beach
The beach is insanely white and the sand is very fine. There are seaweed around, especially during high tide, and they can get on your lines. Also, watch out for pieces of broken glass on the beach and other types of garbage (mostly bottles and cans).
Dangers
Before kiteboarding, you should make sure you have checked your spot during low tide as well. That is because there are some seaweed farms, and there are also quite crowded sea urchins areas. There are also some small but angry jelly fish that can sting – but only in high tide. The whole beach is full of crab holes and at night there is quite a lot of crab traffic going on. ☺
The food
The food in Zanzibar is delicious. You really can't go wrong with anything. Except for pork meat (they are Muslim), you can get various meats, mostly fresh fish and seafood. The cook it on the grill, deep fry it or cook it in different types of sauce, mostly based on coconut milk. Fruits are also very tasty and ripe – pineapple, mangos, lychees, bananas, coconut, avocado, papaya, etc. Price is not the lowest, but you can try bargaining with the merchant.
Alcohol is easy to get and at a very good price. A local beer (Safari or Kilimanjaro) is around $2.5.
What other things to do
What I did, what others did.
Safari Blue
This is an awesome one-day trip. You go by boat from the South-Western part of the island and stop by at a mangrove island, then you go to an incredible sandbank. After you are done marveling at the beauty of the blue waters, you go snorkeling for a bit and then to lunch on another island. Here you also get to see a huge baobab tree. The lunch is great and has enormous servings. You can also buy souvenirs there, so make sure you have some shillings with you.
The price for this is $35. It is so worth it!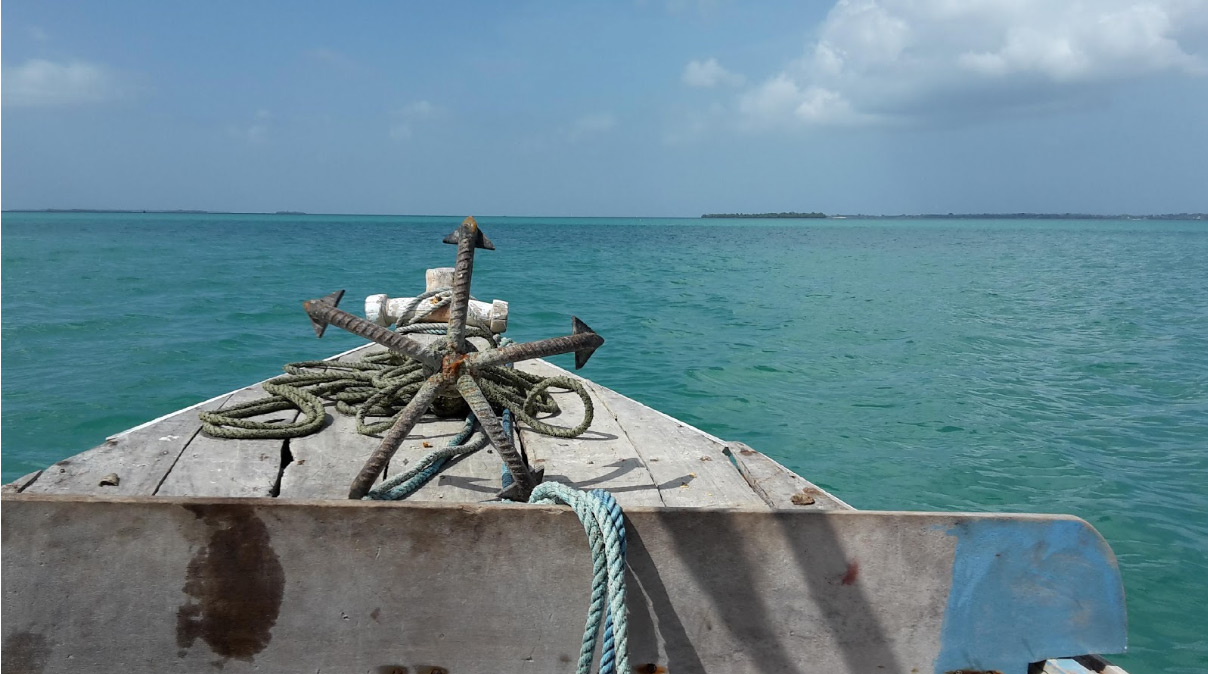 Prison Island
This is about 20 minute boat ride from Stone Town. Initially built to keep prisoners there, it had never had the chance to be that. So instead it is now the home of tens or hundreds of giant tortoises!
The entrance fee is $4.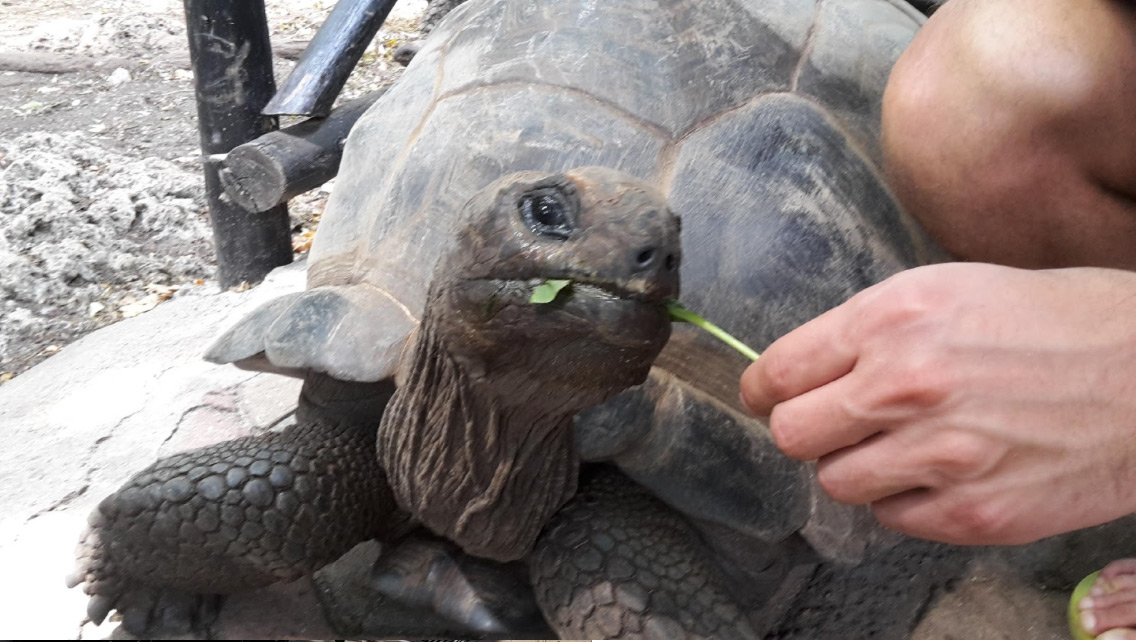 Stone Town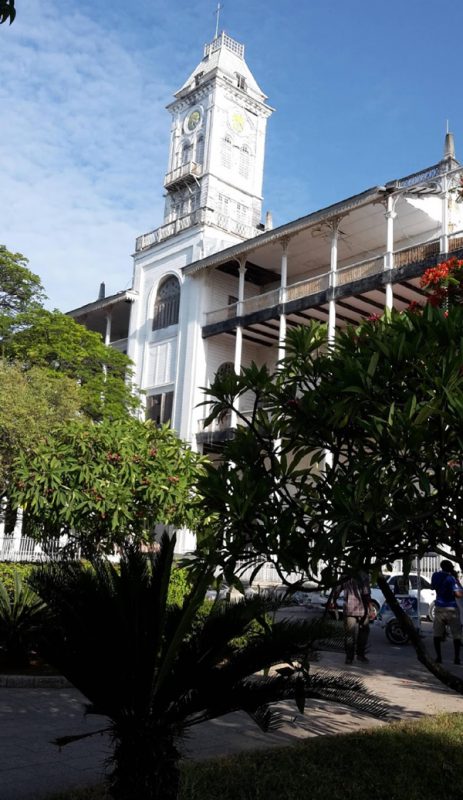 At least one visit to Stone Town is a must. The city is roaming with people, cars, scooters and bicycles. You can see the local so mixed architecture, get money at the bank and spend it on souvenirs in the many shops and markets. You can also spend it on lunch/dinner at fancy restaurants or even at the food market. The food market starts at about 6:30 in the evening and is on the seafront. The food there is good, but make sure you double check the price before you order something.
To get to Stone Town from Paje is easy. Either you get a taxi that can be around $25-$30, or you get the local Dala Dala. It costs $1 per ride and it's most definitely fun to try it at least once. Don't expect any personal space during a Dala Dala ride. ☺
Spice Tour
Another tour worth taking is the Spice Tour. On the way to Stone Town, there is a forest where a guide takes you to see where different spices come from. You can see things like vanilla plant, cocoa tree, coffee tree, cinnamon and nutmeg tree, avocado or papaya tree, turmeric roots etc. The tour ends with a very nice lunch and a coconut tree climbing demo. ☺ You also get some lovely gifts.
We took a full day tour including this Spice Tour, a Stone Town Tour and the Prison Island trip and it was $35 for the day, transfer from Paje included.
It is good to know that all the local service providers: drivers, guides, luggage carriers etc expect tips.
Diving
I haven't done it personally, but another friend did and she was extremely excited by the scenery. She went diving on two separate days, once in the North Eastern shore and then on the South Eastern one. The cost was approximately $300.
Nungwi
Another trip some friends took that I didn't, was going up north to Nungwi for kiting. The scenery is spectacular. That area is different from Paje, with more-high end hotels and not as crowded. If you want to take a trip there to ride, book a whole day for it.  A taxi is about $25-$30.
Party
Paje is also a great place for nightlife too. There is a party almost every evening. I only went to 3 of them: at Teddy's, at Jambo's, right on the beach and at Vuvuzela, which is next door to where we stayed. All of them have entrance fees of about $2-$3.