Date: March 15 – 19
Wind: 10 – 20 knots
Air temp: Around 30˚C
Water temp: Around 22˚C
What I liked
Warm and sunny
Accessible and safe
Mix of beach and upscale city holiday
English is used everywhere
People are friendly and polite
What I didn't like
Expensive (e.g. coffee £5, beer £10)
Large distances to get around
Light wind
Dubai is an odd and unique mix of ultra-modern luxury, flamboyant beach life and traditional islamic culture. Everything is extreme here. Dubai has plotted itself on the map as a playground for the rich, where you can do heli rides, skydiving, desert safaris, race tracks, golf and kitesurfing, all encompassed by as much luxury as your wallet allows.
The kitesurfing is probably the least extreme part of this city though as it's based on light thermal winds, but it makes up for it by plenty of rideable days and two beaches within the city limits.
Wind & Weather
It's warm and sunny all year around in Dubai. Boardshorts or shorty is enough depending on month. The summer can even be too hot, reaching temperatures around 40 degrees Celcius.
The wind is thermal, 10 – 20 knots on/cross-on shore, usually with more strength in the afternoons. There's no particular season, but usually there's 10 to 20 days of wind per month, and spring and autumn has a bit better stats, while summer sees a bit less wind and is generally too hot anyway.
It's no surprise with the conditions given that foil boarding is very common. You'd also be unwise to not bring your big kites (14m+) when going to the Persian gulf.
The spots
You have two beaches within the city limits. Kitesurfing is a popular sport here and you normally see a 50/50 split between the two. Either spot will see about 20 – 30 kites on a good day, maybe more in their weekends i.e. Fridays and Saturdays. Anecdotally there's one more spot around the Palm but I didn't go to see it.
Kite beach
This is the official kitesurf beach, hence the name. Kitesurfers have priority here but as with a lot of kite beaches you will still have normal beach goers hanging out by the water, planting their parasols in the sand etc so apply caution.
Other than people there aren't any obstacles around and the beach provides plenty of space for launching and landing. The beach is only three hundred meters wide but you can obviously ride further out. The water is a bit choppy and not tide dependant. When I visited there was a yoga festival occupying part of the beach so all kitesurfing was temporarily moved to Nessnass beach.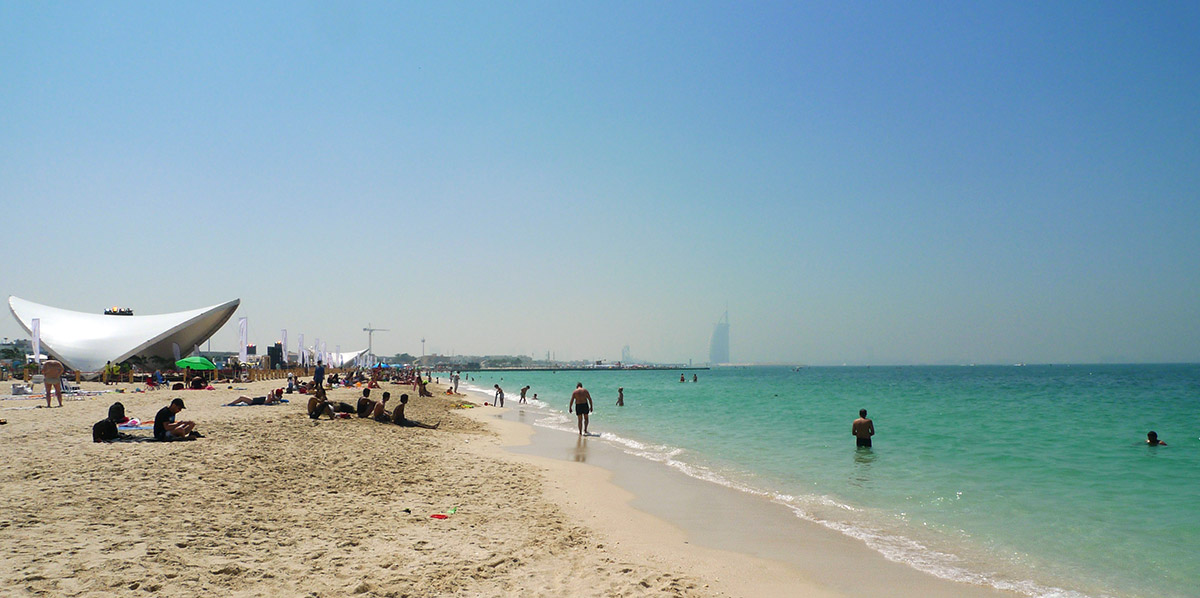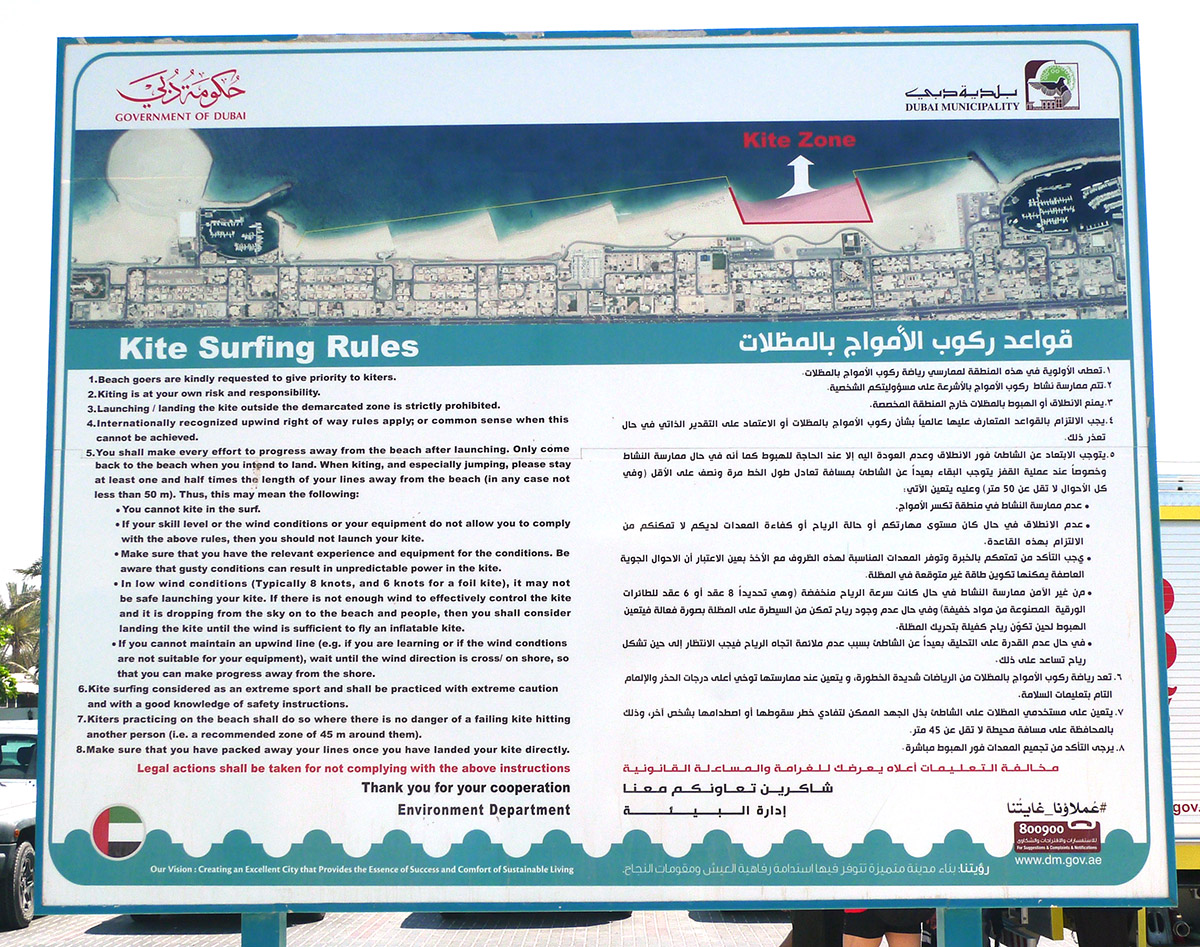 Nessnass beach
Nessnass beach is less developed than the area around Kite beach, but offers a shorter walk from the parking. There's also a cafe with outdoor showers and toilets, and the beach is slightly larger. Other than that, the conditions are very much the same as Kite beach; plenty of space on the beach but can get very busy in the bay where a lot of students are practising riding and body dragging.
There are a few schools teaching here but no physical centre, so storage is not available. Apart from being busy on the water it's a very safe place to learn and ride as you'll always come back to the beach if something goes wrong.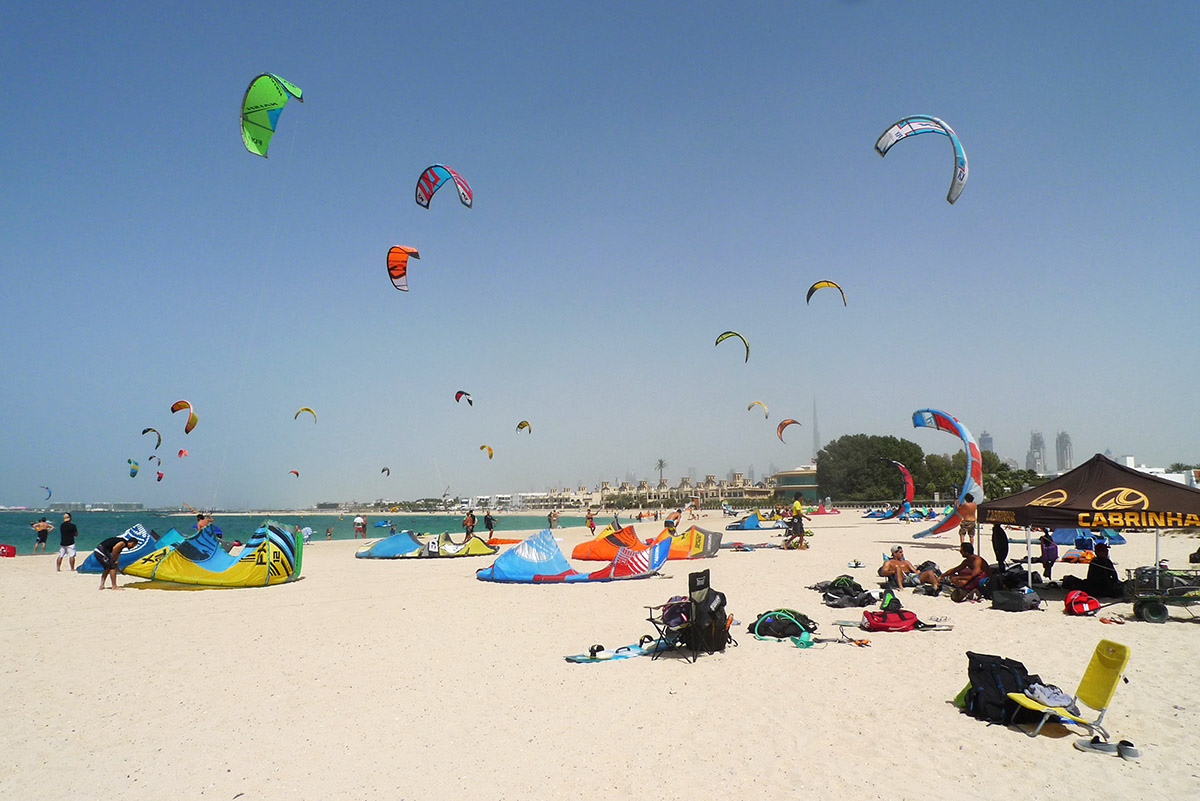 Nessnass is the base for Lewis Deaves and his school Kite Zone Dubai, who also teaches SUP here. Together with his co-instructor Dana (who's also a life coach!) he introduced me to the local kitesurf scene in Dubai. Check out their promo video to get a feel for the vibe at Nessnass.
Getting around
Dubai is a big city with around three million people. Distances are long and it's as if the city was built for cars, taking you from one area to the other. Walking is therefore out of the question unless you stay in one area. No wonder luxury cars can be seen everywhere, especially given the low price for petrol.
Taxis are everywhere, and Uber works fine too (forget Prius, here Lexus is all the rave). They're cheaper than normal taxis and good value. If you're bringing your own kite gear I'd definitely suggest picking up a rental car since storage at the beaches isn't available.
The metro runs along the whole city, is cheap and takes you to most of city highlights including the airport. You don't even come out to street level but rather use skywalks to enter the malls, which probably makes sense in the extremely hot summers. It's a bit slow however and gets pretty busy at times.
Al abwab Toghlaq means 'the doors are closing' and this you will hear a lot.
Is it safe?
When I asked around about people's favourite aspect of living in Dubai, it being a very safe place was mentioned several times. Crime rate is very low, CCTV is everywhere and you can safely leave stuff on the beach without having to worry about it. There's even carriages dedicated specifically for women and children in the metro. That would imply that the safety is achieved by control rather than naturally well-behaved citizens. I guess that's too much to ask for, regardless of location.
We've all heard stories about couples being put in jail for holding hands in public and that you have to cover your entire body wherever you go. Luckily Dubai has come a long way since those days, if they were ever true, and although it's true that public affection and showing skin should be practised with modesty to show respect for local customs it's all fairly relaxed. I did see a lot of hand-hiding. I didn't see people make out.
Other things to do in Dubai
The beauty with Dubai is that you can combine kitesurfing with everything else this crazy town has to offer. Here's a list of things I had the pleasure to experience in-between kiting, chilling and sleeping.
Emirates mall
Dubai is famous for its massive malls. The malls are just extreme versions of London's Westfields shopping centres with the standard Western brands and food courts. It's definitely not something I would recommend, but this one does have an indoor ski slope which is pretty insane.
Dubai mall, the fountain and Burj Khalifa
Dubai mall is larger, better and.. phew, I get exhausted simply writing about it. The parking is like a small town center itself and golf carts running along to get people from one store to the next is not uncommon. They also boast an impressive aquarium for the public to behold.
More impressively you can go outside and enjoy the sight of one of the tallest buildings in the world; the Burj Khalifa, and a fountain show synchronised to music every 30 minutes from 6PM to 11:30PM.
And if you're there, I'd recommend finding your way into the restaurant at Address hotel, and their terrace. Views, vibe, food, drinks, service. Let me just say I was impressed.
Maybe better from the sky, the Palm is so big that it has it's own monorail taking you out to the grand Atlantis hotel, including restaurants, bars and shops of course. Again, it becomes obvious that the city is made for cars when you enter the monorail station through a car park.
Atlantis is impressive indeed but it's essentially just another hotel/mall-mashup and although the aquarium is cool you can skip it for the Dubai mall one which is even bigger.
A big, modern bazaar combined with good dining and beautiful canal-like surroundings. You can also get a decent view of the Burj Al Arab, the sail-shaped luxury hotel that once was the tallest hotel in the world.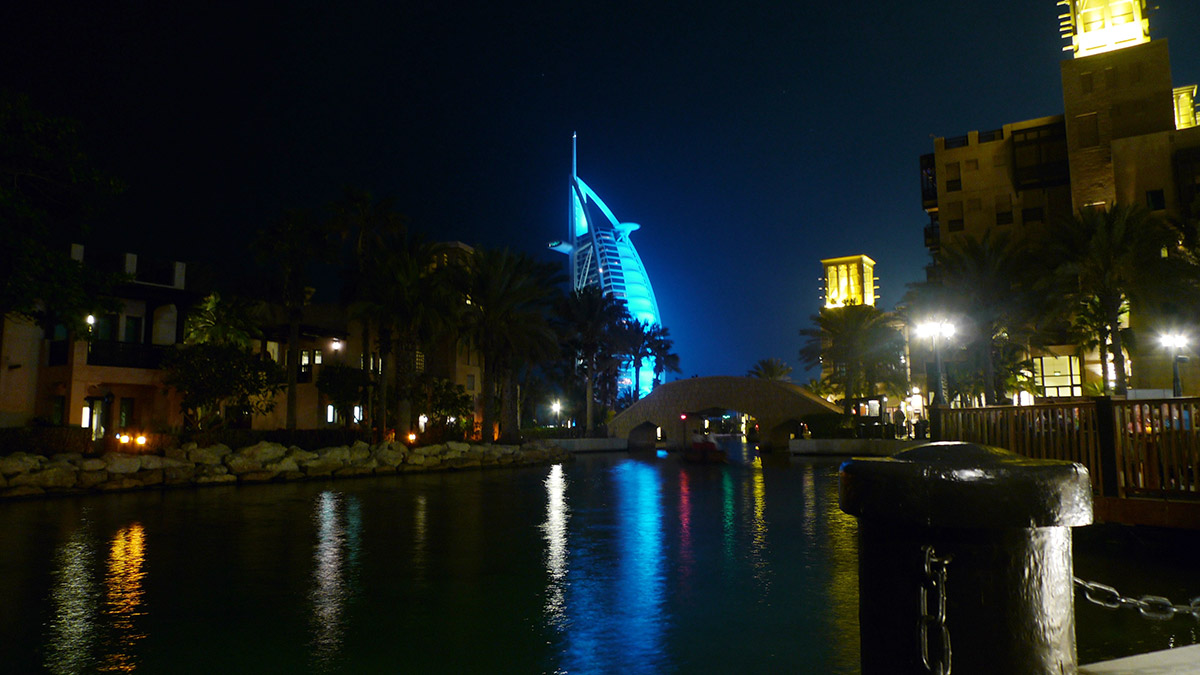 Dubai marina
This is where we stayed, quite far from the rest of the action but still big enough to hold its ground by itself. With the beach, the restaurants, bars and shopping here you could easily spend a week without even leaving the area. But I would get bored. A highlight for me was dining at the Marina Social restaurant at the InterContinental.
Old town and the markets
If you've had enough of luxury and need a break you can easily reach Dubai's old town and take a 1AED ferry trip to the other side of the river, where you find the local markets of spices, gold and textiles.
Skyscraper sightseeing
Have fun watching buildings, one crazier than the other, passing you by as you travel down the main road. The Emirates seem to have a thing for copying existing landmarks and we spotted London's Gherkin, Big Ben, the Chrysler building, bank of Hong Kong and even something clearly inspired by Malmo's Turning torso.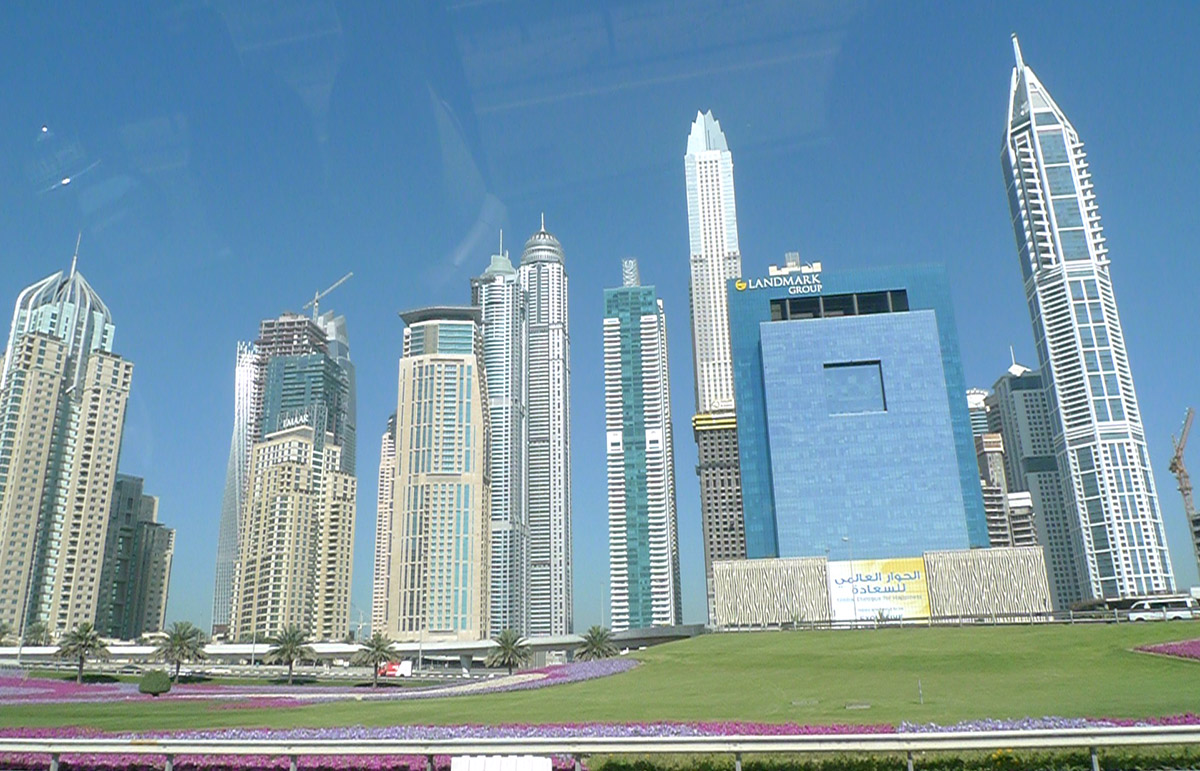 Desert safaris, water parks, jet-ski riding, golf and the zoo.
These are just a few more things you can do in and around Dubai. Everyone should be able to find something that tickles their fancy.
Summary
Dubai is six to eight hours away from Europe. You can reach a lot of destinations in that time so why Dubai? For me it was about exploring a place I'd heard a lot about, good and bad things. It's a very special place, but as an affluent, English-speaking cosmopolitan it's hard not to like at least bits of it.
Somehow I'm left with the conclusion 'why holiday here when you can live here?'. It would make sense to live the good life here; kitesurfing, basking in the sun and dine in top notch venues while having access to a big part of the world with DXB. Holidays I save for cheaper places with stronger wind.