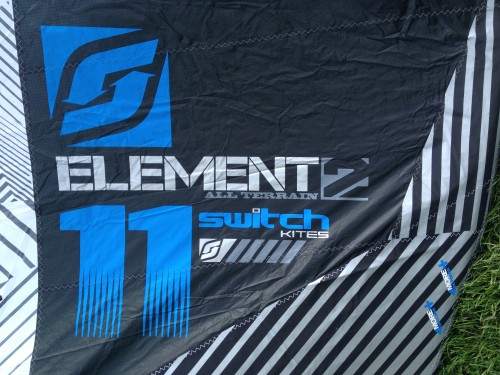 Element 2 is the second generation of Switch's all-round kite, released earlier in 2013. The Element 1 was a popular kite appreciated for its simplicity and forgiveness. Version 2 has improved it's wind range, tuning options and freestyle abilities. You can have it in any colour you want as long as it is black and sizes available are 5, 7, 9, 11, 13 and 15m. I'm an intermediate rider so this review reflects my experience. I can't compare to hundreds of other kites and I can't say how well it kite loops or drift in waves etc but for what it's worth here's my review of the 11m Switch Element 2.
Last year I quite often found myself slightly underpowered on my Element 9m and overpowered on my Element 13m, so for this upgrade I thought the 11m would hit the sweet spot and become my new go-to kite, especially with its increased wind range. So far I think I made the right call.
Test conditions
3 hours default settings, wind up and down between appr. 12 – 20 knots. Chop to flat (tide dependant). 3 hours freestyle settings, appr. 18 – 24 knots. Flat water. TT with boots. My weight: 78kg.
Build
Have a look at the photos. Switch is getting a reputation for making good quality kites and this one is no exception. Good materials, eye for detail, double stitching, seems sown and glued, extra padding where needed. It's built to last. Comes with a bag that is of equal quality and a repair kit should you need it.
Tuning
You have 2 settings each for both line attachments, giving you 4 different settings in total, but in practice you're more likely to choose from 3 options: freeride / somewhere in-between / freestyle. Back lines sets bar pressure and turning speed. Front lines sets depower and "direct drive". The kite's factory setting is the freeride one with less bar pressure and more depower. For a more freestyle-oriented kite change both attachment points, and use the provided "direct drive" pigtails for the front lines.
Performance
First I rode the kite on its factory settings, being more turning speed and more depower. The bar pressure was on the lighter side but more than V1 and enough to always know where the kite was. The kite felt very responsive and moved quickly and smoothly through the air. I could leave it parked at zenith while getting into my boots and I could create smooth power strokes with direct responsiveness.It has a small turning radius which encourage me to try my first kite loops in the near future. Although the wind was up and down I could use the depower to stay on my 11m all the time, starting with 0% and when the wind picked up went up to 80 – 90%. Other kiters were out on everything between 8 and 13m as the wind changed in strength. Going upwind was a breeze as you would expect, and relaunch was just as easy as it is with the V1 Element. Sheet out quickly though as the kite powers up very fast as soon as it leaves the water. With the freestyle setting I couldn't notice any major difference in general performance. It felt like the kite had a less constant pull when changing direction, so that I had to power up the kite quicker or it would loose its power when traveling past zenith. I'm not sure if this was pure imagination or if it actually was due to the different setting.
Jumping
I really enjoyed jumping with the Element. The V1 didn't have huge hang time and I could feel that this has been improved. Sent jumps took me high up in the air and steering the kite to and fro between zenith gave me good hang time and floaty soft landings. For being an all-rounder this kite definitely gives me enough pleasure in the big jumps department. For unhooked performance there was a noticeable difference compared to V1 in the line slack, especially with the freestyle setting. I don't do handle passes but I could still appreciate the slack when hooking back in as I didn't have to sheet out the bar with one hand and grab the chicken loop with the other. Most of the time I could keep both hands on the bar and hook in straight away.
To summarise: I've only been out on two sessions, but what I've felt so far is a great kite that caters to the kind of riding I enjoy – no fuss freeride/freestyle with a kite I feel safe with and in control over. PM me for a demo if you're in the London, UK area or get your own at Switch's website.