Disclaimer
Switch Kiteboarding has not paid me to do this review. I was provided two kites and a bar to review, but paid for shipping and customs. My review is 100% my honest and unbiased opinion, as recommending bad products would only hurt Global Kite Spot's reputation in the long run.
This review is based on my subjective perception of the kites' performance and characteristics after a few sessions on each kite. I've ridden a big range of kites from Switch and other brands, but I'm not an expert in kite tuning so this is more of a first impressions summary.
Background
I've been riding Switch kites since 2012. I was part of their team rider program back in the days, and even after the program ended I kept riding them, trying almost every model in the range. For me they have always offered best value for money with their direct-to-consumer business model. Both build quality and flying characteristics have suited me just fine.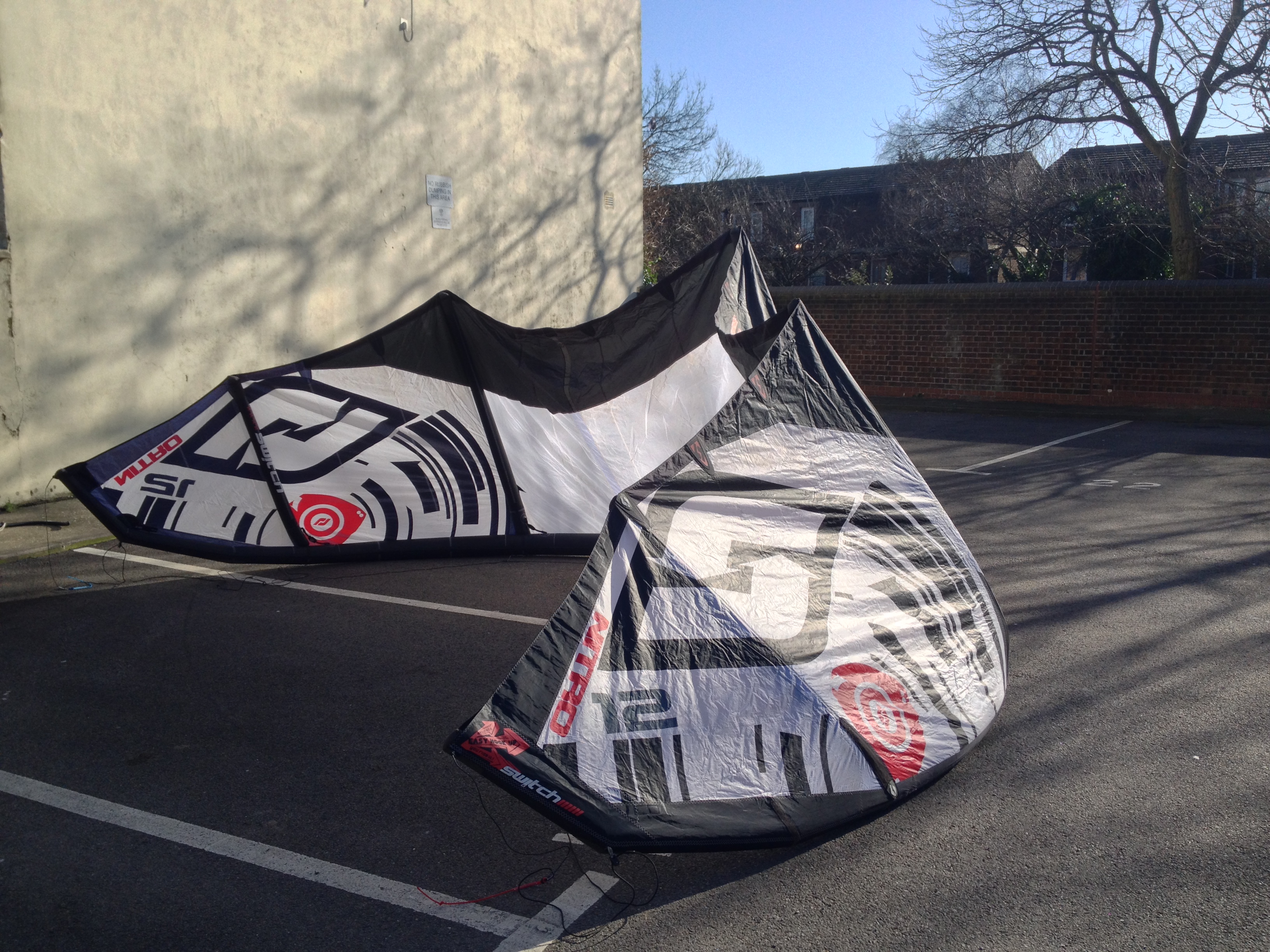 When Switch Kiteboarding reached out to discuss how we could promote the brand on the site we quickly concluded that reviewing gear is hard to beat as a way to reach the audience. I picked the latest models Nitro 7 and Krypto to review as I've ridden both Nitro and Legacy in the past and I was curious to try the latest iterations first hand (Krypto is taking over from the Legacy in the line-up).
The new designs
If you're familiar with Switch as a brand you might've noticed some big changes in their kite line-up. While Nitro, Element and Helium are still there, they have all been overhauled design-wise and do not any more carry the Bill Hansen signature. On the forum people speculate and investigate to find the original designs behind these new kites.
Personally I'm happy if a Nitro still takes me to the moon and drops me down gently, and I can hand my beginner girlfriend an Element without fearing it will create frustration instead of stoke. Basically, if the characteristics are still there I don't really mind if old models have new designs.
Build quality of Switch kites
Both Nitro 7 and Krypto are built solid and to last. They're using same materials and details that we've seen in the last few generations. My most recent Switch kites were Legacy 1 and Nitro 5 from 2015/16 and purely from visual examination not much seems to have changed since then. For the price you pay it's good, solid quality.
Double rip stop, large uni-pump inflate/deflate point and reinforced sensitive areas is the standard here. Yes, I've fixed my Nitro 5 bladder, canopy and leading edge numerous times but I've also taken it around the world and used and abused it for three years and it's still a kick-ass kite.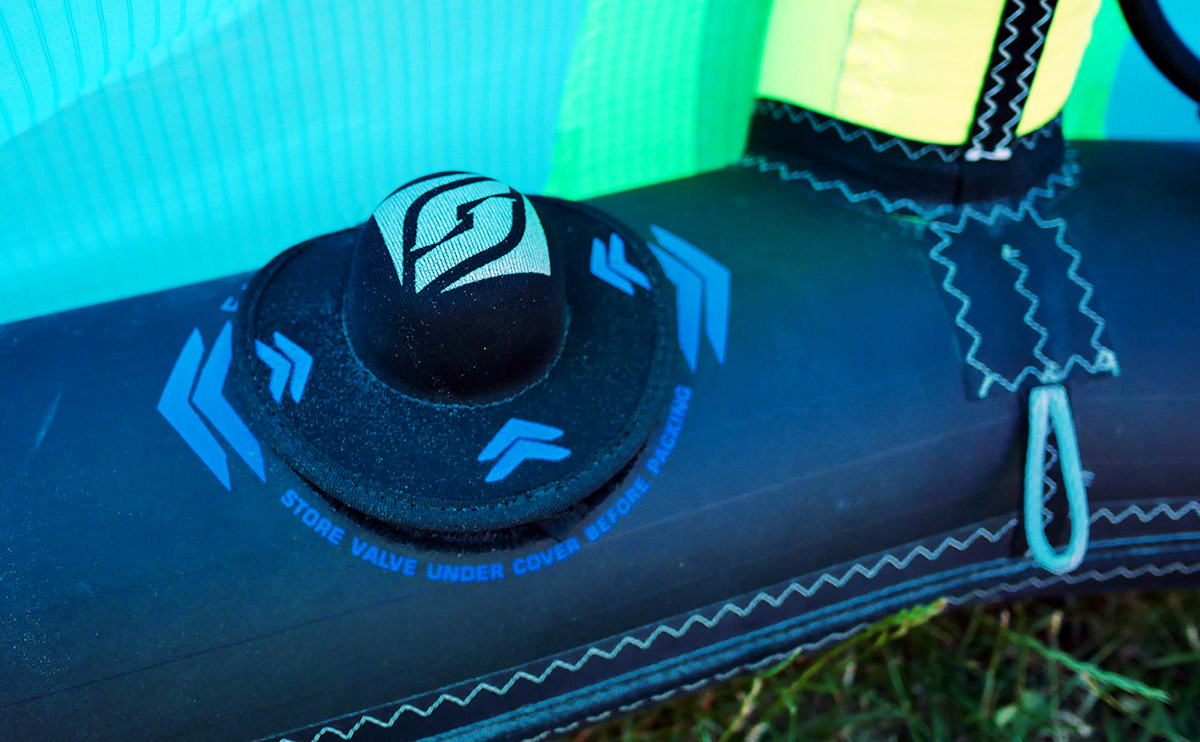 12m Switch Krypto review
Switch C4X control bar review
Switch Nitro 7, 9m
The 9m Nitro 7 is a five strut, open C, high aspect bridled kite that weights in at 4.2 kg. It's marketed as a performance big air kite for riders who want to fly high. It's also supposed to be a decent freestyle kite.

On the water / In the air
Impressions collected over four sessions, 18 – 32 knots. Mainly flat water and small surf. I'm 78kg and rode a finless Tona Pop with boots and used the 55cm C4X bar with 20m lines.
I'm coming from a 10m Nitro 5. A lovely kite once dialled in, although not very forgiving. The first thing I noticed about Nitro 7 is that it's a fair bit faster turning. This is a 9m instead of a 10m but I'm pretty sure you'd notice the difference even if you compared equal sizes.
This messed up the timings on all my spinning jumps on my first session so what I did was to put the backline connection points to the slower turning speed setting and used the 'More depower' pigtail, which is further out than the 'Normal' one. Now it was a lot more predictable while doing my  backs and fronts and a familiar feeling coming from the Nitro 5.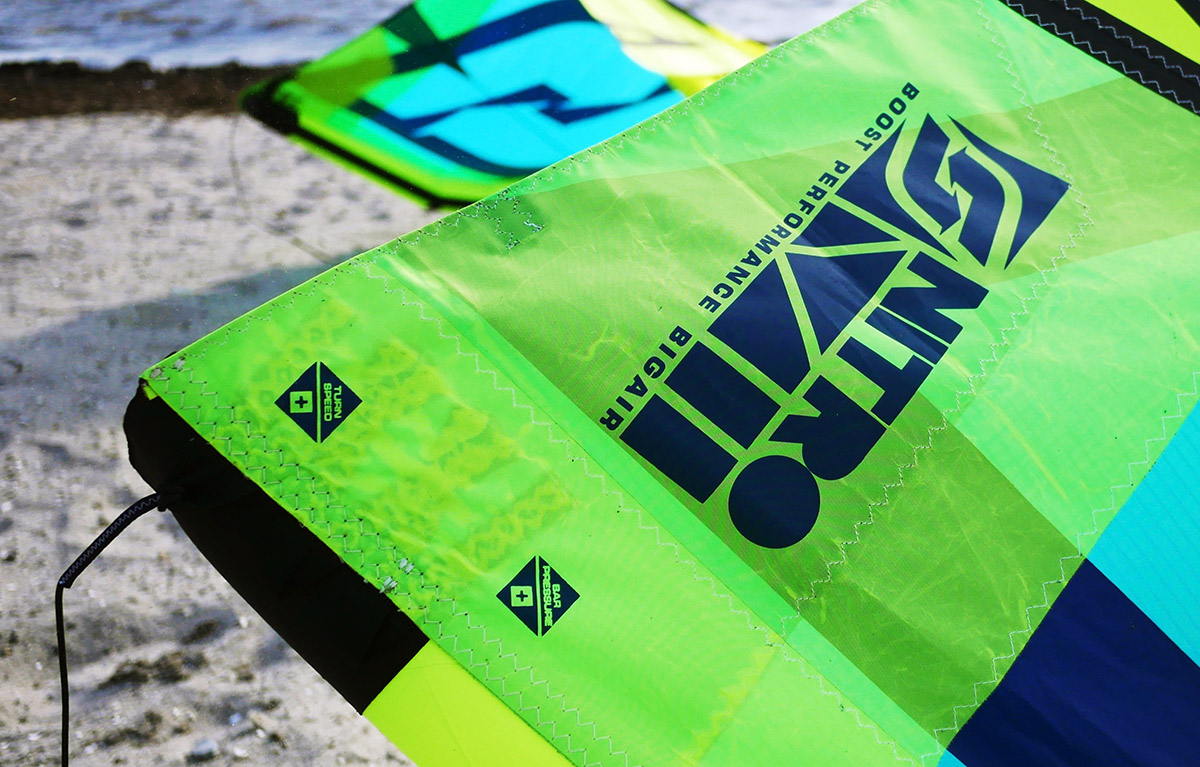 Performance
Apart from the faster, smaller radius turning the kite feels a lot like the old Nitro. It's still a high aspect kite but with more swept wingtips. It reminds me a bit of Duotone Dice in shape and handling but jumping is more like the old Nitro than anything else. This means fairly light bar pressure, good boost and lift while landings are smooth and gentle. Not as gentle as the Element 6 but still great.
Now I get into very subjective domains, talking about how the kite feels, so take this with a grain of salt. Nitro 5 has more pop and line slack. You need to fly it actively and if you speed downwind you risk stalling the kite, i.e. drift is not good. Nitro 7 is better at this. I found it being more stable in the air with better drifting abilities, but I was often overpowered when popping unhooked. I probably need more time in the right conditions to see if this is actually true or just what I felt during the test sessions. Bear in mind that I'm at a basic level with unhooked tricks to begin with.
Relaunch has improved from previous models. It's not like the Element or other low aspect kites, but I had no issues getting it back up after a bit of pulling a steering line.
The loops are powerful, at least on the slower turning speed setting. I only do kite loops in light wind so I can't comment on mega loop performance, but from what I can tell it behaves similarly to Nitro 5. It's not a kite to learn looping on – it's simply too hardcore. Downloops are perfectly fine though.
Summary
All in all I like Nitro 7 a lot. Coming from previous Nitro models I appreciate the similarities and the improved stability and drift. I can ride it in strong and light winds alike but definitely this is a kite to enjoy in high winds for boosting. If you want something more all-round and forgiving take the Element. If you want something more freestyle take the Krypto.