Date: 13 – 17 October
Rideable days: 4 out of 5
Wind: 14 – 22 knots (Mistral and Scirocco)
Air temp: 25˚C
Water temp: 20˚C
South Sardinia, and Punta Trettu is starting to become a regular destination for me. This is now my third time here and you can read bout my previous trips to this Mediterranean best-in-class kitesurf spot here (2015) and here (2021).
If you're into flat water or want knee deep water for miles when you're learning, this is probably one of the best spots in Europe. It's been around for along time, but was still relatively low-key in 2015. Not so much the case anymore in 2022. You can't hide a secret this good and the cat is definitely out of the bag.
Kris, who I first met here in 2015 and later hooked up with during my Lo Stagnone review, was back on the island for a wedding, so I took the opportunity to join him for a few days of kiting, vitamin C/Sea top-up and overall good times.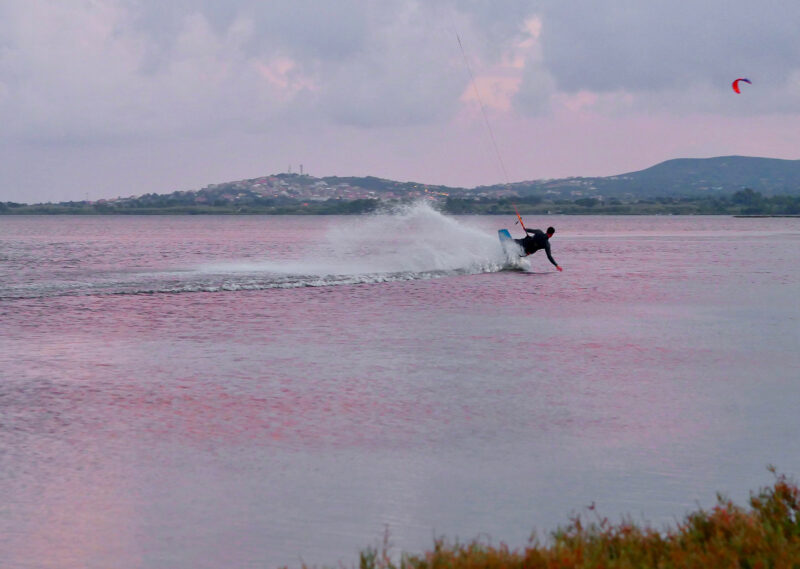 Mid October = Off season in Punta Trettu? Think again
I left a cold and rainy UK for a sun-kissed Sardinia. Here, summer is still on by UK standards. It's definitely a great way to extend the summer when autumn is creeping onto you farther up North.
A cheap 2.5h flight to Cagliari and you're set. Or do what most kiters in Punta Trettu seem to do – bring your camper van by ferry and practically live for free for as long as you wish, right on the spot. The amount of campers that had come all the way from from Germany, Holland, Austria and Switzerland was remarkable. Many of which had brought the whole family.
When I arrived at the spot on Thursday afternoon we had just entered golden hour and as per usual the wind had gradually picked up in the afternoon to offer a good 18 knots. The sky was filled with kites, probably close to 100. October is definitely not off season here.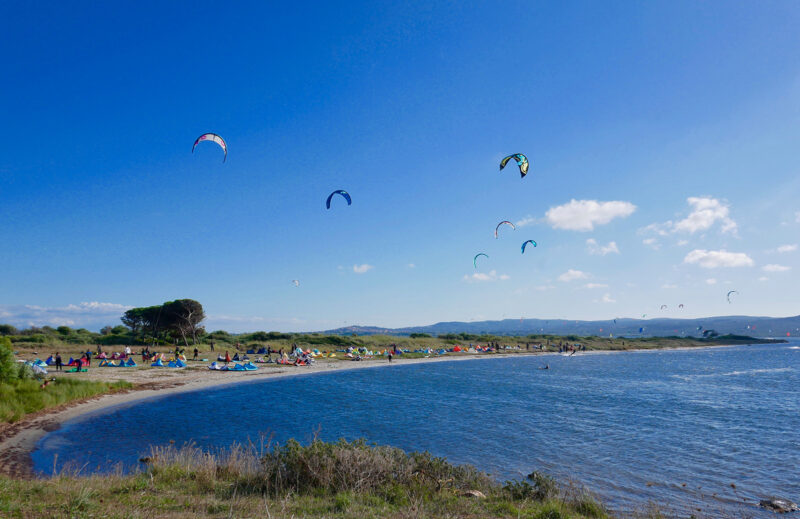 The spot
I've described this spot in my previous guides, but in short Punta Trettu is a massive lagoon where you ride at the entrance of it, between a point that sticks out from Sardinia mainland and the island of Sant'Antioco.
It's a flat water paradise with very good wind stats and it attracts a lot of learners, freestylers and freeriders alike. It's only one hour from Cagliari which makes it very convenient, and you can either stay on the spot in a camper van, in one of the kite centers or in Sant'Antioco town 20 minutes away.
Wind varies a lot here but tends to be light in the morning and build up towards the evening. I had three days of Scirocco, one day of Mistral and one day with no wind. I rode my 12m Krypto as my only kite but would've been fine on my 10m too.
Most people wore full wetsuits and for this trip a 4/3 would've been perfect. Instead I only had my 3/2 shortie with added neoprene/thermo layers beneath. That was ok when the sun was out but one day was cloudy and it did feel a bit nippy.
Mistral and Scirocco wind directions
In Punta Trettu there are two main wind directions. Mistral seem to be the more common one and comes from NW, blowing into the lagoon. This time I got to experience Scirocco for the first time. When Scirocco blows from the opposite direction, SE, it blows from the lagoon and the flattest water (which obviously attracts all the freestylers) is on the opposite side of the point.
The beauty of the spot is that either way you get a strip of very flat water, and the rest of the spot is flat enough anyway that you can pretty much unhook anywhere without too much effort. If you're just looking to freeride you have a huge playground to explore, and if you're learning you have a dedicated large shallow area to practice in.
One benefit of being here outside of the summer months is that launching on the beach next to the parking is allowed. Maybe it's always allowed nowadays, but as far as I know you have to walk all the way out to the point and launch there during May – September. Do read up on the official rules before going.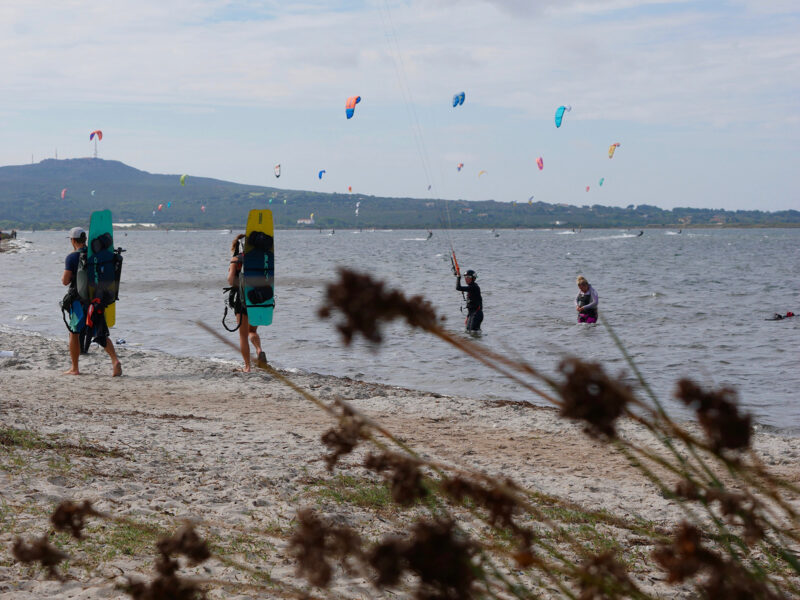 To sum up
A quick Thursday to Monday trip can be action packed and get you five days on the water if you're lucky. The wind did kick in on Monday but I had to leave for my flight around midday. Still not bad for a mini break though and I should mention that we went surfing on the windless day. Small waves on a SUP board, but fun nonetheless. If you're looking for proper wave action you're not in the wrong place however. On some days they do get 7ft waves both up and down the coast from Punta Trettu.
This was a great trip. It was really nice to see Kris again and practise some freestyle together. I rarely get the chance to unhook at my local spot due to the rough conditions, so having this short trip to refresh my efforts felt great. If only I would've had a few days more so I could go for that front to blind.
Punta Trettu is one of Europe's kitesurf pearls. Definitely put it on your bucket list if you haven't been yet. Chances are you'll come back more than once.
Again, please see my earlier write-ups o this region from 2015 and 2021.