Watches go hand in hand with travel for obvious reasons. They also do pretty well mixed with extreme sports, especially the smart ones that keep track of various bio and session data.
While I'm a fan of the data collecting abilities of smart watches, I'm not a fan of their aesthetics and I'm too much into my analogue and mechanical watches to swap them for a smart (but soulless?) watch.
I had been looking for a good, solid do-it-all watch for my kite travels (which admittedly are a bit too few and far between nowadays) and when a good deal on a Turtle showed up I jumped on it for a chance to find out if this is the watch to rule them all.
Why is the Seiko Turtle so good for water sports?
The Seiko Turtle, reissued in 2016 and based on a design from the 70's, is an ISO-certified dive watch. This is the real deal, so obviously if it's good enough for diving it's good enough for surface level water sports like kitesurfing.
When I travel I want to travel light so I only bring one watch. That watch needs to work in the water as well as on land in various situations. It needs to look good (yeah, I'm vain like that) but equally it needs to be able to take a beating.
The Seiko Turtle works well in almost any situation. It's not dressy, but I rarely attend events with dress codes during my kite trips. Part from the gala nights and red carpet events it's your loyal companion through thick and thin.
The day date function makes sure I won't miss my flight back home. The strong lume allows me to read the time any time of the day or night. The 200m water resistance gives me the confidence to wear it in any conditions. The mechanical auto movement ensures me I never need to replace a battery.
But most importantly, it's a stunner of a watch that oozes adventure and will only look better the more you thrash and bang it around.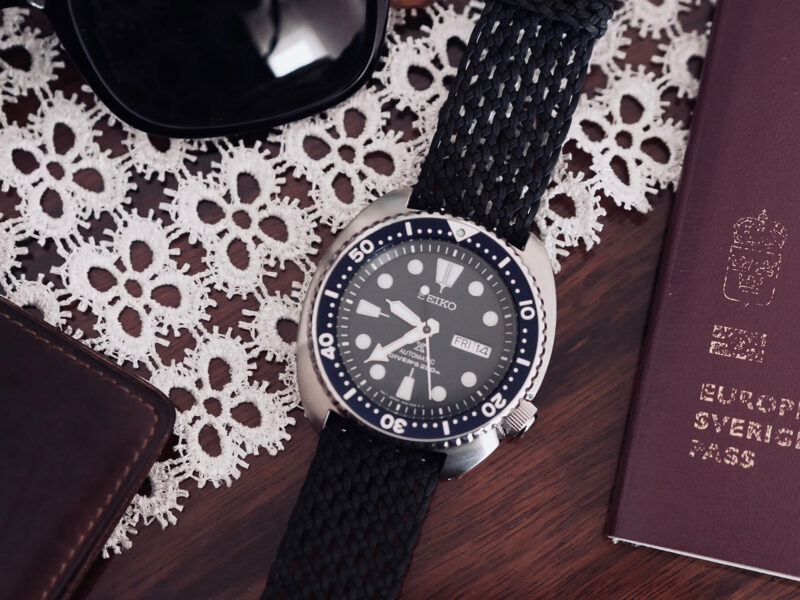 SEIKO SRP773 – The blue turtle
The Turtle was in many ways the successor to the iconic SKX model released in 1996. And a worthy one at that, still being an ISO certified dive watch but with an upgraded movement and more than a nod to the early days of Seiko's asymmetrical dive case days.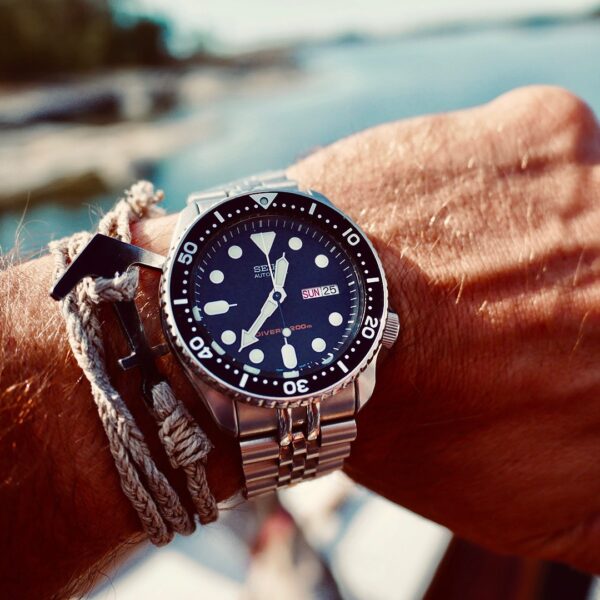 Today you have the option to get a '5KX', but as many purists will be quick to point out, that is a sports watch disguised as a dive watch. 100m water resistance actually is perfectly fine for kitesurfing, so if you prefer the look of the SKX do look at their Seiko 5 Sports range (especially the GMT version does offer nifty features and good value for savvy travellers).
But back to the Turtle. I fell for the blue version. Its matte, dark blue tones, almost black in some low light conditions, against the white hour markers bring a gorgeous contrast I can't resist. If I could have it my way I would've opted for the SKX's printed markers instead of the Turtle's applied ones. That would've added that one extra step of utilitarian, minimalistic vibes you'd be hard pressed to find outside of Unimatic's range.
What's it like to wear?
I took the SRP773 to my recent trip to Sardinia to try it in the field. It's a large watch with it's 45 x 48 mm case and 22mm lugs. But thanks to it's compact case design and how the turtle shell-like case wraps around the wrist it's not in the way and is surprisingly comfortable to wear on and off the water.

The Seiko Turtle comes either on a rubber strap or a stainless steel bracelet. I got mine on the bracelet but didn't even bother sizing it up for my wrist. I don't like the look of the Turtle on the supplied bracelet (looks killer on a jubilee though) and as you can see in the pictures put it on a 3rd party strap instead. It really is a so-called 'strap monster' and looks good on pretty much anything. For me the best look is on a Zulu or Nato strap which brings out the adventurous spirit in the Turtle.
Is the Seiko Turtle worth it?
The Turtle can be had new or used for around £200 to £350. If you care about watches, that's a fairly modest amount of cash to part with for a heritage brand with an in-house automatic movement. If you're not into watches you'd probably not read this review anyway and are happy with an Apple watch, a Garmin or even a Casio Quartz (I love my £20 MRW-200H-1BVES. It is in fact my go-to kitesurf watch when I ride locally).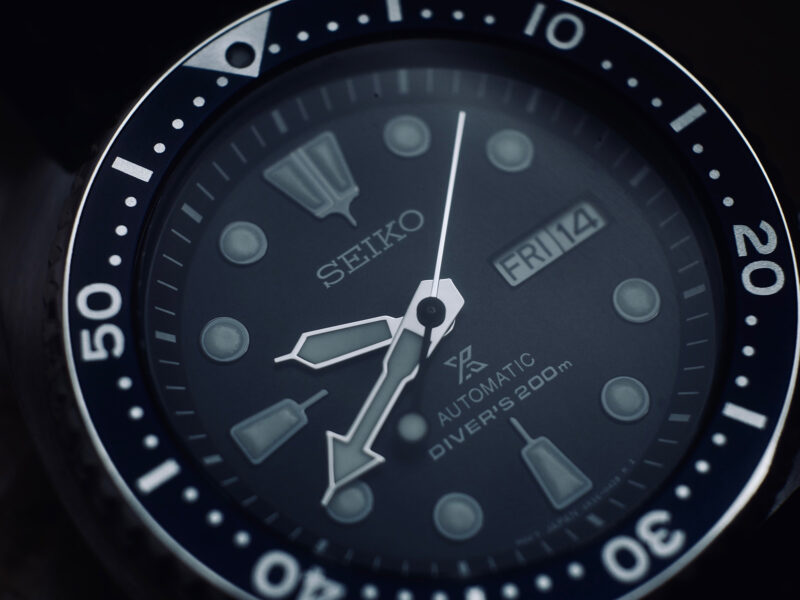 So is the Turtle worth it? Is it the best travel watch for kitesurf trips? The honest answer has to be no. Of course one doesn't have to get the Turtle to fill the needs of a sports watch. But I'm overly obsessed with the aesthetic aspects of wrist watches, especially the sporty and utilitarian ones, and without a doubt I have to wear a watch that simply screams adventure when I go a kitesurf trip.
Such are the foibles of being human. Don't fall under the advertisers' spells. Or do, and indulge in it.