This is a guest post by Ken Wilkins. Thanks Ken, another great one!
All text and images in this article, unless stated otherwise © Ken Wilkins and used with permission.
Rideable days: 14 out of 21
Lefkada is one of the Ionian islands situated south of Corfu and North of Kefalonia. Its a beautiful, mountainous island well liked by the sailing fraternity. The spot of Vassiliki in the South is also legendary amongst our windsurfing friends.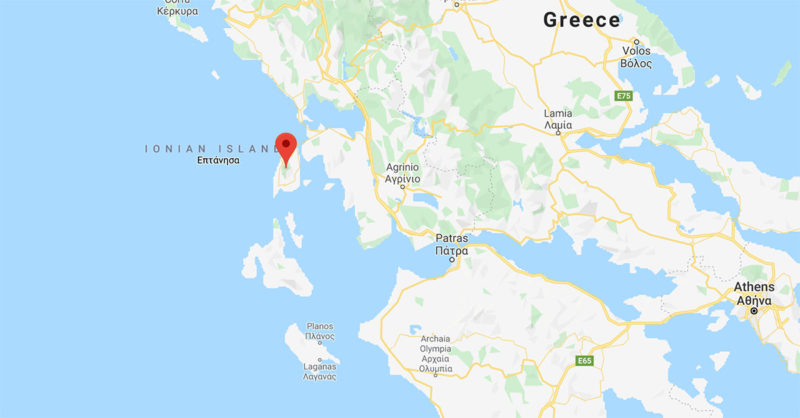 I've spent a total of 21 summer days on the island and have kited for 8 (Milos) and 6 (The Bridge, Church and Ag Nik). The wind is thermal and comes up around 2pm most days. During the time I spent there it only went above 20 knots on a couple of days. So fully committed, all-day kitesurfers will find it a bit limiting. There is plenty else to do though.
Kitesurf spots on Lefkada: Milos
The main 'go-to' beach is Milos, in the North of the island, just outside Lefkas town. It's a lovely sandy beach about a couple of miles long interspersed by windmills and catches the best wind in the North of the island. Wind is cross on from the left and very constant, i.e. not gusty. The water can get quite crowded particularly if the other places I'm going to mention aren't working.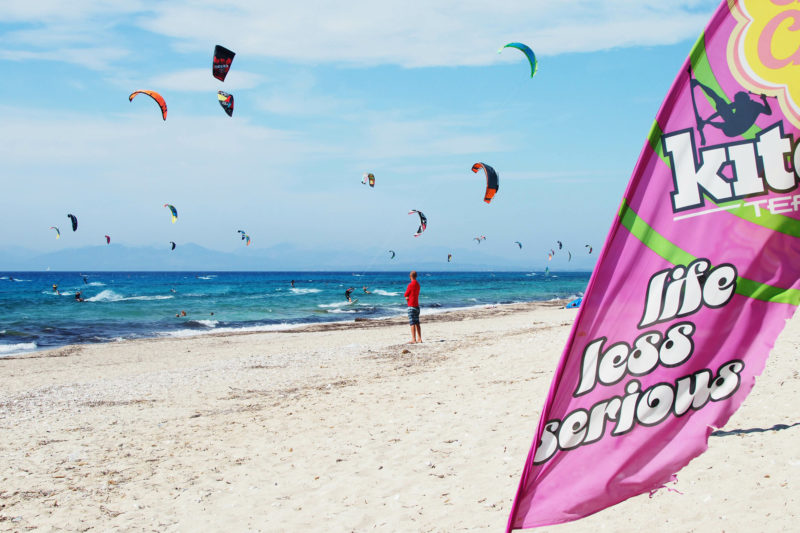 One thing about Milos is that as you enter the water, one encounters flat slippery rocks straight away which are a bit awkward. If you look carefully though you can see small channels between them so you can still make your way out through them to launch. After two or three yards you're on to sand and there's no problem.
Lefkas is connected to the Greek mainland by a swing bridge about 20 yards long that turns every half hour for a few minutes to allow yachts etc in to the harbour, so it's technically an island. The other spots are actually on the mainland, but no distance at all really.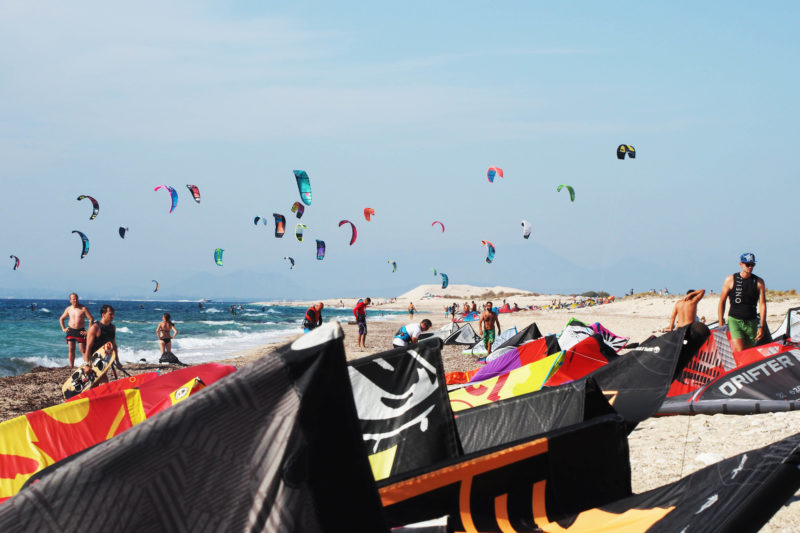 Kitesurf spots near Lefkada: The Bridge
So when the wind's a bit stronger, the next spot is the Wooden Bridge, not to be confused with the swing bridge. To get there, go over the swing bridge, you are now on the mainland and continue down the road for around half a mile where there is a fort on the right, on the left is a turning down a dirt road. Go down the road for a few hundred yards and you'll see a few cars parked there if the wind is on. Be careful to leave your belongings out of sight in the car or take them with you as thefts have occurred there.
Turn left along a path and straight ahead of you is a rickety old bridge which leads over a small sand dune to a lagoon which has superb flat water protected by a reef. It's only a couple of hundred yards wide but it stretches for a mile or so downwind to the next spot. There are no facilities here at all so you'll need to bring food and drink to last you. This is the spot called The Bridge.
Kitesurf spots near Lefkada: The Church
The next spot is called the Church and it can be accessed downwind from the Bridge or upwind from Agios Nikaloas (Ag Nik). If you like flat water and this place is on, it's one of the best places you'll kite.
It's basically a sandbar with a small Church on it. Behind the sandbar is perfect waist deep flat water that runs at a perfect angle to the wind with a run of around 500 yds. You will have an upwind track of around a mile to get back to the Bridge but the average intermediate won't find it too challenging.
If you have a non-kiting partner who can drive, you can continue downwind to Ag Nik.
Kitesurf spots near Lefkada: Ag Nik
To get to the final spot at Ag Nik, one continues along the road past the entrance to the Bridge and in to the village of Agios Nikalaos, follow the signs to the beach and you'll continue out towards the headland that faces out to sea with the Church in the distance.
The kite beach is on a spit with open sea on one side and another superb sheltered flat water area on its lee, there is a kite school there and a beach bar serving food and drink. The sea area is massive once away from the beach and for an intermediate kiter its pretty easy to get around the back to the flat water.
One thing I did notice is the kite school seem to like teaching in the marked launch area which is counter productive to both the learners and people going in to and leaving the water. Particularly as there is a better area only around 50 yards down the beach for teaching.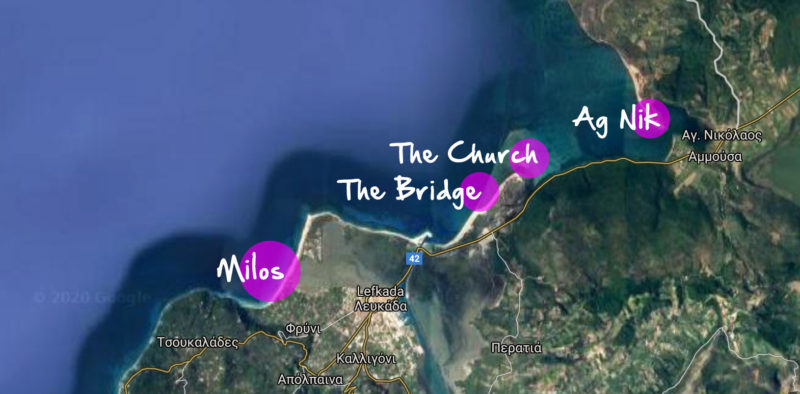 Off the water – Things to do in Lefkada
Off the water Lefkada is a beautiful island. There are many beautiful restaurants and bars beside, or over the water and in the main town itself a wonderful choice. Towns such as Sivota are well worth a visit, it's also a great place to take a non-kiting partner. There is a wealth of accomodation available from simple rooms to plush hotels. There's loads of choice online with all the normal sites like Booking.com and Airbnb. There are also some fantastic (non kiting) beaches on the West coast.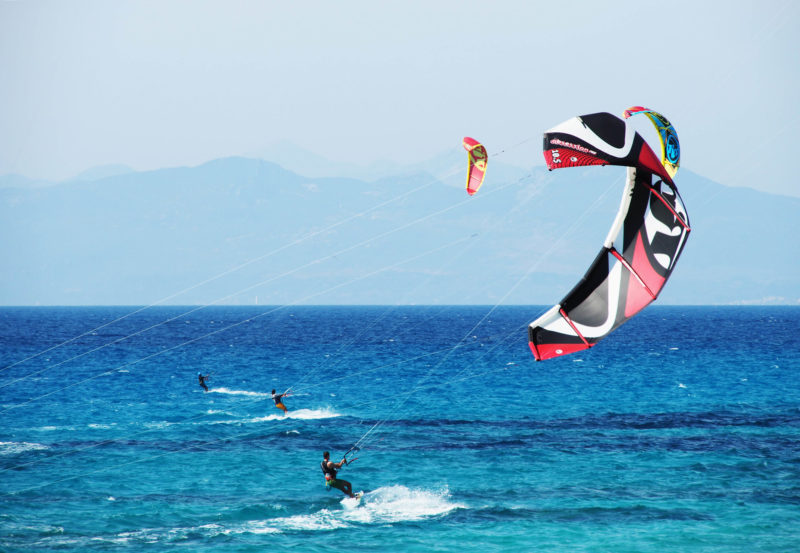 Lefkada for kitesurfers: The verdict
My only real concern with the island is lack of wind reliability and strength. I weigh around 88 kg and found myself using my 17m Zephyr on most days.
I never went lower than my 12, which I only used occasionally, so someone with smaller kites would have kited less than me. You also won't have any wind until 2pm generally.
When the wind was good there was plenty of room at all the spots, however when there was less everyone tended to pile in to Milos and it became a bit crowded.
However for a good all round option, with plenty to do on no wind days Lefkada is an excellent option, particularly if you are with a non-kiting partner.