Date: July 19
Wind: 12 – 15 knots
Air temp: Around 30˚C
Water temp: Around 20˚C
This summer I got the opportunity to check out lake Garda before driving into Croatia and Montenegro to explore the kitesurfing scene in the Adriatic sea. Garda is a bit different to the ordinary kite beach we're used to. It's Italy's largest lake and is located at the very beginning of the Italian Alps, about an hour away from Verona.
What makes this special is that you're riding on a lake with zero salinity, surrounded by mountains. It might not be the first idea for a kite holiday, but if you're looking for a unique experience it's worth a visit.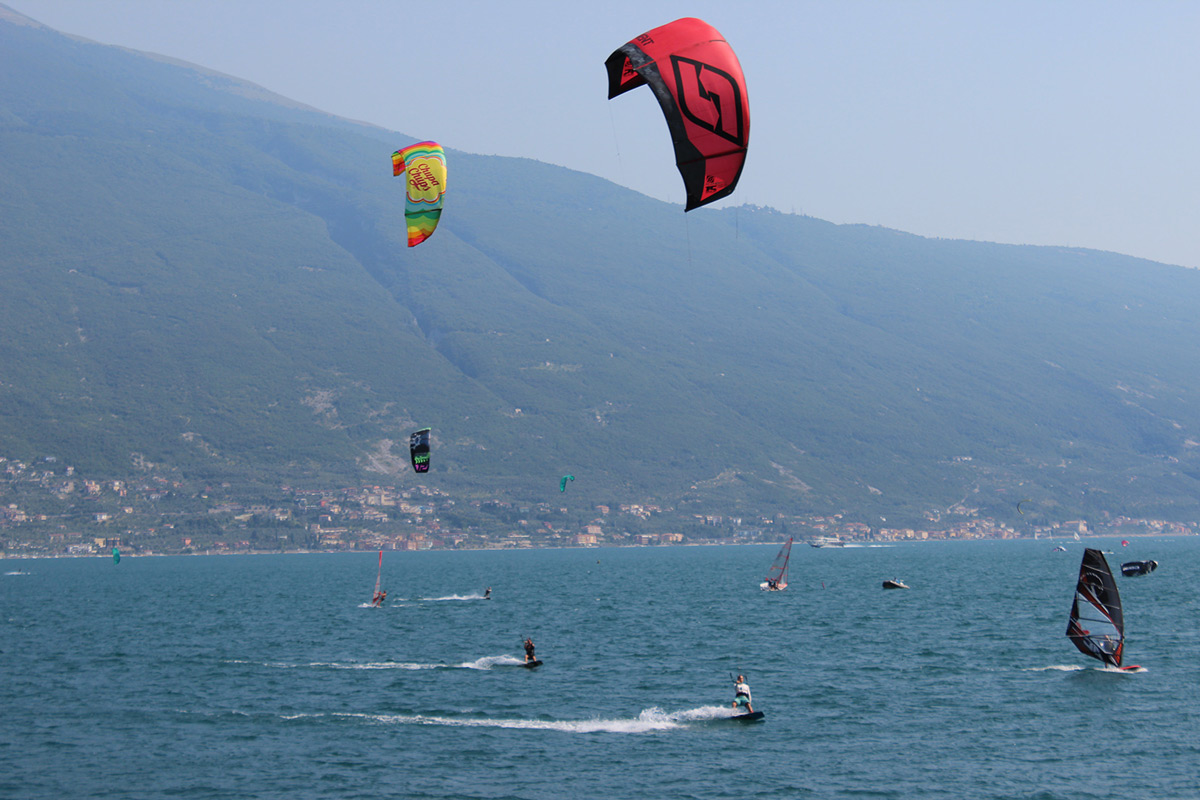 I only had time for a day trip, and didn't even know where to go so I did like we all do and used Google to find some guidance. Campione Kitesurf were one of the first hits and also picked up the phone when I called for more info, so that's where I went.
There are more kite schools/centers on each side of the lake, but as they are all clustered around the same area of the lake (halfway up the narrow bit – I assume this is where the wind is the best) and they all use boats or a tiny beach for launching I figured you can go with either one.
Wind and water conditions
Lake Garda has got two thermal winds. Peler, from the North in the early morning, and Ora from the South in the afternoon. Season is from April to October, but March can work too. The morning wind is stronger. Expect 12-25 knots between the two of them. When I arrived around midday the morning wind had died down, and the afternoon wind kicked in a bit later than usual around 3pm. Unfortunately it was also weaker than normal around 12-15 knots.
The water is fresh, and ok for a shorty in July. Other months a full wetsuit might be needed. It's a funny feeling crashing into zero salinity – it feels more like a bath than a kitesurf crash! You'd expect nice flat water on a lake, but the size of Garda does create some chop so in that aspect it's like riding in the sea.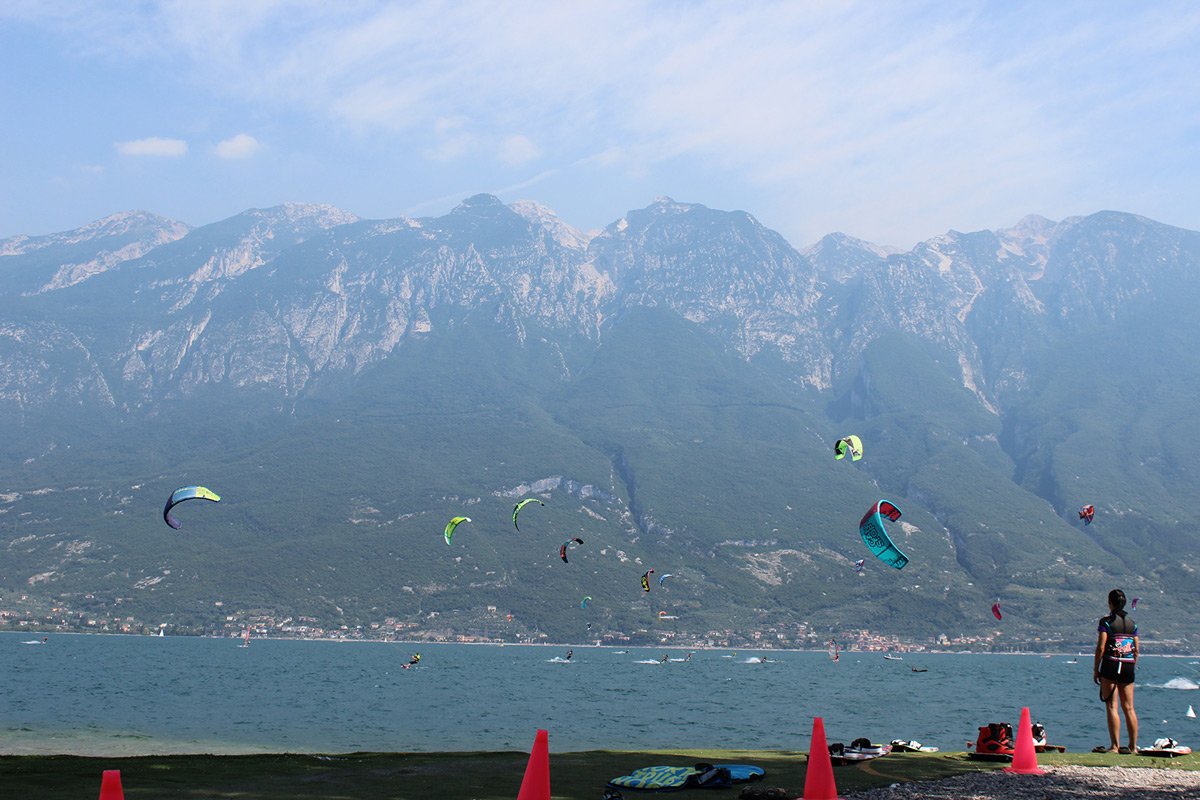 Campione Kitesurf
The village is tiny and offers little outside water sports, so probably not a place I'd stay in for more than a few days. A better option would've been to stay in Salo and drive to the spot daily. At Campione they charge a hefty €18 for a day pass. Rescue service is purchased separately, but I think it's refundable if not used. You need a 3rd party liability insurance to kite here.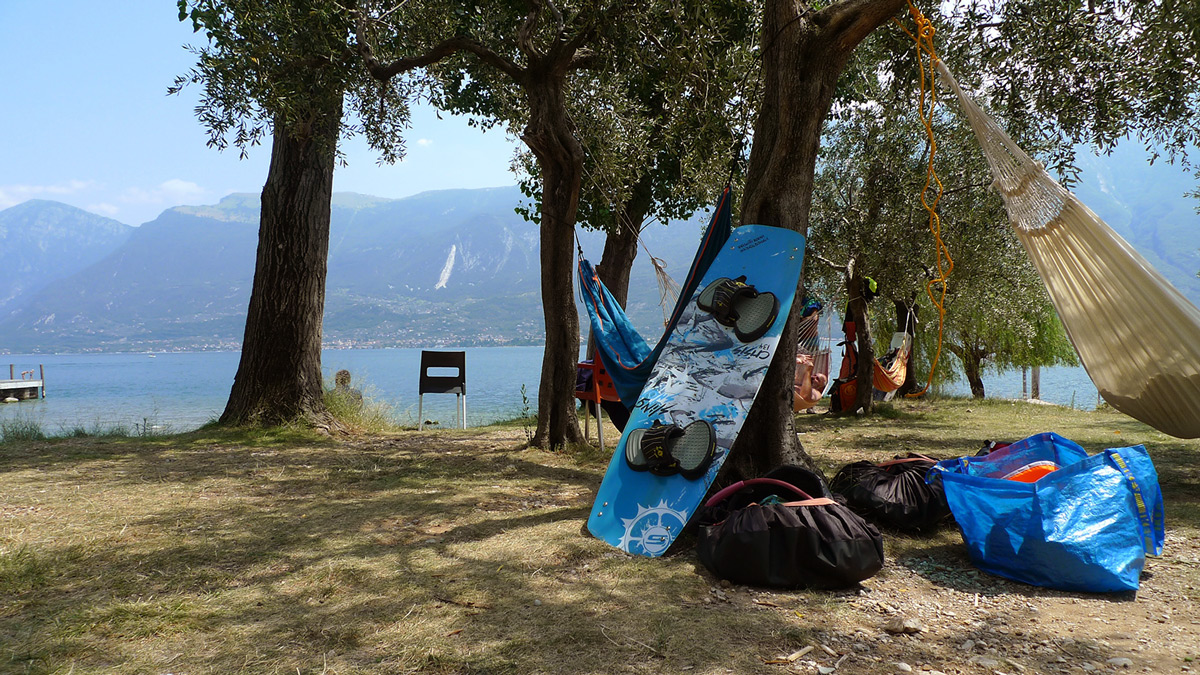 Like the other centers, Campione offers a boat service that takes the riders out on the water. The water gets deep immediately and there are no beaches to launch and land on, so rescue service might be a good call if the wind suddenly drops.
You can also launch from land, in one of the smallest launch areas I've seen. They send people away one by one with a running start to get the kite out of the wind shadow. You need to know your kite and how it behaves in sketchy wind to do this type of launch, so not for beginners. The whole thing is a bit chaotic but somehow works.
It was really cool to try lake Garda, despite the light wind on the day. The tiny spot and side shore winds in deep water let it down a bit, so personally I probably look elsewhere if I'm looking for a thermal wind spot for the European summer months.