Dates: June 24 – 30
I'm just home from a week of kiting in sunny Rhodes in Greece and here is the breakdown.
My friend Nikki and I flew from London, Gatwick with Easyjet to spend a few days in Kremasti, a spot close to the airport and then move on to Rhode's main spot; Prasonisi. After a four hour flight we picked up an old Nissan Primera at the airport and drove the short distance to our hotel just outside of Kremasti and right next to Air Riders – the local kite center.
We were given a very spartan flat on the top floor and quickly realised that sleeping could become quite the task without sleeping pills since the planes coming in to land flew by right above the hotel a couple of times every hour making a real ruckus. Fortunately I never got disturbed by this but people with sensitive ears might want to use ear plugs or simply avoid the hotels around the airport. There aren't heaps to do in the small village of Kremasti but you will at least find the essentials like a few restaurants and mini-markets. You can also drive in to Rhodes town in about 20 minutes where you will find all the night life you can ask for.
We spent two days at Air Riders. We chose to store our gear in the hotel over night and paid only for beach access (€15/day) which includes wi-fi, access to fresh water, launch/land service and rescue by jet ski if needed. Air Riders wasn't busy this early in the season and at most had something like 15 – 20 riders in the water at the same time. The center has a relaxed and friendly atmosphere and I really appreciated their "kite matts" where the kites could dry up and be packed down.
In this part of Rhodes they rely on a cross onshore thermal wind that grows stronger during the day so it wasn't unusual to see people start the day on 12m kites and change to a 9m kite in the afternoon. We had two great days with as much time on the water as we could bear before we took off towards the southern part and our second stop on our trip – Prasonisi.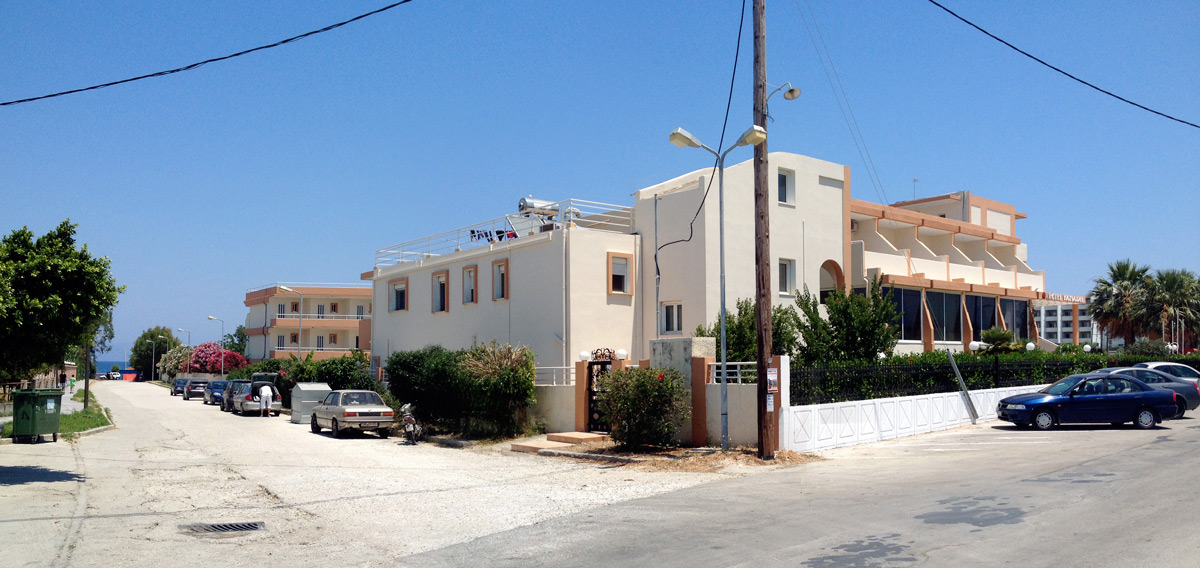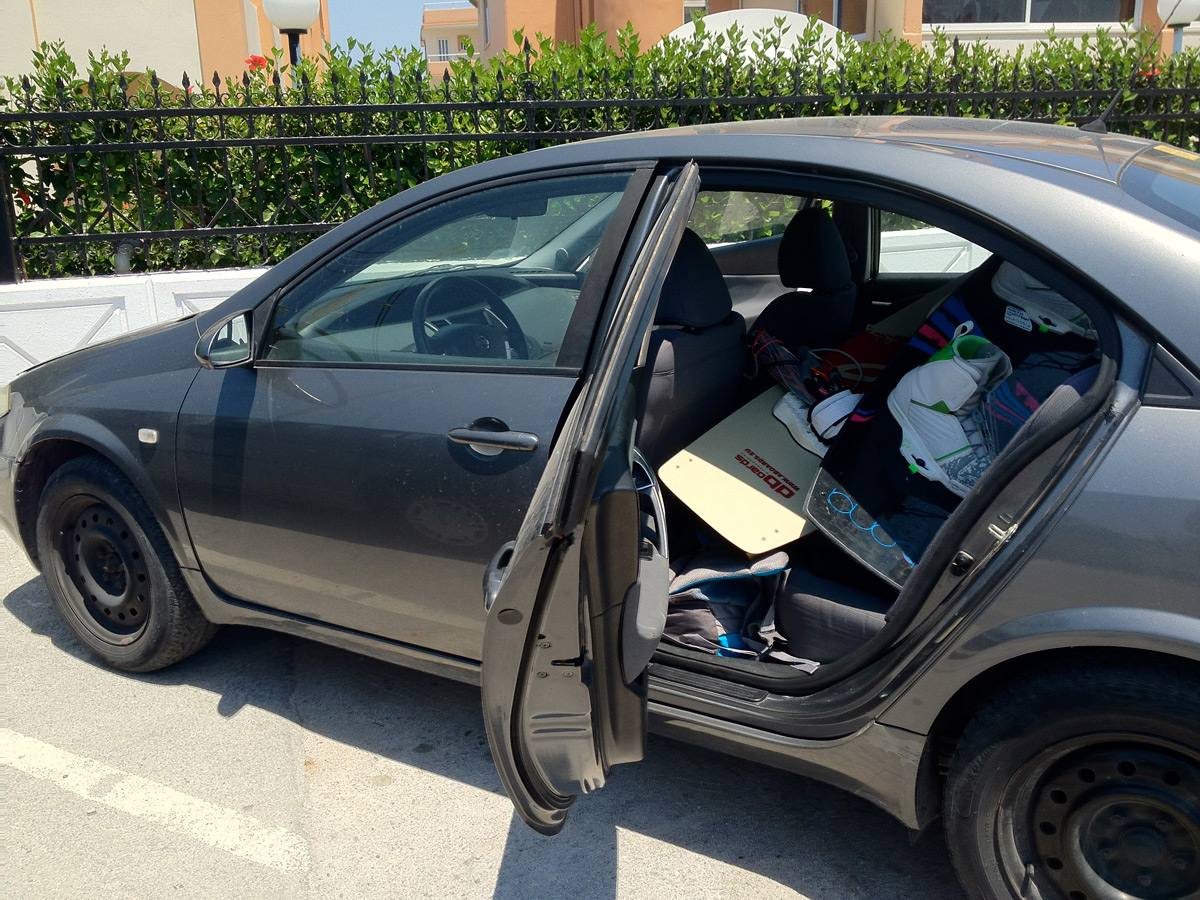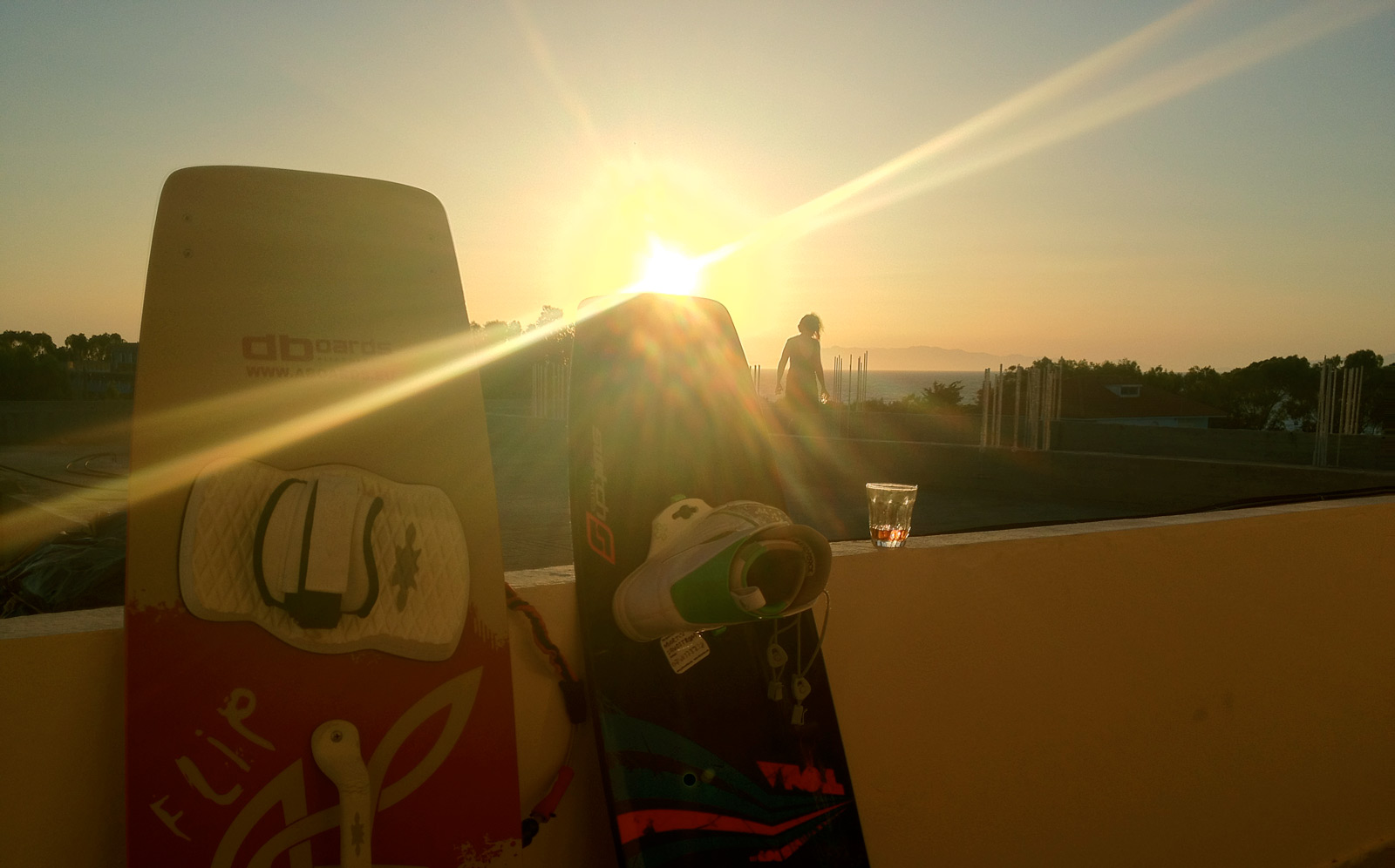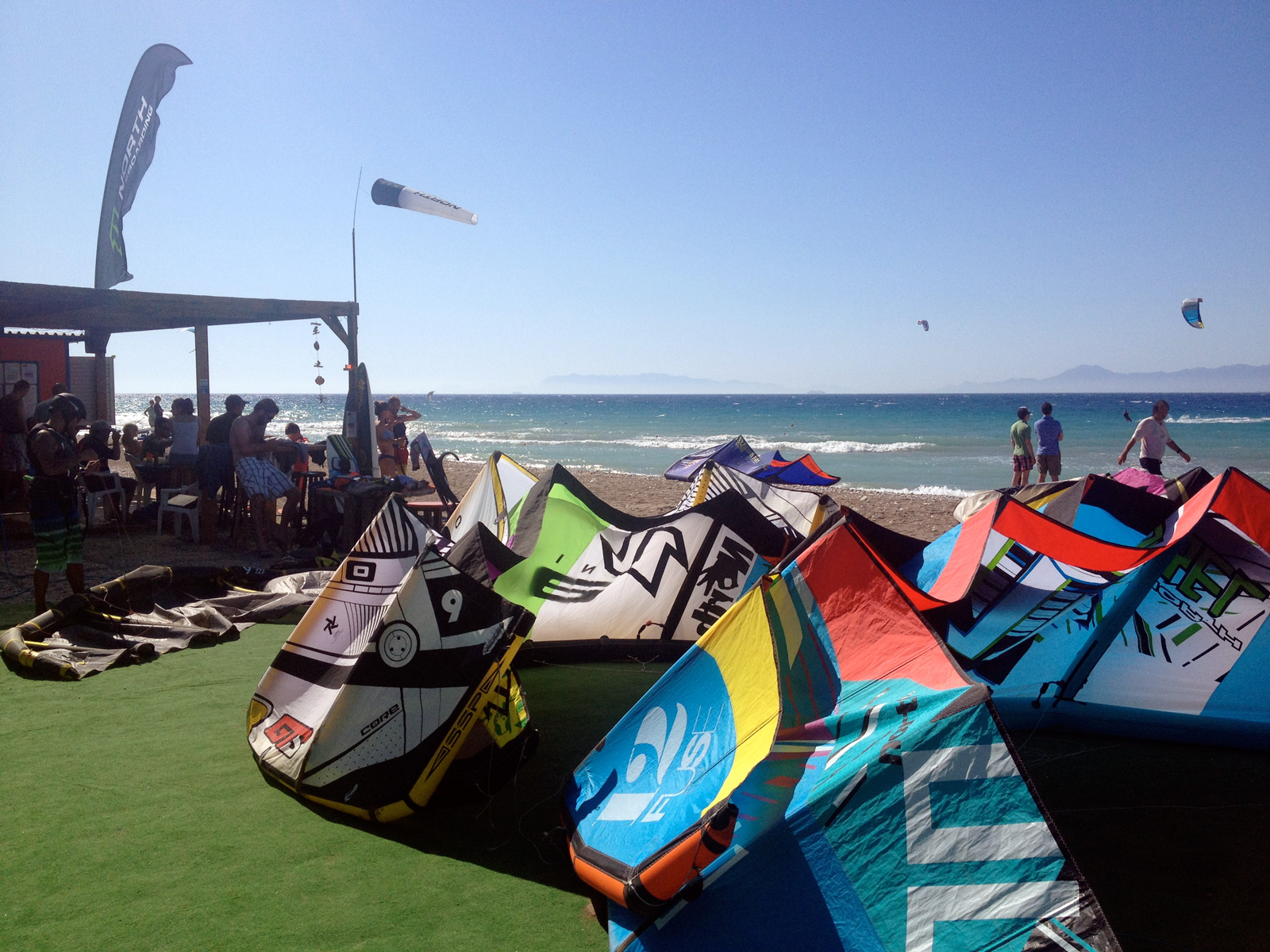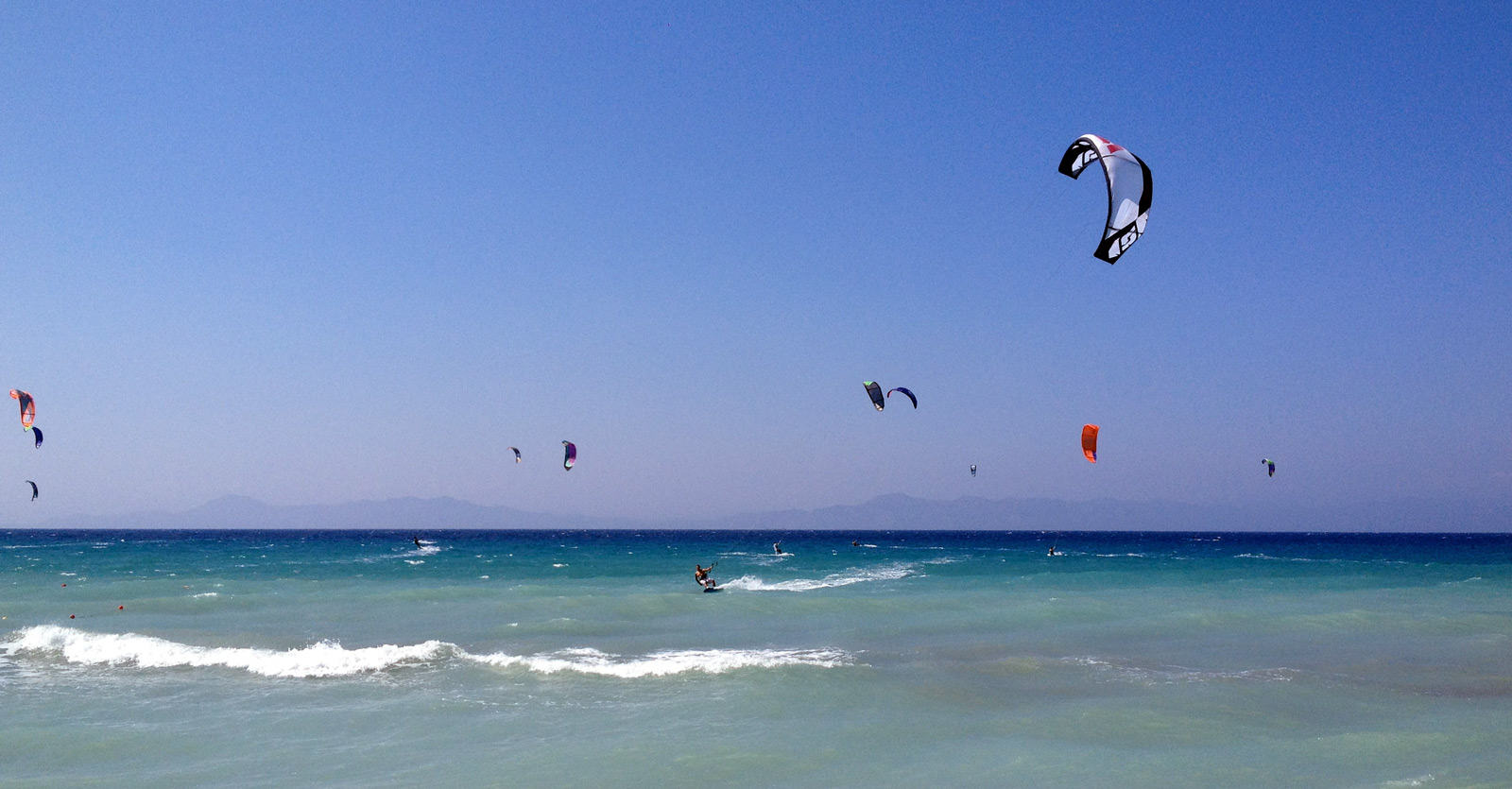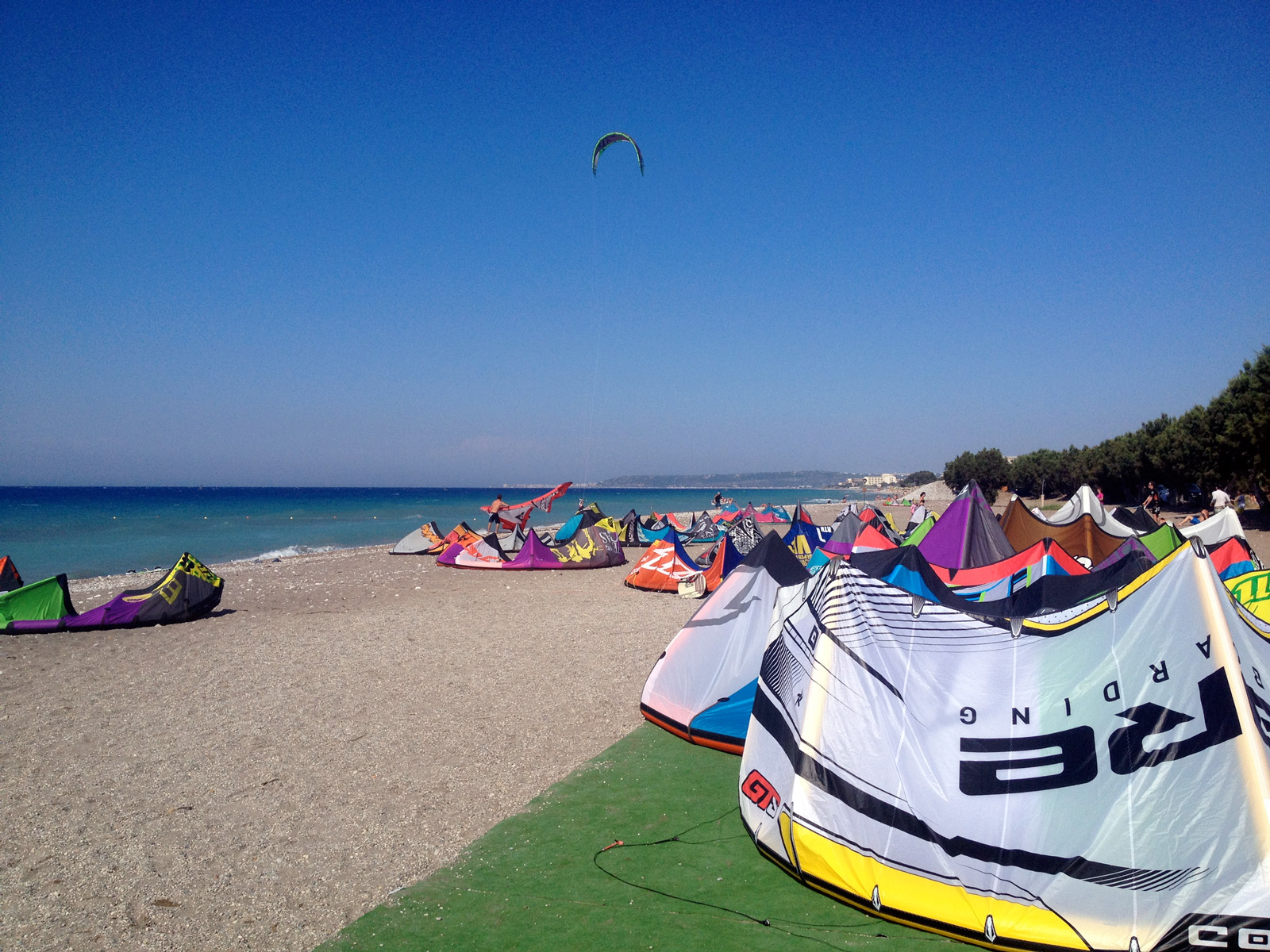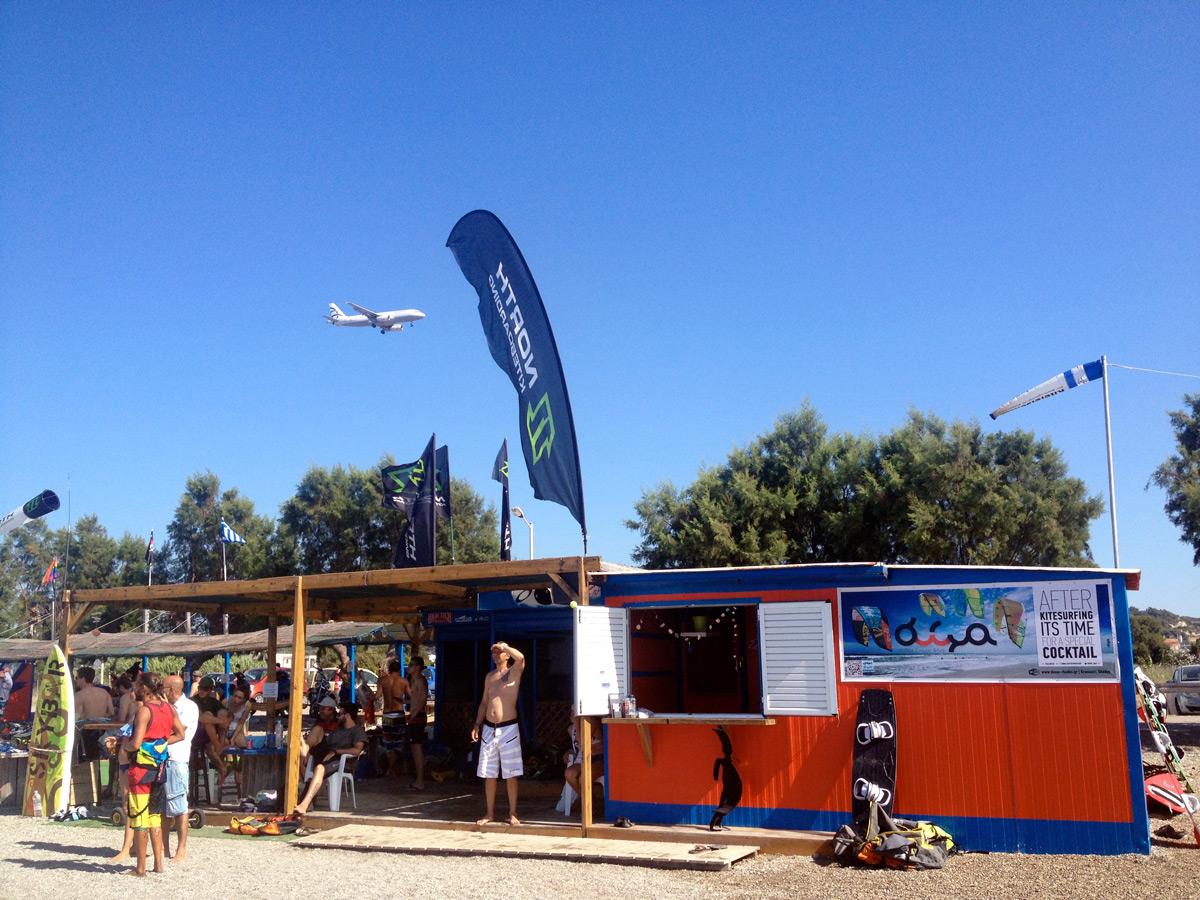 You can drive to Prasonisi in 1 hour 40 minutes but we made a stop in beautiful Lindos before we drove the last 45 minutes to Kattavia, a small village close to Prasonisi. We stayed at Prasonisi Club in Kattavia which is a 10 min drive from the beach. Other means of accommodation include hotels right next to the beach which would have been more expensive, or camping on the dunes which felt a bit too close to nature so Prasonisi Club was a good compromise. Next to the beach you will also find restaurants and mini-markets. Kattavia has a couple of decent restaurants and two small stores but don't expect any wild night life except for the fighting cats.
We spent 3 days in Prasonisi and damn this place is windy! Here the wind works differently from the north and you can basically ride all day long even though the wind might drop for a bit after lunch and then pick up again. For me it was well powered 9m wind most of the time, between 18 to 28 knots. A bit more gusty then Kremasti but nothing extreme. Compared to many other spots the wind quality here is great.
The beach has two sides; one has waves and onshore wind and the other has flat water and offshore wind. Don't let the offshore wind put you off though since you can sign up to a rescue service for €20 per day (but you need to be able to stay upwind to be eligible for this service). Pretty expensive, but if you get rescued without having paid in advance it will set you back a €100 one-off fee. Prasonisi is originally a windsurf spot and that still holds true. There are three windsurf centres on the beach. They do kitesurfing lessons but no rental.
The wave side is open for anyone but on the flat water side the kitesurfers are only given about a third of the area to ride on. The windsurfers are however allowed to use the whole area. And that they do. It can be quite busy with windsurfers speeding along in a motorway like fashion on this side so you have to plan your jumps well and often cancel when someone makes an unexpected turn etc. Swedish Blade rider Mikael has spent his summer here many years now and he told me that this was nothing compared to peak season in July and August when the water would get at least twice as busy. Not sure I wanna be here then.
On our last day Nikki went out for a morning session and had the whole beach to herself, and 8 AM the beauty of Prasonisi really shines through. We then drove straight back to the airport side for an afternoon session at Air Riders before drying and packing our gear into our golf bags.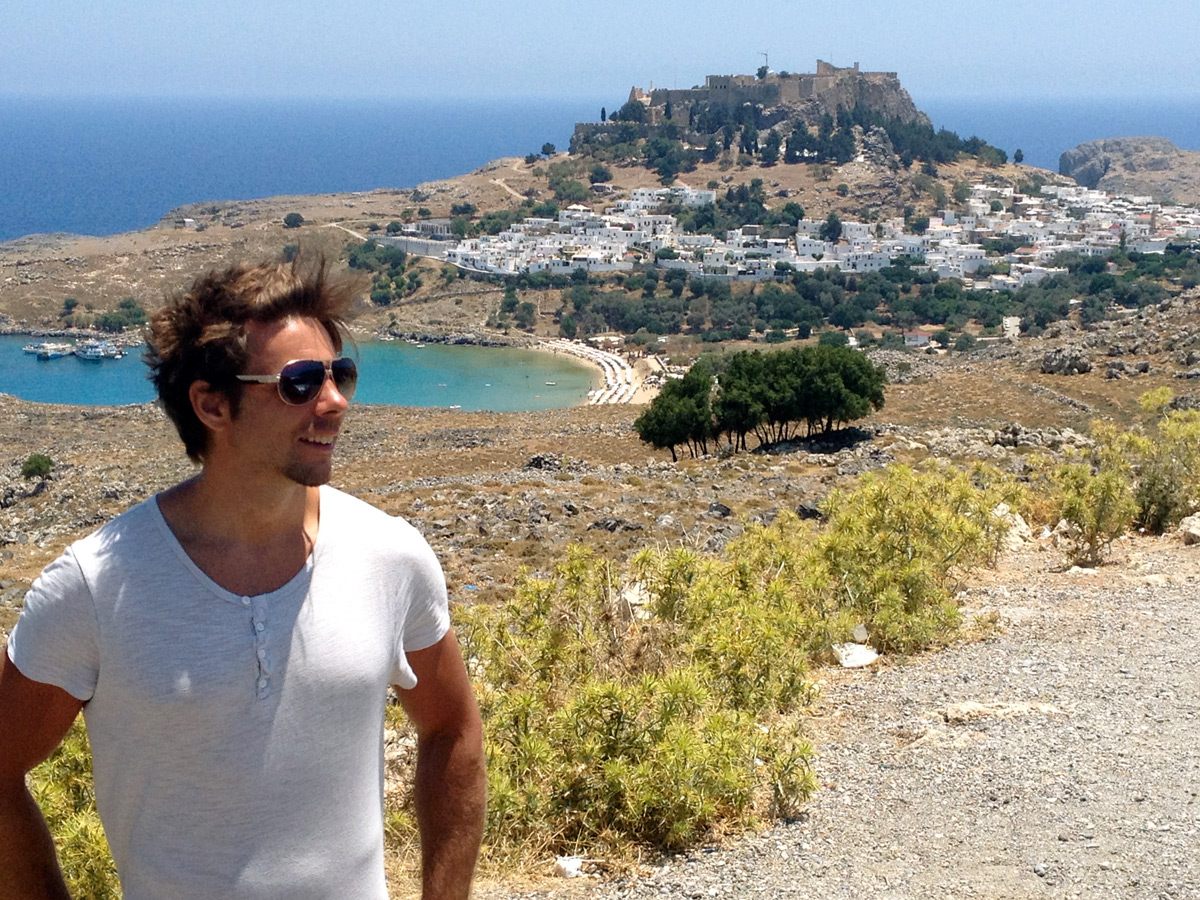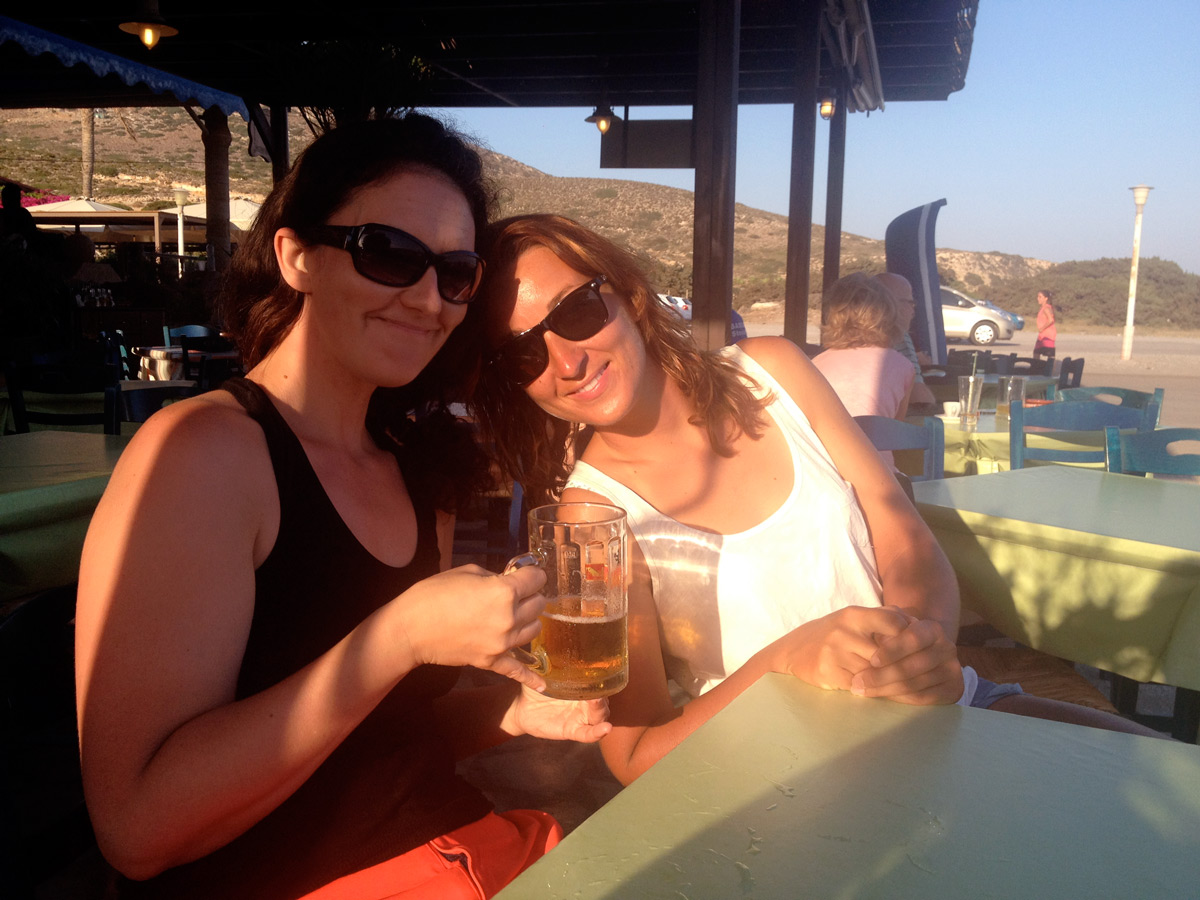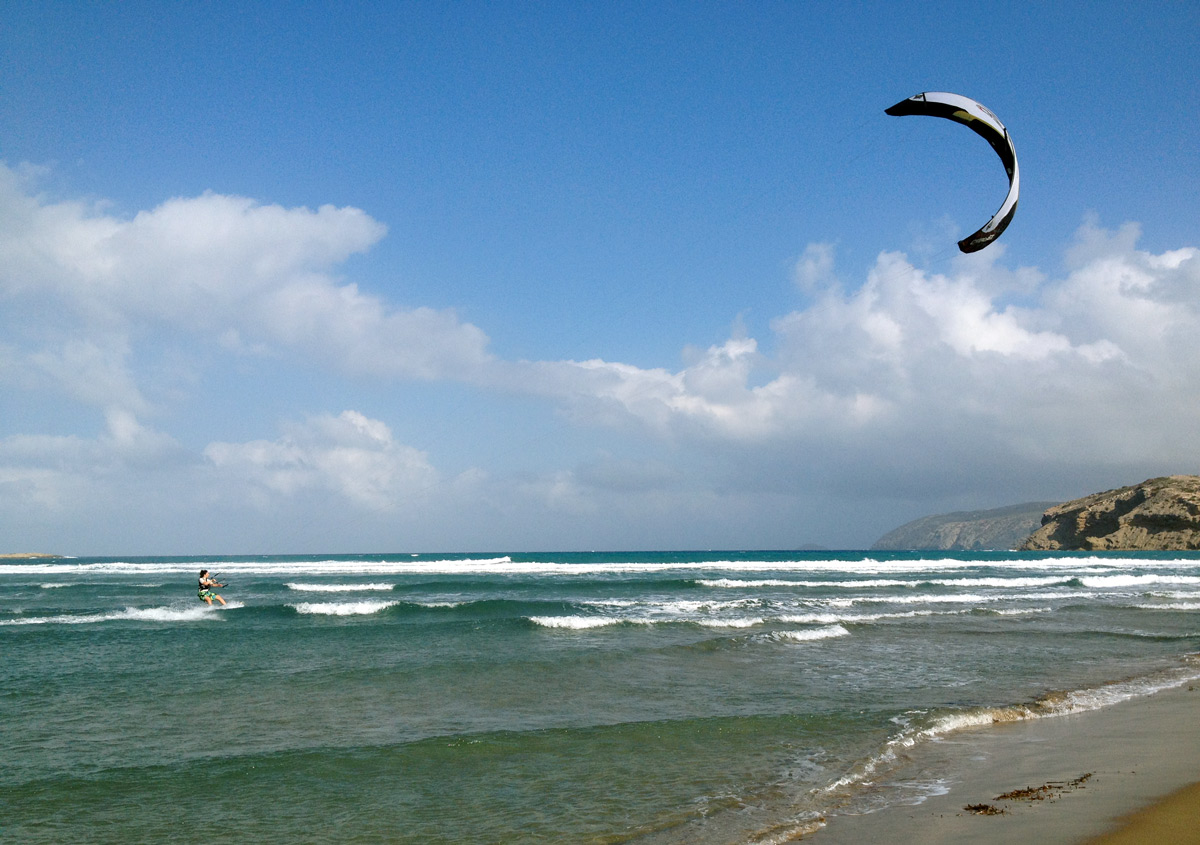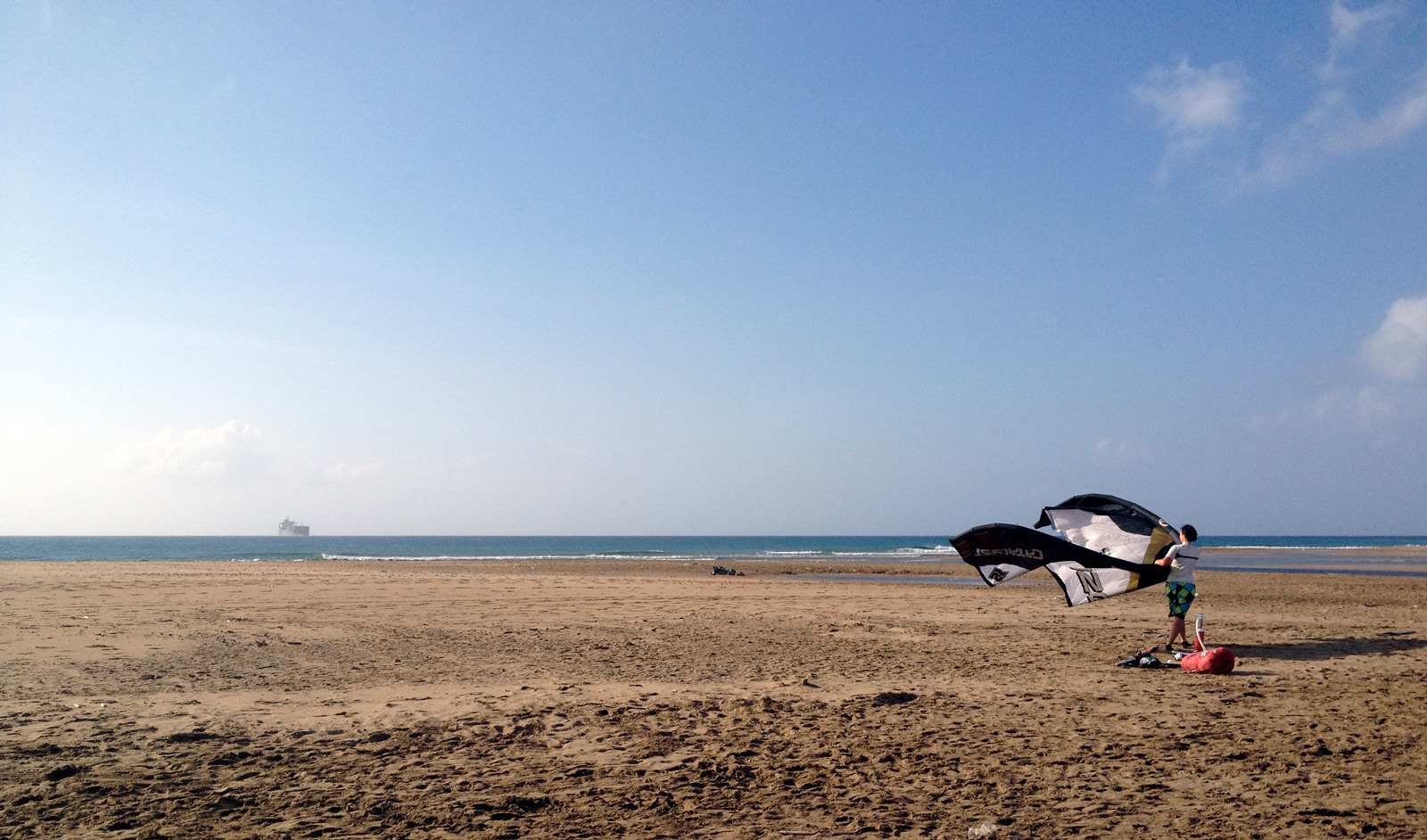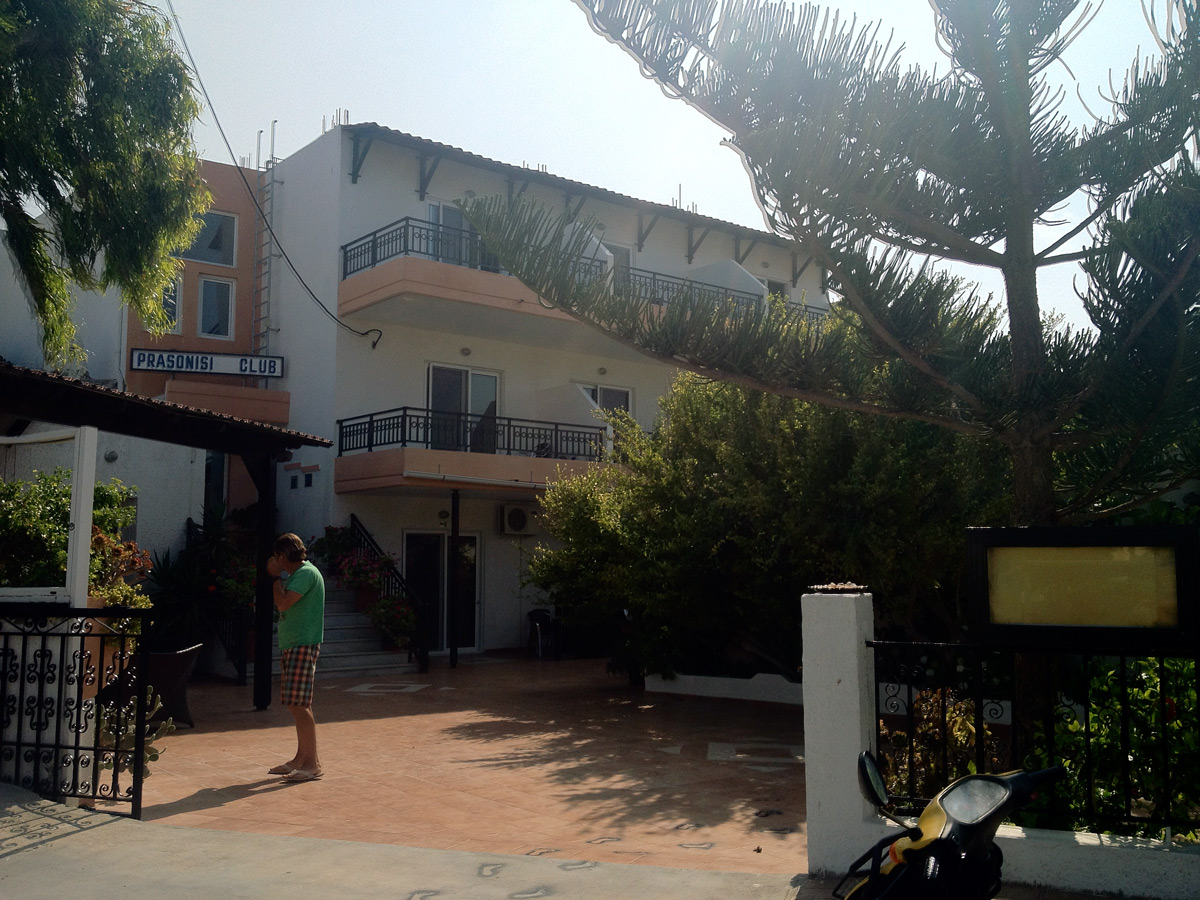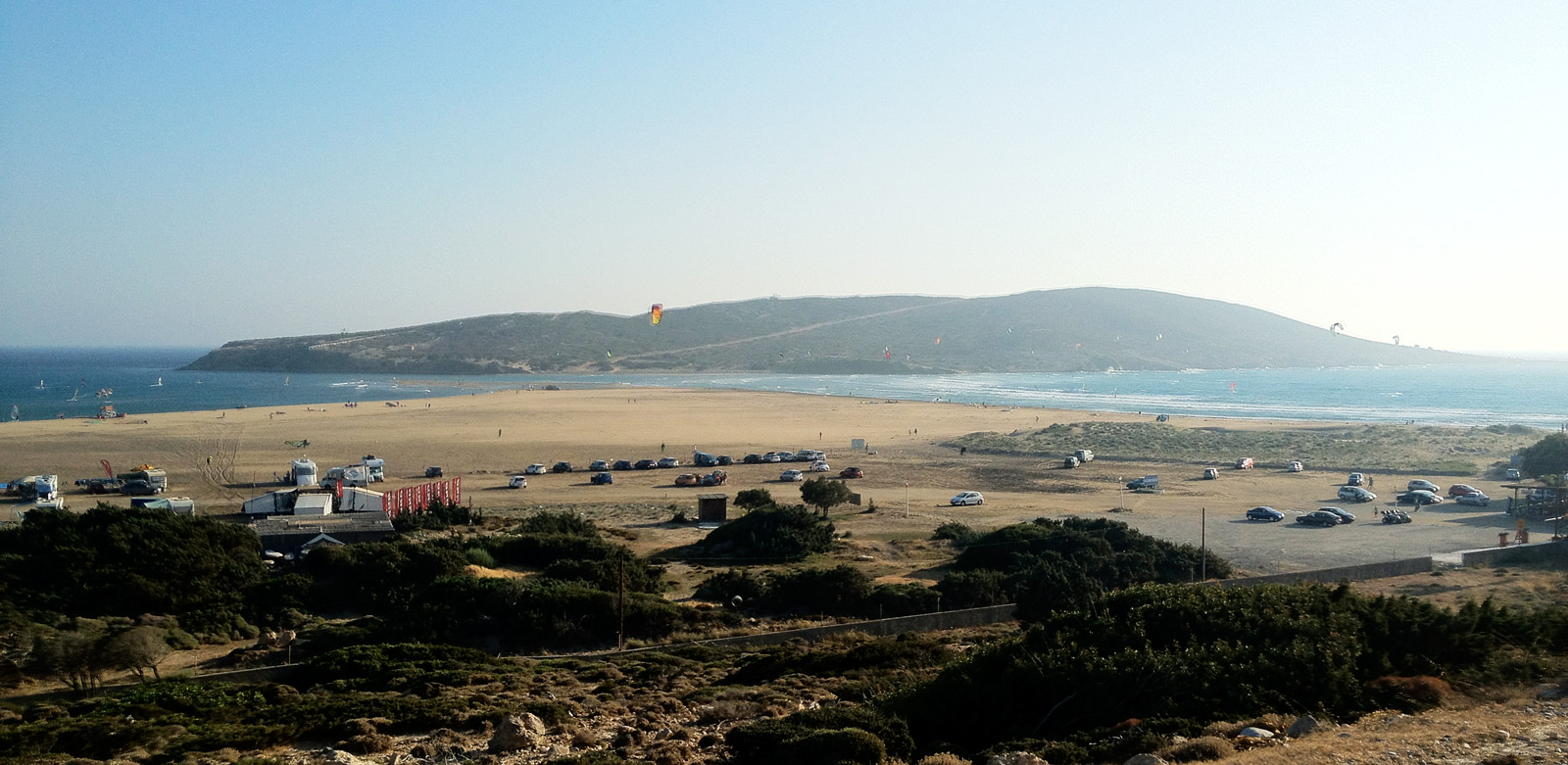 Tips:
Rent a car to be able to explore the island and move freely.
Stay in Rhodes town and drive to Kremasti to get both kiting and night life.
Wake up early and enjoy an almost empty Prasonisi before the lessons start and day-trippers arrive (the beach and water will gradually getting populated from 9:30).
Bring a sweater. The windy evenings can be surprisingly chilly.
Don't go to Rhodes if you're still learning to ride upwind. The spots are deep and the wind directions will either prevent you from getting out or take you far away from the starting point.