I've been riding boots primarily since 2012. As a result I haven't upgraded my foot straps since 2011 and a lot of things can happen in ten years of product development.
Since I toggle between boots and straps more often nowadays, mainly because the foot straps are mounted to my light wind board, I thought an upgrade was due. At least that's what my heels were asking for. (for a boots vs straps comparison read this article)
I'm still mainly use my boots, so I wasn't looking for a top shelf, premium priced product. Fortunately I found a great deal on S2AS.com, which at the time of writing is still available. The Brunotti Gravity Pro 2021 is 50% off and offered at £89.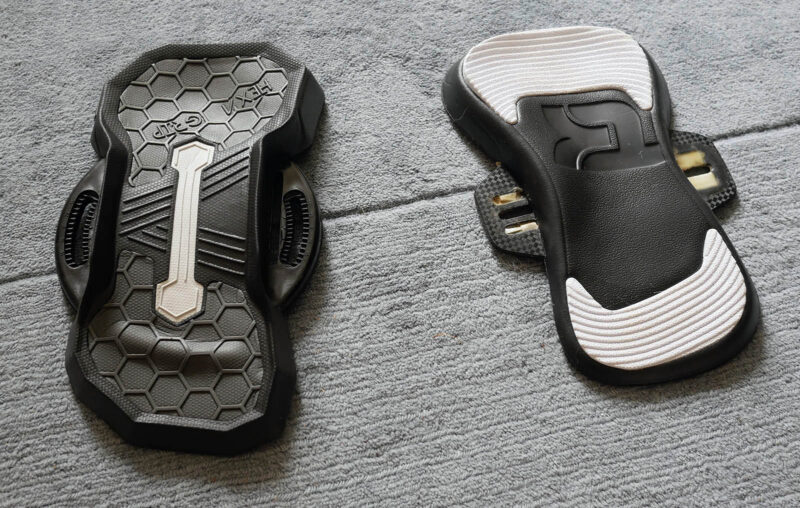 Brunotti Gravity Pro kiteboard pads and straps – Construction and setup
I could immediately tell the difference between my old pair of straps and the Brunotti Gravity Pro. The engineering is a lot more sophisticated as one could expect after ten years of evolution.
The straps are highly adjustable to fit your foot, the board mount is separate to the straps and allows for great customisation of the angle. The biggest advantage however is in the heel padding, which has a replaceable cushion. This makes a huge difference when landing jumps.
The pads are easily mounted to the board once the straps have been added to them. To attach the straps was a bit fiddly but nothing compared with the awkward screw angles required to secure my old pads and straps to the board.
Brunotti Gravity Pro pads and straps – On the water
As you can see in the pictures I still use my heel straps with the Gravity Pro. I also tried without, and although I get a much more secure fit compared to the old set it's still not as locked in as I'd like it to be for my more explosive tricks. This could well be due to my flat feet with almost non existing foot arches. Since no one seem to be riding with heel straps but me I have a feeling this is the case.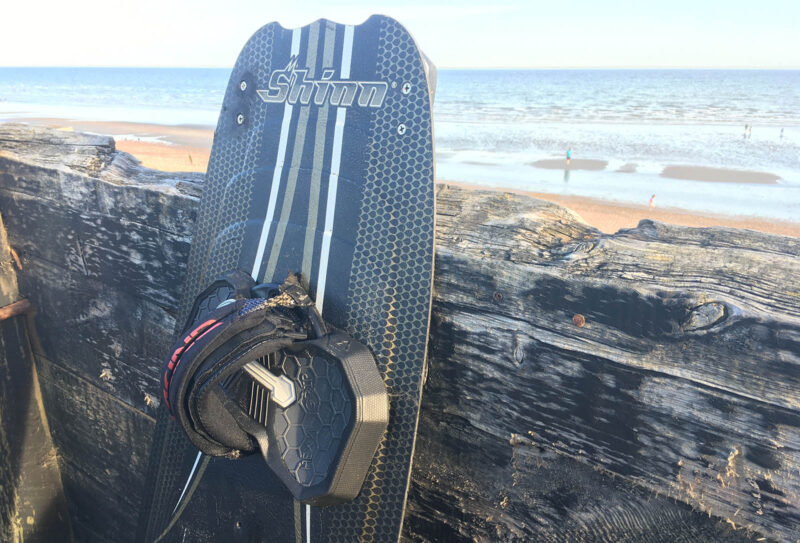 The generous heel support felt great for both carving upwind and stomp some of my heavier landings. The other feature I really loved about the Brunotti Gravity Pro was the side walls on the pads. It's easy to get a rash from the straps when you push your forward foot against it for a good upwind angle. These side walls cushioned that pressure very effectively.
One session I started to feel an uncomfortable pressure against the top of my foot around my pinky toe. I simply stood up in the ankle deep water, adjusted that part of the strap to give a bit and the problem was fixed. With four on-the-fly adjustment points of the straps you'll hardly experience any issues with too loose or tight straps.
These straps would be perfect if it wasn't for one thing. And this is not a small thing either unfortunately. After a couple of days riding at our annual Feelgood Camp I started to get a rash where my ankle rubbed against the back of the straps. This only happened on my right foot and comparing the two straps there was a difference in the position of the velcro. A small difference, but enough to let the velcro rub on one of my feet.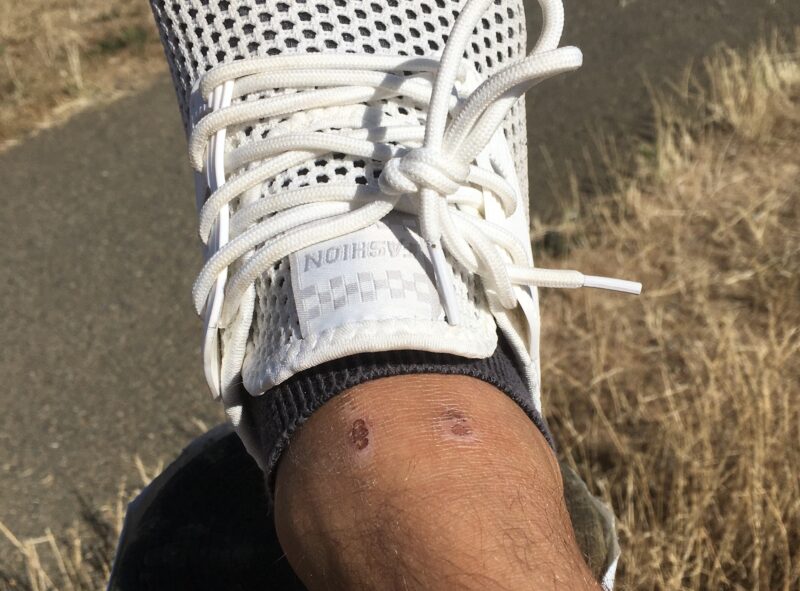 This probably comes down to quality control, as the product generally is good. You might be lucky and get a pair without this issue. I will have to try and fix the position of the velcro or ride with a neoprene sock to avoid the rash. It's unfortunate that such a good product has this issue that will probably be a deal-breaker for many.
Brunotti Gravity Pro – Summary
Pros
Competitively priced
Highly adjustable for good fit
Padded heel support
Rubber side walls for great comfort
Cons
Caused a rash on my ankle due to poorly placed strap velcro
I'll keep my Brunotti pads despite the rash issue. For the reduced price, they offer great value and comfort. I think I can solve the one way or the other, but you almost have to try before you buy to ensure this isn't going to be an issue for you too.