Date: August 5 – 11
Rideable days: 4 out of 7
Wind: 10 – 20 knots
Air temp: Around 33˚C
Water temp: Around 25˚C
Ever since I watched this video by Boris Judin I've been wanting to check out Montenegro. This somehow charmingly underdeveloped country has a kitesurf scene I knew very little about, and curiosity combined with promises of flat water and wind kept Bojana at the top of my bucket list of kite spots.
Bojana was our second stop in our Balkan roadtrip this summer. After spending some time in Neretva, Croatia we drove down to Montenegro and spent eight nights there. The place in mind is the 10 km long beach that stretches from local town Ulcinj to river Bojana, and it's right next to the Albanian border.
Wind
Wind is mainly light and thermal; the so called Mistral. It's not guaranteed but usually gives around 50-80% rideable days between May and September. It kicks in in the afternoon, around 2, 3PM and stays for the whole afternoon. During my stay it varied between 10 and 20 knots. Since wind is not guaranteed it's wise to book a slightly longer stay, at least ten days.
The spots
Long beach is a 10 km long sandy beach that reaches all the way from Ulcinj to Bojana. It's full of private beach clubs but also hosts around ten kite centers. If you don't need the amenities a centre provides, you can park your car in a public parking and ride among the normal beach goers, but beware of the swimmers. A lot of people are camping right on the beach, and as this seems to be completely normal and allowed this could be an option for the adventurous bunch.
You can also ride in the river mouth, launching from the public beach. It's a small area though and gets busy with three kites riding. The island Ada Bojana also got a kite center but it's hard to see why anyone would pay for access to it and also face the trouble of using a one lane bridge. If you meet a car the one who's got farther across has precedence and the 'loser' will regretfully have to reverse back – we had front row view to this ballet several times a day from our river house.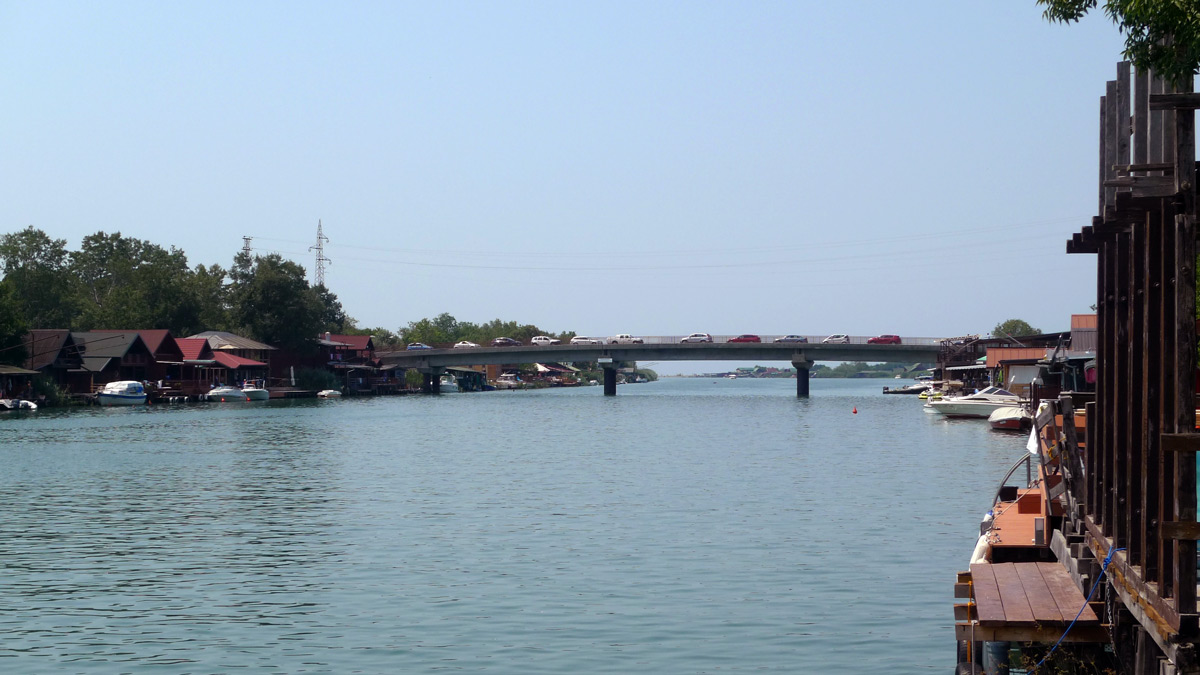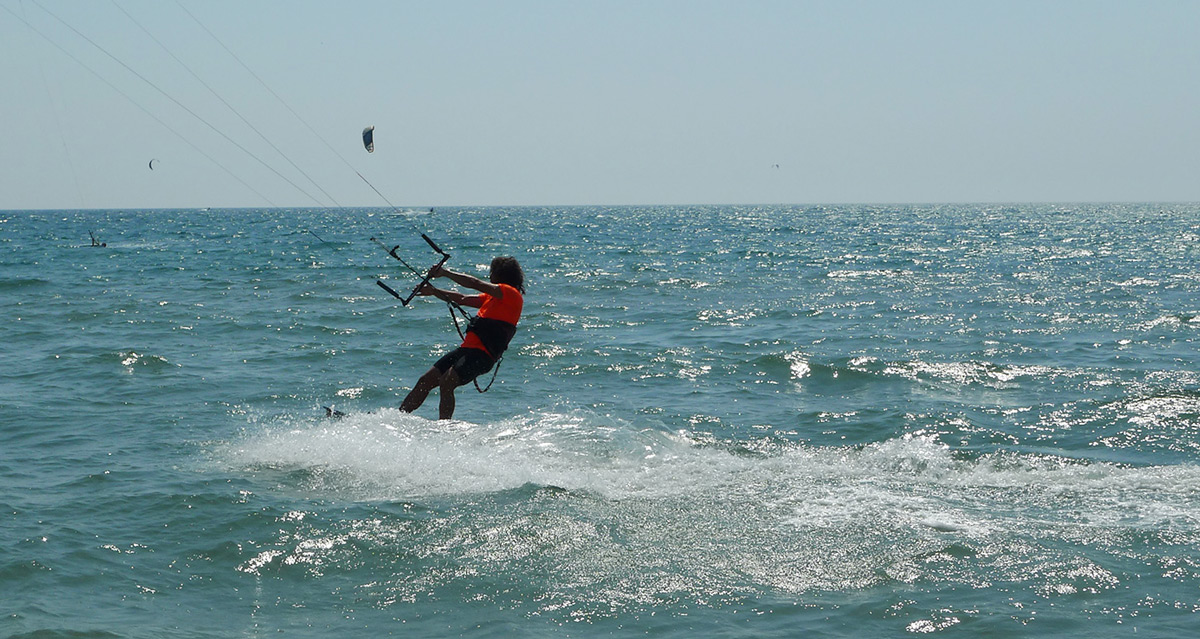 This is the kite center closest to the river. It made sense for me to pick this one as my base camp as it was the shortest drive, but it came with the bonuses that I could easily kite downwind to the river spot, and it's less busy than the other centers who are crammed up next to each other farther upwind. Ka'banya is run by Filip and his Serbian friends, and got the standard setup of an excellent school, bar, Wi-Fi, showers etc. You reach it from the main road by following a dirt road for about five minutes and reach the beach. Beach access with storage and rescue boat is €5 per day or discounted if you stay longer.
The water is chest deep quite far out with sandy bottom and no hazards other than a type of fish that lives in the sand, that will sting if you step on it and it hurts a bit. I don't think the risk is big though as I didn't see anyone get stung while I was there. It's overall choppy with small wave formations occasionally. Not so good for freestyle but perfect for normal cruising and freeriding.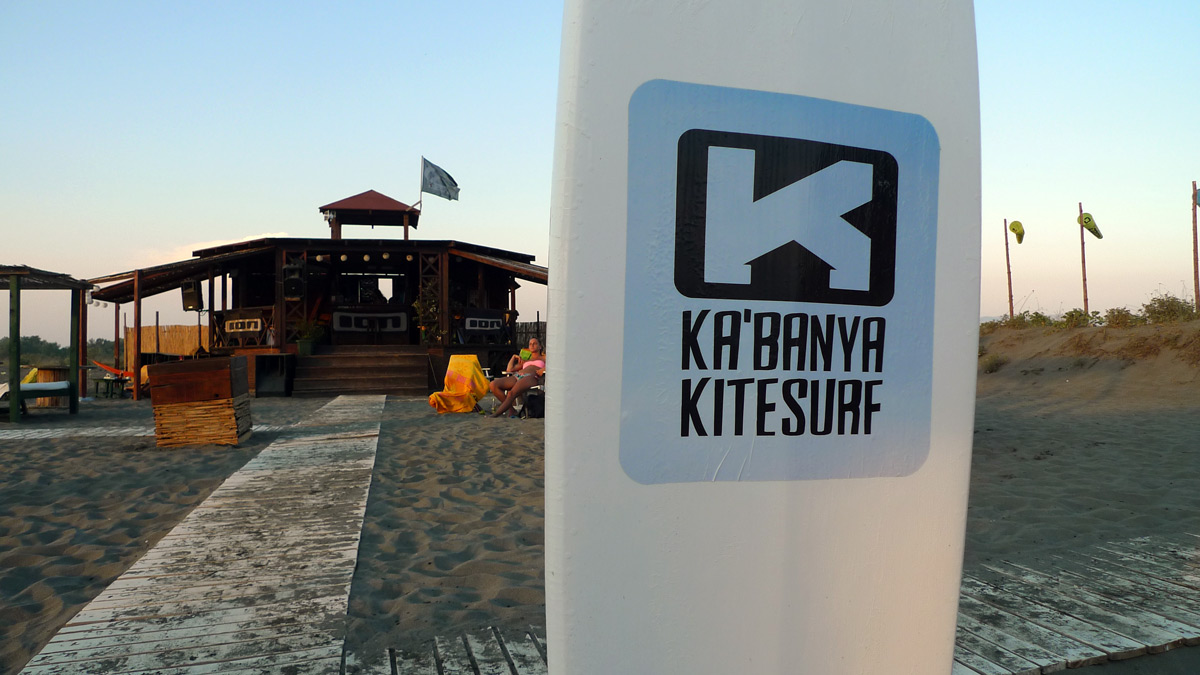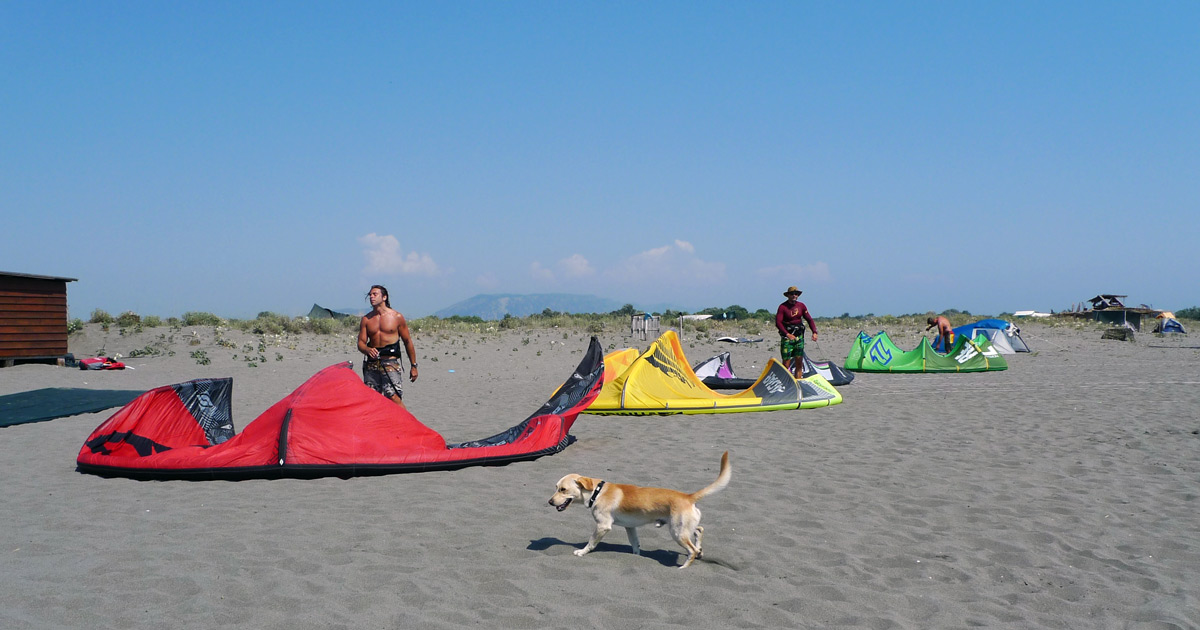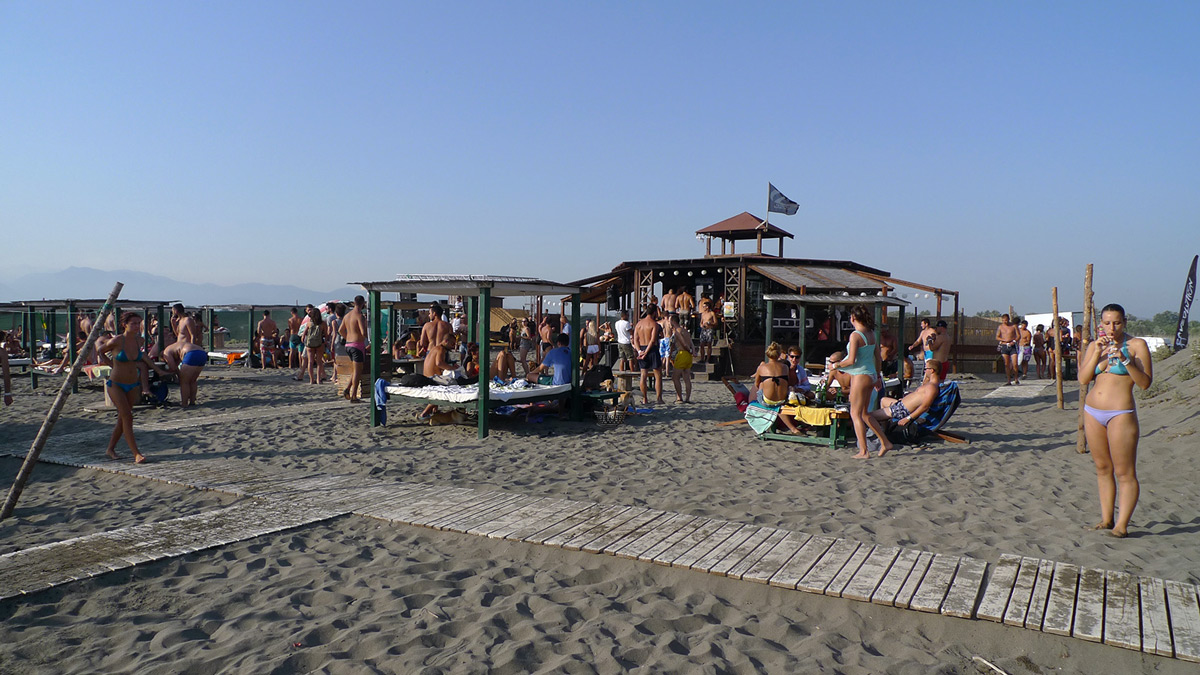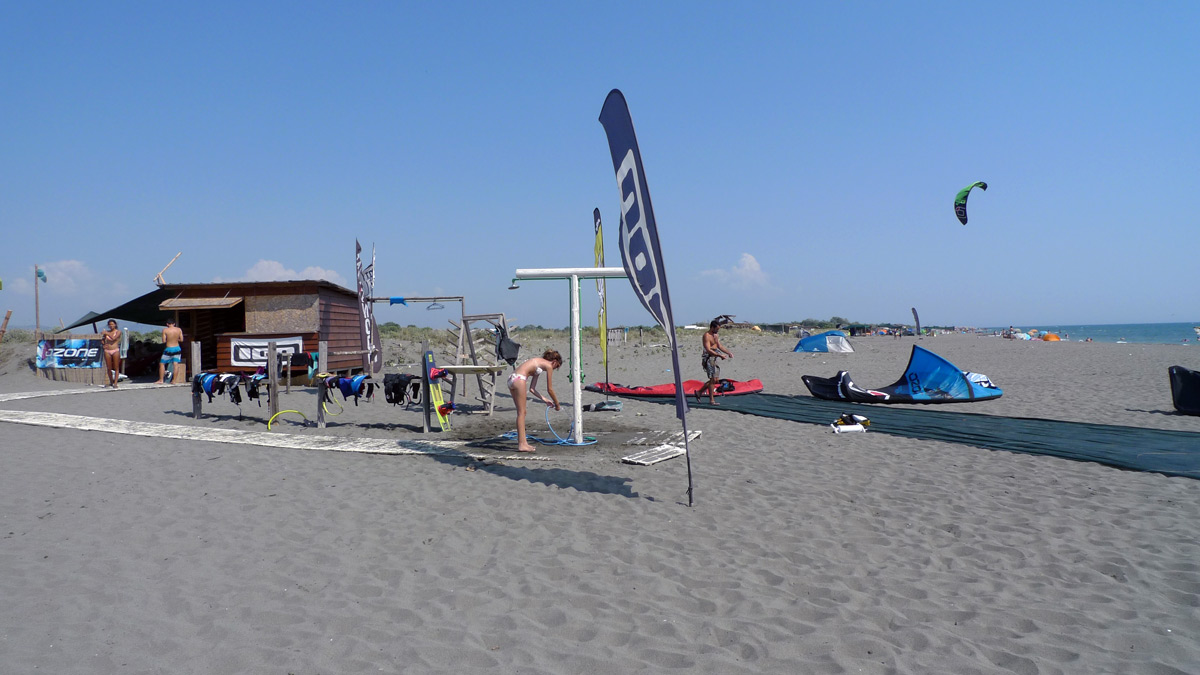 Bojana river mouth
You can reach this spot by riding downwind, or by car by following a dirt road along the river. It takes you to a public beach with a few beach bars. This is also where most of the nightlife activities outside Ulcinj and Doni Stoj takes place. The flat bit in the river is tiny unfortunately and can only fit a few riders. It's deep but very flat and perfect for practising freestyle moves as seen in Boris Judin's videos. It's only for experienced riders as there are a lot of swimmers, boats and buildings around.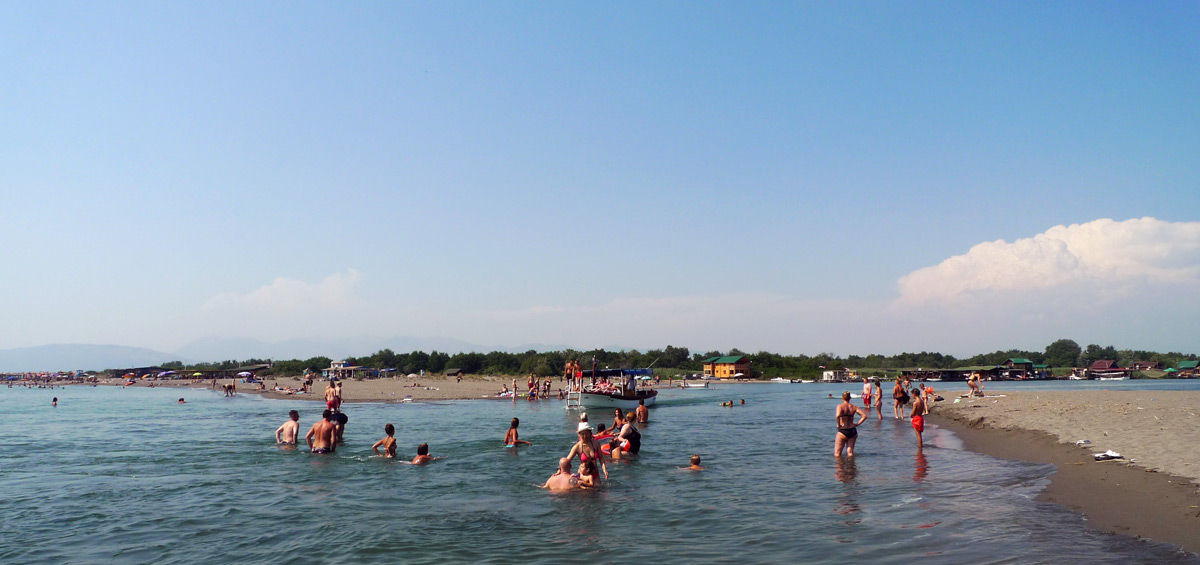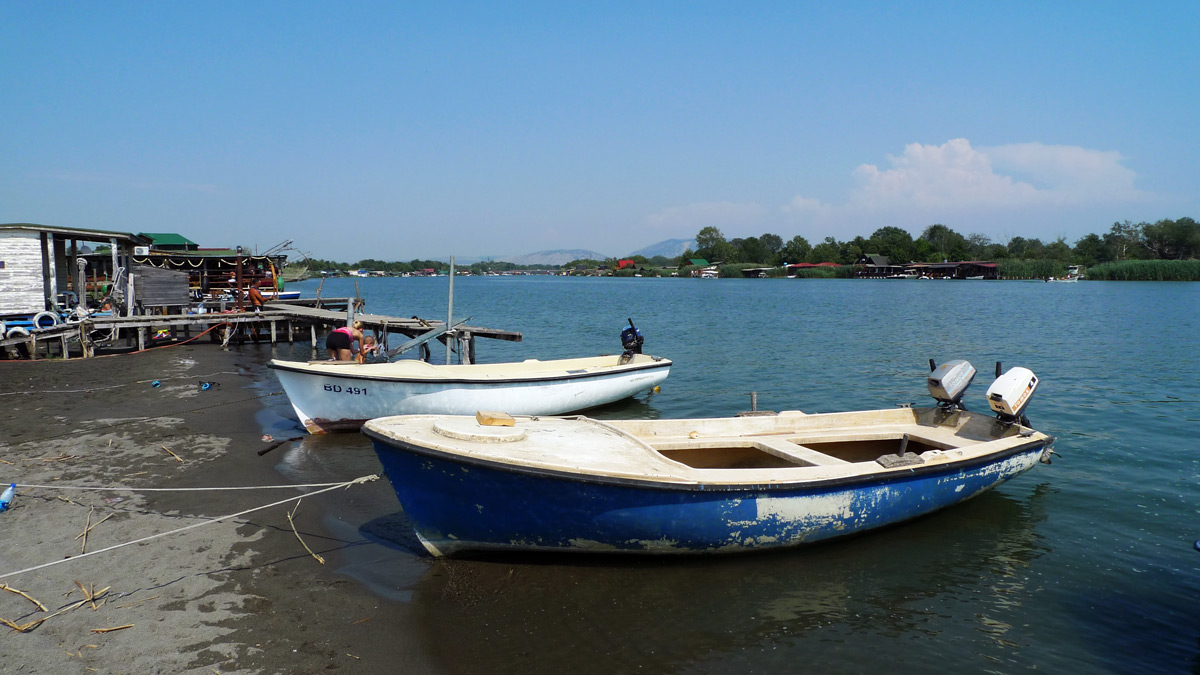 How to get there
We drove down since we were on a road trip around the Adriatic sea. That's absolutely fine except for horrendous car queues at the boarders. Actually this is worth sharing; when we drove towards Split from Bojana we first had to deal with a two hours queue at the Croatian border, and later when we drove past the tiny coast strip of Bosnia we faced a similar queue. But imagine our awe when we realised it wasn't caused by the border police but by a single, cleverly placed traffic light! We almost missed our ferry because a planned seven hour drive took nearly 11. So bear that in mind. Or fly to Podgorica. The drive from there is 1.5 hours (no border crossings needed).
Where to stay
Staying in a river house on river Bojana is highly recommended. Super authentic and unique experience as long as you can cope with hard partying neighbours over the weekend. They're the most pricy option and most of them cater to groups, so it's more suitable for four persons or more. Having said that, we found a small one on AirBnb and loved it. The only problem was the power outages and that there was no air conditioning so the nights were quite hot. That was an ok tradeoff though when we could wake up and go for a morning swim in the river straight from our terrace.
If this isn't your cup of tea you can stay in Ulcinj, or a hotel or apartment located along the main road – the downside is that you won't have any nice view, or anything original about your stay. Simply a place to sleep. Staying in Ulcinj would probably open up to more nightlife – but quite a chaotic one I was told, but hey why not.
Overall it's quite primitive but the vibe is good as long as you stay away from Doni Stoj, which feels like trash galore and the worst side of tourism.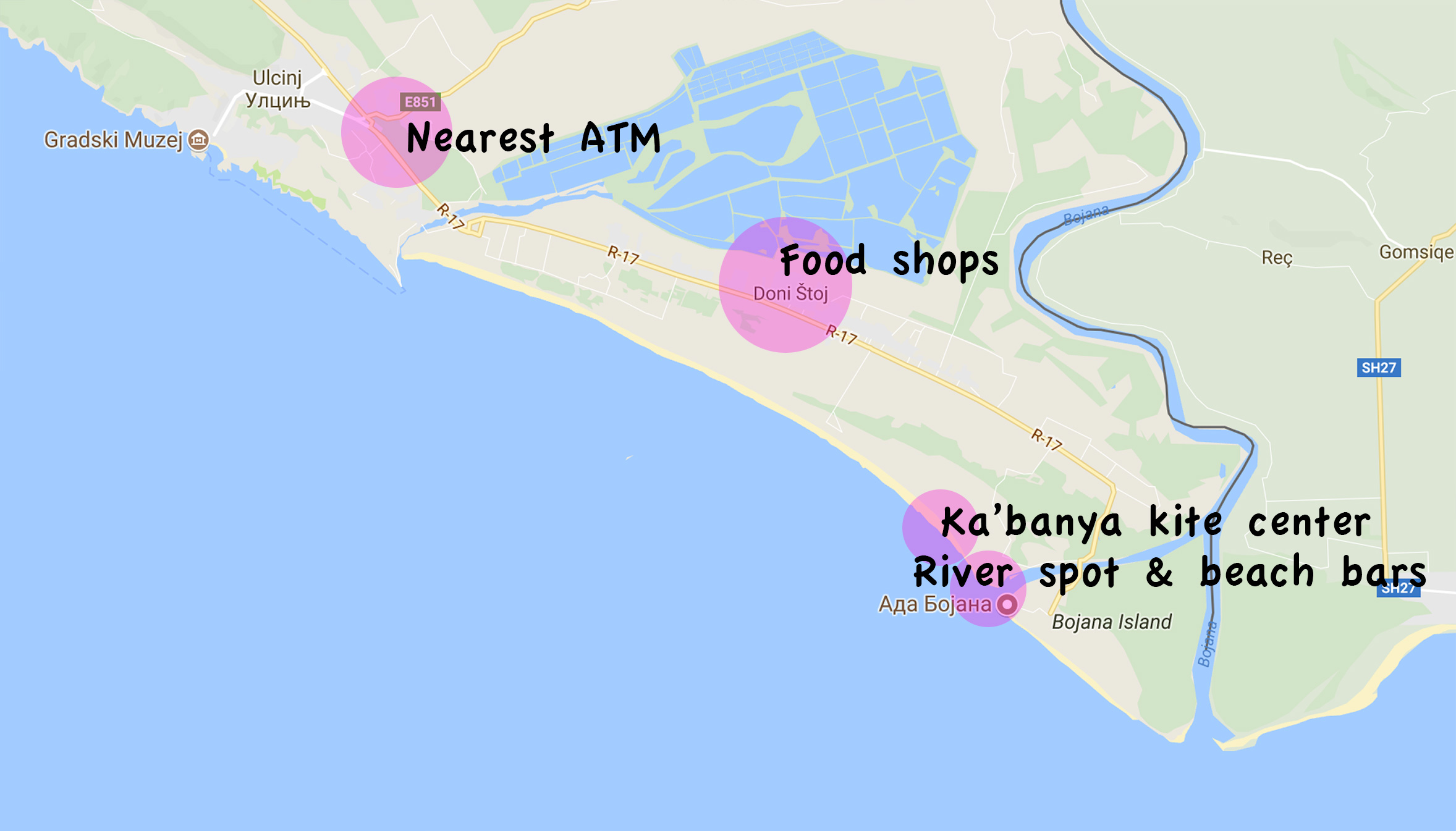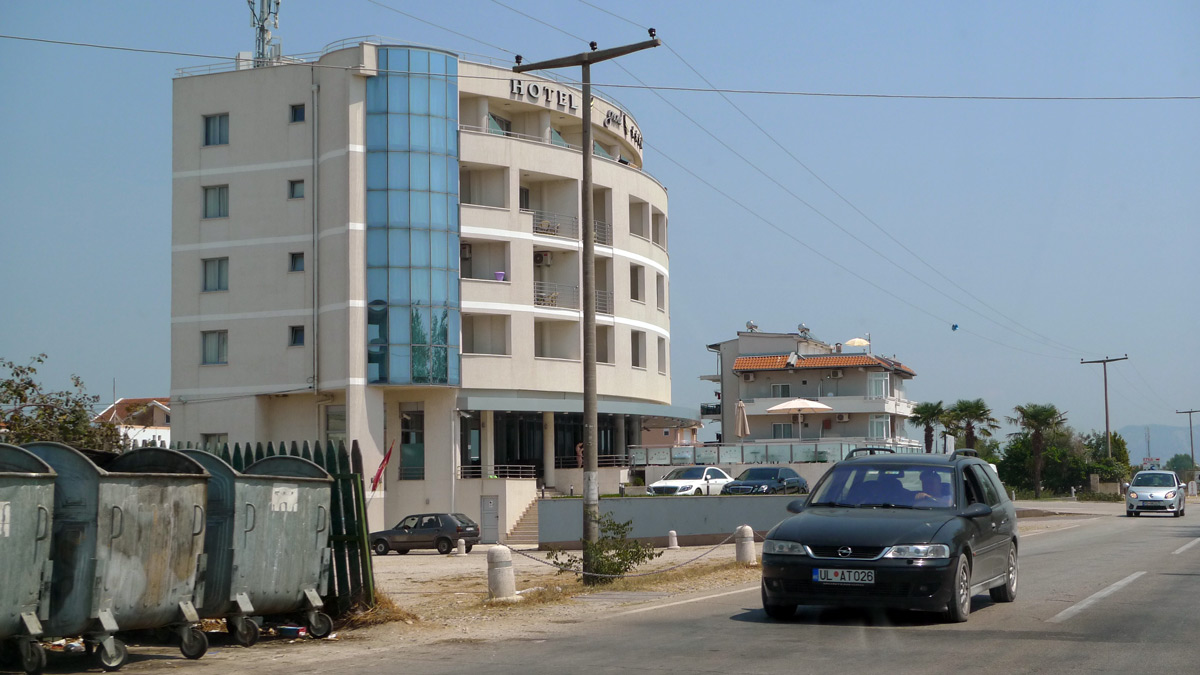 Nightlife
As mentioned, most nightlife happens in Ulcinj. I wasn't there so I can't comment on it. Instead we spent quite a few nights on the beach by the river, where there are two beach bars staying open pretty much all night. This beach at night is cool. One bar plays mellow reggae and rock and the other is more of an electro place that turns night club in the weekends. People hang out on the beach, light bon fires or simply look at the stars.
If you ask around you can also find local events and beach parties hosted in the kite centres and beach clubs.
Useful tidbits
Montenegro uses Euro for currency but is not part of the EU and as such isn't part of the free roaming zone so either get a local SIM, pay a hefty fee for data or live in radio silence. Maybe an offline life is desired after all when on a kite holiday far from home.
Wi-Fi can be found in the fish restaurants before the bridge to Ada Bojana if needed, and probably in the kite centers too.
The tap water is not drinkable so buy water in the supermarkets
There are plenty of mosquitos in the area, which show up around sunset. Come prepared with insect repellent spray/stick.
The nearest working ATM can be found in the supermarkets on the main road towards Ulcinj, so come prepared with cash as most places won't accept cards.
English works well in restaurants, bars etc.
Power outages are common, especially in the weekends and evenings when demand increases. Usually they last for a few hours so be prepared by having candles and gas cookers. Note that this was in summer 2017 and it might have been fixed.
Traffic is a bit mad so keep your eyes open and stay alert.
Summary
Bojana was something different for sure. It's not top class kitesurfing, but good enough. The appeal is rather in the atmosphere. Life here is still simple, people are friendly and, well Balkan is Balkan. It's cheap for being Europe and staying on the river was a great experience I can highly recommend. Go before Bojana gets exploited!