All text and images in this article © Panama Kite Centre and used with permission.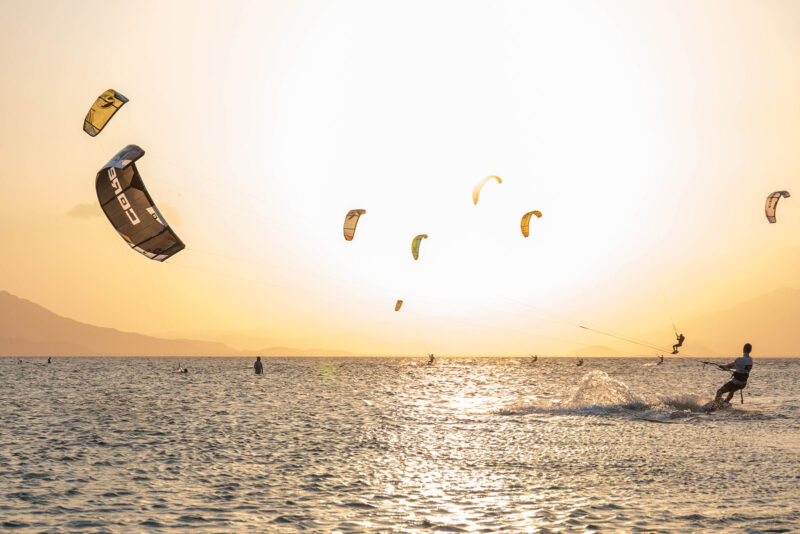 Have you heard about kiteboarding in Panama?
The small country in Central America is known for its Panama Canal, or maybe for the not so Panamanian "Panama Hat". But did you have it on your list for your next kite trip?
Ever heard about the infamous sandbars, the kite trips to John Wayne island or the Punta Chame flat water lagoons? No? Then read on.
Panama is surrounded by two oceans, the Atlantic and Pacific. So, there is lots of water, and technically you could kite in both oceans within a few hours. Since the prohibition of kiteboarding on the indigenous San Blas Islands, the only and main kite spot in Panama is Punta Chame. This is a small fisherman village at the very point of a 25 km long peninsula in the Pacific, a little over an hour away from Panama City.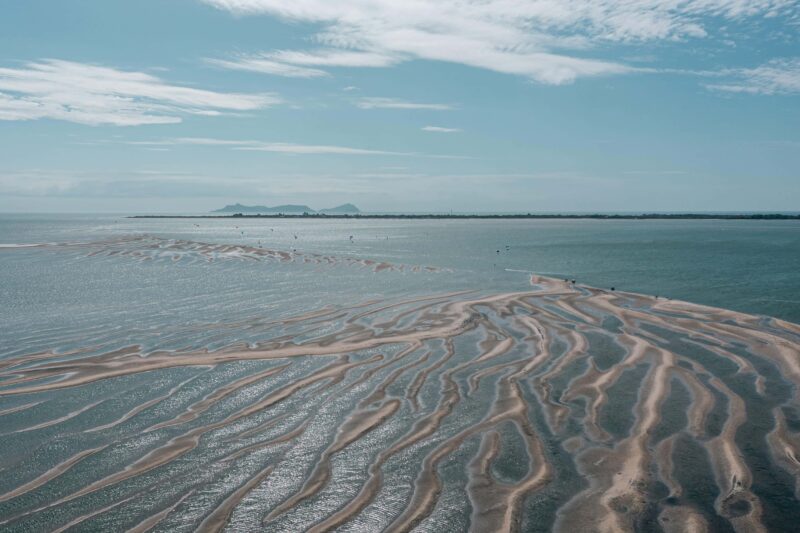 Punta Chame receives 15-25 knots of constant wind daily between late November and early May – The perfect months to escape the cold weather in Europe and enjoy your kite adventure!
No need to pack your wetsuit either because water temperatures exceed 27ºC. The wind is usually stronger in the mornings and evenings, with lighter winds around noon, which gives you some time for a good lunch and siesta before the afternoon session.
Punta Chame – The Kite Spot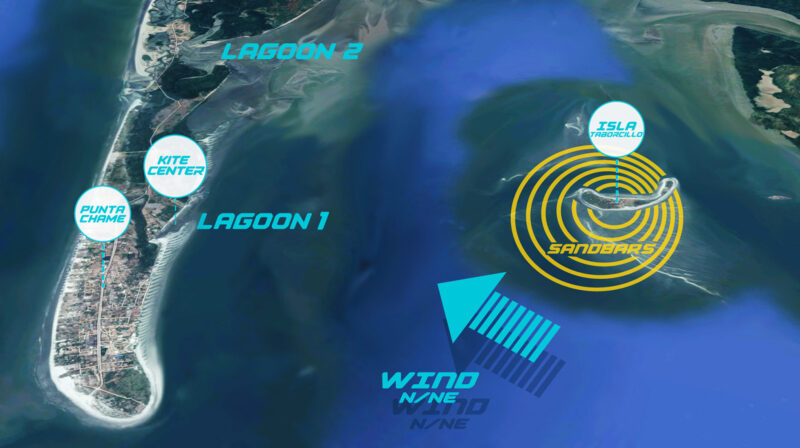 The spot itself is a large bay enclosed by the Punta Chame peninsula and a mountain range on the other side. Constant trade winds from the north blow across the bay, hitting the peninsula in a perfect side-on condition.
There are no rocks or other obstacles in the water, making it a great and safe spot for beginners and advanced kiters alike. The Pacific has strong tides so the beach is around 200m wide on low tide and nearly disappears at high tide. The water conditions are small waves and chop depending on the tide and wind combination.
In 2014 the spot came to fame for the first time when the PKRA held one of their kiteboarding championship stops in Punta Chame. Still, it has not been until recently that European and North American tourists have discovered Central America's gem of kiteboarding.
Let's get into the details of a very entertaining spot.
Flat water lagoon
You will find the flat-water lagoon in Punta Chame at the downwind end of the village. Expect butter flat conditions perfect for freestyling. Also, if you're just taking your first kite lessons, there´s the best spot for you to learn without tidal currents or waves throwing you off the board. The lagoon is best around mid-tide. If you're looking for accommodation right by the lagoon, Panama Kite Center will be your choice.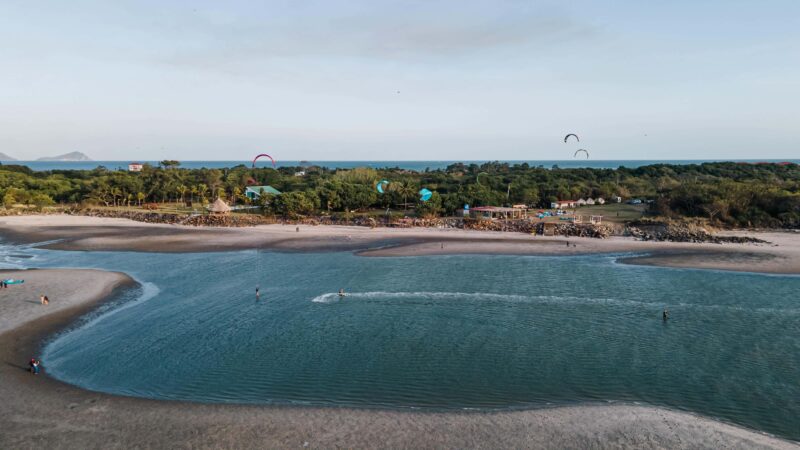 John Wayne Island
In the middle of the bay lies John Wayne Island (Isla Taborcillo). The deserted island used to be home to a western style hotel, which was abandoned a decade ago. Ask a local kite center to take you on a trip there. They usually pack lunches and a few drinks and accompany you there with a rescue boat. It's a nice kite safari, which will usually take 20-30 minutes to get there. Once there you can play in the flat water in front of the island and come back home with an easy downwinder.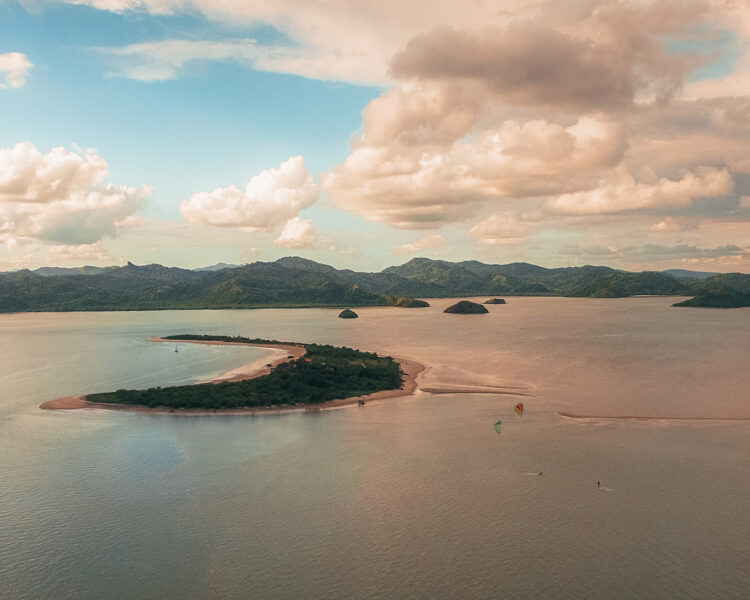 Sand Bars
The best trip ever is kiting out to one of the many sandbars that form in the middle of the bay. Right around full moon these super low tides make for an incredible phenomenon, where giant sand bar formations become visible. Around these sand bars the water is super flat, so dark-slide, unhook and jump over them. It´s about only about 10 minutes from the shore. They will be out for three hours a day, so be on time.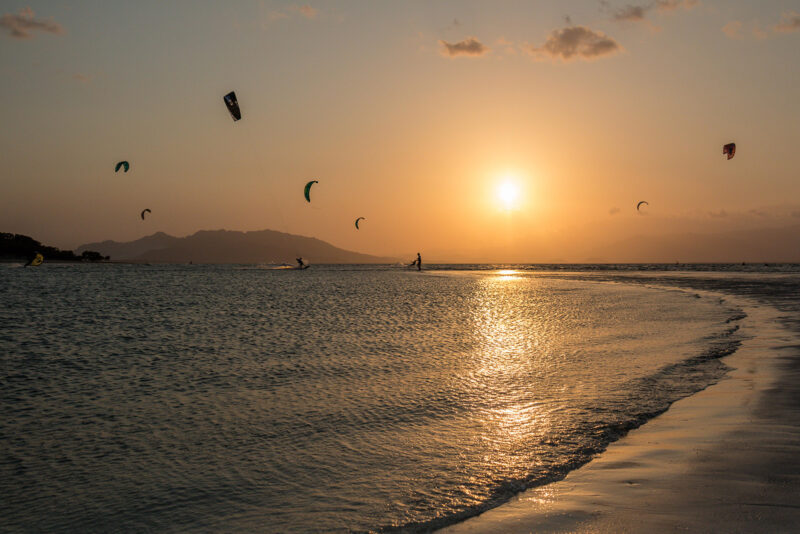 Mangrove Downwinder
From the first lagoon you can downwind between 30-60 minutes to the end of the bay. Some kite centers offer a trip passing by all the mangroves, catching more flat water and more lagoons. Have them pick you up by truck for a small fee at the end so you don´t have to come all the way upwind again.
How to get to Punta Chame
Panama's Tocumen International Airport (PTY) is called the "Hub of the Americas". All the major cities in North America and capitals in Europe offer direct flights for €500-600. From there it's best to get a rental car and drive the 100 km to Punta Chame, if you want to be flexible. All you want to do is kite? Then have a local kite center pick you up.
What else to do
Feel comfortable to bring your family. There are things to do if your family or spouse are asking for a no-kite day or if you're sore from kiting. Catch some waves in Playa Caracol, just 15 min away from Punta Chame. If you're into hiking, get the best views on top of Cerro Chame, overlooking the entire kite bay. Head down into the Chame Canyons or visit Valle de Anton. If you're into big city life, check out Panama City with its glamorous skyscrapers and the charming old town with beautiful colonial buildings, cosmopolitan restaurants and nightlife. For some history, take a short detour via the Panama Canal, as well.
Punta Chame is a great new destination for the kiteboarder that wants to see something off the beaten path. Constant winds, a wide beach with a flat water lagoon and excellent downwinders make it a must see in Latin America and a good excuse to escape winter in Europe.