Dates: October 4 – 10, 2014
Rideable days: 5 out of 7
Wind: 10 – 24 knots
Air temp: Around 30˚C
Water temp: Around 25˚C
Egypt is one of the best autumn and winter kitesurf destinations if you're living in Northern Europe. In the following post I explain why.
The British summer had been one of the weakest in many years wind-wise so we decided to take a week somewhere where we could find wind and sun in October.
Why we chose Egypt for kitesurfing
There were Fuerte Ventura and Cap Verde, but they're not great for beginners and we wanted a safe, shallow water spot for Asia to take lessons. There were Dahkla in Morocco, but getting there was too much of a fuss and tickets too expensive. Then there was Tarifa which we had visited earlier this year which probably would provide wind but again, it's not that beginner friendly and it wouldn't provide the sun and warm water we were craving.
And there was Egypt. I've been there before but the lack of nature and 'real' culture in the resort areas makes it a less favourable destination (I don't dive but if you do this might make it more attractive).
Having said that, it ticked all the other boxes:
Shallow water
Established kitesurf schools
Warm air and water temperatures all year around
Cheap direct flights from London
Wind all year around – especially April to October
It's hard to argue with that.
So Egypt it was. Next step was to decide on which spot to go for. For package deal tourists, which was the cheapest way to travel, there are basically four resorts to choose from:
Nabq (Sharm El Sheikh)
Dahab (Sharm El Sheikh)
Soma Bay (Hurghada)
El Gouna (Hurghada)
Why we chose El Gouna for kitesurfing
For the savvy traveler there are other spots too, but it would require more planning and custom made travel/accommodation booking. I visited Kite Junkies in Sharm El Sheikh back in November 2011 but I didn't like the spot that much. The flat water area was a bit limited, there were plenty of sea urchins and you risked drifting into a jetty or out on deep water if you lost control or wind dropped, so I thought we could find better spots.
Soma Bay is said to be beautiful but very isolated with nothing to do in the evenings and also lacks big areas of shallow water. Most online research and friends' reviews pointed at El Gouna as the best option. On top of that my friend Lidia is working at a kite center in El Gouna so having a familiar face and local guide at hand made the decision even easier.
Having it narrowed down to El Gouna it made the search for package deals a lot simpler. We settled on a Friday to Friday deal with Monarch with flight, airport transfer and hotel for about £550 per person. That included 20 kg per person but I also added £50 for my 30 kg kite bag. With a split kiteboard and some clever packing you'd save yourself that money.
Since we were already in October I knew the wind was going to be on the lighter side but could fluctuate quite a bit, so I packed my 7, 11 and 15m. I actually happened to use all sizes but I would've been fine with 11 and 15 (I only used my 7m the two first days when my 11m had a bladder problem).
On arrival in Egypt you have to buy a tourist visa for about £20 and then queue in a chaotic immigration area, but once you've found your travel agency the ride to El Gouna is only about 30 min long from Hurghada airport. We checked in to hotel Ali Pasha in the evening and took a taxi to Red Sea Zone, the kite center where Lidia works the following morning.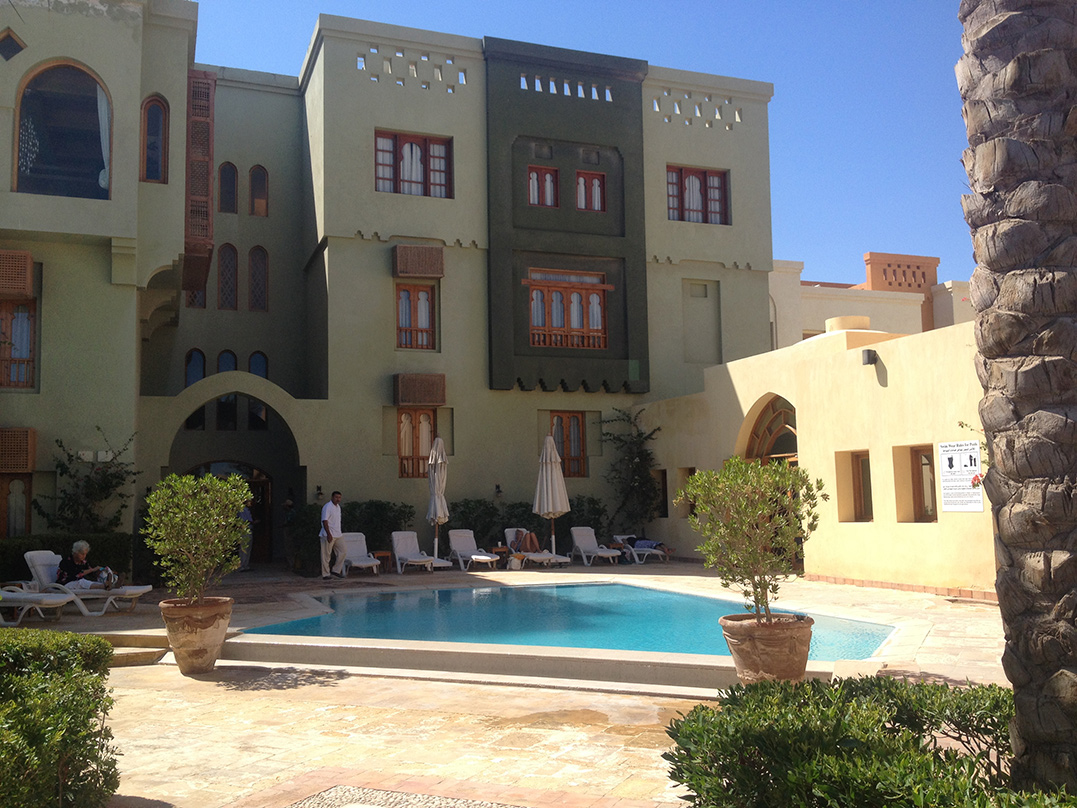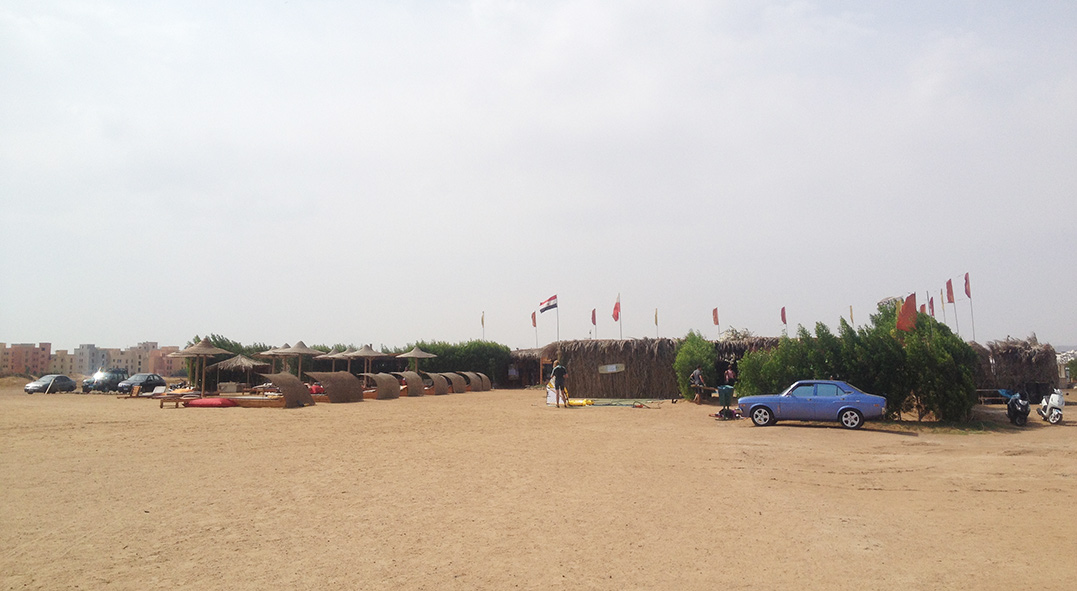 Our week followed a similar day-to-day pattern: Wake up early to catch the morning wind and tide. Eat breakfast at the hotel. Take a tuk tuk to the center. Ride or chill until the sun sets. Take a tuk tuk back to the hotel for a shower. Go out in the marina and find a restaurant for the evening. Go home and pass out (riding, sun and food makes you sleepy for sure!).
A guide to El Gouna
El Gouna is this artificial village built up around a canal system to resemble Venice or maybe Miami. Its main purpose is to welcome European tourists and rich Egyptians who keep their yachts here. A Disneyland for grown ups. There are some big hotels with private beaches like Sheraton and Mövenpick (which has its own kite center), but also a lot of smaller hotels, villas and bungalows.
People come here to dive, play golf, kite surf or simply relax in the sun. You can also go quad biking in the dessert or wake boarding at the local wake park (which is impressive with international standards but quite pricey as well). The town's main parts are Downtown and the Marina. This is where you'll find all the restaurants, bars and cafes.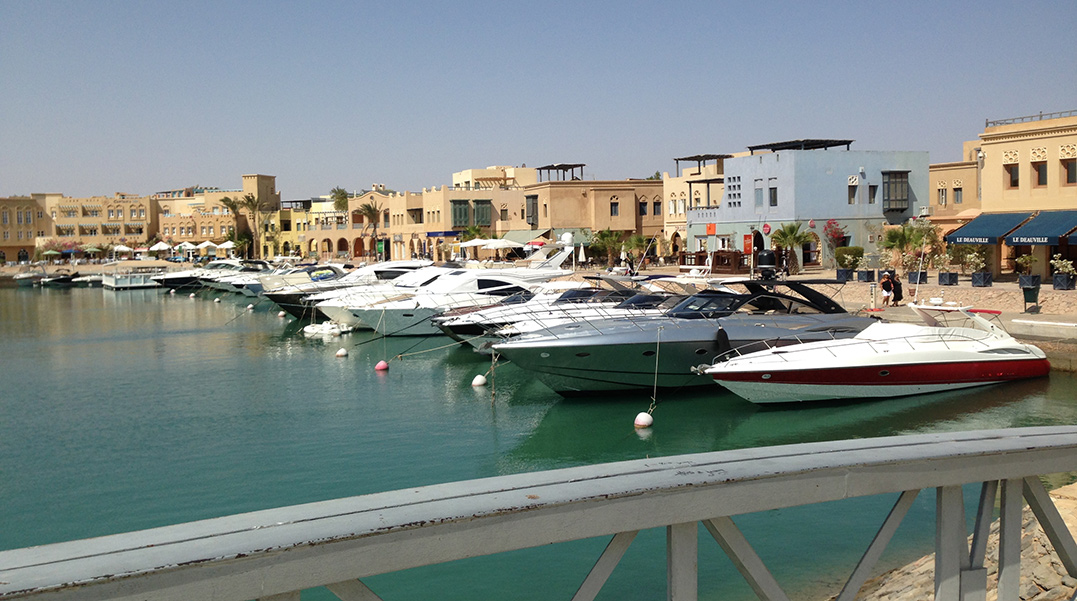 Eating out was slightly more expensive than I had expected but it's well worth noticing that we mainly dined in the Marina area which is fairly up-scale. I'd expect that you can find much cheaper places if you look downtown. In the Marina it's roughly the same prices as in London, meaning £3.50 for a beer and £10 – 15 for a main. The stores offer fairly cheap drinks and food for self catering. Alcohol is overall expensive and hard to find in the shops. A tip is to bring some good liquor from the airport tax-free shop, if you're like me and enjoy a drink in the hotel room while getting ready for the evening.
In general El Gouna is a very quiet resort this time of the year. There aren't a lot of people around as you walk around Downtown and there isn't much in terms of night life. Normally there is at least one club per night and the venue depends on the night, but it's not going to be Ibiza vibes. People are here to dive, kitesurf or hang out in the all-inclusive hotels.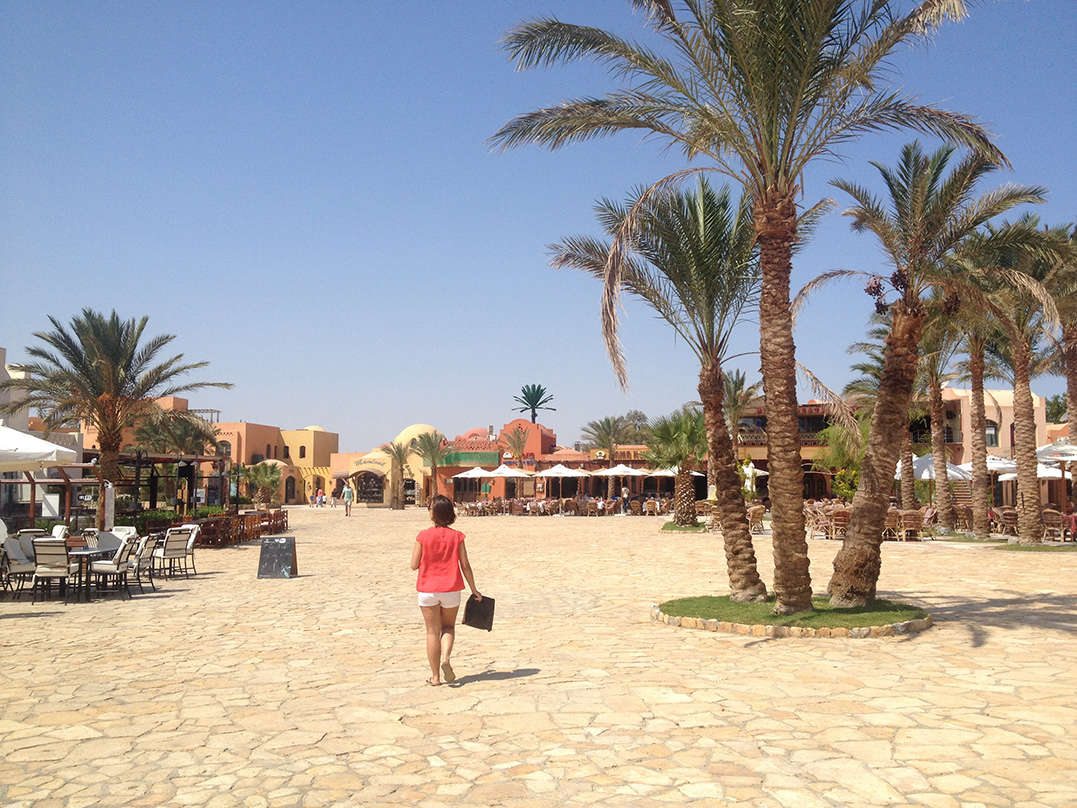 Most things are walking distance but the most common way to get around is by tuk tuk. They take up to 3 passengers and are only 5EGP (around 50p) per person to anywhere within El Gouna.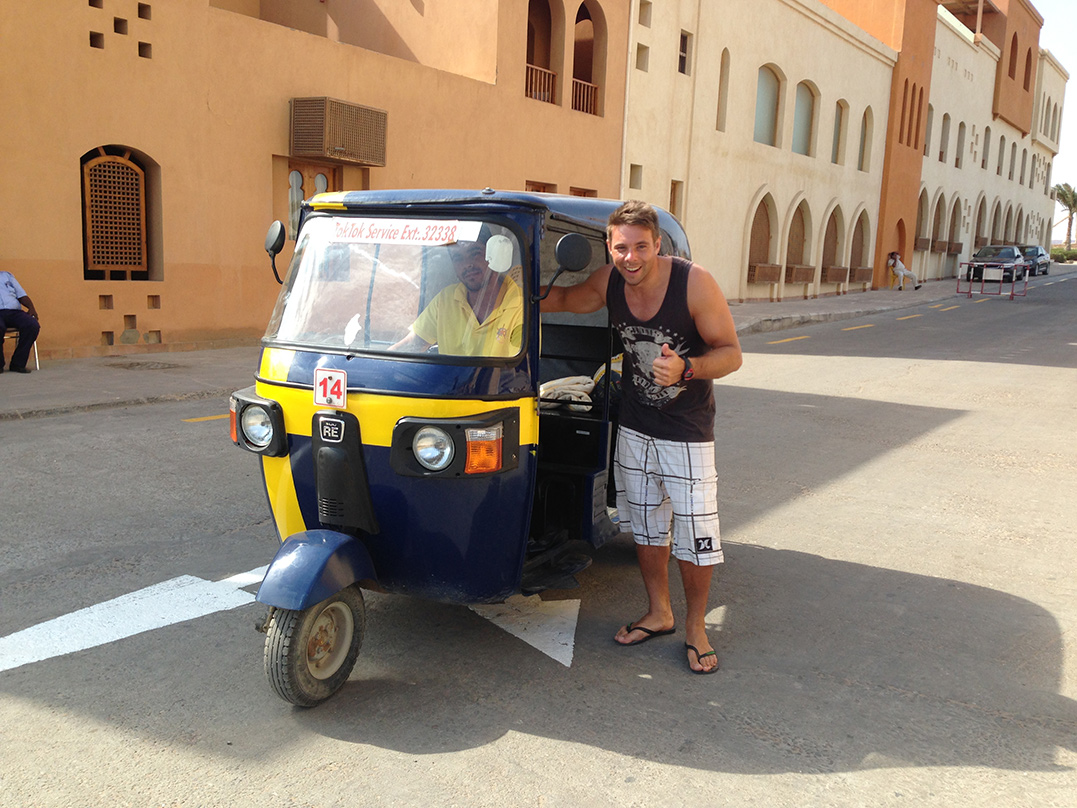 Two restaurants stood out during our week, both located in the marina/new marina and I strongly recommend them. Le Garage is a burger place with a great selection of mouth watering burgers, salads and sides. This place is on par with the better burger shacks in London!
Mori Sushi is the other restaurant I'd definitely go back to. Placed in the quiet New Marina this franchise branch offers one of the best sushis I've ever had, and mind you I've spent two years in Japan. Unfortunately they don't serve alcohol but their fruit juices and shakes are great and make up for it.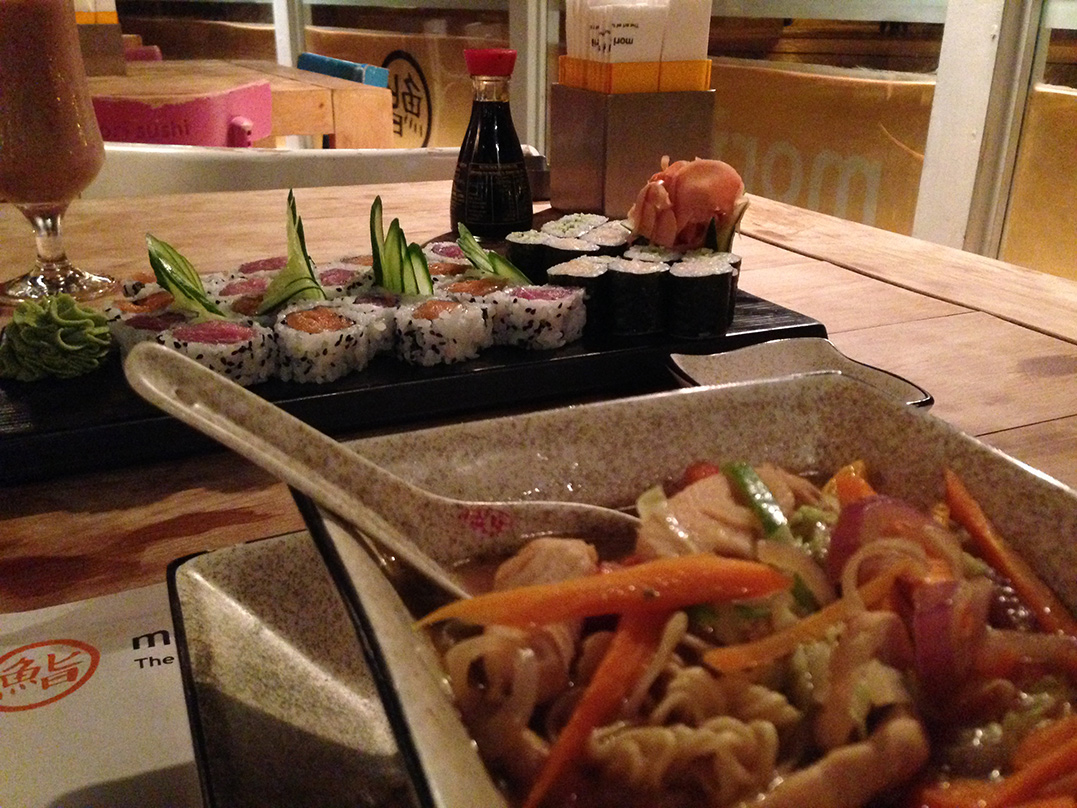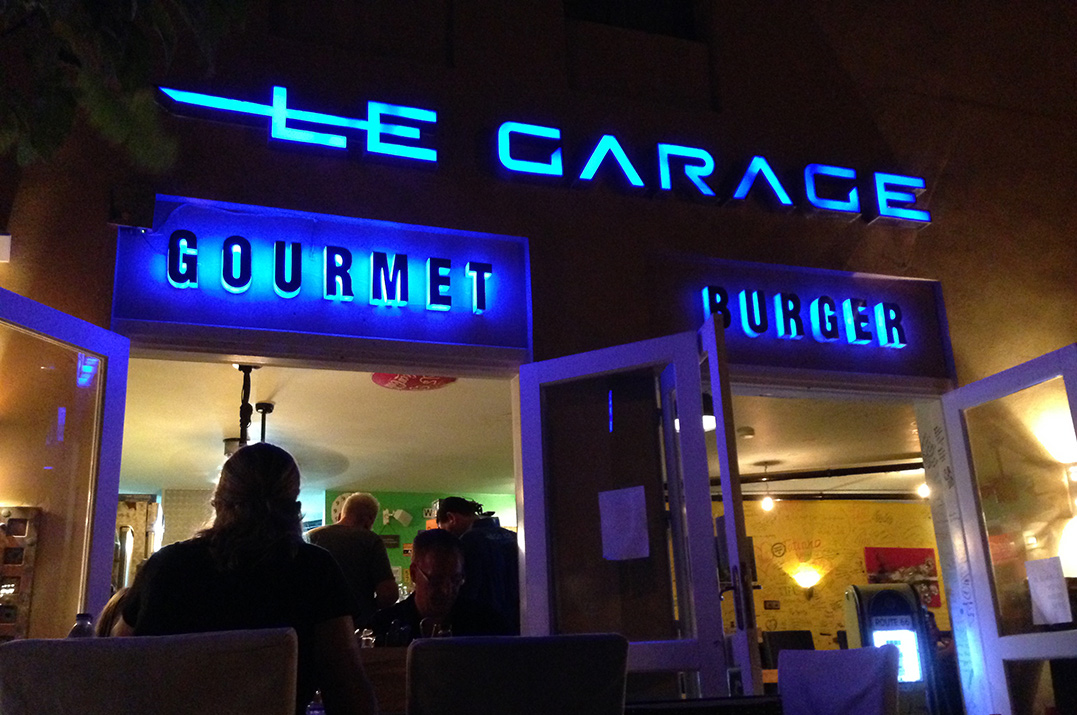 Spot review: The kite beach
Red Sea Zone is located on the kite beach between two other kite centers. German I think. It's a quick 5 min ride from the Marina. Red Sea Zone has a Polish profile but obviously they speak English too. All centers are similar, with school, chill out area, rental etc but they have dedicated areas in the lagoons where they teach and ride.
Overall the kite beach area consists of a huge shallow water area with some dead reef areas that are above water level in low tide. Even in high tide you've got to be a bit careful so you don't crash on these reefs since they can trash you and your board up pretty badly but most of the area is fine sand bottom. You can also leave the shallow water and ride in the deep water. A bit choppy but still good fun.
You'll find riders of all levels here, but most of them will be beginners with instructors or lawn movers. When we visited it was somewhere between high and low season with about 20 to 70 kites in the air. It was never to busy to find your own spot to ride in.
Weather and wind conditions
Out of seven days we had five decent days with wind. Wind varied between 10 and 24 knots but most of the time I was out on my 15m riding in 10 to 14 knots. This represents this part of the year well, and with the summer being the best period you're likely to find stronger and more consistent wind in June – August. November – March also provides wind but less often so you need a bigger time window to ensure days on the water.
Wind is warm and smooth without a lot of gusty ups and downs. Air temperature was around 30 degrees Celsius and water was warm enough to ride in only board shorts. A pure pleasure. You don't even need a sweater in the evening really.
Wrapping up – would we go again? Yes. Would we do anything differently? Not much. We've been thinking of going back in a group of friends and renting a villa to keep costs down and be a bit more social as we didn't spend much time with other people during the week. I'd like to check out Soma Bay as well in the future but as long as we have beginners in the group it's hard to beat El Gouna.