If you live by the beach – lucky you!
But if you're reading this post, chances are that you live in London, and kitesurfing requires at least an hour drive to the spot.
I used to live in London as well, and over the years I tried most spots worth driving to for a day trip. Sometimes I would even take the train – actually a very good option for some spots if you invest in a Network Railcard.
London is a great hub for kitesurfers, and the community is massive so it's not hard to find people to team up and rideshare with. It's fairly close from the sea, so you can reach a lot of estuary spots within 1.5h and South coast spots within 2 hours.
Ok, I know why you're here, so with no further ado, let's get to it.
Kitesurf spots within two hours drive from London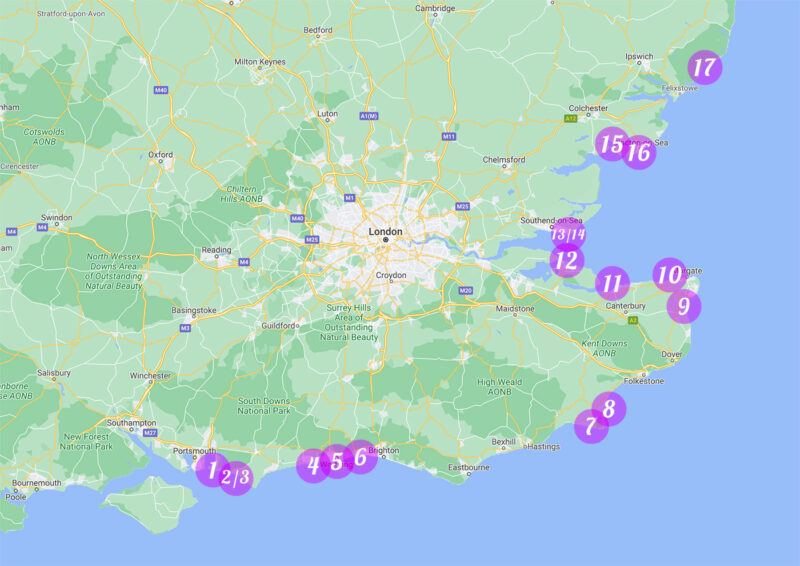 Hayling island
West Wittering
East Wittering / Bracklesham Bay
Goring
Lancing
Shoreham
Camber Sands
Greatstone
Sandwich bay
Minnis bay
Whitstable
Minster
Southend – Uncle Tom's
Southend – East Beach
Clacton/Martello Bay
Point Clear
Shingle Street
Hampshire
Hayling island

Wind direction: W, SW, S, SE
Best tide: Low
Best for: CBK members, freestyle
Comment: Two spots here. One with standard South coast chop at the public beach, and one reserved for CBK members. Very good freestyle conditions behind a massive sand bar in low tide.
Sussex
West Wittering
Wind direction: W, SW, S, SE
Best tide: Low
Best for: 2XS members, beautiful scenery
Comment: This spot is for members only. In low tide you have a massive beach and nice flat water.
East Wittering / Bracklesham Bay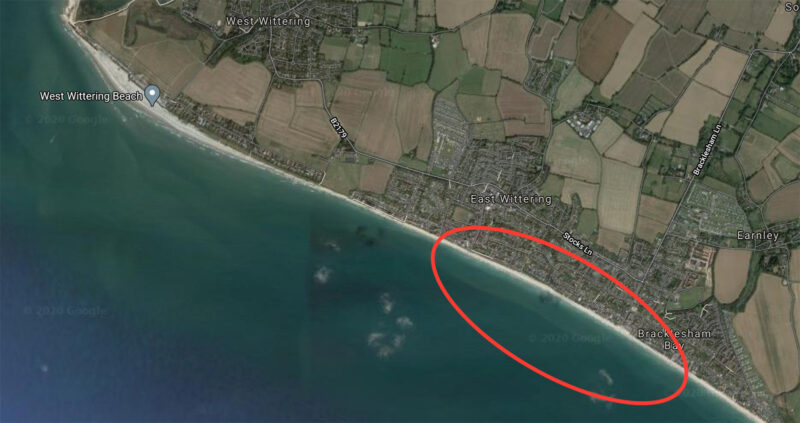 Wind direction: W, SW, S, SE
Best tide: Low
Best for: Unlike West wittering, this beach is free to use.
Comment: I haven't been here myself, but it's the free option in the area with similar conditions to West Wittering.
Goring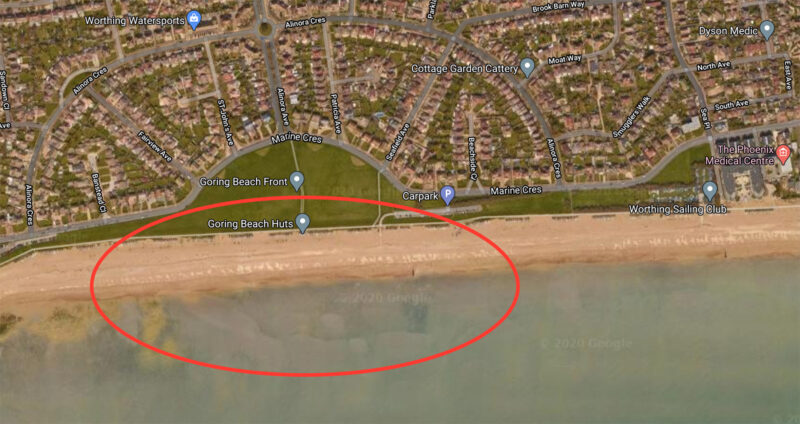 Wind direction: SW, S, SE
Best tide: Mid to High
Best for: Packing down your kite on grass.
Comment: Because of some rocks that are revealed in low tide, Goring works best in mid to high tide. A popular spot since it has a green behind the beach huts where you can launch and land, and you can park next to it as well.
Lancing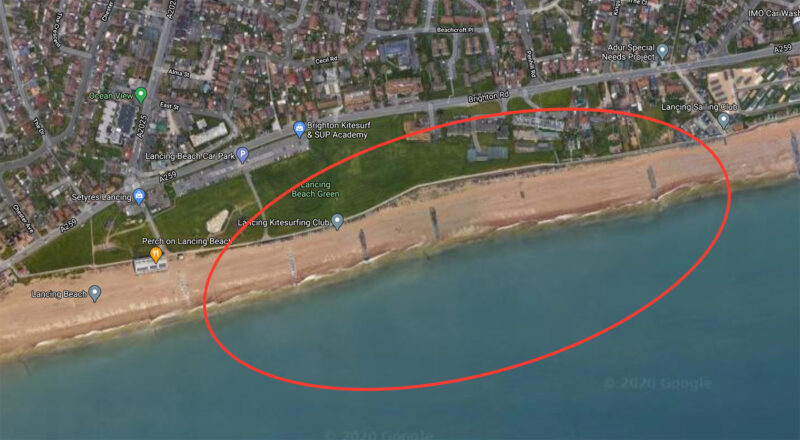 Wind direction: SW, S, SE, E
Best tide: Low
Best for: Socialising, taking the train
Comment: Lancing has at least two schools and is very popular with locals and Londoners alike. It has gotten a bit crowded in recent years, but the conditions are great in low tide and if you want to mingle with other kitesurfers this is a good spot. This is one of the most convenient spots to reach by train from London and you also have public toilets on the beachfront.
Shoreham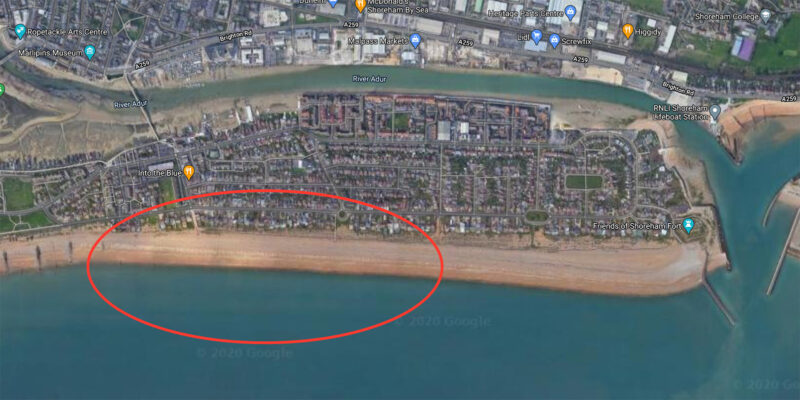 Wind direction: SW, S, SE
Best tide: Low
Best for: Decent conditions and not so busy
Comment: You can often find free parking close to the beach, and it rarely gets busy as the beach is long and has many entry points. Conditions are little bit less flat than Lancing but it's also less busy in spring and summer. You can take the train here but the walk to the beach takes a good 30 minutes.
Kent
Camber Sands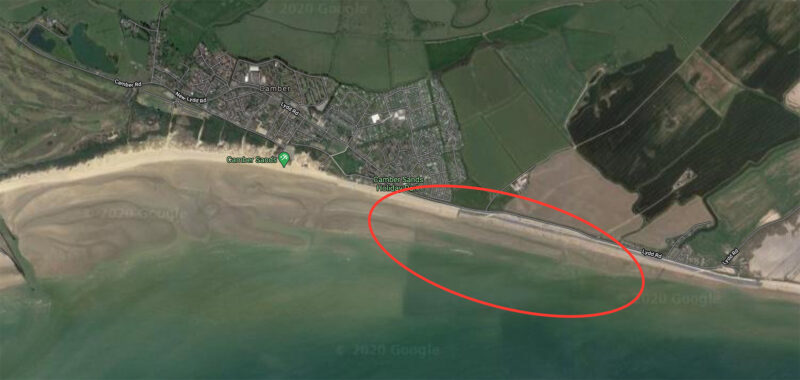 Wind direction: W, SW, S, SE
Best tide: Mid to Low
Best for: Learning, camping
Comment: A London favourite. It is indeed a very nice spot, especially in low tide, but personally I think it's a tad too far away compared with other spots.
Greatstone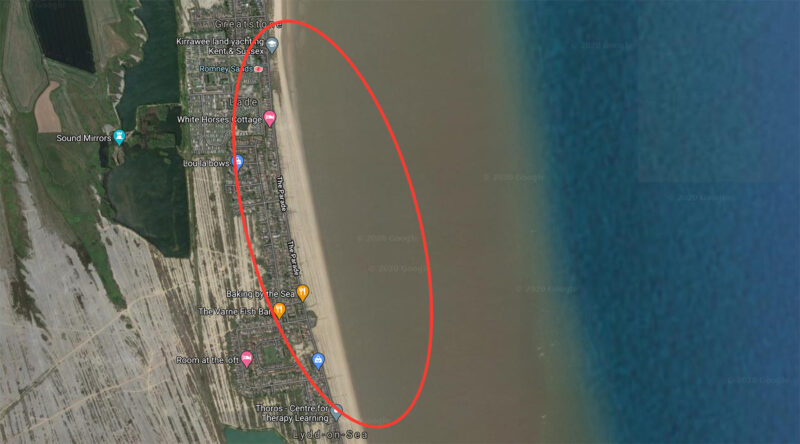 Wind direction: N, NE, E, SE
Best tide: Mid to Low
Best for: Northerly wind, the scenery
Comment: Northerly wind is not that common, but for those days Greatstone is amazing. A massive beach that rarely gets too busy, with parking and toilets on the spot. In low tide it gets very flat but you have to splosh through some fairly muddy beach to get out.
Sandwich bay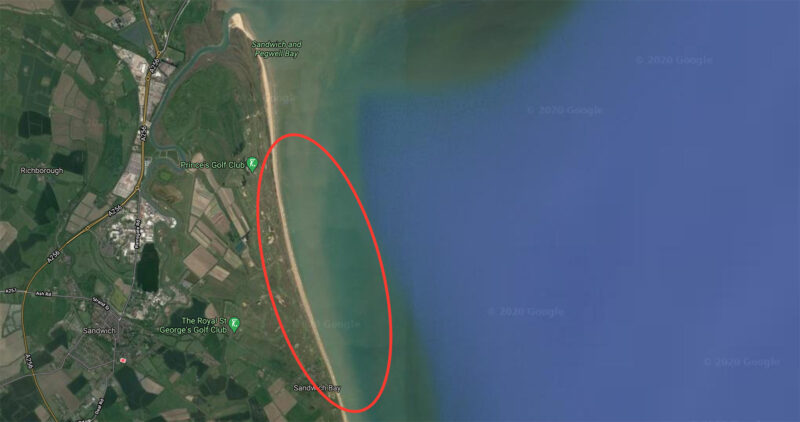 Wind direction: NE, E, SE
Best tide: ?
Best for: ?
Comment: I haven't been personally to this spot. I've heard you need a permission from the land owner to access the spot.
Minnis bay
Wind direction: NW, N, NE
Best tide: Low
Best for: A beer at Minnis Bay Bar & Brasserie after a stormy session
Comment: On a Northerly there are many spot you pass before you reach Minnis bay. But the further you go the less busy it will be so if you want an empty spot with a nice pub nearby this is a good spot with flat water in low tide. Just be aware of high tide since the beach pretty much disappears.
Whitstable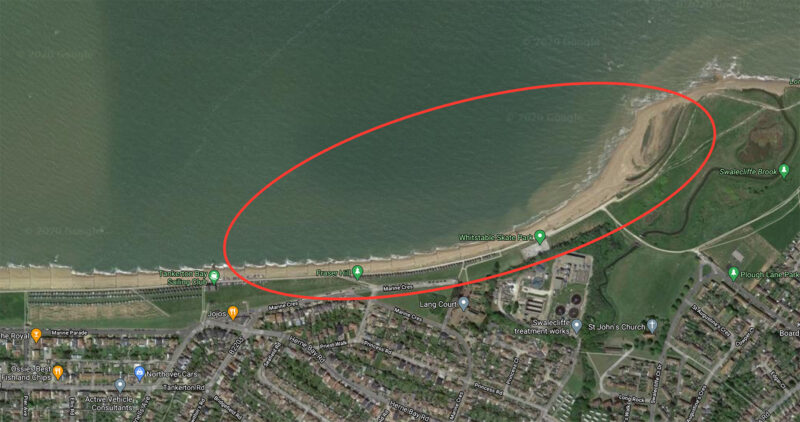 Wind direction: NW, N, NE
Best tide: Low
Best for: Going by train on a Northerly
Comment: Quite a popular spot with the London kiters, Whitstable works in any tide (using different launch areas; the Point and the Street). It's best in low tide with shallow flat water. It's reachable by train by going to Chestfield & Swalecliffe and walk about 15 minutes.
Minster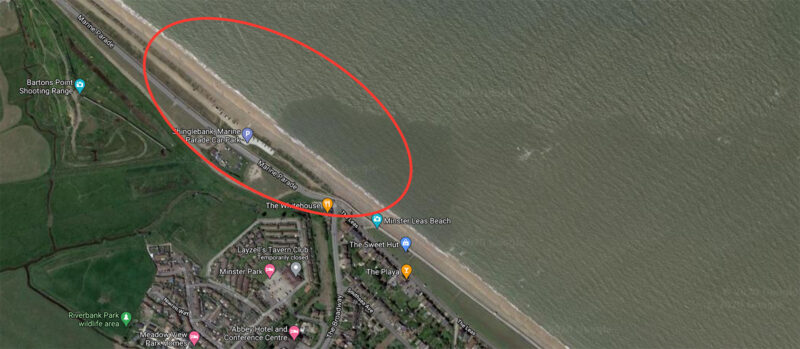 Wind direction: NW, N, NE
Best tide: Low
Best for: Flat water and few riders
Comment: An estuary spot that is the closest from London on a Northerly wind. It's located on the Isle of Sheppey and is far from scenic, but in low tide it offers flat water for miles. It has some mussel beds that you need to be aware of if you ride bare feet.
Essex
Southend – Uncle Tom's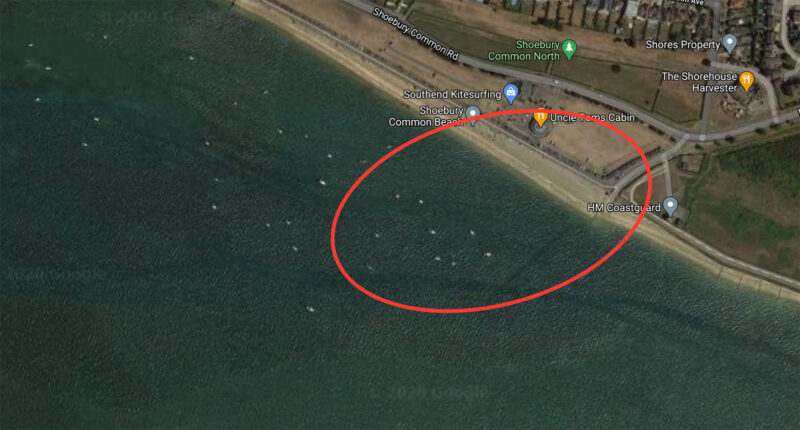 Wind direction: W, SW, S, SE
Best tide: Low
Best for: Freestyle
Comment: One of the best spots for freestyle hands down. Uncle Tom's is a low tide spot (head to East Beach in high tide) with large lagoons of ankle to waist deep water. It's great for both learning and freestyle. On the downside this spot can get a bit busy since the local community is large, and to get out to the lagoons you have to walk across some mussel beds, so booties are recommended.
Southend – East Beach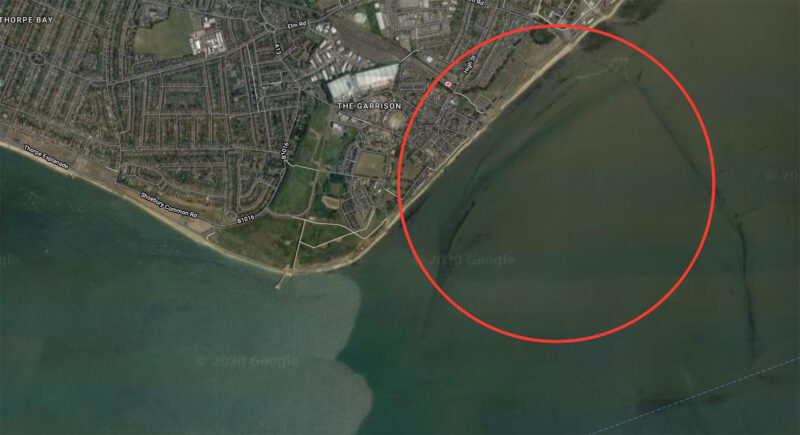 Wind direction: W, SW, S, SE
Best tide: Low
Best for: Learning, going by train, packing down on grass
Comment: The old stomping ground of yours truly. I used to come here by train every weekend for years. It's only 1h 15 min from Fenchurch Street station and Shoeburyness station stops right by the beach. There is a large green for launching and landing and public toilets. In high/mid tide you can ride straight from the beach, but in low tide you have to walk 30 min to get to the lagoons. Most people walk out with their kites and launch by the lagoons at low tide. They then ride until mid/high tide and follow the tide in. You can also do the reverse. Part from high tide the water is shallow enough to stand up. The seabed is hard packed sand and there are no obstacles so this place is great for learning. On a clear day you can spot the Red Sands sea fortress out at sea, which I find immensely intriguing.
Point Clear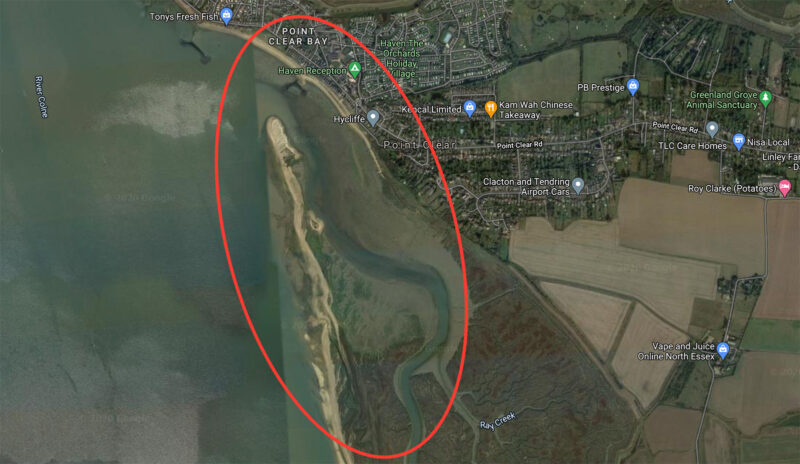 Wind direction: NW, W, SW, S, SE
Best tide: High
Best for: Freestyle, Experienced riders
Comment: Once a secret spot, Point Clear is now fairly well known as one of the best spots in the estuary. In high tide a large lagoon is filled up between land and a large sandbank. The water is butter flat close to the sandbank, yet deep enough to slam hard. Because of it's unique geography you can practise beach starts, ride in creeks surrounded by fields and jump over obstacles. Bring your finless board and creativity. On the flip side the spot has a small launch area, plenty of sticks and obstacles to avoid in the water and can be merciless if you get stuck at the far end of the lagoon.
Clacton/Martello Bay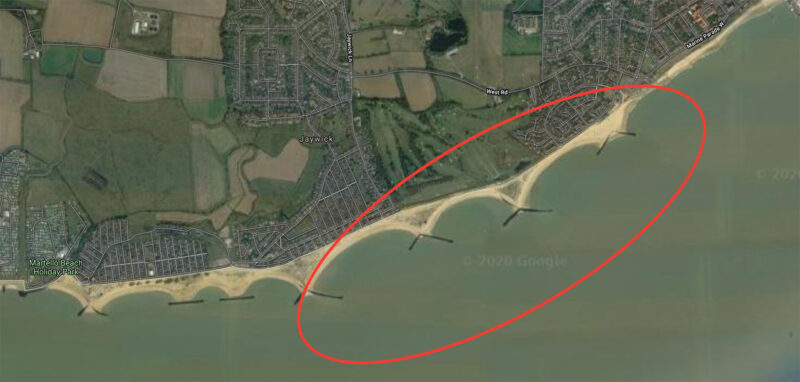 Wind direction: SW, S, SE, E
Best tide: Mid-low
Best for: Sheltered learning, apres-kite
Comment: You find a number of small bays sheltered by wave breakers between Clacton and Jaywick. Each bay can host a few kiters but gets quite small in low tide. You can reach the spot by 30 min walk from Clacton station. Clacton has a fun, trashy night life if you fancy spending the night.
Suffolk
Shingle Street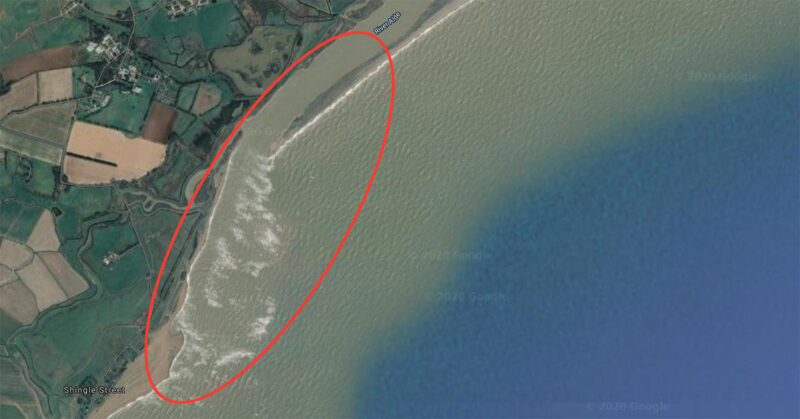 Wind direction: S, SE, E, NE
Best tide: Any
Best for: River riding
Comment: North of Felixstowe we find the secluded Shingle Street right where river Alde begins. This spot works on any tide and offers some interesting riding in the river mouth. You can ride with or against the tide which is very strong here. You can also find plenty of sheltered areas behind sand banks for some flat water action.
What did I miss?
This list is my personal collection, gathered from experience of living in London and going kitesurfing in the weekends between 2011 and 2018.
There are certainly official and unofficial spots that I've missed out on mentioning here. If you enjoy exploring the coastline and using Google Maps to spot unexploited gems, I'm sure you can add a dozen more spots to this list – but this will do for now.
It's also worth mentioning that if you're willing to add another hour each way, you can reach plenty of other spots including Poole Harbour, Portland Harbour, Brancaster, Hunstanton and the wave riders' favourite; Sea Palling.